Cashier Skills for a Resume (List of 35 Examples)
Cashiers possess a range of skills that go beyond being able to work a cash register. What exactly are cashier skills and how to list them on a resume? This guide explains it all.
Cashiers can be called upon to perform a slew of different tasks and often take on many roles. Each aspect of being a cashier requires its own set of skills.
Don't know what those skills are or how to include them in your resume? No need for the panic button.
You'll see many examples of skills and how to list them in a resume in a second, but—
You can save time with the Zety resume builder which will generate all the necessary cashier skills, suggest bullet points, resume objectives, and achievements. Creating a great resume that stands out is of prime importance.
Create a resume with a perfect skills section using the Zety resume builder now.
If you're looking for a full guide on writing your cashier resume, see: Cashier Resume Examples
You might find other retail-related guides interesting, too:
What Are Cashier Skills?
Cashier skills are quite diverse. Operating point-of-sale equipment, proactively assisting customers, and knowing the store inside and out all require different sets of skills. Awareness and knowledge of business operations such as sales, promotions, and store policies also require particular skills that are key to being a successful cashier.
Cashier Skills for a Resume—Examples
What cashier job skills should you put on a resume? It all depends on the particulars of the job you're applying for. There's rhyme and reason to deciding which skills to include, and you'll read all about it in a minute. But first, look at the full list of skills needed to be a cashier:
The above skills are all relevant to cashier positions. But including them all in your resume would actually be counterproductive. Instead, focus on the skills that are specified and even those that are implied by the job ad.
See many more ideas for resume-worthy skills in:
Want to save time and have your resume ready in 5 minutes? Try our resume builder. It's fast and easy to use. Plus, you'll get ready-made content to add with one click. See 20+ resume templates and create your resume here.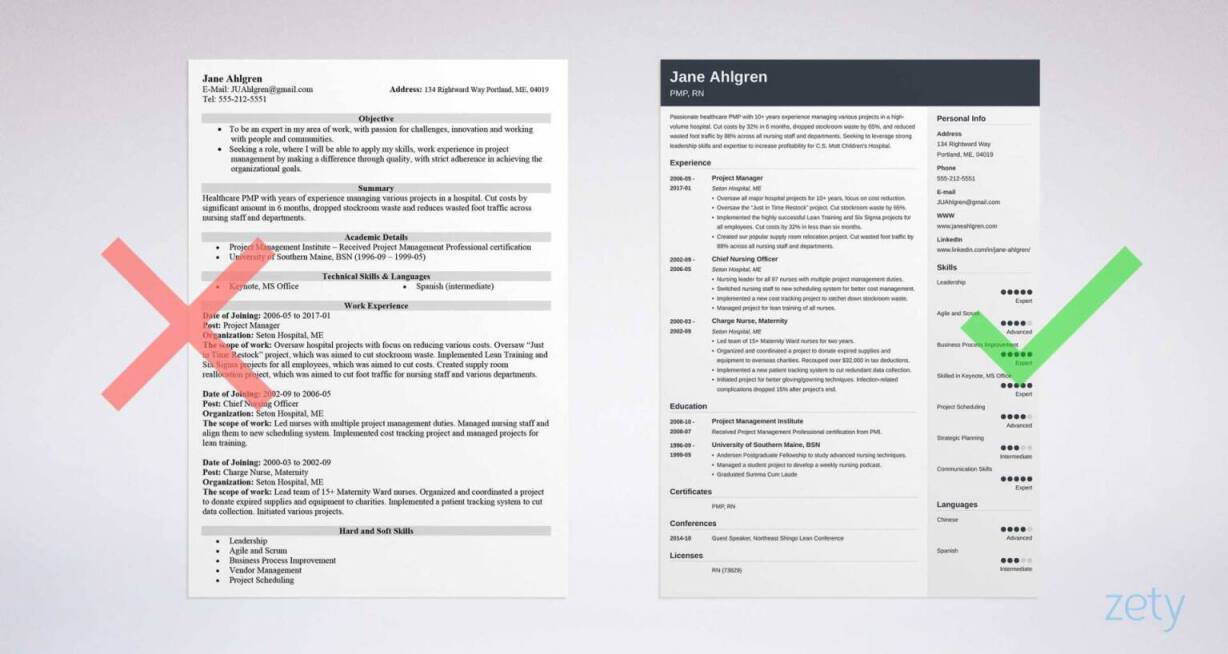 Sample resume made with our builder—See more resume templates here.
Which Cashier Skills to Include in a Resume?
Including the right cashier skills in your resume is important. The recruiter is probably not having an easy time of finding the right person for the job—so many skills and personality traits come into play. But by crafting your resume's skills section properly not only will you be appreciated, but also hired. Here's what to do:
1. Go over the job ad to see what skills they list.
Job descriptions often imply needed skills without actually naming them. To find those, study the job ad carefully.
2. Next, make a full list of your cashier skills.
You can use the full list included in this article for reference.
3. See which skills appear on both lists.
These will become the skills that you'll include in your resume.
4. List them as bullet points, in a separate skills section on your resume.
Bulleted lists draw the reader's attention, and your relevant skills will be easy to spot.
5. Add soft skills and hard skills.
Also, include your technology skills, grouping them together. Your final list should include about 10 skills.
Pro Tip: Add your relevant skills throughout your entire cashier resume. Put them in your cashier job description as well as in the resume profile.
Let's see how your cashier skills can look on a resume:
Sample Cashier Resume Template
Martin Wofford
martinawofford@aol.com
(916) 899-1475
Citrus Heights, CA
Resume Summary
Dependable and friendly cashier with 6 years of experience in retail. Enthusiastic to join the Home Depot team in providing outstanding customer care through friendly and efficient point-of-purchase transactions.Acquired 357 and upgraded 142 memberships by engaging customers in a knowledgeable and professional manner.
Work Experience
Cashier
BJ's, Austin, TX
March 2018–February 2020
Processed member purchases in a courteous and friendly manner.
Offered membership upgrades with a 40-75% success rate MoM.
Stayed up-to-date on all merchandise promotions and discounts, flawlessly scanning redemption coupons.
Regularly operated the returns station with friendly efficiency.
Cashier/Stock Clerk
Target, Eugene, OR
May 2014–January 2018
Performed check-out transactions smoothly and efficiently.
Kept shelves and compartments neat, organized, and always well-stocked.
Used thorough knowledge of all of the different departments to assist customers.
Maintained an orderly cash drawer through scrupulous record-keeping.
Education
El Capitan High School, Eugene, OR
Graduated in 2007
Skills
Customer service
Dependability
Flexibility
Attention to detail
Active listening skills
Complaint resolution
Friendliness
Cross selling / up-selling
Barcode reader equipment
Electronic funds transfer point of sale equipment
When making a resume in our builder, drag & drop bullet points, skills, and auto-fill the boring stuff. Spell check? Check. Start building a professional resume template here for free.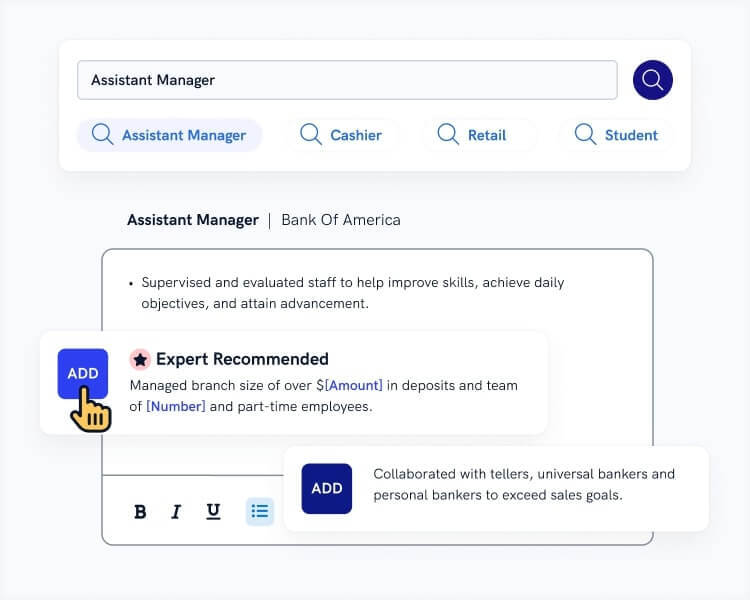 When you're done, Zety's resume builder will score your resume and tell you exactly how to make it better.
Here's a brief summary on how to write an eye-catching resume:
Read more: How to Build a Resume
Cover letters aren't a thing of the past so attach a cashier cover letter to your resume. For more detailed tips, check our guide on how to write a cover letter.
Plus, a great cover letter that matches your resume will give you an advantage over other candidates. You can write it in our cover letter builder here. Here's what it may look like: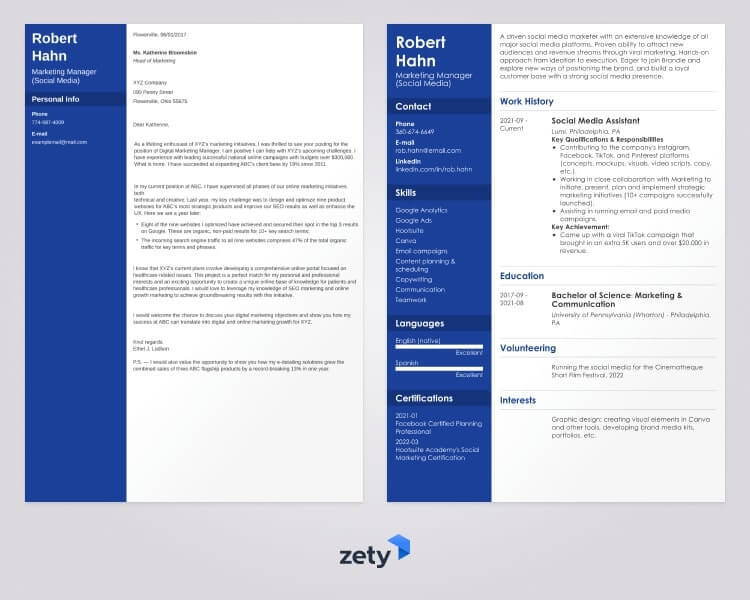 See more cover letter templates and start writing.
Thanks for reading! Maybe you'd like to know more about cashier duties and responsibilities or how to be a good cashier? Or maybe you'd just like to comment on this guide. We'd love to hear from you. Let's chat in the comments!