IT Skills For Your Resume [45+ Skills in Demand]
Not all IT skills were created equal. See which IT skills are in demand and that will upgrade your resume to Bill Gates' level.
Demand is high for IT, that's great news.
That also means that your IT skills will be important like never before. The thing is, you don't really know how to flaunt them, no matter the magic you can do with a computer. That's not so great news.
You can send out your resume to employers as is and hope for the best. You can also set your password to "password" and hope you won't get hacked.
Instead, add the top IT skills to your resume and get recruiters scrambling to connect with you.
We'll show you how.
Want to save time and have your resume ready in 5 minutes? Try our resume builder. It's fast and easy to use. Plus, you'll get ready-made content to add with one click. See 20+ resume templates and create your resume here.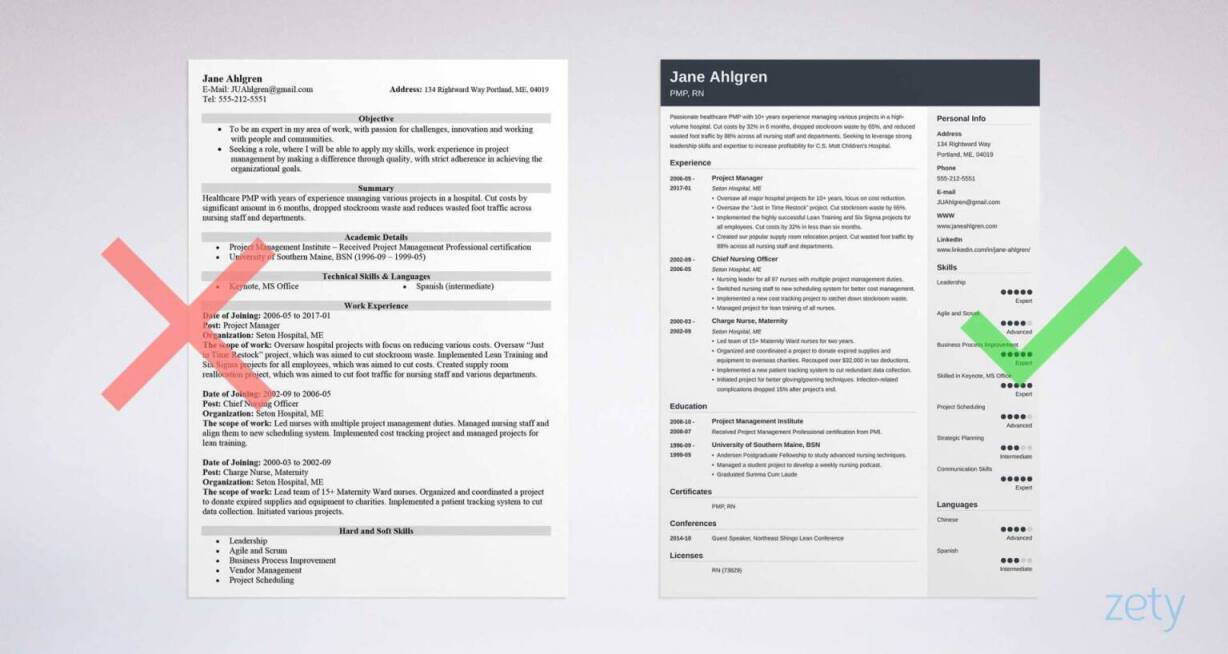 Sample resume made with our builder—See more resume templates here.
Looking for more help to write your IT resume or cover letter? You've found it:
What Are IT Skills?
IT skills (also known as information technology skills) are technical skills necessary to work within technical support, maintenance, and development. IT skills are a rather wide skill set that range from hardware installment and software development to troubleshooting and data analysis.
Since IT skills is a broad skill set, it's not enough to just write on your resume that you have "excellent IT skills." That's like saying you're an "excellent athlete." It's not saying much.
So unless you want to send out your resume and get "hiring manager is not responding", you need to get specific.
Let's break down the top IT skills that you want to include in your resume.
IT Resume Skills That Are in Demand
Demand for skilled IT employees is growing and isn't showing signs of stopping anytime soon. That means a lot of competition and hiring managers that don't have the time to guess what basic IT skills you have.
In fact, they'll spend less time on your resume than it takes a landing page to load.
So you want to list your general, vague skills? 404, skills not found. Or maybe just list all your coding and system knowledge and call it a day? Error, employer has encountered a problem and will be shutting down.
Let's get down to the ones and zeros of what IT skills are worth listing and why.
IT Hard Skills
Hard skills are those skills that you're probably most familiar with since they're the technical ones. That makes listing these IT technical skills a sinch.
And it's not just programming languages that you should be focusing on, although are in really high demand.
From data scientist to front stack developer, here are the skills that should make it onto your IT skills list:
Most Important IT Skills
Coding languages: Python, HTML5, JavaScript, CSS, PHP, SQL, C++, Ruby, .NET.
Operating systems: Linux, Windows, masOS, Android, iOS.
Cloud computing: Azure, AWS, Google Cloud, Amazon Web, Kamatera, Oracle.
eCommerce Platforms: Shopify, WooCommerce, BigCommerce, Magento, OpenCart.
Network security: Cloud security, malware analysis, intrusion detection, CEH, OSCP, CISA, GCIH, secude code development, data and file encryption.
Data analysis: OLAP, data queries, data cube technology, raw data processing and integration, data structures and algorithms, Tableau.
AI: machine learning, natural language processing, AI integration and application.
Application and desktop software development: Android/iOS Software Development Kit, Android/iOS UX and UI, SQL, Xcode development, Github, React.js, Angular.
But those hard skills are not enough.
You're missing something on the softer side.
Read more: What are Hard Skills? Definition and Examples
IT Soft Skills
You didn't really see this one coming, did you?
IT is often so focused on technical knowledge and skills that candidates tend to forget that soft skills are just as valuable. In some cases, they can even be more valuable.
But just like with IT skills, there are a ton of different soft skills. So which ones should you focus on for your IT resume? Here are some sure fire winners:
IT Soft Skills for a Resume
Pro Tip: Lying on a resume doesn't pay! Recruiters will do background checks or tests to determine whether you have the skills you say you do.
These lists aren't the be all, end all of skills. Include any other skills not mentioned here that you might think will be relevant to the job you're applying for or that the job ad mentions.
Read more: What are Soft Skills? Definition and Examples
Examples of IT Skills in a Resume
You don't just jump into the middle of a page of code and start randomly typing stuff. The same goes for your IT skills. They need to be tailored.
Use the job ad as a cheat sheet of what the employer is really looking for. It works the same, no matter what your specific IT position is.
How to List IT Skills on a Resume
The process is way simpler than a workaround.
Scan the job ad for the information technology skills that it's looking for.
See which IT skills you can match in your resume.
Add those skills either in your IT resume skills section or in your work experience section.
Sounds pretty simple, right?
Perhaps, but let's go through some examples so that you know you've nailed it:
IT Skills Resume Examples
The job needs these IT technician skills: Operating system knowledge
Your resume skills section:
In depth professional knowledge of Windows and MacOS
Good working knowledge of Linux
The job needs these IT project manager skills: lead IT projects and schedule
Your work experience section:
Managed $14M deployment of new CMS system which was delivered 1 week ahead of schedule and $20K below budgeted costs.
The job needs these IT help desk skills: assist users with issues related to computer operating systems
Your resume skills section:
Excellent customer service skills
Solid working knowledge of all 3 major OS (Mac, Linux, Microsoft)
Always think about where your IT skills would fit best and where you can add enough background to make it stand out. If adding to your work experience section, don't forget to start off with a resume action word to really get the employer's mouth watering.
Read more: Work Experience Section on a Resume & Resume Skills Section
When making a resume in our builder, drag & drop bullet points, skills, and auto-fill the boring stuff. Spell check? Check. Start building a professional resume template here for free.
When you're done, Zety's resume builder will score your resume and tell you exactly how to make it better.
How to Improve IT Skills
No one's born with IT skills in their head—they need to be learned. And like with all things, you can learn them in a variety of ways.
1. Watch Videos
There is a massive amount of video tutorials that can help you learn various IT skills from the beginning to more advanced concepts. YouTube is a great place to start. One note—do a bit of Googling first or check out ratings so that you don't end up wasting your time on a dud.
2. Read More
Subscribing to an online tech magazine or blog is a great way to keep up to date with new developments and products. It also helps you keep your ear to the ground in terms of what the IT world is talking about and what exactly they're saying.
3. Take a Course
There are a ton of online IT classes you can take, from beginner to advanced (some of them are even free!). Try the Cisco Learning Network, InfoSec Institute, IBM Skills Gateway or Red Hat Training. If you want to go super pro, take an IT certification course like CAP or MCSE.
4. Interact With Other Techies
Going to shows and expos is an amazing way of not only getting to know others, but also finding out what's cooking in the IT world, not to mention they're often a lot of fun. If expos are a bit too big of a venue for you, try searching for clubs of like-minded people at your school, community, or online where you can share questions and experience.
5. Share Your Projects
Sharing your IT projects among other IT experts is a great way to interact, but also to receive valuable feedback in order to get better. GitHub is a great example of a safe environment where you can share your projects, but also look at how others approach different things.
6. Keep an Eye Out for Gigs
Keep an eye out for freelancing or volunteering opportunities, too. They're a great way to up your IT skills.
Read more: 80+ Online Jobs: Find the Best Legitimate Work Opportunities
7. Do a Little DIY
Experience is the best teacher so what better way to learn than to ticker around at home on an IT project? Building or upgrading your own laptop is a great example. Friends or family having hardware problems? Help them out!
8. Create a Program or App
This is a standard go-to nowadays. There are easy-to-use software application kits you can use to create your first app. Looking for more of a challenge? Create your own website from scratch or use your programming knowledge to create an individual piece of software that does something useful.
9. Enter a Contest
It's not about potential prize money, but about pushing your limits. Contests force you to think of solutions in a different way than usual since you know you're up against others and standard answers aren't going to work.
Read more: Hard Skills vs Soft Skills: What is the Difference?
Plus, a great cover letter that matches your resume will give you an advantage over other candidates. You can write it in our cover letter builder here. Here's what it may look like: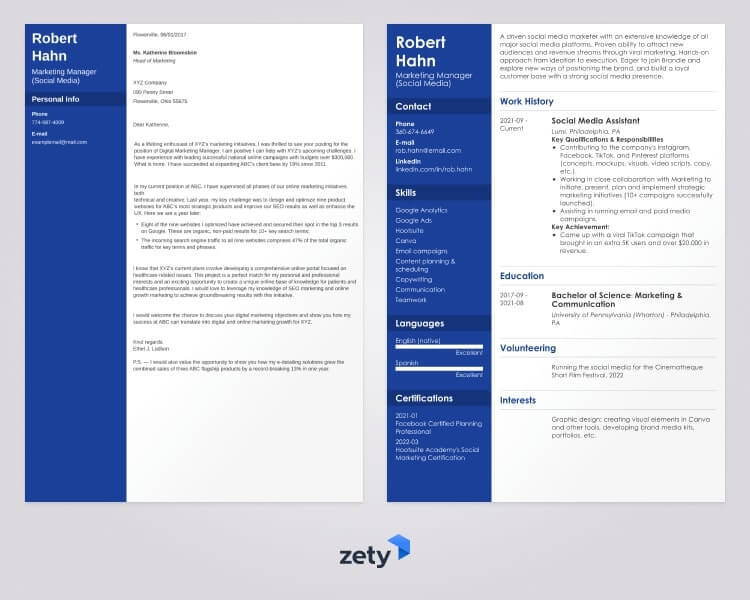 See more cover letter templates and start writing.
Key Takeaway
Knowing which information technology resume skills are hot right now and how to list them isn't, well, computer science. Keep these things in mind:
Tailor your skills list to what the job ad is looking for. Keep it relevant.
Mention hard skills, soft skills, and any other relevant skills you have.
Spread your IT skills around your resume— add them to your resume skills section, your work experience section, or any additional resume sections that would make your IT skills stand out.
Constantly develop your IT skills to advance your career.
Thanks for reading! Do you have any other questions about information technology skills? Not sure how to list your IT skills on your resume? Let us know in the comments, we'd be happy to help!