You're about to write a killer programmer resume.
But first, here's a few disturbing facts—
Programing can be done from anywhere in the world. Major companies outsource programming jobs to countries where wages are lower.
Employment for programmers in the next 10 years is projected to shrink by 8 per cent. That's your harsh reality.
The good thing is, those amazing unicorn companies that you've always dreamed to work with still need on-site programmers.
Unfortunately, thousands of candidates share that dream. To get a job with the best of the best, you're going to need the best programmer resume in the pile.
Fret not, it's not that hard to have one. This guide will show you:
A programmer resume sample better than 9 out of 10 other resumes.
How to write a programmer resume even if you have no experience.
Tips and examples of how to put skills and achievements on a computer programmer resume.
How to describe your experience on a resume for a programmer to get any job you want.
Here's a programmer resume sample made using our resume builder.
Want to save time and have your resume ready in 5 minutes? Try our resume builder. It's fast and easy to use. Plus, you'll get tips and right vs. wrong examples while writing your resume. See +20 resume templates and create your resume here.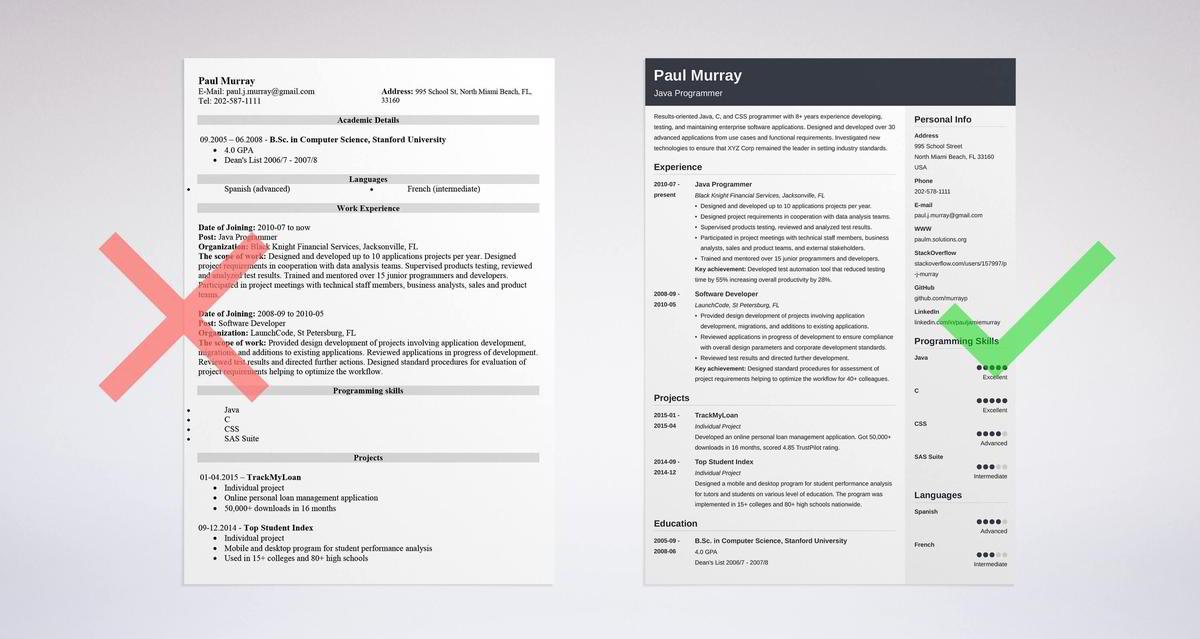 Programmer Resume Example—See 20+ resume templates and create your resume here
1
What's the Best Format for a Programmer Resume?
Providing the perfect UX is the name of the game for you, right?
You know that people don't care enough to focus. If your product isn't intuitive or if your website isn't easy to skim, you immediately lose your audience.
Recruiters are just like any other group of users.
So, what can you do about it in your professional programmer resume?
Use the respected, elegant reverse-chronological format. It's the best programmer resume template. Why?
It front-loads your strengths and shows the peak of your career at the top of the resume.
It makes the whole thing searchable.
It saves recruiter's time.
Writing a junior programmer resume with little professional experience?
The reverse-chronological format is still your best bet, even for an entry-level programmer resume. You can make the most of it by doing two things:
Put your education section above your work experience.
In the work experience section, list your side projects, non-paid freelance gigs, volunteer experience and part-time jobs.
Pro Tip: A programmer resume in PDF is probably your usual choice. PDFs are good because they keep the layout intact. But read the job description carefully to see if PDFs are accepted. If not—send your programming resume in DOC.
Feel like you could benefit from highlighting your programming skills? Think you could benefit from a different programmer resume format? Check out our comprehensive guide: Resume Formats: How to Format a Resume for Greatest Impact?
2
Programmer Resume Objective or Resume Summary?
Picture a programming recruiter.
She's sitting at her desk, scanning a load of 500+ resumes.
Suddenly, she sees your resume. She sits up. She reads the whole thing.
How did you accomplish that?
By putting a carefully crafted introduction to your resume at the very top—a brief, sharp paragraph that showcases your strengths and proves that you're just the candidate she's been looking for.
Your opening paragraph will either be a resume summary or a resume objective.
Here's which one you should choose:
A resume summary should be used in:
Senior software programmer resumes for experienced candidates
Resumes for specialized positions, such as C programmer resumes, Python programmer resumes, or C++ programmer resumes
Resumes for managerial or executive positions
A resume objective, in turn, is the best choice for:
Entry level computer programmer resumes
Self-taught programmer resumes with little work experience
Junior programmer resumes
Programmer resumes for fresh graduates
Programming internship resumes
Let's see some examples of programmer resume summaries and objectives:
Here's a sample programmer resume objective:
Sample Entry-Level Programmer Resume Objective
wrong
Computer Science BSc graduate looking for a job where I can leverage my knowledge of C++ and ASP.NET MVC architecture working with a highly effective team in the medical field.
Why is it so bad?
Like most others, this candidate wrote about what he wants from a job.

No one cares what you want. No one cares that you want to "leverage your skills working with a highly effective team."
Have a look at a good self-taught programmer resume objective:
Entry-Level Programmer Objective Example
right
Hard-working listing programmer with a flair for creating elegant solutions in the least amount of time. As a freelance programmer, created SAS datasets of clinical data and developed macro programs to improve efficiency and quality of data management for Takeda Pharmaceuticals. Looking to use my programming skills to help boost Piper Companies' data management efficiency.
See the difference?
This one's solely focused on the employer's benefit, not the candidate's personal gain.
Now it's time to compare two examples of programmer resume summaries.
Here's a sample C programmer resume summary:
C Programmer Resume Summary Example
right
Results-oriented C programmer with 8+ years experience developing, testing, and maintaining enterprise software applications. Designed and developed over 30 advanced applications from use cases and functional requirements. Investigated new technologies to make sure that XYZ Corp remained the leader in setting industry standards in past years.
Just perfect. This one's sure to make the recruiters pick up their phones and call the candidate in for an interview.
Sample Programmer Resume Summary
wrong
Software programmer with extensive experience skilled in C, SQL, Java, JavaScript, Python, Perl, PHP and C#. Developed multiple apps, websites, and other types of software in accordance with modern trends and industry standards.
Not awful, right? But it's too general and doesn't include any hard numbers.
The candidate from the wrong example just listed generic programming skills and duties. This sort of resume summary is just like everybody else's. It's not going to impress the recruiters. Rather, make them go "YAWN!"
Our resume builder (you can create your resume here) will give you tips and examples on how to write your resume professional summary section. Or any section for that matter. You can copy the examples to your resume, customize, and save a lot of time.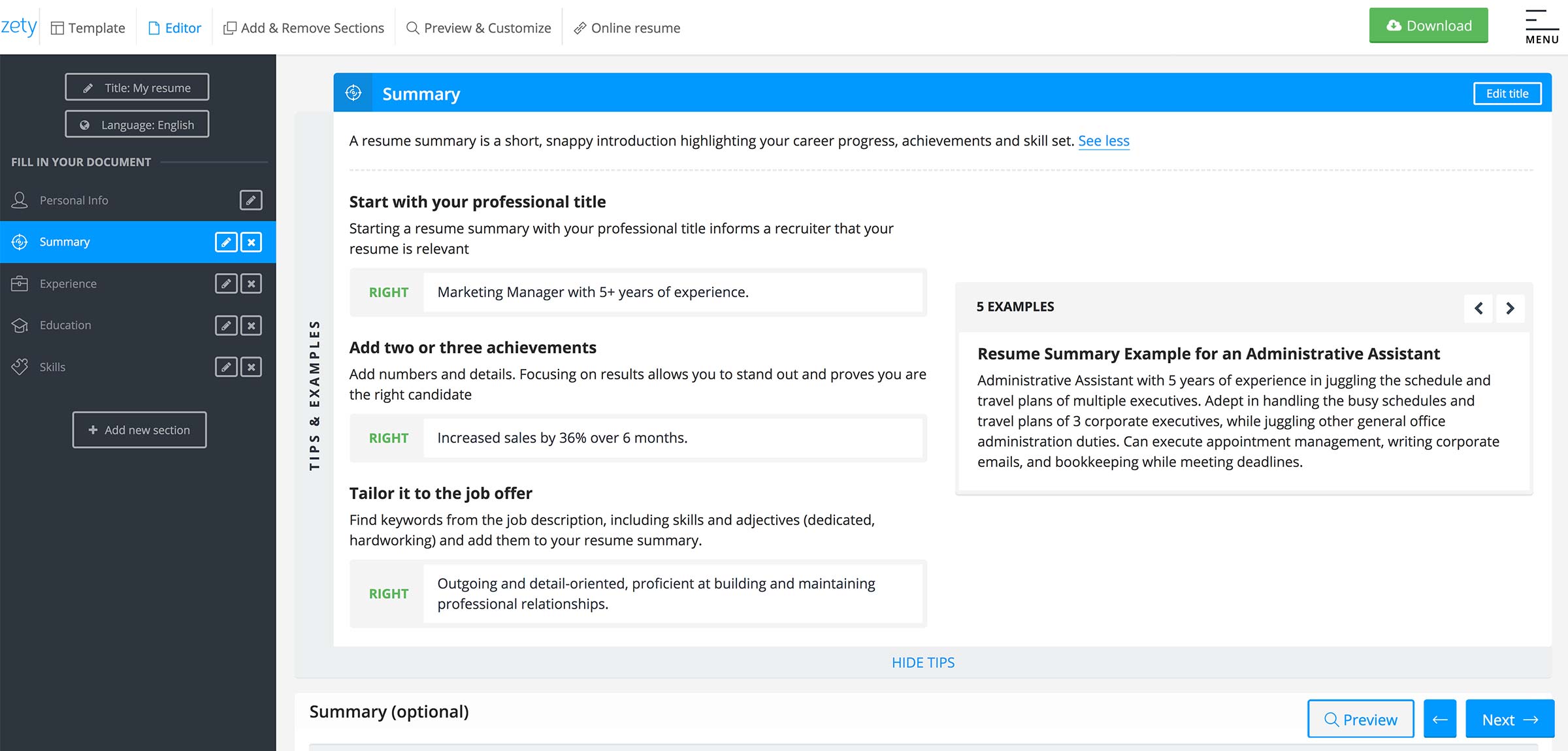 Inside our resume builder, you'll find expert tips and examples for your resume summary.
Hungry for more advice and tips on how to write a programmer resume objective or resume summary? See our guides: How To Write A Resume Summary: 21 Best Examples You Will See and +20 Resume Objective Examples—Use Them On Your Resume (Tips)
3
How to Describe Your Programmer Experience?
Think about this:
On average, recruiters take just 6 seconds to review a single programming resume.
It's scary, but true. Good thing is, you can make these 6 seconds work for you.
Here's how:
What matters most for recruiters is your work experience.
If you want your dream programmer job, the work experience section on your programmer resume has to be jaw-dropping. Here's how to have one:
Start with your current or most recent job. Then, add your previous positions in reverse chronological order.
Under each entry, add up to five bullet points. Focus on your achievements—recruiters are not interested in what you did, but how well you did it.
Show how you can provide value to your employer based on what you've done in the past. By tailoring your work experience section so that it matches the job offer.
What do I mean by tailoring?
While reading the job ad, highlight all the requirements and responsibilities of the position. These are the keywords the recruiters will be looking for on your programming resume.
If you see tasks that you've done before, list them in bullet points under your positions.
Here, see how it's done:
Have a look at a sample Java programmer job description:
GENERAL DUTIES & RESPONSIBILITIES
Provides design development of projects(1) involving application development, migrations, and additions to existing applications.
Participates in project meetings(2) with other technical staff, business owners and subject matter experts.
Assesses and develops design requirements for project(3) and communicates in writing or in meetings with development team while assessing detailed specifications against design requirements.
Reviews test results(4) and directs further development.
May provide, or guide provision of technical support to applications currently in production.
May mentor or guide(5) work of less experienced programming and development staff.
Now, have a look at the work experience section on a Java programmer resume sample. Notice how the candidate matched his responsibilities with the highlighted keywords:
Example of a Java Programmer Resume Work Experience Section
right
Java Programmer
Black Knight Financial Services 2010–2017
Jacksonsville, FL
Designed and developed up to 10 applications projects per year(1)
Designed project requirements(3) in cooperation with data analysis teams
Supervised products testing, reviewed and analyzed test results(4)
Participated in project meetings(2), with technical staff members, business analysts, and external stakeholders.
Trained and mentored(5) over 15 junior programmers and developers
Key achievement: Developed test automation(4) tool that reduced testing time by 55%.
Wow, right?
The candidate didn't cram his work experience section with all his previous duties. Instead, he listed only those that show he'll handle his prospective responsibilities with ease.
There are two more strategies you can learn from the programmer resume sample above:
First of all, you need to highlight your best achievements.
See how our candidate did it:
Key achievement: Developed test automation tool that reduced testing time by 55%.
He used the PAR (Problem Action Result) formula:
Problem: testing was too time consuming
Action: developed a tool to automate testing
Result: testing time reduced by 55%.
Also, remember that, as a programmer, you need to be quick and efficient. So, quantify your achievements whenever possible.
Secondly, use action words to describe your responsibilities.
"Designed application projects," or "Trained junior programmers" sound way better than "Application projects design" or "Training and mentoring."
Pro Tip: If your projects are available online, include links to your portfolio below the list of your past employers. This is particularly important if you're writing a freelance programmer resume or a self-taught programmer resume. Linking to good projects on a resume for programming jobs is as important as describing your job history.
Now. What if you don't have much programming experience?
How to Write a Programmer Resume with No Experience?
We've got good news for you: it's really easy to get some programming projects for your resume. They will take you no more than a couple of days and you'll be able to show your future employers that you've got relevant job experience.
Have a look at some coding project ideas:
Do freelance projects
Post your code on Github
Contribute to open source and freeware initiatives
Participate in Hackathons
Want to know exactly how to boost your work experience section by listing achievements on your professional programmer resume? See our guide: How to Put Achievements on a Resume—Complete Guide (+30 Examples)
4
How to List Programming Projects on Your Resume
You're a programmer, so your career isn't just about 9-to-5 jobs, it's about projects, too.
A good list of programming projects on your resume is one of the things the hiring managers expect. So, add a "Projects" section below your work experience.
Focus on your relevant projects.
Applying for a position at a cool, relaxed start-up? You might want to put links to some fun and creative projects on your resume.
Aiming at a job with a serious corporate tech company? Choose projects that show your programming proficiency and your ability to follow directions.
If you don't have an abundance of programming projects to choose from yet, keep in mind that for hiring managers, any programming projects are usually better than none.
Even programming projects you had to do for class are well worth including on an entry-level programmer resume. Use them to prove your knowledge is applicable in a professional environment.
Pro Tip: If you put a programming project on your resume, be prepared to answer detailed questions: "What was hard about it?" "What did you learn?" "What was your biggest challenge?" Don't overhype a project and make it sound like you did more than you really did—it will be an instant deal-breaker during the interview.
Want to see some other ideas for your programmer resume sections? Have a look at our handy guide: Resume Sections to Include on Your Resume: Guide (+20 Examples)
5
Is Your Education Section Underclocking? It Might Be.
Good news: listing your education on a programmer resume is usually easy.
Most of the time, you're required to have a bachelor's degree, but your education is not the chief focus of the recruiters.
If that's the case, all you have to do is enter your highest degree of education.
Include your major, the name and location of your college, and graduation dates.
Here's a programmer resume sample education section:
Sample Programmer Resume Education Section
right
2012 B.Sc. in Computer Science
University of Iowa, Iowa City, IA
It's okay to include more details in your education section, only if they're exceptionally interesting or relevant to the position.
Pro Tip: If you have relevant work experience, don't put your GPA on a resume for a computer programmer role unless the job description asks for it.
What if you're writing a self-taught programmer resume?
It's perfectly fine if your college degree has little to do with computer science. Online learning programs, bootcamps, and other courses are enough to build a strong case for your education.
Want to learn more about making a professional programmer resume education section? See our guide: How to Put Your Education on a Resume [Tips & Examples]
6
How to Put Skills on Your Programmer Resume?
Listing your programming skills on a resume is tricky.
Let's say, you're familiar with 10+ programming languages and feel tempted to show it off.
C, C++, Java, JavaScript, Perl, Python, Go, Visual Basic, HTML, Cobol, Swift, Lua…
That seems like an impressive skills list to put on a programming resume, right?
Wrong.
Though you're familiar with all those languages, you're probably not an expert in all of them, and most of them are probably irrelevant to the job you're trying to land.
Again, remember about tailoring your resume to meet the employer's needs.
Here's how to do it:
Start with a spreadsheet and list all your top skills.
Read the job ad and look for skills-related keywords. Those will refer either to programming languages and software skills, or transferable "soft" skills such as timeliness, organization, and teamwork.
Finally, match the skills from your list with those that your employer expects.
How to put programming skills on a resume?
Have a look:
Here's a sample job description for a SAS programmer:
Required Skills/Experience:
Minimum 5 years of expert level SAS programming(1)
Minimum 5 years of experience with SAS Enterprise Guide(2)
Experience with SAS scoring(3) and code Accelerator(4) is preferred
Minimum 5 years of practical experience working with large datasets with SAS and/or SQL knowledge
Experience with SAS Management Console is preferred
Work well within a team of analysts(4) and collaborate with individuals with technical and non-technical backgrounds(5)
And here's a tailored SAS programmer resume skills section:
SAS Programmer Resume Example—Skills Section
Relevant skills:
Advanced knowledge of SAS programming (8+ years of experience)(1)
Proficient in following SAS products:
SAS/Enterprise Guide(2)
SAS Scoring Accelerator(3)
SAS Code Accelerator(4)
Good teamwork skills (worked with teams of 10+ analysts

(4), and marketing specialists with

limited technical knowledge

(5)
Nailed it.
Keep in mind that your computer programmer resume is not about how great a professional you are. It's about how well you'll perform in this particular job.
A tailored list of programming skills on a resume will make hiring you a no-brainer.
Pro Tip: As a programmer, you're obviously a proficient computer user. You don't need to mention basic software skills on your programmer resume. It would look unprofessional.
Need some more ideas on how to make the best programmer resume skills section? See our guide: +30 Best Examples of What Skills to Put on a Resume (Proven Tips)
7
How to Add Other Sections on an Effective Programmer Resume?
The problem with most programmer resumes is that they're almost identical. All in all, every programmer has similar responsibilities, skills, and education.
And that's your opportunity to stand out from the crowd.
Have a look a some ideas of what to include in your programmer resume additional section:
Professional certifications
Publication in journals
Industry blogs
Languages
Volunteer experience
Got an online portfolio? Include a link in your contact information section.
It's also okay to link to social media profiles, especially Github. Actually, if you're a prolific Github contributor and many of your projects are available online, it's a good idea to list them in an additional section.
If you're writing an entry-level junior programmer resume and can showcase none of the above yet, it's a good idea to add a hobbies and interest section. It can prove that you're a good cultural fit for the company. And, nowadays, it's becoming more and more important.
Pro Tip: If you feel like you have nothing that makes you glitter, it's easy to change it. Good project ideas for a programming resume additional section include writing guest posts for an industry blog, taking additional online courses, attending conferences, or participating in hackathons.
Not quite sure what to include in the extra section of your computer programmer resume and what to leave off? Read our guide: 20 Best Examples of Hobbies & Interests To Put on a Resume (5 Tips)
8
How about a Programmer Cover Letter?
How about—job or not?
A good programmer cover letter can be used to your massive advantage—it tells a story your resume can't.
Think about looking for a beginner IT job or a programmer internship. Daunting, isn't it? It's your programmer cover letter that can get you there!
If you attach a cover letter to your programming internship resume, you can highlight your creativity and explain why you're interested in working with a particular company.
Not convinced? Check this out:
Almost 45 out of 100 recruiters won't bother to open your job application if there's no cover letter included.
Yes, you read that right. It's hard to argue with hard numbers.
Write a programmer cover letter (even if not directly asked for in the job ad) and double your chances of getting hired.
Pro Tip: After you send your programmer resume and cover letter, don't forget to follow up! It'll take you no more than a minute and you'll no longer be anonymous to employers.
Plus, a great cover letter that matches your resume will give you an advantage over other candidates. You can write your cover letter in our resume builder here. Here's what it may look like: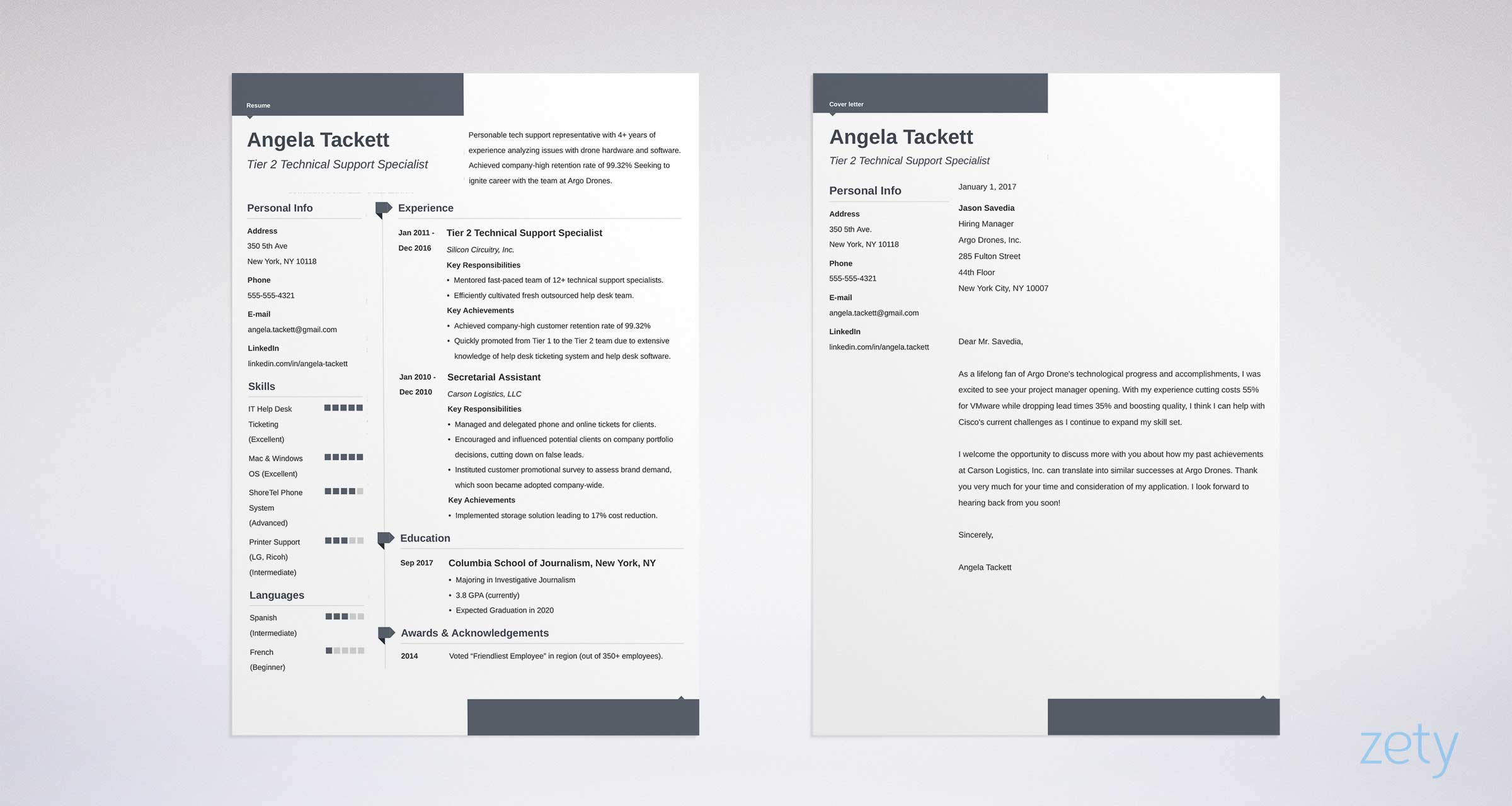 See more templates and create your resume and cover letter here.
And if you want to get some extra tips on how to make the most of your programmer cover letter, read our dedicated guide: How To Write A Cover Letter [Complete Guide With Examples]
Key Takeaway
Even if you have the best programming skills, first you have to catch the recruiter's eye with your professional programmer resume.
Start with a bang: write a resume summary or a resume objective. Make it about the benefit you'll bring to your future employer.
Tailor your resume to the job description. Don't list all the programming skills that you have and don't make your work experience section too long. Focus on what's relevant to this job.
In your work experience section, add a link to your online portfolio and links to your side projects. This way, instead of telling the recruiter how good you are, you'll show it to them.
Wondering how to describe skills or programing languages on a resume for computer programmers? Feel like you could use some tips about listing your major achievements? Give us a shout in the comments, and we'll answer your questions!