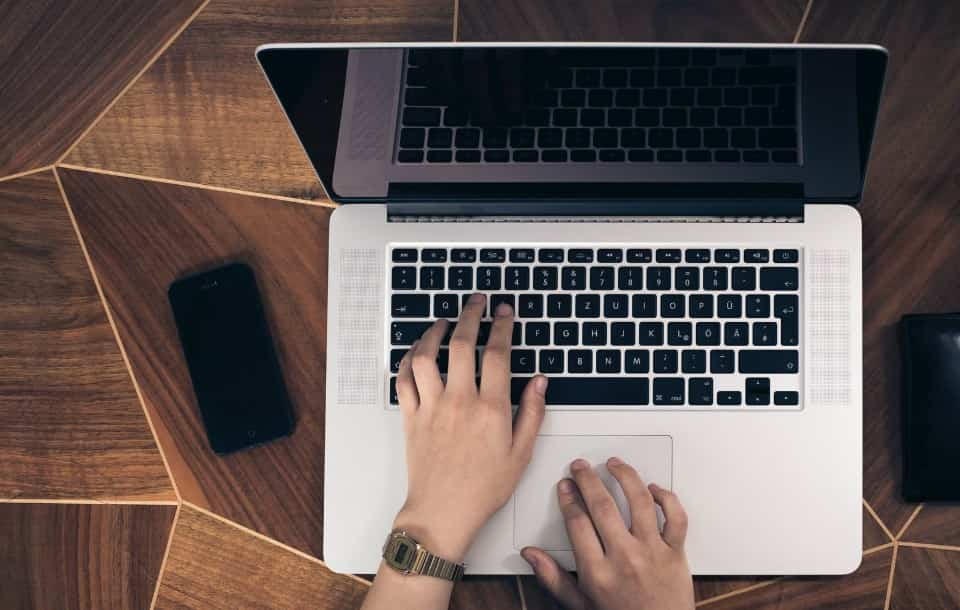 ETL Tester Resume: Sample & Writing Guide
You excel at designing and executing ETL tests, but if your resume is lacking, you can kiss your dream job goodbye. Read on to see how you can remove the bad data from your resume.
You're an ETL tester skilled at detecting discrepancies and keeping data pipelines flowing smoothly. Now, let's ensure your resume is as polished as your error logs!
That's because a mediocre ETL tester resume gets you a mediocre job. And you don't want a mediocre job, do you? You're after that well-paying, cushy position with future prospects and a load of benefits. Let's get to work.
This guide will show you:
An ETL tester sample resume better than 9 out of 10 others.
How you can write an ETL tester resume that instantly gets you more callbacks.
Tips on putting skills and achievements on your ETL tester resume.
The best ways to describe your work experience on an ETL tester resume.
Want to save time and have your resume ready in 5 minutes? Try our resume builder. It's fast and easy to use. Plus, you'll get ready-made content to add with one click. See 20+ resume templates and create your resume here.
Sample resume made with our builder—See more resume examples here.
Also, check out our other resume writing guides:
Sample ETL Tester Resume
Boone Novac
ETL Tester
378-862-3894
boonenvc@hotmail.com
Linkedin.com/in/boonenovac
Summary
Detail-oriented ETL tester with 6+ years of experience and excellent communication skills. At LundGeek, increased reporting accuracy by 12% and introduced a documentation method, resulting in 80% of reports delivered before deadlines. Eager to apply my skills and experience towards driving growth and efficiency through consolidating relevant data at Drip Technologies.
Experience
ETL Tester
LundGeek, Austin, TX
June 2017–present
Created, optimized and implemented 25+ inline view queries and SQL queries.
Revised testing procedures to decrease overall product cycle duration by 10%, with no detriment to product quality.
Scheduled and coordinated testing workflow among a team of 3 other fellow testers.
Key achievement:
Initiated and led a company-wide effort to streamline methods of reporting and documentation. This resulted in 80% of reports being prepared ahead of schedule, with a 12% increase in accuracy.
ETL Tester
DataCo, Austin, TX
June 2015–June 2017
Produced and performed 100+ test plans and scripts per week.
Improved performance of the PL/SQL procedures by creating custom views.
Prepared 15+ test environments for QA team per month.
Education
BSc in Computer Science
University of Central Oklahoma, Edmond, OK
2011–2015
Skills
SQL
STLC/SDL
Teradata
ALM, QC, Clear Quest
MongoDB
Informatica
C++, Python, Java
VBA
Critical thinking
Problem-solving
Communication
Teamwork
Certifications
ETL Testing Certification
QuerySurge, 2015
Languages
American English: Native
Spanish: Intermediate
Clean, effective, and to the point. That's how you make a good impression. Now, here's how to write your ETL tester resume:
1. Format Your ETL Tester Resume Like a Pro
ETL testers design, test, and maintain a company's data storage system. They validate data sources and upload extracted data into tables. During testing, they document their findings to keep track of what works and what doesn't. A good ETL tester resume needs to show efficiency and attention to detail.
Basically, recruiters want to know from the very first second of their very first glance if you have what they're looking for. They're not Oracles (pun intended) who simply know you're all the rage.
That's why there are certain resume formatting rules to make it easier on them and their eyes (that are already pretty tired from looking through a stack of 50 other resumes, mind you). It goes a little something like this:
Read more: Best Resume Types & How to Choose the Right One for You
2. Write an ETL Tester Resume Summary or Objective
This one can be easy to write, but equally easy to screw up. Essentially, a resume profile is a quickelevator pitch-like segment that briefly states who you are and what you're hoping to achieve.
Profiles come in two different types: you'll choose between writing an objective for a resume or a professional resume summary.
Use the former if you're lacking experience and/or writing a career-change resume. Your best bet will be to highlight any transferable skills that would apply in an ETL testing environment. Also, don't forget to include some of your achievements to prove you're not a slacker.
The resume summary is reserved for ETL big boys and girls who've been around the block already. If you've been in the industry for 2+ years, write a resume summary and list 3 or 4 of your strengths that you think are valuable and that match what was posted in the job advertisement.
A lot of people get hung up on this section. Sure, it can be a head-scratcher: it's not easy to just pump out a perfect resume profile off the top of your head. If this is you, skip ahead and start by writing the other sections, then come back here.
Read more: Resume Introductions: How to Start Your Resume + Examples
3. Fine-Tune the Work Experience Section of Your ETL Tester Resume
As you already know, being successful in the role of an ETL tester requires a lot more than just… testing. There are many steps involved, and you need to prove you're proficient in all of them.
For starters, you'll want to show your expertise in the experience section of your resume. But how can you do it right so it doesn't flop?
Here's how:
As we've seen before, the reverse chronological format involves placing your most recent job first, at the very top. Do that. The older job(s) will come later down the line.
For each position, you want to state the name of the company, your job title, the years you spent there, and around 4–6 bullet points for the most recent job. As you go back in time, limit yourself to about 3 bullet points.
These bullet points should outline your primary duties and accomplishments. It's important to use action words (they are best at keeping the recruiter's attention) and measurable achievements. Don't just say "Performed X regularly", say "Performed X approximately Y times a year, resulting in a Z% increase in efficiency".
If you're starting out and haveno experience, switch the position of your experience section with your education section—it takes priority in that case.
Remember how we mentioned to match the job ad when writing a resume summary? This part plays a huge role here as well.Tailoring your resume boosts your chances dramatically, while mass-sending out generic templates does the opposite.
Read more: How to Choose Relevant Experience for Your Resume
4. Include the Perfect ETL Tester Education Section
Most ETL testing jobs require at least a Bachelor's degree.
So, if you've got that, great, let's move on to the next section!
Actually, not quite.
If you have lots of relevant experience, just list your degree, college name, and dates of attendance.
If you're not quite that experienced, make sure your education section includes information such as relevant coursework, club memberships, GPA (only if it was 3.5+), and other college highlights.
Read more: How to Put Your Degree on a Resume
5. Make Your ETL Tester Skills Shine
According to this paper, as many as 50% of data warehousing projects end up failing before they are seen through to completion. The reason? Insufficient degree of proper quality assurance.
The recruiter will look toward your skills to make sure you are likely to deliver the other 50%.
Come up with a list of all of your skills relevant to the position. Fill it with soft skills, hard skills, and technical skills.
Then, by referring to the job posting once again, find out what the company is looking for. All you have to do now is simply put those in on your resume, and you're on your way to getting hired. Easy, right?
Here's a sample list of skills to put on an ETL tester resume:
ETL Tester Skills:
End-to-End Testing
STLC/SDLC
Knowledge of Databases
Oracle SQL
JIRA
Informatica Powercenter
ALM, QC, Clear Quest
Reading Comprehension
Active Listening
Strong Communication Skills
Read more: Listing Programming Projects on a Resume
When making a resume in our builder, drag & drop bullet points, skills, and auto-fill the boring stuff. Spell check? Check. Start building a professional resume template here for free.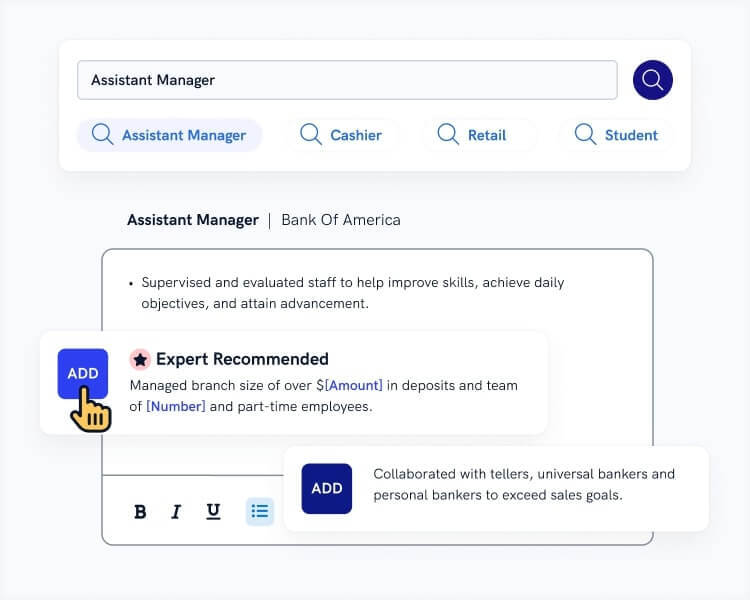 When you're done, our online resume builder will score your resume and our resume checker will tell you exactly how to make it better.
6. Show Your Passion in the Miscellaneous Sections
Additional sections are a great way to add a nice finishing touch on your resume. Their main purpose is to show something unique about you and prove you're passionate about the position.
If you're a regular columnist in a CompSci mag, you're pretty much set. And if you're not, you can include elements such as:
Programming languages
Other projects you contributed to
Read more: What to Put on a Resume
7. Attach a Cover Letter with Your ETL Tester Resume
Statistically, cover letters improve your chances at getting hired, period. That's why you need to include a cover letter.
Follow these basics to get the perfect cover letter done in a flash:
Structure your cover letter ahead of time so that you know what you're writing about (and where).
Make sure your cover letter layout is up to scratch.
Start your cover letter by getting straight to the point and listing a few of your strong points and credentials.
Emphasize why hiring you is the next stop in the company's road to continued success.
Then, end your cover letter on a strong note by making an enticing offer, and requesting to meet in person for an interview.
That's great and all, buthow long should a cover letter be? Simple: keep it to about 3 or 4 paragraphs.
Read more: What Should a Cover Letter Say?
Plus, a great cover letter that matches your resume will give you an advantage over other candidates. You can write it in our cover letter builder here. Here's what it may look like: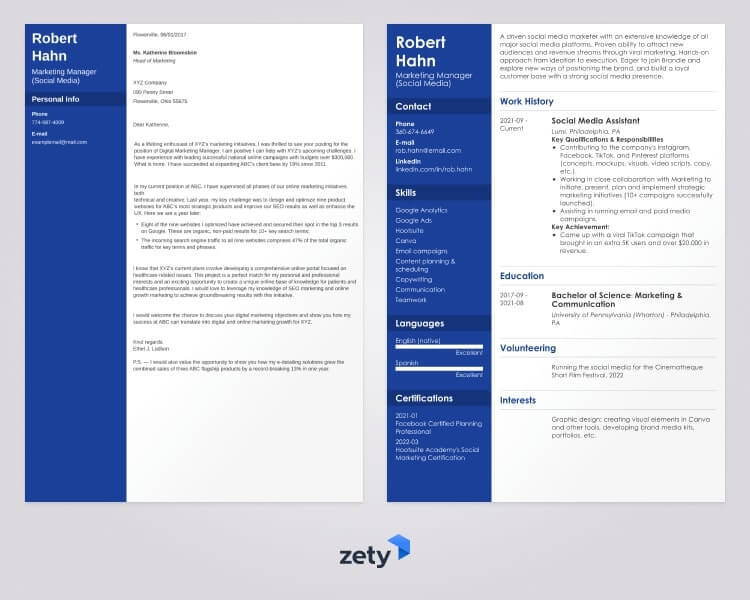 See more cover letter templates and start writing.
Nothing more to it.
That's how you write a fantastic ETL tester resume that gets jobs!
Thanks for reading. If you have any questions or feedback, leave us a comment in the section below and our experts will gladly reach out!
About Zety's Editorial Process
This article has been reviewed by our editorial team to make sure it follows Zety's editorial guidelines. We're committed to sharing our expertise and giving you trustworthy career advice tailored to your needs. High-quality content is what brings over 40 million readers to our site every year. But we don't stop there. Our team conducts original research to understand the job market better, and we pride ourselves on being quoted by top universities and prime media outlets from around the world.