Our customers have been hired by:
Imagine you wrote an SQL developer resume and got the job. You're at your new office that has a floating desk, wraparound monitors, and a nine-foot poster of Ashoka Tano. 300+ applicants fought like StarCraft players for the job. You got it. How? Your SQL resume blew the hiring manager out of his XKCD hoodie by being top of the game.
The database development field is tight. Your SQL developer resume must stand out like Ada Lovelace at Denny's to get the best jobs. And it will.
This guide will show you:
An SQL developer resume example better than 9 out of 10 others.
How to write a PL/SQL resume that gets more interviews.
Tips and examples of how to put skills and achievements on a database developer resume.
How to describe your experience on a resume for an SQL developer to get any job you want.
Want to save time and have your resume ready in 5 minutes? Try our resume builder. It's fast and easy to use. Plus, you'll get ready-made content to add with one click. See 20+ resume templates and create your resume here.
Sample resume made with our builder—See more resume examples here.
Are you a techie, but not an PL/SQL developer? Check out our list of 20+ technical resume examples. You might also want to switch over to:
SQL Developer Resume Example
Austin McDowell
SQL Developer
555-555-5555
austinmcdowell@email.com
linkedin.com/in/austin.mcdowell
Summary
Certified SQL Developer with 5 years of experience working on database solutions. Seeking to help Hi-Tech Solutions improve its SQL Server database management systems by leveraging expertise in Oracle, data modeling, ETL techniques, and agile methodologies. Improved data processing time by 20% at SwiftShift Technologies.
Experience
SQL Developer
SwiftShift Technologies, Salem, OR
June 2016–Present
Key Qualifications & Responsibilities
Developing and implementing database solutions using SQL and PL/SQL for Oracle databases.
Performing troubleshooting, optimization, and performance tuning.
Handling data extraction, transformation, and loading (ETL).
Developing database scripts.
Implementing software development lifecycle processes, including agile methodologies.
Key Achievement:
Improved data processing time by 20%.
SQL Developer
NovaGen Corporation, Salem, OR
July 2014–May 2016
Key Qualifications & Responsibilities
Managed SQL Server databases.
Implemented stored procedures and triggers for automation tasks.
Ensured data consistency and integrity.
Developed triggers for data validation.
Performed complex SQL queries and stored procedures with parameters.
Key Achievement:
Automated data processing tasks, reducing manual labor by 15%.
Education
Bachelor of Science in Computer Science
Oregon State University, Corvallis, OR
September 2010–June 2014
Relevant extracurricular activities
Member of the Computer Science Club.
Organized coding boot camps.
Academic achievements:
Graduated with Cum Laude honors.
Received the Innovative Programmer Award for developing an efficient data sorting algorithm.
Skills
Oracle and SQL Server database management
Data modeling
ETL processes
Agile methodologies
Problem-solving
Communication
Teamwork
Time management
Certifications
Oracle SQL Developer Certified Professional, Oracle University, 2014
Microsoft Certified Professional for SQL Server 2008, Microsoft Corporation, 2016
Awards
2018, SQL Developer of the Year, SwiftShift Technologies
Memberships
Member of the Association for SQL Developers since 2015
Delivered a lecture on Efficient Data Modeling at the 2017 SQL Developers Conference
Languages
English—Native
Spanish—Intermediate
Interests
Providing free coding lessons for the local community.
Participating in coding hackathons.
1
What's the Best Format for a PL/SQL Developer Resume?
Meet Pete, the tech firm's hiring manager.
He's got a DevOps heart and a data science mind.
He's also got zettabytes of database developer resumes to slog through.
Your professional SQL resume must convince him of your powers quick.
So, use the reverse-chronological resume layout. It's the best SQL developer resume format because it puts your latest wins up top.
That's crucial in an industry where yesterday's achievements are as old as COBOL.
Use white space, the best resume font, and clear headings for a fast response time.
Should you send a PDF or Word Doc resume?
Send a PDF resume unless the job ad says not to. Today's PDFs are machine readable.
That means they play well with Applicant Tracking Software.
Pro Tip: Want to earn the best salary for your SQL developer skills? Consider applying for data science jobs. See our guide: Data Scientist Resume Example and Writing Guide
Verify the other options for sql developer resumes. See our guide: Resume Format: How to Format a Resume for Any Job
2
SQL Developer Resume Summary or Resume Objective
"We need to hire this applicant."
Your Oracle developer resume should INSERT INTO hiring_manager's_mind ('the words above').
But the hiring manager has to read it first.
Bind her attention with a resume summary or a resume objective. They're like an immediate answer to "Tell me about yourself, SQL developer"—
Which is which?
A resume summary teases terabytes of production environment experience. Use one if you've got a lot.
A resume objective shows your passion when you're still in the Hello World stage.
These two senior SQL resume examples give a walkthrough:
SQL Developer Resume Examples [Resume Summaries]
Can you spot the error in the first of our senior SSIS developer resume samples?
wrong
SQL developer with 3 years of experience. In charge of daily SQL work at PinkSky Tech. Managed databases, created automation, in charge of requirements collection. Highly skilled in productivity, Oracle, and SSIS development.
That's not as bad as DELETE FROM without WHERE. But it won't return a huge array of interviews.
Follow the next of our PL/SQL developer resume samples instead:
right
OCA certified SQL Developer with 3 years of experience, seeking to use proven Oracle and PL/SQL skills to improve data management at CyrusOne. Delivered 10 DB projects at Gamma Nexus Group on time and 15% under budget. Freed up 50 hrs/mo at PinkSky Tech through back-end automation.
Boom. That resume is in the Bjarne Stroustrup zone. The measurable accomplishments make it function.
When making a resume in our builder, drag & drop bullet points, skills, and auto-fill the boring stuff. Spell check? Check. Start building a professional resume template here for free.
When you're done, our easy resume builder will score your resume and our resume checker will tell you exactly how to make it better.
Don't have that kind of SQL developer experience? See the junior SQL database developer resume examples for freshers below.
Two Entry-Level SQL Developer Resume Objectives
Is your SQL experience is like an empty table? If so, use a PL/SQL resume objective.
Back before Fortran, that meant showing passion. That's what the next of our database developer resume examples tries to do:
wrong
Passionate, Driven SQL developer, looking for entry-level job with room for advancement. Highly skilled in Oracle, PL/SQL, SSIS, and database architecture.
Passion is fantastic, but it doesn't pay the bills.
I can't stress this enough: add measurable achievements, like in this example:
right
Hard-working OCA Certified SQL Developer. Have created working database back-ends for 4 web apps. Designed a restaurant inventory application that saved the company $400/month in labor costs. Skilled in Oracle, PL/SQL, and database security.
That creates an entity relationship between you and the hiring manager.
But what if you don't have even that much experience?
Don't worry. I'll show that next.
Pro Tip: Write your SQL BI developer resume summary or SSAS resume objective last. That'll give you plenty of material to draw from.
Want to deploy a PL/SQL developer resume objective or summary that gets a lot of interviews? See our guides: Resume Career Summary: 20+ of the Best Examples and 20+ Resume Career Objectives to Use on Your Resume
3
How to Describe Your SQL Experience
Remember the hiring manager, Pete?
He can't stand these noob mistakes in SQL server resumes:
Too much experience
The wrong kind of experience
Not enough experience
I'll show you how to fix them all right now.
If you've got a longer work history than Donald Knuth, show your last job first.
Add 3-5 bullet points with measurable accomplishments. See the PL/SQL resume examples below for a clue.
SQL Developer Resume Examples [Experience]
The first of these database developer resume examples will create interview objects:
right
Gamma Nexus Group
SQL Developer
2016–2018
Led development of 10 database projects for customers. Completed projects on time and 15% under budget.
Used dialogue-mapping to gather requirements to 98% customer satisfaction.
Used Oracle data modeling to boost productivity and cut production costs 10%.
The hiring manager would have to have brain_cell_count=NULL to ignore that. Your stellar SQL programmer resume just proved your skills.
But DELETE those achievements, and:
wrong
Gamma Nexus Group
SQL Developer
2016–2018
Responsible for database development.
In charge of requirements gathering for all jobs.
Tasked with increasing productivity.
Handled regular updates and database maintenance.
Error: interview not currently available. You need metrics.
If you haven't got experience to leverage on your resume, see our next two entry-level SQL developer resume examples.
How to Write a Resume for SQL Developers with no Experience
Maybe you can't write an SQL developer resume with 1 or 2 years' experience.
But you should put something in your SQL resume. Even if it's just SQL volunteer work.
Let me show you what I mean. See the entry-level SQL developer sample resumes below?
Two Entry-Level SQL Server Developer Resume Samples [No Experience]
What's the difference in these database developer resume examples?
wrong
SQL Experience: None yet but I'm very enthusiastic.
Other Experience:
Car wash attendant
Food service prep
That applicant doesn't even know what Hello, world means.
So, add details to get a freelance SQL resume example like this:
right
Freelance SQL Developer
2017–2018
Created a restaurant management database to handle all food and beverage inventory for a chef-owned restaurant. Saved an estimated $400 per month.
Created database back-ends for three mobile apps.
Integrated database functionality into a sales website for tee shirts and hats.
Wow, right? Sudo give me the interview.
But where did you get that work history?
You listed projects you did for fun in school. Then you spent two days on a new project this week.
Pro Tip: Need some quick projects for professional SQL developer resumes? There's a great list of SQL resume projects here.
Don't leave your PL/SQL developer resume open to boredom injection. Spice it up with action words. See our guide: +80 Examples of Resume Action Words for Every Profession
4
Is Your Education Section Vulnerable? It Might Be
Does education matter on a resume for SQL developers?
Not the way you think.
Yes, you need to show your education.
Yes, experience matters more.
But it's a trojan horse. Stuff it with resume candy that'll make the hiring manager stop skimming.
Start with:
School Name and Location.
Years in School.
Degree.
Then UPDATE it with achievements that fit the job.
Here are two more PL/SQL resume examples.
SQL Developer Resume Examples [Education]
The job ad wants security, database architecture, and leadership. Look how these SQL BI developer resume samples approach the problem.
right
BS in Computer Science, Mohave Community College
2010–2014
Pursued a passion for database architecture coursework.
Excelled in security classes.
President, Bighorn Decoders Computer Club.
That's no generic applicant. It's a young Ben Forta.
Or you could do what everybody does:
wrong
BS in Computer Science, Mohave Community College
2010–2014
Completed all core classes
GPA 2.9
That's very nearly null.
You need to link it to the job to keep the manager connected.
Pro Tip: Are you writing an entry-level SQL developer resume? Make your education section longer. Even a compliment from a professor can make a good bullet point.
Should you list your GPA on a resume for SQL developers? Only if it's recent or impressive. Otherwise, use the space for /* IMPORTANT */ info. See our guide: How to List Your Education on a Resume [Tips & Examples]
5
How to Put Skills on a Resume for an SQL Developer
Convince the hiring manager you've got the skills. Do that, and he'll GRANT the_interview TO you.
But don't do what most people do in SSIS developer resumes.
That is, don't just list a bunch of skills.
Prove you've used the ones shown in the job ad.
The next two SQL resume examples show how.
SQL Server Resume Examples [Skills]
Pete put these skills in the job description:
Automation, Security, Database Maintenance
Don't list them in a skills dump:
wrong
SQL Developer Skills: Oracle, Database Architecture, SSIS, PL/SQL, Security, Common Table Expressions, Creating Reports, Interpersonal Skills, Collaboration, Communication, every other skill and then some...
Instead, show the most important, then prove them like this:
right
Designed 3 onsite databases and maintained a group of 25 databases. Through automation, improved efficiency 15%, freeing up 50 labor hrs/mo.
Updated and enforced security procedures, ensuring 20% less breach risk.
Wrote scripts to automate software updates, saving 3 programmer hours/mo.
See that? You not only list the skills, you show you used them well.
Do the above, and you'll need a data warehouse to store all your interview requests.
Need some starter skills?
Use the PL/SQL developer resume skills list below.
List of Skills to Put on an SQL Server Developer Resume
The skills below make great SQL developer resume keywords.
Find more in job offers online.
SQL Developer Resume Skills

| | |
| --- | --- |
| Soft Skills | Hard Skills |
| Collaboration | Set Theory |
| Communication | Common Table Expressions |
| Problem Solving | SSIS Development |
| Perceptiveness | PL/SQL |
| Self Motivated | Indexing |
| Interpersonal Skills | Database Architecture |
| | Oracle |
| Detail Oriented | ETL |
| Decision Making | Reporting |
| Dependability | Security |
Use that plan, and you'll DROP TABLE unemployed; before you can say, "Primary Keys."
Pro Tip: Want to know what skills questions the hiring manager will ask you in the interview? Check out this great article on how to screen for SQL developer skills.
Do some data verification on your SQL resume skills section. See our guide: +30 Best Examples of What Skills to Put on a Resume (Proven Tips)
6
How to Show Certifications on a Resume
Does an OCA certification guarantee you'll get the job?
No, but it looks mighty fine on an entry-level resume for SQL developers.
But create a clear access path.
First, put it in your summary.
Then, add it to a dedicated certifications section, like this:
Certifications
OCA – Oracle Database SQL Certified Associate
Microsoft SQL Certification
Even if the hiring manager skims at 500 MBps, he won't miss your cert.
Pro Tip: Do you have certifications that don't match the job offer? Leave them off your SQL developer resume. They'll only clog up your efficiency.
Use the right syntax when you list certifications on an SSAS resume. See our guide: How to List Certifications on a Resume: Guide (+20 Examples)
7
Add these things to a Resume for SQL Developers
Let's peek in on our hiring manager, Pete.
He's had so much coffee he can write Java applets with his mind.
He likes SQL developer BI resumes that show experience and education.
But he wants to hire a human being.
Prove you are one. Add some "other" sections to your resume.
But don't do it like the next of our SQL resume examples.
SSIS Developer Resume Examples [Other Sections]
Here's how not to write an "other" section in a resume for SQL development:
wrong
Collecting spores, molds, and fungus
Riverdance
That applicant sounds... interesting.
But why not show your superpowers? That's what this Oracle developer resume example does:
right
Conferences
2017 DEVintersection - Spoke on a panel about SSIS Development
2016 PASS Summit - Spoke on panel about Oracle integration
Publications
Article on SSIS published in Oracle Blogs
Article on Common Table Expressions published in WebAppers
Awards
Recipient, Most Valuable Tech Employee 2016, Gamma Nexus Group
Additional Activities
Member, Women in Technology
Volunteer to walk dogs monthly at Arroyo County Shelter
Lead a weekly mountain biking club
Bam. Your SQL analyst resume just deadlocked all the other applicants.
But you've probably got goodies like that in your history right now.
Pro Tip: How many "other" sections go into a resume for SQL development? If your experience is thin, add more. But don't let them make your MySQL developer resume two pages.
Even sports and tech hobbies can pep up a sputtering PL/SQL developer resume. See our guide: +20 Best Examples of Hobbies & Interests To Put on a Resume (5 Tips)
8
What About an SQL Developer Cover Letter?
Do you need a cover letter for an SQL developer resume?
Yes. But not that cover letter.
You know, the one that says, "I saw your SQL programmer job description and here's my resume."
That's a dirty read.
Make your cover letter personal.
Use the hiring manager's name.
Then, show you understand the job, and how you can help.
This truncated example SQL developer cover letter does that:
SQL Developer Cover Letter Example
It's been my dream since college to work as an SQL developer for Arch Span Inc.. I fully believe in your core principle of providing data excellence with best quality at lowest cost. I can bring a lot to that mission.
I freed up 50 labor hours/month at PinkSky Tech through database automation. I also delivered 10 full customer database projects at GNG, 15% under budget...
Always end a cover letter with an offer. For example, "I'd welcome the chance to share how I achieved 20% less breach risk at PinkSky Tech."
Pro Tip: Don't forget to follow up on your SQL cover letter. A follow up call in a few days can give your SQL developer resume a second chance.
Plus, a great cover letter that matches your resume will give you an advantage over other candidates. You can write it in our cover letter builder here. Here's what it may look like: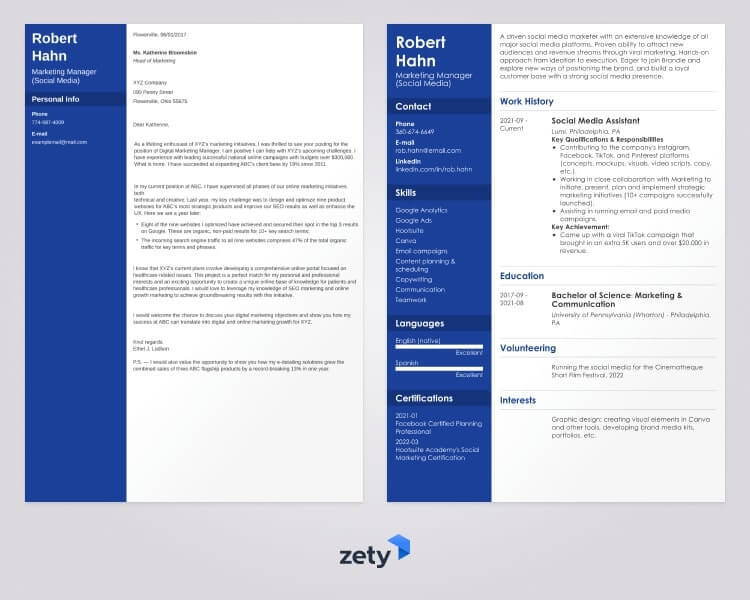 See more cover letter templates and start writing.
Did you know PS can chain the hiring manager's attention to your SQL developer cover letter? Learn how in our guide: How to Write a Cover Letter for a Resume in 8 Simple Steps
9
Don't Add Contact Info to Your Resume Without This
Here's a noob mistake on an SQL developer resume:
You know you need to list:
Full Name
Updated Phone Number
Professional Email Address
Like so:
Jill Van Beest, SQL Developer and OCA, jillvanbeest@gmail.com, 505-918-0381
You probably even know SuperHomestarSQLGuy334@yahoo.com is not a professional email address.
But did you know to add a personal portfolio site and a LinkedIn profile?
Portfolio sites show things you can't put on a resume. Use yours to list projects, reports, and other accomplishments. Then put a link on your resume.
Pro Tip: A good LinkedIn profile is as important as column integrity. Do yours right with our guide to LinkedIn profile secrets.
Want detailed steps so you can make the best SQL developer resume on offer? See our guide: How to Make a Resume: A Step-by-Step Guide (+30 Examples)
Key Takeaway
Now you know how to write a database developer resume that will CREATE TABLE dream_job (high pay, great hours, full benefits);
Follow these important steps to write a SQL developer resume that gets you a job:
Bind your SQL resume to the job. Read the job ad carefully. Highlight what it's looking for. Then prove you've done those things in your bullet points.
Summarize your best accomplishments up top. An SQL developer resume summary slows down a skimming hiring manager.
Add "other" sections that show you live and breathe SQL. Publications, certifications, and classes all work well in a resume for SQL developers.
Tie up loose ends in your cover letter. If you can't address something of importance in your resume, the cover letter can pick up the slack.
Do you have questions on how to write a great resume for an SQL developer? Not sure how to describe your skills or achievements? Give us a shout in the comments! Let's get the conversation rolling.
About Zety's Editorial Process
This article has been reviewed by our editorial team to make sure it follows Zety's editorial guidelines. We're committed to sharing our expertise and giving you trustworthy career advice tailored to your needs. High-quality content is what brings over 40 million readers to our site every year. But we don't stop there. Our team conducts original research to understand the job market better, and we pride ourselves on being quoted by top universities and prime media outlets from around the world.
Sources