SDET Resume: Sample, Tips & Writing Guide
Ready to eliminate bugs and avoid delays by engineering the best SDET resume ever? We've already taken care of the testing for you: all you need to do is replicate the results!
You are minutes away from a mind-boggling SDET resume template. Think your current resume can beat it?
Well, unless you're a real test unicorn, that's pretty doubtful. You have to put in some serious elbow grease (finger grease?) to make it happen. Luckily, we've got you covered with our one-stop-shop of an SDET resume writing guide.
This guide will show you:

An SDET resume example better than 9 out of 10 other resumes.
How to write an SDET resume that will land you more interviews.
Tips and examples of how to put skills and achievements on an SDET resume.
How to describe your experience on a resume for an SDET to get any job you want.
Want to save time and have your resume ready in 5 minutes? Try our resume builder. It's fast and easy to use. Plus, you'll get ready-made content to add with one click. See 20+ resume templates and create your resume here.
Sample resume made with our builder—See more resume examples here.
Here are our other software testing resume guides:
SDET Resume Sample
Jesse Fuitsgerald
Software Development Engineer in Test
360-412-4053
jessefuitsgerald@outlook.com
Linkedin.com/in/jessefuitsgerald
Professional Summary
Experienced test engineer with 6 years in the industry, leading small to mid-sized testing teams in designing and conducting complex test cases and scenarios. Maintained over 20 servers used for testing purposes. Revised documentation preparation procedures, cutting down reporting time by 15%. Seeking to apply my expertise towards boosting revenue and decreasing operational costs for CodeSave through implementing targeted QA processes.
Work History
Lead SDET
JiriaCode, Altoona, PA
March 2017–present
Taught 40+ new testers and QA staff in company methodologies and procedures.
Crafted particular test scenarios to focus on finding issues as early in the testing process as possible, leading to an overall decrease of issue-related delays by 45%.
Led team of 8–20 employees in 15 testing environments.
Analyzed 25+ user interfaces for compliance with up-to-date testing requirements.
Key Achievement:
Worked closely with engineers, QA testers and developers to satisfy a particular client's high demands, successfully securing a $3,500,000 contract despite very tight deadline.
Software Test Engineer
RipleyTech, Charleston, WV
September 2014–January 2017
Mentored 6 new hires and interns.
Executed test scripts using Python for enhanced test automation.
Created bug reports utilizing Jira bug tracking system.
Education
Bachelor's Degree in Information Technology
Pennsylvania State University, State College, PA
Graduated: 2012
Key Skills
Test cases & scenarios
Agile
Waterfall
SQL/NoSQL
Selenium
Communication
Teamwork
Leadership
Time management
Programming Languages
Certifications
Certified SDET Professional, DevLabs Alliance, 2017
Test Automation Engineer, ISTQB, 2016
Language Skills
Dutch – Native
German – Upper-intermediate
Here's how to write an SDET resume:
1. Fix the Formatting on Your SDET Resume
An SDET (Software Development Engineer in Test) creates automated test scripts, runs them, and gathers data used to eliminate the possibility of bugs in software. An SDET resume usually needs to show understanding of QA principles and extensive knowledge of at least one coding language.
But regardless if you know one programming language or a thousand—it accounts for nothing if the recruiter can't see that at a glance. The way to a quickly scannable resume lies in a great resume layout.
These basic resume formatting tips should get you there:
How many pages should a resume be, you may be wondering—
Well, it all depends on your level of experience. If you've been in this field for fewer than 10 years, it's safest to stick with submitting a one-page resume. Consider sending a two-page resume only if you're a seasoned pro with enough achievements to actually fill those pages with relevant information.
Read more: 10+ Great Modern Resume Templates
2. Prepare an SDET Resume Summary or Resume Objective
Based on the name itself, you might wonder what the difference here is.
It comes largely from experience.
If you've been working in software testing ever since Microsoft started using the SDET acronym, write a resume summary and provide a highlight reel of your experience and accomplishments.
Without sufficient experience, your best bet is writing a resume objective. It emphasizes your most relevant characteristics and the transferable skills you have that make you the right pick.
However, no matter which resume profile fits your description more, you always want to present your generous side. Show the recruiter what you bring to their table, not the other way around.
Read more: What Not to Include in a Resume
3. Write a Convincing SDET Resume Job Description
The BLS predicts—you might want to take a seat for this one—an insane 22% growth of employment opportunities until 2030 in various software development and testing positions.
That's over 400,000 new jobs.
And over 400,000 other candidates to compete against.
That's where your flawless work experience section needs to come in and grab hold of your next career step before the others do.
Here's how to write a job description that's sure to impress recruiters:
When you create a work experience section like this, a job interview is basically written in the stars.
Read more: How to Tailor Your Resume to a Specific Job
4. Add Your Education to the SDET Resume
Some people claim that adding education to a resume is not worth the effort.
That's just plain wrong.
However, like with most everything resume-related, there's a wrong way and a right way to do it.
Here's the right way:
If you graduated more than 5 years ago and have been working in the field for that amount of time already, list just the school name, degree, and completion year, that's it.
Otherwise, if you're still in school, just out of it, or a career changer, consider adding a few additional touches:
Academic scholarships
Extracurricular activities and student clubs or associations you were a member of, especially if they're relevant to software engineering
Relevant coursework that shows you have the right theoretical knowledge
If you want to add your GPA to your resume, beware: it's only a good idea if you achieved a high enough result to be brag-worthy. That's around 3.5 and above.
Are you a complete fresher? Put your elaborate education section above your work experience. In such cases, that is the more important element and should be prioritized.
Read more: How to Write a Resume with No Experience: Examples & Tips
When making a resume in our builder, drag & drop bullet points, skills, and auto-fill the boring stuff. Spell check? Check. Start building a professional resume template here for free.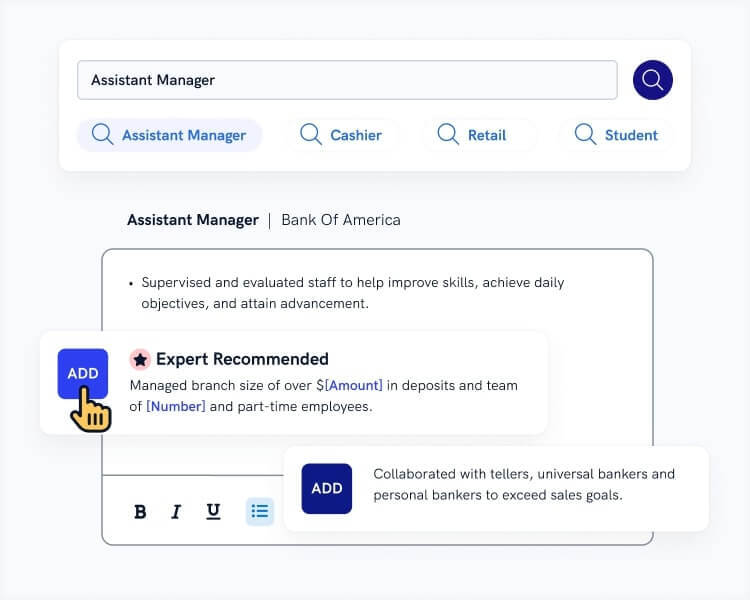 When you're done, our easy resume builder will score your resume and our resume checker will tell you exactly how to make it better.
5. Prove Your Testing Skills on Your Resume
Your skills section is very important, but it's also very easy to fall into a trap and overload it with unnecessary, generic skills. This is especially true with SDET resumes: studies show that SDET is a field where at least 14 key skills are easily distinguishable.
But putting in that many would make your resume bloated and unattractive—don't go down that path. Follow this advice instead:
Come up with a list of job skills you have, all of them. Divide them into hard skills, soft skills, computer skills, and programming languages.
Then, select the most important ones by cross-checking with the job posting.
Try to align them with what you described in the work experience section.
Here are a bunch of exemplary SDET skills:
SDET Resume Skills
Java, C#, Ruby
SDLC
Bug Reporting
Package Management
Unit Testing
GIT
Software Testing
HTML/CSS/PHP
Agile & DevOps
Automation Frameworks
API
SQL/NoSQL/MongoDB
Unix/Shell Scripting
Jenkins
Docker
Read more: What Skills to Put on a Resume
6. Include Additional Sections on Your SDET Resume
At this stage, your SDET resume is almost ready to go.
But—
It could still use some fireworks in the form of a few extra sections.
These serve a simple purpose: they add flair and uniqueness to make you stand out.
Surprise the recruiter with how passionate you are about the job. Here are some great ideas for what to add to your resume:
Read more: Should You Add Hobbies and Interests to a Resume?
7. Send a Cover Letter Together with Your SDET Resume
Lots of people trip up here and end up cluelessly wondering what about their resume isn't working. They swear up and down they've checked everything and polished up every single detail…
Except they don't bother to write a cover letter. Like it or not, a cover letter is a necessary addition to your job application. Follow these cover letter tips to get through it nice and easy:
Done?
Excellent!
Last but not least, remember that it's almost always a good idea to follow-up on your job application about a week later. Don't be shy!
Read more: How to Write a Job-Winning Cover Letter
Plus, a great cover letter that matches your resume will give you an advantage over other candidates. You can write it in our cover letter builder here. Here's what it may look like: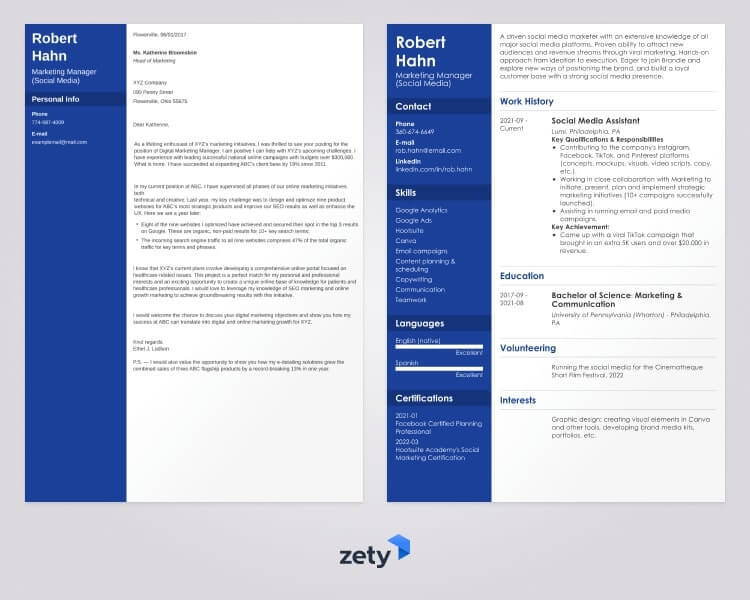 See more cover letter templates and start writing.
Done and dusted!
A perfect SDET resume!
Thanks for reading. If you have any questions or doubts regarding how to write an SDET resume, our experts are here to answer your comments, so don't hesitate!
About Zety's Editorial Process
This article has been reviewed by our editorial team to make sure it follows Zety's editorial guidelines. We're committed to sharing our expertise and giving you trustworthy career advice tailored to your needs. High-quality content is what brings over 40 million readers to our site every year. But we don't stop there. Our team conducts original research to understand the job market better, and we pride ourselves on being quoted by top universities and prime media outlets from around the world.