You're a 5-minute read away from learning how to write a killer DevOps resume. Just a quick remark though—
DevOps jobs are growing like crazy.
Salaries average $104K to $200K and more.
A whopping 60% of hiring managers want DevOps engineers and managers, yesterday.
The problem?
It's such a new position that most managers don't know how to hire for it.
But that doesn't mean it's hard to write a great DevOps resume.
DevOps is the one ring to rule them all. It's IT plus development, and all the ever-emerging tools that go along.
So, prove you are that to the hiring manager.
Show the right skills, the right way, and your DevOps engineer resume will stand out like a serverless network.
This guide will show you:
A DevOps resume example better than 9 out of 10 other resumes.
How to write a DevOps resume that lands more interviews.
Tips and examples of how to put skills and achievements on a Dev Ops resume.
How to describe your experience on a resume for DevOps to get any job you want.
Here's a sample resume for a devops made using our resume builder.
Want to save time and have your resume ready in 5 minutes? Try our resume builder. It's fast and easy to use. Plus, you'll get tips and right vs. wrong examples while writing your resume. See +20 resume templates and create your resume here.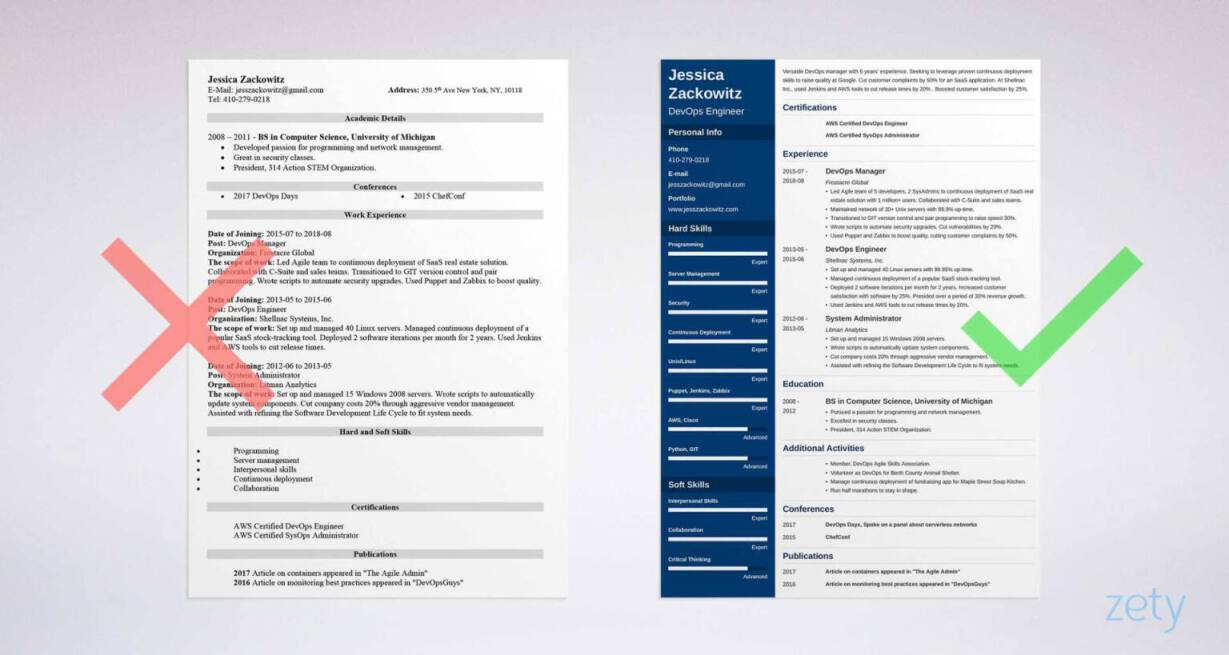 DevOps Resume Example - See +20 resume templates and create your resume here
Targeting a different job in the IT industry? We've got you covered:
1
What's the Best Format for a DevOps Resume?
DevOps is a swamp.
You could list two dozen tools and decades of experience. Yet the hiring manager might still walk away unsatisfied.
Organize the mess instead with the best DevOps resume layout.
In most cases that's the reverse-chronological resume format. Why?
Because it boots up your most recent accomplishments first.
One caveat:
Are you moving from development to DevOps, from IT to DevOps, or from anything to DevOps? If yes, use the combination resume format.
It's a slam dunk for career changers.
It shows you've used each crucial skill, without wasting resources.
Last, should you send a DevOps resume in PDF or DOC (Word format)?
Modern PDFs are machine-readable. Use them unless the job ad says otherwise.
Pro Tip: A DevOps manager salary can pay $100K–$200K. An entry-level DevOps engineer salary sits at $70K–$90K. Spending more time on resume format could mean an extra $20K–$100K a year.
Not settled on the reverse-chronological resume format? Want to give your DevOps engineer resume more options? See our guide: 3 Resume Formats: How to Choose the Best One [Examples]
2
How to Write a Resume Summary or Resume Objective
Imagine a hiring manager.
His name's Paul.
He's got a mug that says, "coffee<br>." He's also got 270 DevOps resumes to read.
He'll spend six seconds skimming each one.
Don't let him skim yours.
Flag it as important with a resume summary or a resume objective.
A resume summary sums up your experience. Use it if you've got servers full.
A resume objective shows your passion when you lack experience.
Let's look at both.
We'll start with two senior DevOps resume examples.
DevOps Resume Examples [Resume Summaries]
The first of our DevOps engineer resume examples crashes:
wrong
DevOps manager seeks new position. High-level skills in programming and interpersonal skills. Have 6 years of experience leading DevOps teams. Have managed servers and the SDLC in multiple firms.
That's not a total system failure, but it won't load lots of interviews either.
Try something like this senior DevOps resume summary instead:
right
Versatile DevOps manager with 6 years of experience. Seeking to leverage proven continuous deployment skills to raise quality at Google. Cut customer complaints by 50% for an SaaS application. At Shellnac Inc., used Jenkins and AWS tools to slash release times by 20%. Boosted customer satisfaction by 25%.
That'll initiate the interview dump fast.
Can't deploy those kinds of achievements? In that case, see the entry-level DevOps engineer resume examples below.
Two Entry-Level DevOps Resume Objectives
There's no such thing as an entry-level DevOps engineer. If you've worked in IT or development, you've got enough accomplishments to fill a fresher resume for DevOps.
wrong
Junior DevOps engineer seeking entry-level job. Haven't worked in DevOps yet per se, but I'm very enthusiastic, a quick learner, and I love all aspects of tech.
That candidate has passion! He might get hired as a 1940s paperboy, but not as a DevOps engineer.
But add achievements, and you'll get a junior DevOps resume objective like this:
right
Skilled DevOps engineer with experience in networking and programming. As Systems Administrator at Litman Analytics, set up and managed 15 Windows servers. Wrote scripts to automate system updates. Worked closely with vendors to slash company costs by 25%.
Snap! You just went from total noob to proto-Jez-Humble. The hiring manager is guaranteed to notice.
But how does a DevOps fresher resume show off that kind of experience?
I'll show that in the next section, on DevOps engineer resume experience.
Pro Tip: Feature your job title and years of experience in a DevOps resume summary or a resume objective. List a few key skills, and 2-3 John-Willis-worthy achievements.
Our resume builder (you can create your resume here) will give you tips and examples on how to write your resume professional summary section. Or any section for that matter. You can copy the examples to your resume, customize, and save a lot of time.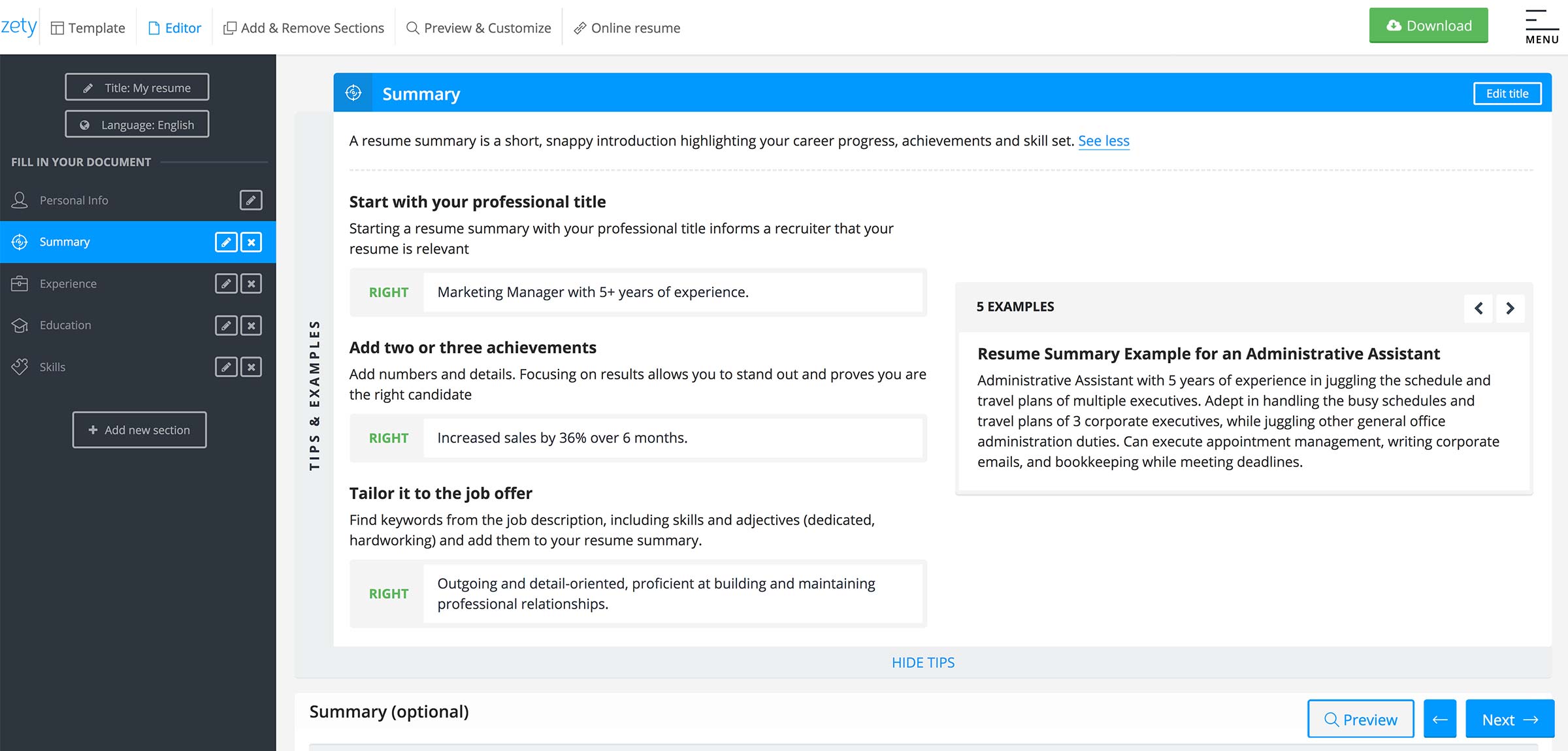 Inside our resume builder, you'll find expert tips and examples for your resume summary.
Need to write an AWS DevOps resume summary that gets an interview at Amazon? See our guides:
How To Write A Resume Summary: 21 Best Examples You Will See
Resume Objective Examples - Use Them on Your Resume
3
How to Describe Your DevOps Experience
Remember our DevOps hiring manager, Paul?
He wants to know if you can get the job done.
You'll answer with experience.
Show your most recent job first.
Salt it with achievements. For DevOps, those are times you boosted business outcomes.
Check out the two DevOps engineer resume examples below.
They show how to list experience on a resume for DevOps.
DevOps Resume Examples [Experience]
The first of these DevOps resume samples checks out:
right
Frostacre Global
DevOps Manager
2015–2018
Led Agile team of 5 developers, 2 SysAdmins to continuous deployment of SaaS real estate solution with 1 million+ users.
Maintained network of 30+ Unix servers with 99.9% up-time.
Transitioned to GIT version control and pair programming to raise speed 30%.
Used Puppet and Zabbix to boost quality, slashing customer complaints by 50%.
Wow. The hiring manager just dropped his copy of The Phoenix Project in his stroganoff. Your DevOps Puppet resume lit him up like a server during peak demand.
The next IT resume example fails gracelessly:
wrong
Frostacre Global
DevOps Manager
2015–2018
Led Agile team for high-volume SaaS real estate solution.
Maintained Unix server network.
Switched the business to GIT versioning control and paired programming.
In charge of monitoring and configuration management.
That applicant has done a lot, but to what effect? Like an unmonitored system, she's missing how many, how much, and how often.
Don't have accomplishments? Check out the two entry-level DevOps Ansible resume examples below.
How to Write a Resume for DevOps with no Experience
Need to write a DevOps resume with no experience?
If you're a software engineer, you've got experience in software development.
If you're in IT, you've got experience in networking.
The key is to show accomplishments in the areas where you're not strong. Get those from:
Side projects in IT, development, scripting, Agile, or automation
Side tasks from past jobs
Development tasks
Volunteer work
Projects in Chef, Ansible, Salt, or Puppet
Linux/Unix projects
Scripting in Perl, Python, Ruby, or Bash
Work done with AWS, VMWare, Jenkins, Maven, etc.
Even if you've never held a DevOps title, you can show accomplishments that prove your DevOps skills.
See that work in the two entry-level DevOps resume examples below.
Two DevOps Resume Samples [No Experience]
The next sample DevOps engineer resume example fails to compile:
wrong
DevOps Experience: No on-the-job DevOps experience yet.
Other Experience:
System Administrator
Retail
Pew! Hello World, right?
But add accomplishments that fit the DevOps philosophy, and you're in the Gene Kim zone:
right
DevOps Experience
System Administrator, Litman Analytics
2017–2018
Set up and managed 15 Windows 2008 servers.
Wrote Ansible scripts to automatically update system components, saving 30% admin time.
Cut company costs 20% through aggressive vendor management.
Assisted with refining the Software Development Life Cycle to fit system needs.
That's straight from the DevOps Handbook. It'll make a great DevOps resume indeed.
Pro Tip: What's the key to showing DevOps experience on a resume? Proving you can run development and deployment. So, cite organizational goals you've helped achieve.
Want to hold the hiring manager's attention like a spaceborne Tesla roadster? Build your DevOps consultant resume with action words. See our guide: +80 Examples of Resume Action Words for Every Profession
4
Is Your Education Section Disconnected? It Might Be
In a DevOps engineer resume, education takes a backseat to experience.
But don't just list it. That's like having a full Jenkins install and only using it to post cat videos.
With one change, you can make your resume stand out like an AWS Cloud Watch alarm.
First, show:
College Name and Location
Years in School
Degree
Then add accomplishments that fit the job.
The next two cloud DevOps resume examples show how:
DevOps Resume Examples [Education]
Check out these two sample DevOps resume education sections.
They target a DevOps manager job description that seeks programming, network management, security, and leadership.
right
BS in Computer Science
University of Michigan, 2008–2012
Pursued a passion for programming and network management.
Excelled in security classes.
President, 314 Action STEM Organization.
Plug, meet play. Your DevOps engineer resume education section just socketed you into the job.
The next of our DevOps architect resume examples is buggy:
wrong
BS in Computer Science
University of Michigan, 2008–2012
GPA 3.0
Received degree in C.S.
That's like an unconfigured tarball. Without details, the hiring manager will fail to connect.
Pro Tip: Do you need a bachelor's degree on a DevOps resume? In most cases, experience is enough. Without experience though, a degree becomes a requisite.
What honors should you add to a resume for DevOps? See our guide: How to Put Your Education on a Resume [Tips & Examples]
5
How to Put Skills on a Resume for DevOps
What's the most important part of a DevOps resume?
It's skills. But not the way you think.
Most applicants show a skills list longer than the human genome project.
They think the hiring manager will find something she likes in there.
The problem? Managers know spam when they see it.
So, prove your skills instead, like in our next DevOps engineer resume example.
DevOps Resume Examples [Skills]
This sample DevOps resume clip takes the "throw it at the wall and see what sticks" approach:
wrong
DevOps Skills: Programming, Server Management, Continuous Deployment, Security, Unix, Linux, Mac, Windows, Puppet, Jenkins, Zabbix. PostgreSQL, AWS, Cisco, C#, Python, Perl, HMTL, CSS, kitchen sink deployment...
That won't impress anyone. It's the skills equivalent of, "My number's in the phone book."
So, select the top skills from the job offer, then prove them in your professional DevOps resume, like this:
Skills shown in the job offer: Server Management, Continuous Deployment, Speed of Deployment, and Jenkins.
right
Set up and managed 40 Linux servers with 99.95% up-time.
Managed continuous deployment of a popular SaaS stock-tracking tool.
Deployed 2 software iterations per month for 2 years. Increased customer satisfaction by 25%.
Used Jenkins and AWS tools to cut release times by 20%.
That's not just a DevOps resume skills list. It hooks you to the job like continuous deployment to an agile team.
Use the skills below to start.
List of Skills to Put on a DevOps Resume
This sample DevOps engineer resume skills list will get you started. All the skills in it make great DevOps resume keywords.
Again, just focus on the ones shown in the job ad.
DevOps Resume Skills

DevOps Resume Skills

Soft Skills

Hard Skills

Tools

Collaboration

Operating Systems

Unix/Linux

Communication

Networking Protocols

GIT

Problem Solving

Build and Release

Jenkins

Source Control

Puppet/Chef

Deployment

Salt/Ansible

Adaptability

Configuration Management

Docker

Active Learning

Containers

AWS/VMWare/Cisco

Perceptiveness

Monitoring

Python/Perl

Leadership

Programming

Apache/Nginx

Interpersonal Skills

Agile

Zabbix/Sensu
Use the technique above, and your Dev Ops resume will read like Nicole Forsgren wrote it personally.
Pro Tip: DevOps tools are always evolving. Tailoring your resume for DevOps to the job description puts you miles above the rest.
Need to upgrade your DevOps manager resume skills section? See our guide: +30 Best Examples of What Skills to Put on a Resume (Proven Tips)
6
How to Show Certifications on a Resume
What beats hands-on experience in a DevOps resume?
Nothing.
The hiring manager won't blink if you're not certified.
Still, certs can sprint an entry-level candidate ahead of other junior applicants.
AWS certs are the most respected. If you've got one and the job ad asks for it, show it prominently in your DevOps engineer resume.
Add it right after your name and in your summary. Then, put it in a special section near the top, like this:
Certifications
AWS Certified DevOps Engineer
AWS Certified SysOps Administrator
Not sure whether to put certifications on a resume for DevOps? If they're not AWS and they're not in the job description, consider skipping them.
Pro Tip: IT certifications like the CCNA can help a DevOps resume. Even so, a solid GitHub portfolio or personal website can beat any cert.
Not sure what else to put on a DevOps consultant resume? See our guide: What To Put On A Resume To Make It Perfect [Tips & Examples]
7
How to Add Other Sections for an Effective Resume
Like a good captcha, a resume for DevOps has to show you're not a robot.
The way to do that is with other sections that prove your worth.
Don't add a lot of "long walks on the beach" type stuff. It's a resume, not Match.com.
See the two DevOps engineer resume examples below.
DevOps Resume Examples [Other Sections]
That applicant seems fun. Not sure why I'd hire her as a DevOps engineer.
But check out this superior DevOps resume example:
right
Additional Activities
Member, DevOps Agile Skills Association.
Volunteer as DevOps for Berth County Animal Shelter.
Manage continuous deployment of fundraising app for Maple Street Soup Kitchen.
Run half marathons to stay in shape.
Conferences
2017 DevOps Days, Spoke on a panel about serverless networks
2015 ChefConf
Publications
2017 Article on containers appeared in "The Agile Admin"
2016 Article on monitoring best practices appeared in "DevOpsGuys"
Wow, right? Who let James Turnbull into the stack?
Even the half marathons help, because they show both discipline and fitness.
But it takes very little effort to make a DevOps engineer resume like that.
Pro Tip: Are you adding "other" accomplishments to a resume for DevOps? Scrutinize the DevOps job description. If your achievement doesn't make you a better fit, delete it.
Can't scrape up relevant achievements for a DevOps Chef resume or Ansible resume? Learn how to integrate key components to your pitch. Use this guide: Resume Sections to Include on Your Resume: Guide (+20 Examples)
8
How About a DevOps Engineer Cover Letter?
Do you need a cover letter for a DevOps resume?
Yes.
A DevOps cover letter can take you from "one in 300" to "very interesting" in a couple paragraphs.
Sound hard? It's not.
First, start your cover letter with the hiring manager's name. That makes it personal.
Next, prove you understand the need for this DevOps position.
Finally, show you can help by adding one or two CloudMunch-worthy achievements.
This shortened DevOps engineer cover letter shows how.
DevOps Cover Letter Example
I've been waiting for a job to open up at Google for years. It's not just the company's commitment to excellence I love. As someone who cut customer complaints for an SaaS application with 1 million + users, I think I can contribute materially to Google's goals.
Add a couple more achievements. Then end your cover letter with an offer. Use something like, "Can we set up a time to discuss increasing customer satisfaction by 20%?"
Pro Tip: Consider ending your cover letter with a P.S. It'll draw the manager's eye like a Falcon Heavy launch.
Plus, a great cover letter that matches your resume will give you an advantage over other candidates. You can write your cover letter in our resume builder here. Here's what it may look like: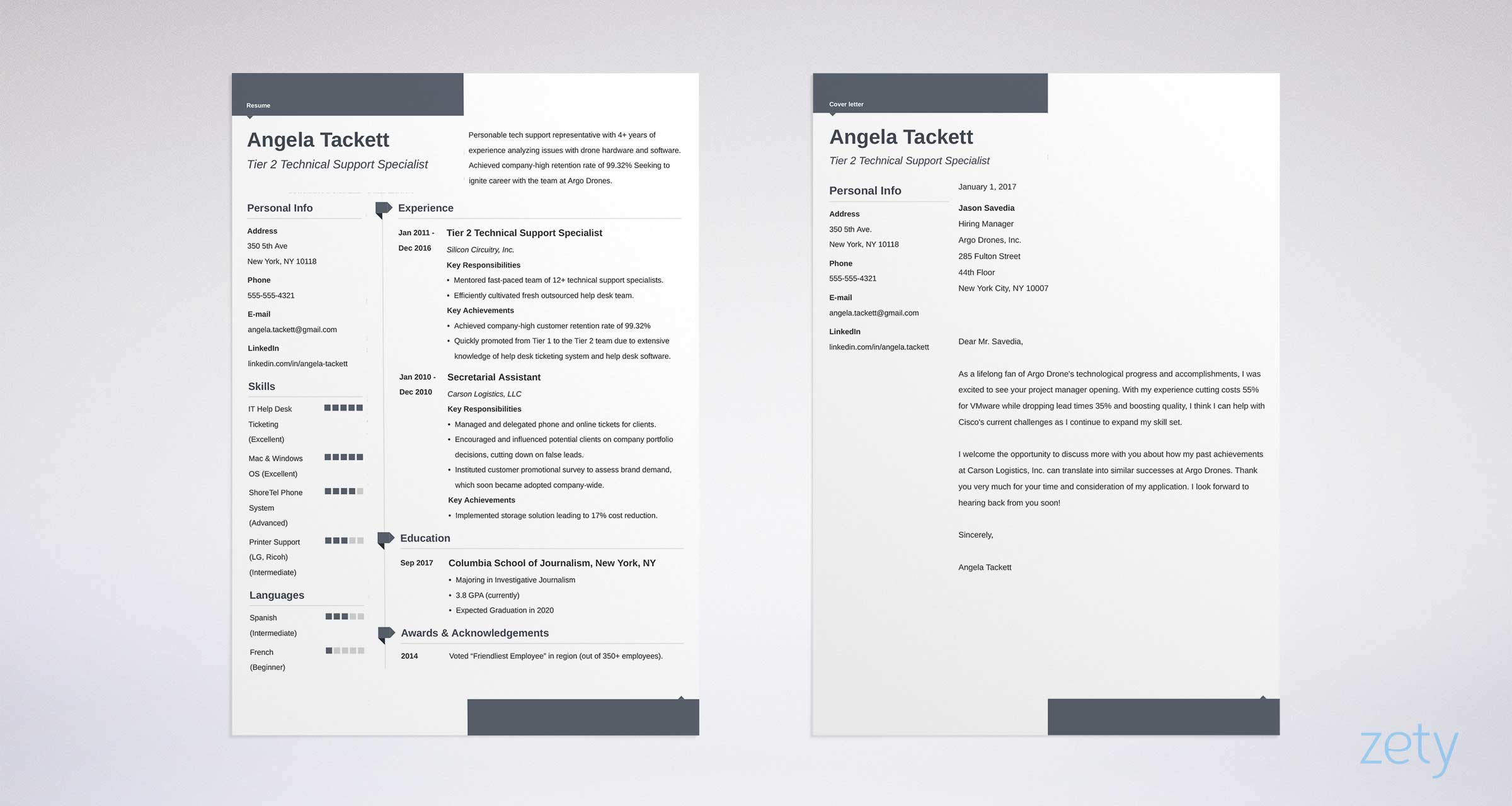 See more templates and create your resume and cover letter here.
Write the best DevOps engineer cover letter since Katharina Probst applied to Netflix. See our guide: How To Write A Cover Letter in 8 Simple Steps (+12 Examples)
9
How to Add Contact Info to Your Resume
Here's a simple trick to add contact info to a DevOps resume.
Of course you'll include:
Full Name
Updated Phone Number
Professional Email Address
Like this:
Jessica Zackowitz, AWS Certified DevOps Engineer, jesszackowitz@gmail.com, 410-279-0218
But also, add a LinkedIn profile and an online portfolio.
In 2018, 87% of recruiters search for talent on LinkedIn.
Portfolio sites go a step further, sharing all the great projects you can't show in a resume for DevOps.
Pro Tip: Need a winning LinkedIn profile to match your great DevOps Java resume? See our guide to optimizing LinkedIn profiles here.
Still need help initializing your resume for DevOps? See our guide: How to Make a Resume: A Step-by-Step Guide (+30 Examples)
Key Takeaway
That's how to write a great DevOps engineer resume. Remember:
Focus on business outcomes you've improved. Stuff your DevOps resume with accomplishments that prove how valuable you are.
List the skills shown in the job ad. Prove them in your work experience bullet points, with measurable achievements.
Add "other" sections that show you're more than just a bot with meal requirements. A professional resume for DevOps has to show you as a person.
Do you have questions on how to write a great resume for a DevOps? Not sure how to describe your skills or achievements? Give us a shout in the comments! Let's get the conversation going.