Our customers have been hired by:
You've spent years mastering your coding prowess, but your resume feels like an infinite loop that's going nowhere fast. Don't let a subpar resume be your kryptonite! This guide is here to help you craft a senior software engineer resume that's as impressive as your GitHub profile.
Check out our customizable resume example and unlock the secret formula for landing interview after interview. It's time to put the 'wow' back in your resume and embrace your inner coding superhero!
Want to save time and have your resume ready in 5 minutes? Try our resume builder. It's fast and easy to use. Plus, you'll get ready-made content to add with one click. See 20+ resume templates and create your resume here.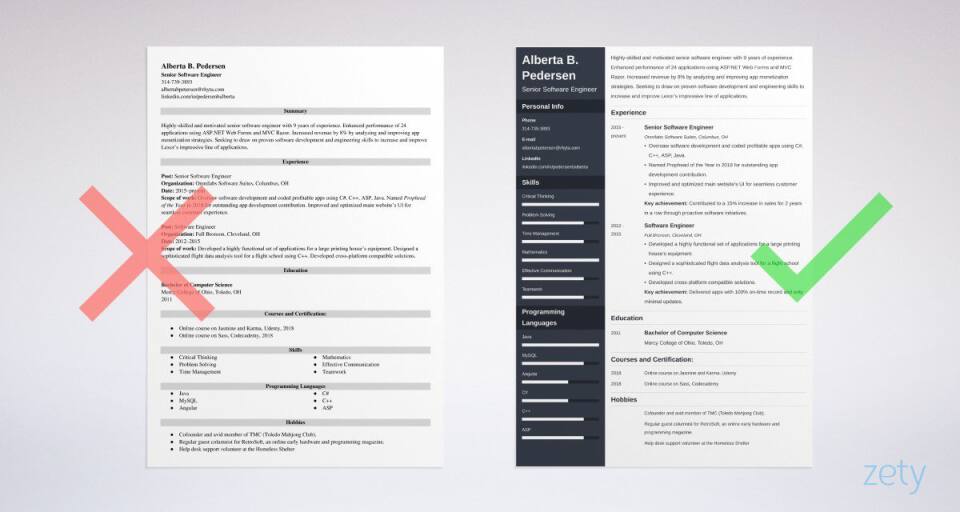 Sample resume made with our builder—See more resume samples here.
Considering similar jobs in your industry too? See related resumes:
Sample Senior Software Engineer Resume
Alberta B. Pedersen
Senior Software Engineer
314-739-3893
albertabpetersen@rhyta.com
linkedin.com/in/pedersenbalberta
Summary
Highly-skilled and motivated senior software engineer with 9 years of experience. Enhanced performance of 24 applications using ASP.NET Web Forms and MVC Razor. Increased revenue by 8% by analyzing and improving app monetization strategies. Seeking to draw on proven software development and engineering skills to increase and improve Lexor's impressive line of applications.
Experience
Senior Software Engineer
Omnilabs Software Suites, Columbus, OH
2015–present
Oversaw software development and coded profitable apps using C#, C++, ASP, Java.
Named Prophead of the Year in 2018 for outstanding app development contribution.
Improved and optimized main website's UI for seamless customer experience.
Key achievement: Contributed to a 15% increase in sales for 2 years in a row through proactive software initiatives.
Software Engineer
Full Bronson, Cleveland, OH
2012–2015
Developed a highly functional set of applications for a large printing house's equipment.
Designed a sophisticated flight data analysis tool for a flight school using C++.
Developed cross-platform compatible solutions.
Key achievement: Delivered apps with 100% on-time record and only minimal updates.
Education
Bachelor of Computer Science
Mercy College of Ohio, Toledo, OH
2011
Courses and Certification:
Online course on Jasmine and Karma, Udemy, 2018
Online course on Sass, Codecademy, 2018
Skills
Critical Thinking
Problem Solving
Time Management
Mathematics
Effective Communication
Teamwork
Programming Languages
Hobbies
Cofounder and avid member of TMC (Toledo Mahjong Club).
Regular guest columnist for RetroSoft, an online early hardware and programming magazine.
Help desk support volunteer at the Homeless Shelter
Now, here's the job-winning senior software engineer resume formula:
1. Use the Perfect Format for Your Senior Software Engineer Resume
Senior software engineersare the best at what they do—coding, improving, and developing systems, software products, computer games, and mobile apps. Similarly, hiring managers are also experts—at weeding out undesirable applicants by scrutinizing tens of resumes in under a minute. According to the U.S. Bureau of Labor Statistics, software developer employment will grow an impressive 22% over the next 10 years. This is even more reason why your resume for senior software engineer has to perform without a glitch.
So—
First things first—GUI. Craft your senior software engineer resume by following the right resume formatting rules:
If you're prone to getting writer's block, don't go from top to bottom.
Instead, skip the resume intro for now and begin by writing an uber-important section like work experience.
Read more: Best Resume Types
2. Start With a Senior Software Engineer Resume Experience Section
What is senior software engineer experience? It's your work history, but it's much more than a dry list of previous employers and duties you performed. It should highlight your achievements and proudest moments. After all, what the prospective employer is interested in the most is if and how you will contribute to the company's success.
Follow this outline when putting work experience on your resume:
Go with the reverse-chronological resume order and list your most recent job first.
Begin with your title, the company's name, and your start and end dates.
In bullet form (up to six), demonstrate your achievements. Start each bullet with an action word like developed, optimized, created, enhanced, improved.
Quantify each entry whenever possible with numbers, percentages, and amounts.
Remember to tailor your resume so that your past experience and accomplishments relate to the company's needs and wants, as specified in the job ad.
Pick achievements over simply reporting on duties and responsibilities.
See these senior software engineer resume samples:
Sample Senior Software Engineer Experience on a Resume
RIGHT
Senior Software Engineer
Poppy's Gemz
2015–2018
Improved functionalities and pipeline integration by designing and implementing cross-platform frameworks.
Contributed to an ~18% rise in subscribers MoM for 6 months by enhancing the player experience on all supported client platforms.
Ensured tight cooperation with other engineers, designers, and artists through active listening, systematic communication, and leadership skills.
Fixed bugs and problems across the entire Poppy's Gemz codebase in an efficient, timely manner.
WRONG
Senior Software Engineer
Poppy's Gemz
2015–2018
Responsible for designing and implementing cross-platform frameworks.
Performed work on improving the player experience.
Responsible for cooperating with other departments.
Fixing bugs whenever necessary.
Big difference in the two sets, right?
Even though both lists apply to the same candidate, and both are true,the wrong example could have been written on a napkin as a reminder to elaborate on the points later at home—the right example.
To put it another way, being responsible for something says very little of the outcome and of how well you did it. Instead, try to quantify your achievements to impress the recruiter with numbers and percentages.
When making a resume in our builder, drag & drop bullet points, skills, and auto-fill the boring stuff. Spell check? Check. Start building a professional resume template here for free.
When you're done, our easy resume builder will score your resume and our resume checker will tell you exactly how to make it better.
3. Add an Education Section to Your Senior Software Engineer Resume
As a sr software engineer, you most likely have a bachelor's degree. Maybe even a master's. Either way, list your education in the right way, forgoing mention of where you went to high school—it's simply unnecessary. If you've completed any relevant coursework, add it to your senior software engineer resume's education section as well.
You may be wondering, should I put my GPA on my resume? The answer is that you can, if it's 3.5 or higher, and definitely so if the employer requests it.
Here's an example:
RIGHT:
Education
Bachelor of Computer Science
Mercy College of Ohio, Toledo, OH
2011
GPA 3.8
Relevant Coursework: Mathematics, Cognitive Linguistics
Read more: How to Put Your Degree on a Resume
4. Create a Skills Section for Your Senior Software Engineer Resume
Your software engineer skills go beyond knowing C++, Java, or Ajax. You have to be perceptive, solve complex problems, and be a team player. What else makes a great software engineer? According to a University of Washington study, characteristics such as self-reliance, perseverance, and curiosity, to name a few, do as well. Listing the right skills on your resume is as simple as BASIC on a C-64, if you follow these basic resume tips:
Examine the job ad and identify skills-related resume keywords—the overt as well as covert ones.
Consider your own skills gained through education and experience, and decide which are most relevant to the job you're applying for.
List those skills in the skills section. A bulleted list of 5–10 most relevant ones is ideal. It can include soft skills and hard skills.
Add another list under that one. It will include your technical skills, like Java and C+.
Revisit your experience section to make sure your best skills are also demonstrated there.
Here are some examples of senior software engineer skills:
Top Senior Software Engineer Skills & Proficiencies
Troubleshooting Skills
Document Application Process
Analyzing User Needs.
SQL Query Writing and Analysis
Read more about how to list skills on a resume: 99+ Key Job Skills for Resumes
5. Add Extras to Your Senior Software Engineer Resume
Do you spend your free time building the perfect Atari 800XL emulator, or experimenting with unusual UI protocols? Extracurricular activities that further demonstrate your software engineering mentality and passion can be a big plus on your resume. Volunteering, academic awards, and even hobbies and interests can be seen as valuable.
Here's an example:
RIGHT:
Hobbies
Cofounder and avid member of TMC (Toledo Mahjong Club).
Regular guest columnist for RetroSoft, an online early hardware and programming magazine.
Looks good, right?
Make your application shine with extras: What to Put on a Resume to Make it Perfect
6. Compose a Senior Software Engineer Resume Summary
Remember that introductory paragraph we put off till later? That later is now. Considering that a resume profile is the first (and often the last) part of a resume hiring managers read, your senior software engineer resume summary is the opportunity to convince them you're the real deal, and the perfect match for the position.
Here's how to construct a career summary:
Start with an adjective that describes you, like enthusiastic,dedicated, accomplished.
Follow it up with your title—senior software engineer—and the number of years of experience (4+, 6, 9).
Make the next sentence all about one or two of your biggest software engineering achievements.
Then, call out your prospective employer by name and say how well you'll fulfill the position's expectations.
Here's a right and wrong example:
Senior Software Engineer Resume Summary
RIGHT:
Accomplished senior software engineer with 5+ years of experience in delivering top-notch app development and troubleshooting. Facilitated the development of a top-selling Android mobile application. Eager to apply comprehensive software creation and maintenance expertise for A+Soft.
WRONG:
Senior software engineer experienced in C++, AngularJS, JavaScript, PHP, HTML5, and CSS seeking to apply know-how and expertise to develop and support various apps and software.
Learn more: How to Start a Resume
7. Include a Cover Letter for Maximum Effect
The thing about cover letters—our HR statistics report shows nearly 5 out of 10 hiring teams ignore resumes without them. The best thing to do is to write one, and not just for the above-mentioned reason, but because while short, they show your interest and effort in a personal way. It's the fastest way to move your senior software resume from staging to production.
So—
To write a solid software engineer cover letter:
First off, get the cover letter formatting right.
Next, use the opening paragraph of your cover letter to introduce yourself, express your desire to join the team, and brag about one of your key strengths and accomplishments.
Use the next paragraph to expand on your understanding of the position, as it relates to your own experience.
Last but not least, end your cover letter with a cleverly executed call to action.
Plus, a great cover letter that matches your resume will give you an advantage over other candidates. You can write it in our cover letter builder here. Here's what it may look like: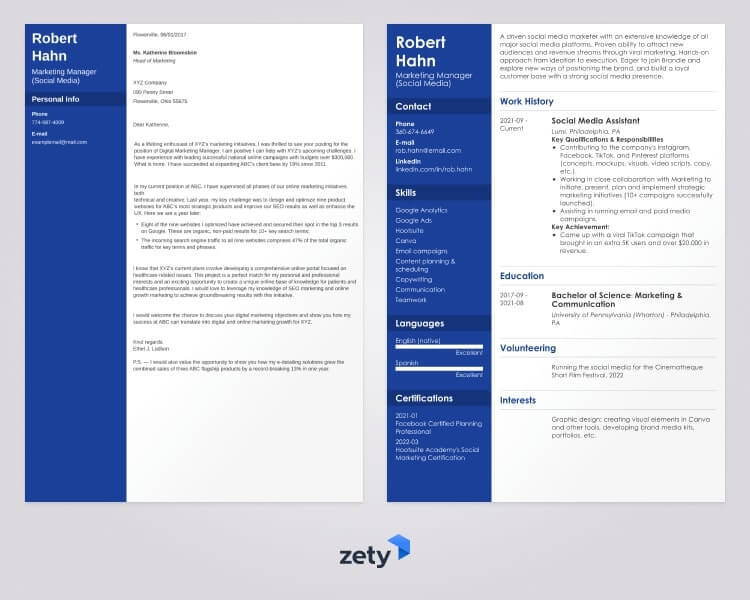 See more cover letter templates and start writing.
Read more: How to Write a Cover Letter for a Job
Key Takeaways
Now that you've identified and gotten rid of all your senior software engineer resume bugs, you're on your way to a brand new job.
Here's a recap of the most important bits to remember when writing a seamless senior software engineer resume:
Examine the job ad carefully to tailor your resume to it as much as possible.
Describe your work experience and achievements with action words and in quantifiable terms rather than simply listing your duties.
Engineer your resume summary so that it highlights your wins and addresses your future employer directly. This shows care as well as intent.
Take the time to list your skills that are most relevant to the new position.
Include extra resume sections, but only if their content relates to your work as a senior software engineer.
Write a one-page cover letter that shows off your competencies and know-how at-a-glance.
And that's it! Thanks for reading my guide. Now I'd love to hear from you:
What are the biggest challenges of writing a senior software engineer resume?
Are there parts you struggle with more than others?
Let's chat below in the comments, and thanks for reading!
About Zety's Editorial Process
This article has been reviewed by our editorial team to make sure it follows Zety's editorial guidelines. We're committed to sharing our expertise and giving you trustworthy career advice tailored to your needs. High-quality content is what brings over 40 million readers to our site every year. But we don't stop there. Our team conducts original research to understand the job market better, and we pride ourselves on being quoted by top universities and prime media outlets from around the world.
Sources