Senior Java Developer Resume: Sample & Writing Guide
Not sure how to convert objects to resume text? We've got the right design patterns right here in this very senior java developer resume writing guide!
It's been a while since you've needed to do code review on your resume. After all, you're comfortably secured in your current job.
But then you get that itch:
What if you could be getting more?
With 8–10 years of experience in Java, you could start aiming toward that sweet senior rank. More money, fewer problems.
But a senior java developer resume can't just show your expertise in SDKs, APIs, and Java libraries. Recruiters have a far more extensive shopping list.
And today, you'll astound them with how well-rounded you really are.
This guide will show you:

A senior java developer resume example better than 9 out of 10 other resumes.
How to write a senior java developer resume that will land you more interviews.
Tips and examples of how to put skills and achievements on a senior java developer resume.
How to describe your experience on a resume for a senior java developer to get any job you want.
Want to save time and have your resume ready in 5 minutes? Try our resume builder. It's fast and easy to use. Plus, you'll get ready-made content to add with one click. See 20+ resume templates and create your resume here.
Sample resume made with our builder—See more resume examples here.
Seeking employment in a different position? If you are, try some of these other guides instead:
Sample Senior Java Developer Resume
Francisco C. Armstrong
Senior Java Developer
770-852-8646
frankarmstrong@zetymail.com
Linkedin.com/in/1Francisco.Armstrong
Summary
Driven and versatile senior java developer with 11+ years in the industry. Led coding and creation of APIs at Florida Blue for over 5.5 years, always ensuring supreme quality in the architectural standards. Collaborated with members from 4 other departments to properly scope time and resources required for 97.6% timely project completion.
Work Experience
Senior Java Developer
Florida Blue, Tallahassee, FL
October 2016–November 2022
Wrote complex code solutions for programs spanning 12 platforms.
Assisted the technical team with defining configuration and designing solutions using JPA and more efficient database integration.
Optimized the System Development Life Cycle by increasing timely project completion to 97.6%.
Spearheaded efforts to increase openness to new technologies. Utilized Spring Web Flow to manage applications consisting of up to 13 separate modules.
Performed bi-monthly code reviews (31 in total) with team members to oversee performance and share criticisms.
Java Programmer
General Dynamics, Hartford, CT
May 2011–October 2016
Determined application functionality to help design upgrade prioritization flow.
Assisted team with preparation of cost estimates.
Provided advanced technical support for attached physical and virtual servers.
Planned the weekly/daily workload shared between 11 team members.
Education
Master of Science in Computer Science
Texas A&M University, San Antonio
September 2003–June 2007
Key Skills
Object-Oriented Programming
SQL/NoSQL
Bug Fixing & Troubleshooting
Front-End Integration
JUnit Test Case Development
Leadership Skills
Team Player
Certification
Open Group TOGAF Certification, 2017
Six Sigma Green Belt, 2015
Conferences & Events
Gateway Software Symposium 2021: Attendee
Devternity 2018: Guest speaker on Software Architecture
Personal Interests
Playing & developing tabletop games
Hosting occasional mixology meetups for friends
This is how you can write a perfect senior java developer resume:
1. Choose the Best Format for a Senior Java Developer Resume
Senior Java developers are experts in their field with typically 8+ years of experience. They train other employees, test code, and solve problems other devs cannot. On top of that, a senior java developer resume needs to also show you can efficiently deal with clients and have leadership skills.
Though one thing you hopefully won't have to do as a senior is cleaning up messy, poorly formatted code. Yuck.
You know what else sucks just about as much?
A poorly-formatted, plain bad resume.
Yours has to be the opposite of that if you're going to throw your coding hat in the pool.
Here's how to get it done:
Read more: Best Types of Resumes for any Job
2. Write a Compelling Resume Summary for Senior Java Developer Positions
Thanks for applying! Unfortunately, we've chosen to move forward with other candidates at this time.
Does that message drive you nuts?
Well, it's possible that your resume profile threw the recruiter in for a while loop.
Or maybe you're writing a career objective, which, for someone with your experience, is equivalent to shooting yourself in the foot.
In any case, this is how to write a perfect resume summary:
Start with a positive adjective, like reliable, competent, or results-driven, and then follow that up with the profession: senior java developer.
Mention your years of experience in numbers.
State a couple of your most impressive achievements, backed by numbers—like bugs removed, % efficiency increased, or dollars saved.
Read more: How to Start a Resume
3. Bring out the Best in Your Senior Java Developer Job Description
Software developer jobs are great.
Oftentimes you don't even need to show up at the office since 99% of your work can be done remotely.
But that's a double-edged sword. Employers know that, and they can easily cast a wider net for recruitment purposes, meaning…
You can often expect up to 6x more candidates in the applicant pool when job-searching.
So, you see—
The stakes are quite high.
Their expectations of you even higher.
Meet them head-on with a professional senior java developer resume experience section that proves you have exactly what they need:
As established, reverse-chronology is a staple, so list your most recent job first.
Put down your title, the company name, and the dates you worked there.
Describe your professional achievements in up to 6 short bullet points per job. Each one should begin with an action word.
Wherever possible, use numbers and percentages to quantify the accomplishments. Avoid droning on, unnecessary tangents, and listing irrelevant job experience on your resume.
Tailor your resume based on what you saw in the job ad, even to the finest details like the actualjob title. If they want a "Lead Java Engineer", but you previously thought you're a "Senior Java Developer", go with the former to fit their bill.
Pro Tip: If you hate receiving generic "application rejected" emails, you really need to put in extra effort to properly target your resume with the right resume keywords.
4. Mention Your Education on the Senior Java Developer Resume
Most senior Java devs have a Bachelor's Degree or higher.
That statistic enough should make you steer clear from the preposterous idea of not listing education on your resume.
Yes, you're right to think that it won't be used as the main factor of considering your application. But skipping it isn't the way forward.
Since you do have plenty of experience, you don't need to write an entire script library.
Simply state your highest obtained degree, year of graduation, and the name of the school you attended. You can mention your GPA on your resume, too, but only if it was really high (3.5+).
Read more: How to Put Your Degree on a Resume
When making a resume in our builder, drag & drop bullet points, skills, and auto-fill the boring stuff. Spell check? Check. Start building a professional resume template here for free.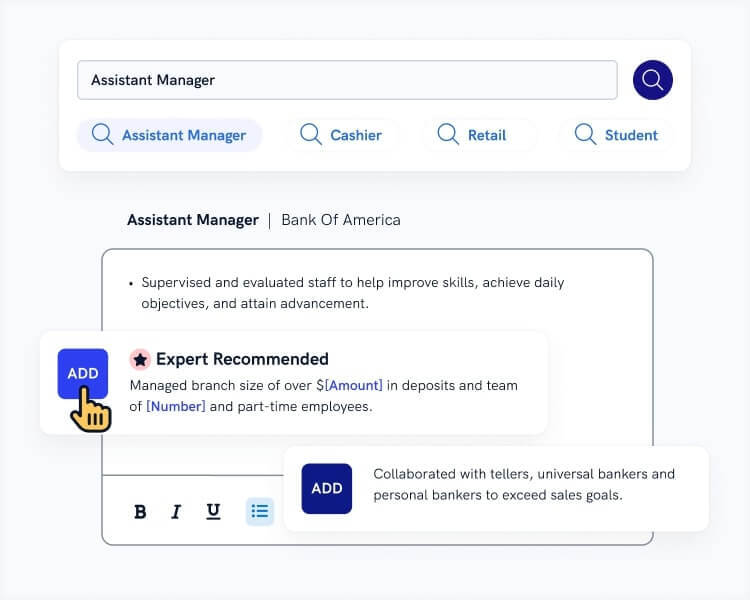 When you're done, our easy resume builder will score your resume and our resume checker will tell you exactly how to make it better.
5. Highlight the Skills They Want to See in a Senior Java Developer
Here are a bunch of baseline senior java dev skills they'd be glad to see:
Senior Java Developer Resume Skills
Software Engineering
SQL/NoSQL
Application Architecture
GUI Development
User-Centric Design
Bug Identification
Usability Testing
Data Flow Models
System Design
Recruiting
Code Review
MongoDB
Spring Boot
Scrum/Agile Methodology
Unit Testing
Kubernetes
DevOps
Docker Software
Selenium
Scala
Big Data
Project Management Skills
Troubleshooting
In order to efficiently fit all of that Java value onto your resume, you need to think smart and hard about what skills you're actually going to mention.
Revisit the job application to look for cleverly inserted keywords. Recruiters basically do half of the job for you by letting you know what exactly they need from you.
Then, think about your own skills and strong suits. If any soft skills or hard skills you have match up with the ones in the posting, list them on your resume.
Between 5 and 10 skills is the sweet spot, but you can make a separate list for programming languages below that.
Read more: What Skills to Put on Your Resume
6. Include Additional Sections on Your Senior Java Developer Resume
Attended a JS GameDev Summit recently?
Maybe you're an avid Magic: the Gathering player?
Or, perhaps, you're a volunteer firefighter.
Point is—
People from all walks of life end up doing the most unusual things. And that doesn't necessarily have to mean it's all useless guff that doesn't belong on a senior java developer resume, far from it.
It's about the way you present it, what it implies, and how much of your uniqueness it shows.
Take the firefighting example: you'd likely have tons of ability to work in a team and work under pressure, or in other words, experience in daily scenarios very similar to software development.
So, think about adding some of the following:
Pro Tip: Holding a senior position will mean there are going to be people directly under you in the chain of command. Having a certificate in management or leadership ups the ante massively in your favor!
7. Attach a Senior Java Developer Cover Letter
Newsflash—you need a cover letter.
And in case you want to call BS, 50% of recruiters consider it a necessity.
Need a refresher on how to write a cover letter? See these tips:
Format your cover letter into 3 distinct paragraphs: opening, middle, and end.
Start the cover letter with an engaging statement to hook the reader: an achievement or two will do the trick.
Focus on underlining what the company will gain by hiring you, not the other way around.
Lastly, finish your cover letter with a call to action, or a promise to deliver never-before-seen results.
Keep the cover letter length to no more than three quarters of a page.
Then, after a week has passed, consider following up on your job application.
Read more: Common JavaScript Interview Questions and Answers
Plus, a great cover letter that matches your resume will give you an advantage over other candidates. You can write it in our cover letter builder here. Here's what it may look like: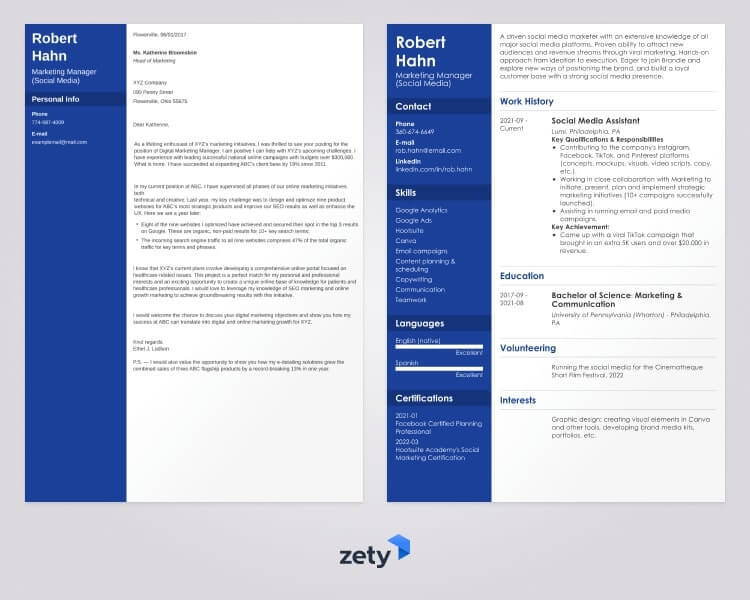 See more cover letter templates and start writing.
So that's how you write a great senior java developer resume!
Thanks for reading. Do you still have questions about how to write a senior Java developer resume? Did our article omit any crucial details? Use the comments section and let's start chatting!
About Zety's Editorial Process
This article has been reviewed by our editorial team to make sure it follows Zety's editorial guidelines. We're committed to sharing our expertise and giving you trustworthy career advice tailored to your needs. High-quality content is what brings over 40 million readers to our site every year. But we don't stop there. Our team conducts original research to understand the job market better, and we pride ourselves on being quoted by top universities and prime media outlets from around the world.