SSRS Resume: Sample & Guide (+ SSRS Developer)
You're a database magician, but resume writing is black magic to you? We've got you covered with our proven advice for a stellar SSRS resume.
There's just a few minutes between you and the perfect SSRS resume.
But why are you here anyway?
The IT sector is booming, surely you should be able to fend for yourself.
If "fending" means an average salary in an average job with a god-awful commute, then sure.
But if your ambitions lie way higher than that, getting there will require nothing less than a stellar 5-star resume.
Ready?
This guide will show you:

An SSRS resume example better than 9 out of 10 other resumes.
How to write an SSRS resume that will land you more interviews.
Tips and examples of how to put skills and achievements on an SSRS resume.
How to describe your experience on a SSRS developer resume to get any job you want.
Want to save time and have your resume ready in 5 minutes? Try our resume builder. It's fast and easy to use. Plus, you'll get ready-made content to add with one click. See 20+ resume templates and create your resume here.
Sample resume made with our builder—See more resume examples here.
Not quite what you're after? We've got other IT/database-related guides here:
SSRS Developer Resume Sample
Robert D. Fairley
SSRS Developer
518-566-6626
Robfairley@ymail.com
Linkedin.com/in/robertfairley
Professional Summary
Attentive and efficient SSRS developer with 5 years of experience, skilled at business intelligence solutions. Worked out complex business logic in T-SQL and improved database reporting at FlurbIndustries, leading to 20% savings in company budget. Seeking to leverage my expertise towards driving revenue and maximizing ROI at TechSonic through developing targeted, actionable, data-driven solutions.
Work Experience
SSRS Developer
Flurb Industries, Colorado Springs, CO
Dec 2012–Aug 2017
Created extensive monthly, bi-annual, and annual SSRS reports, maintaining 95% deadline adherence.
Standardized reporting method to increase efficiency in the entire department by 25%.
Organized training for 6 other employees in practical uses of MDX queries.
Communicated with engineers and network administrators to set up database permissions and accesses, eliminating loopholes.
Optimized SQL script performance, boosting efficiency and cutting down load times by nearly a third.
Junior Database Tester
SilvaTech, Boulder, CO
July 2011–Dec 2012
Created and debugged complex ETL processes using T-SQL queries, functions, stored procedures and SQL Server Agent jobs.
Performed unit testing, wrote test plans and cases.
Regularly debugged SQL Server SSIS processes.
Education
Master of Computer Science
University of Richmond, VA
Graduated: 2011
Skills
SSRS/SSIS
Test Director 8.0
Meticulous QA testing
Innovative BI solutions
Flawless communicator
Problem-solving skills
Interpersonal skills
Oracle, Java
Programming Languages
Visual Basic
Python
Ruby
JavaScript
C, C++
Certifications
MCSA SQL 2016 BI Development Certification, 2016
TDWI's Certified Business Intelligence Professional (CBIP), 2015
Here's how to write a job-winning SSRS resume:
1. Format Your SSRS Resume Correctly
SSRS developers collaborate with engineering teams to create, manage, and organize databases. They also deal with the business intelligence side of things. Your SSRS resume should show both your technical expertise and the attention to detail and data-driven mindset required to succeed in this role.
In a more unofficial capacity, most SSRS devs find part of their jobs is also to wrestle with upper management who are unwilling to implement their solutions (though you didn't hear that from me).
That said—
With the BLS predicting a staggering 10% growth between now and 2029 for database admins, your resume needs to outshine all the others right from the get-go.
The most efficient way to get there is through equally efficient resume formatting:
Start off by making sure to include your contact information. A professional resume header at the top of the page will provide the ideal framework.
Then, choose the chronological resume layout. It lists your most recent job first, putting it in the spotlight.
Split your resume into clear sections (we will dive into each of those later).
Pick a classic, legible resume font like Helvetica, Garamond, or even Arial.
Don't cram! This isn't crunch time, so leave plenty of white space for even more enhanced readability.
Speaking of cramming, how many pages should a resume be, anyway? For SSRS developers, the answer is one. Yes, one: if you can't fit everything on a single page, consider using a pre-made, modern resume template that'll do the job for you.
Saving the file as a PDF allows you to more easily preserve the formatting on your resume. It won't bug out, no matter what app or device the recruiter uses to open it.
Read more: What Does a Professional Resume Look Like? Full Guide with Examples
2. Create the Perfect SSRS Resume Profile
So you're writing your resume, and you're well aware of how much value you could bring to the database systems of that one company. They should essentially hire you off the street.
Why aren't they?
It might be because you're assuming they're actually going to read your resume.
Record scratch.
No, I'm not making stuff up.
Your resume will not be read top to bottom.
That is, if you don't include a short but sweet resume career profile to go along with it. It works like a good elevator pitch: you come in, present yourself in 30-ish seconds (or 3–4 sentences), and you leave.
On paper, this comes down to the choice of between a resume summary and a resume objective.
Choose a resume career summary if you have plenty of SSRS experience, and enough achievements and accolades to make heartbeats quicken at the sight of your database wizardry skills. In your resume intro, include your years of experience, a show-stopping achievement or two, and an offer to use your skills to help the company achieve a specific goal.
Choose a resume career objective if you have little to no experience with SSRS. Similarly, an objective is the right choice for career-change resumes. Don't feel doomed, though, and focus on flexing your transferable skills and highlighting how the knowledge you acquired can be used in this position.
Read more: 20+ Best Types of Resumes & How to Choose the Best One for You
3. Describe Your Experience on an SSRS Resume
This is one of the key sections on your resume, can't mess this up.
How do you ensure 100% success with no data loss?
Pick up a thread and needle and become a tailor!
No, I'm serious. Tailoring your job application to each position is the secret method nobody really talks about (not nearly enough, anyway).
This is what you do:
As mentioned earlier, last job goes first, with older jobs being listed subsequently after.
Adjust the job titles you held to the job you're applying to now. For example, if there's an open position for a "T-SQL/SSRS Developer", you're exactly that, don't get rid of the "T-SQL".
Don't just write a vague list of what you were responsible for in each role. Instead, focus on measurable professional achievements that really show how awesome you are at your job.
When listing your duties and accomplishments, go for 4–6 well-written resume bullet points.
By "well-written" I mean "utilizing action verbs", which are your biggest ace up your sleeve. They keep engagement high, ensuring the recruiter won't yawn and fall asleep as if they're waiting for their code to finish compiling after 7 hours.
Lastly, include numbers! Seriously, there's a massive difference between "Cleaned up code" and "Increased SQL server operating efficiency by 16% through removing code redundancies."
Read more: How to Add Work Experience to Your Resume and Show Off Your Expertise
4. Don't Skip out on the Education Section
Yes, it's true that your education comes second to your experience.
No, it's not an excuse for a shabby education section on your resume.
And, who knows, maybe it'll be your ticket to the IT department in a Fortune 500 company?
Try this:
If you've been in the field long enough, list just the basics: school name and location, degree obtained, and graduation year.
Otherwise, to make a great impression, include additional info. Think relevant courses you excelled at, optional electives that fit the profile, additional school projects, or honors on your resume.
SSSR Experience IS NULL? All is not lost, don't worry! But you'd do well to swap the order of your experience section and education section.
Read more: How to List Majors and Minors on a Resume: Everything You Need to Know
5. Demonstrate Your Skills on an SSRS Resume
Here's the best skills for an SSRS Developer to list on a resume:
SSRS Developer Resume Skills
Database Management
Data Warehousing
Performing QA Testing
Program Testing Software
SQL/NoSQL
Reporting
Knowledge of EDI documents
ACA Knowledge
Database Security
Business Intelligence
Oracle
Java
C++, C, C#
Design Skills
However, if you just copy-pasted that, you'd straight up get tossed on the spot.
Modeling a perfect resume skills section takes a bit of finesse, else it comes out buggy. Putting in the extra elbow grease is definitely worth it.
According to this report, business intelligence can benefit SMEs the most, and, well, most companies are SMEs. There's a wonderful world full of professional opportunity out there, waiting for you to show them how much profit you can generate.
Here's your ticket to a perfect skills section:
Since you want your resume to be tailored (see the work experience section), go back to the job ad. Chances are, it was written with certain resume keywords—look for those.
Once that's done, identify how you can transform them into a list of specific skills.
Divide your own job skills into soft skills and hard skills, and technical skills. You may also add programming languages into a separate category, whatever floats your boat.
From there, cross-reference the list you just created with what you extracted from the job posting. See any matches? Great! Put them down in the final version of your resume.
When making a resume in our builder, drag & drop bullet points, skills, and auto-fill the boring stuff. Spell check? Check. Start building a professional resume template here for free.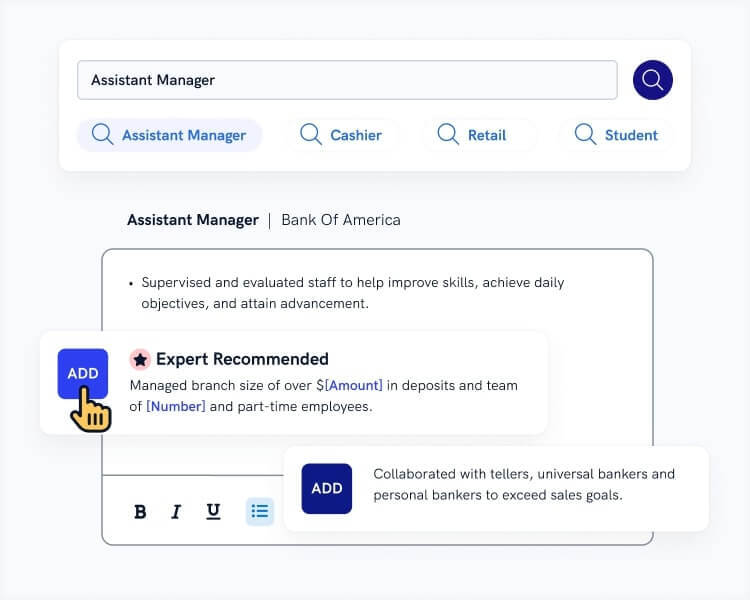 When you're done, our easy resume builder will score your resume and our resume checker will tell you exactly how to make it better.
6. Add Extra Sections to Your SSRS Resume
So far, your resume is in absolutely top shape (if you've been following the advice above).
But, the downside is—so is every other candidate's.
To pull ahead and leave these suckers in the dust, you have to show off something unique about yourself. This is the most free-form resume section, so get to thinking. Your goal is to have the recruiter say "Wow, that's some kind of passion, I can't wait to work with this guy!"
Stuff like volunteer work, programming projects, or certifications earned definitely scores extra points. If you're in a pinch, throw in a special achievement, or maybe speak about your language proficiency, if you're going to be working for an international enterprise.
Read more: Best Hobbies to Put on a Resume: List, Examples, and Guide
7. Attach a Cover Letter with Your SSRS Resume
Cover letters are non-negotiable, period.
I know, it's not 2010, you're not using SQL Server 2008 anymore, I get it. But the truth is, HR statistics show that nearly 50% of all recruiters claim they don't care about your excuse. No cover letter = no job.
Appease them with the perfect cover letter:
Before you begin, get to know the basics of cover letter formatting.
Then, write a great cover letter header that includes your name, contact information, and the name and info of the hiring manager.
Start the cover letter off by briefly explaining how you found out about the position and why it excites you.
Stuff the body with positives about you, like your greatest strengths and accomplishments, that will make their jaws drop through the floor and into the lobby.
Finish the cover letter with a compelling call to action and an offer they could not ever refuse.
Keep the cover letter length at a perfectly sufficient 3 or 4 paragraphs.
Read more: Tips for Writing an Incredible Cover Letter
Plus, a great cover letter that matches your resume will give you an advantage over other candidates. You can write it in our cover letter builder here. Here's what it may look like: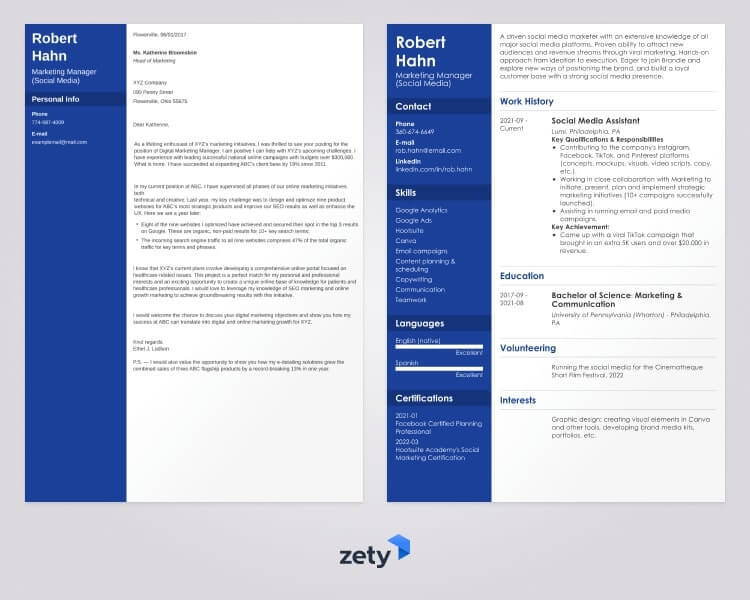 See more cover letter templates and start writing.
That's a six-figure resume right there!
Are you unclear about any details? Not sure what skills to cover on an SSRS resume? Our experts are here to help, so give them a poke in the comments section below!
About Zety's Editorial Process
This article has been reviewed by our editorial team to make sure it follows Zety's editorial guidelines. We're committed to sharing our expertise and giving you trustworthy career advice tailored to your needs. High-quality content is what brings over 40 million readers to our site every year. But we don't stop there. Our team conducts original research to understand the job market better, and we pride ourselves on being quoted by top universities and prime media outlets from around the world.