Tableau Developer Resume: Samples and Guide
Management depends on you to pull the message from the data. But there's no dashboard to get you hired. Prove your skills with this professional Tableau developer resume sample.
A Tableau developer resume is just data viz for your career. But you can't use clustering or kurtosis to write a good one. That means you're struggling in a field you don't understand—resume writing. Worse, do it wrong and they'll hire one of the other 273+ Tableau developer job applicants.
But—look at the plus side. If you show your time-series, integration, and other Tableau skills the right way, your p-value will go through the roof. That job with two months of vacation time and a six-figure salary will drop into your lap.
Let's get this rolling.
You're about to see a Tableau developer resume example you can change to fit any Tableau developer position. You'll also get fast steps to write a resume for Tableau developer jobs that'll land 10x more interviews than any other.
Here's a Tableau developer resume created with our builder:
Want to save time and have your resume ready in 5 minutes? Try our resume builder. It's fast and easy to use. Plus, you'll get ready-made content to add with one click. See 20+ resume templates and create your resume here.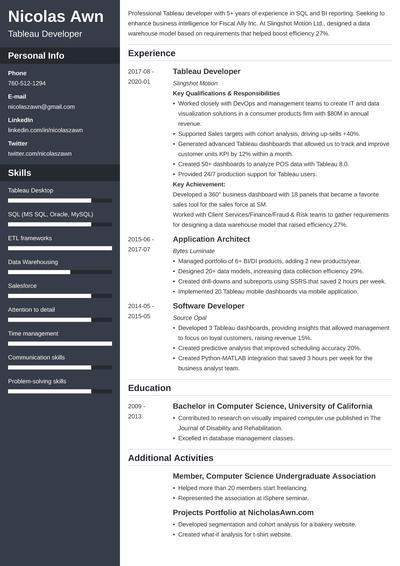 Tableau developer resume made with our builder—See more resume templates here.