Data Engineer Resume: Sample and Guide [20+ Tips]
Step one: Data collection. Write down all your relevant skills and experience. Step two: Data cleaning. Trim the excess to reveal a FAANG-worthy data engineer resume.
Once upon a time, writing "Big Data" a couple times in your resume experience section was enough to get interviews at any tech giant.
But all good things must come to an end. As Big Data jobs have become more specialized, expectations for roles like data engineers have become higher. Employers are no longer hiring anyone who has Coursera's Hadoop certification.
What does that mean for your data engineer resume?
It also needs to be more specialized. There's a specific skill set around data management your resume needs to show off, or it'll be treated the same way you treat incomplete data points—completely ignored.
But don't worry—with a few tips and some expert advice, you'll have the perfect data engineer resume and be back in your comfort zone—swimming through petabytes of data.
Read on to learn how to write a job-winning data engineer resume and see a data engineer resume sample that'll help you land 10x more interviews than the competition.
Want to save time and have your resume ready in 5 minutes? Try our resume builder. It's fast and easy to use. Plus, you'll get ready-made content to add with one click. See 20+ resume templates and create your resume here.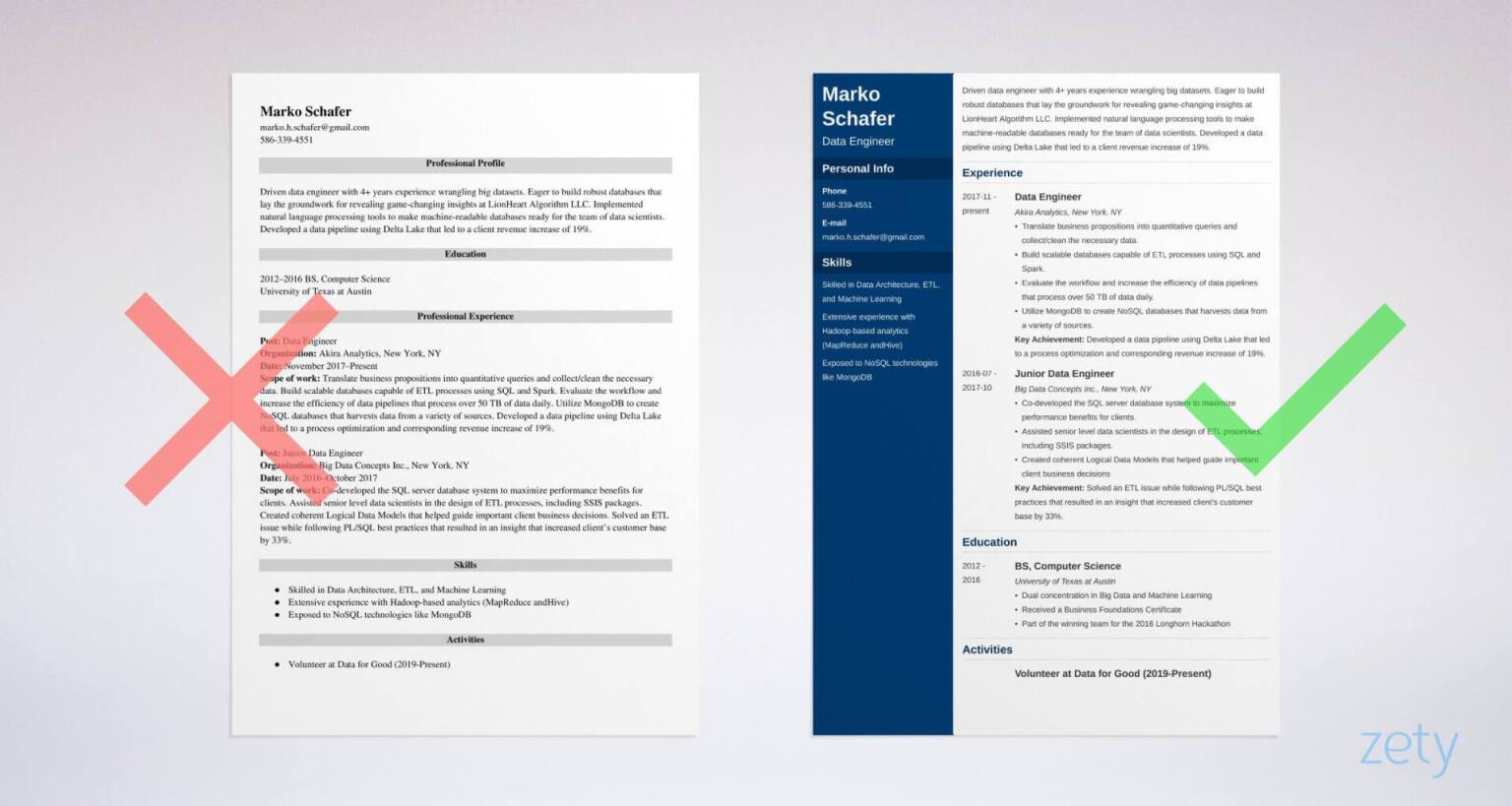 Data engieneer resume made with our builder—See more templates and create your resume here.
Interested in similar IT resumes? Check out:
Sample Data Engineer Resume Template
Marko Schafer
marko.h.schafer@gmail.com
586-339-4551
Professional Profile
Driven data engineer with 4+ years experience wrangling big datasets. Eager to build robust databases that lay the groundwork for revealing game-changing insights at LionHeart Algorithm LLC. Implemented natural language processing tools to make machine-readable databases ready for the team of data scientists. Developed a data pipeline using Delta Lake that led to a client revenue increase of 19%.
Professional Experience
Data Engineer
Akira Analytics, New York, NY
November 2017–Present
Translate business propositions into quantitative queries and collect/clean the necessary data.
Build scalable databases capable of ETL processes using SQL and Spark.
Evaluate the workflow and increase the efficiency of data pipelines that process over 50 TB of data daily.
Utilize MongoDB to create NoSQL databases that harvests data from a variety of sources.
Key Achievement: Developed a data pipeline using Delta Lake that led to a process optimization and corresponding revenue increase of 19%.
Junior Data Engineer
Big Data Concepts Inc., New York, NY
July 2016–October 2017
Co-developed the SQL server database system to maximize performance benefits for clients.
Assisted senior level data scientists in the design of ETL processes, including SSIS packages.
Created coherent Logical Data Models that helped guide important client business decisions
Key Achievement: Solved an ETL issue while following PL/SQL best practices that resulted in an insight that increased client's customer base by 33%.
Education
2012–2016 BS, Computer Science
University of Texas at Austin
Dual concentration in Big Data and Machine Learning
Received a Business Foundations Certificate
Part of the winning team for the 2016 Longhorn Hackathon
Skills
Skilled in Data Architecture, ETL, and Machine Learning
Extensive experience with Hadoop-based analytics (MapReduce andHive)
Exposed to NoSQL technologies like MongoDB
Activities
Volunteer at Data for Good (2019-Present)
Learn how to write a job-winning data engineer resume:
1. Pick the Correct Format for Your Data Engineer Resume
Data engineers are tasked with organizing the collection, processing, and storage of data. Through extensive knowledge of databases and their structures, data engineers prepare data to create workable data pipelines, upon which valuable insights can be gathered. The purpose of a data engineer resume is to show the hiring manager you have the skills and experience to transform petabytes of data into a usable product that informs and improves business decisions.
According to the 2020 Dice report, data engineer was the fastest growing tech job in 2019, with a 50% increase in job postings over 12 months. Combine that growth with a high salary ($92,064 is the average), and the field is suddenly the talk of the town. Let's make sure your data engineer resume can keep up with the demand.
Just like how data scientists can't make any meaningful insights from messy data, your resume needs to be in the right format for hiring managers to extract the right information from it.
Here's the framework for formatting your data engineer resume:
Pro Tip: If you're changing careers from a related field like software engineering, a hybrid resume can help you show off your data skills front and center.
2. Write a Resume Objective or Resume Summary
Since recruiters spend just 7 seconds on average scanning resumes (according to HR statistics), writing a resume introduction will help you pitch yourself as a professional data wrangler.
What is a resume introduction? It's an elevator pitch at the top of your resume describing who you are and includes a highlight reel of your skills and experience.
Generally, there are two types of such resume career profiles: the resume summary and the resume objective. Here's how to decide which to write.
Choose a resume summary statement if you already have 2+ years of experience massaging data:
Come up with your biggest career wins in the form of skills or experience—the things that will impress the hiring manager the most.
Include only the top 3 or 4 wins that best suit the job description of the job you're applying for.
Choose a resume objective statement if you're brand new to the field of data engineering:
Look through your education and experience that includes transferable skills for your biggest achievements.
Choose the ones most applicable for the job posting you're interested in.
Pro Tip: A good resume profile can make you seem like a needle in a haystack to the HR manager. Match your resume to the job by tailoring it to the job posting.
3. Describe Your Work Experience as a Data Engineer
The work experience section is the most important part of a resume for data engineers. Employers want to see candidates who have worked on real projects building data pipelines out of raw, messy data—not the clean and tidy datasets from MOOCs.
Here's how to write a data engineer resume work experience section that shows you've been waist-deep in a swamp of data before:
Start with listing your current or most recent job. Then go backwards chronologically listing your previous positions.
Include your job title, company name, dates worked, up to 5 bullet points, and a "key achievement" that you don't want any recruiter to miss.
Use less bullet points on older and less relevant positions. The goal is to highlight your relevant experience as possible.
Begin each bullet point with action verbs.
Focus on accomplishments, rather than duties, and quantify your achievements. (As a data engineer, you're expected to have the data to back up claims.)
Make sure you tailor this section to include experience that is relevant to the job posting. It doesn't take long and will make a huge difference.
Work on projects, either personal or group, if you don't have any experience as a data engineer. This section is not optional.
Pro Tip: If you don't have professional experience, you can instead list projects on your resume. Describe the Kaggle competitions you've been a part of and talk about the projects in your GitHub.
4. Show Off Your Data Engineer Resume Education Section
Since there are only a few "data engineering degrees" in existence, your education section doesn't matter, right? Yea—no.
Similar to software engineering, you don't need an undergraduate or master's degree in computer science to get hired—but having a degree in CS or data science will definitely help.
Use your data engineer education section to your advantage:
Pro Tip: Just graduated and writing a resume for your first job? Put your education section about your experience section.
5. Highlight Your Data Engineer Skills
The right data engineer skills section will do two things: show that you have the fundamental data management skills down pat and that you will be able to learn a new tech stack quickly.
Here's how to put skills on a data engineer resume:
Make a list of all the programming languages, database management technologies, and other technical skills you have had experience with. Don't forget to also list soft skills, they're often what the hiring manager will use to decide whether you're a good fit for the company.
Select the skills most relevant to the job you're applying for and put them on your resume skills section. Include the skills in your experience section as well.
Big Data Engineer Resume Skills
Python
Hadoop
Java
Scala
Hive
Apache Airflow
Apache Spark
Apache Kafka
NoSQL
SQL
Cloud platforms
Big Data
ETL
Tableau
Linux
Data pipelines
Data warehousing
Data science
Machine learning
Read more: How to List Programming Languages on a Resume
When making a resume in our builder, drag & drop bullet points, skills, and auto-fill the boring stuff. Spell check? Check. Start building your resume here.
When you're done, Zety's resume builder will score your resume and tell you exactly how to make it better.
6. Add Optional Sections on Your Data Engineer Resume
Stand out from the crowd by including an extra section on your resume:
Certifications aren't required for data engineering jobs, but they can certainly give you an edge. Consider adding one of these certs to your resume:
Writing a language skills, hobbies, or volunteer section will add a little personality to your resume.
Have the recruiter thinking "Wow, this candidate is the complete package!
Read more: How to Put Personal Projects on a Resume
7. Include a Cover Letter with Your Data Engineer Resume
Do you need a cover letter? Since almost half of recruiters reject resumes that don't include one, play it safe and attach one to your resume.
Craft a data engineer cover letter that could win a Kaggle competition:
And that's how to write a killer cover letter!
Pro Tip: Even after you hit submit, you're not done yet!You still need to write a follow-up email for a job. A quick email or phone call can put you at the forefront of the hiring manager's mind.
Plus, a great cover letter that matches your resume will give you an advantage over other candidates. You can write it in our cover letter builder here. Here's what it may look like: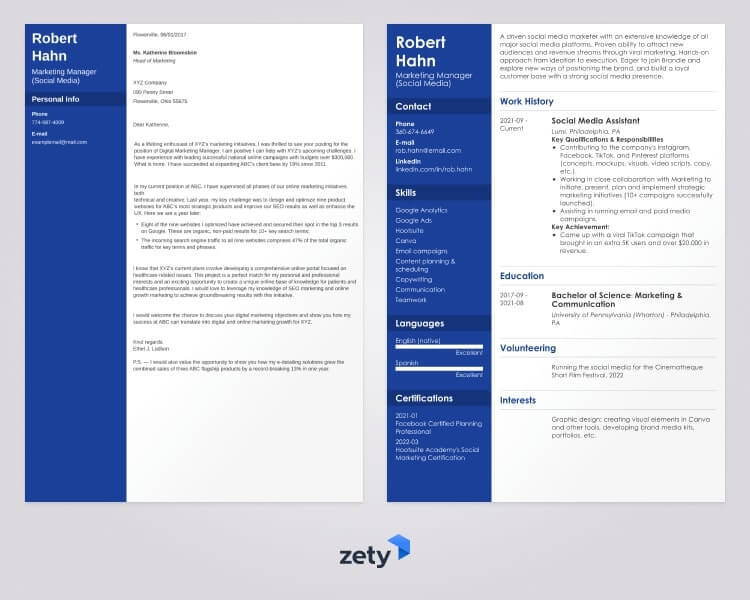 See more cover letter templates and start writing.
Good work—
You should now know everything you need to write a great data engineer resume!
Do you have any questions regarding Big Data engineer resumes specifically? What has worked for you in your data engineering job search? What hasn't? Let's chat in the comments section!