Don't write your data scientist resume in COBOL to get the job you're after. You need some more to impress your future employer. Luckilly for you, we've gathered all the data necessary for creating a perfect resume for a data scientist.
Read on. See an example of the best data science resume template. Find out how a great data science resume example should look like. And then wow your future employer with your resume!
This guide will show you:
A data scientist resume example better than 9 out of 10 other resumes.
How to write a data scientist resume that lands more interviews.
Tips and examples of how to put skills and achievements on a data science resume.
How to describe your experience on a resume for data scientists to get any job you want.
Here's a sample resume for a data scientist made using our resume builder:
Want to save time and have your resume ready in 5 minutes? Try our resume builder. It's fast and easy to use. Plus, you'll get ready-made content to add with one click. See 20+ resume templates and create your resume here.
Sample Data Scientist Resume—See more resume examples here.
OK, data science whiz kid! Are you perhaps targeting a specific position in the information technology field? Read:
You can also find more guides and example that may help you write the perfect resume on Best Resume Examples for All Types of Jobs.
Data scientis resume example
Gabriela Tarquini
Data Scientist
123-456-7890
gabriela.tarquini@email.com
linkedin.com/in/gabriela.tarquini
Summary
Proficient Data Scientist with over 5 years of experience in leveraging data-driven insights to drive business improvement and optimize overall performance. Seeking employment as a Data Scientist at Innovaris Sphere Solutions to apply my strong problem-solving skills and strategic thinking to help drive informed business decisions. Developed and implemented a predictive model that achieved a 20% improvement in accuracy when predicting client behavior.
Experience
Senior Data Scientist
SwiftCore Dynamics, Aurora, IL
July 2016–Present
Key Qualifications & Responsibilities
Leveraged large data sets to improve business strategy and performance.
Collaborated with cross-functional teams to implement predictive models.
Improved client behavior prediction accuracy by 20% through the development and implementation of strategic models.
Presented data-driven insights to executive leadership.
Key Achievement:
Developed a predictive model that improved the accuracy of client behavior prediction by 20%.
Data Scientist
EpsilonByte Co., Aurora, IL
June 2013–June 2016
Key Qualifications & Responsibilities:
Assisted in the development of algorithms and predictive models to extract and analyze large volumes of data.
Collaborated in cross-functional teams to implement data-driven strategies.
Contributed to achieving business goals by providing data-driven insights.
Key Achievement:
Participated in the development of a predictive model that drove a 15% increase in business efficiency.
Education
Master's degree in Data Science
University of Aurora, IL
September 2010–May 2013
Relevant extracurricular activities
Head, Student Data Science Association
Member, University Technology Advisory Committee
Skills
Problem-solving skills
Strategic thinking
Proficient in Python, SQL, and R
Data visualization and communication
Advanced predictive modeling
Teamwork
Analytical thinking
Excellent time management
Certifications
Certified Data Scientist, Data Science Council of America, 2013
Awards
2018, Data Scientist of the Year, SwiftCore Dynamics
Memberships
Member of the Association of Data Scientists since 2013
Presented a lecture on "Predictive Analytics in Business Strategy" during the 2017 Data Science Conference, Chicago.
Languages
English—Native
Spanish—Advanced
Interests
Volunteering for Code for America: Using data skills to improve community services.
Teaching weekend data science classes at the local community center.
1
What's the Best Format for a Data Scientist Resume?
You're a data scientist.
Your job is pulling golden needles from fields of haystacks.
Your data scientist resume must be the needle, not the haystack.
Pick a trusted layout like reverse-chronological.
It's the best data science resume format. It puts your most recent work achievements first.
Use clear fonts like Cambria or Arial. Delineate them with big headings. Add white space to avoid that "drowning in data" feeling.
Last, save it as a PDF. Data scientist resume PDFs stay clean across machines. MS word resumes can corrupt in transit.
Pro Tip: While PDFs are best, check the job description first to make sure they aren't outlawed. Always choose the format suggested by the job posting.
Want to investigate other data science resume formats? See our guide: 3 Resume Formats: How to Choose the Best One [Examples]
2
How to Write a Data Scientist Resume Summary or Resume Objective
Come with me. We'll sneak into the recruiter's office. Her name's Beth.
Mmm. Looks like she's having cheesecake factory for lunch.
She's also buried in a pile of 300+ data science resumes.
Yours is in there somewhere, like a key fact in a spreadsheet with a billion rows.
Catch the recruiter's eye with a data scientist resume summary or a resume objective.
A resume summary is for data scientists with petabytes of experience. It uses that experience to prove you fit the job.
A resume objective sells your skills and passion. Write one if you're basically like Ultron: new and powerful.
Let the following data science resume bio examples be your guide.
Experienced Data Scientist Resume Examples [Resume Summaries]
Spot the difference in these sample data scientist resume summaries:
RIGHT
Microsoft and Google certified data scientist with 9 years of experience. Seeking to increase data efficiency for Contranix Capital Inc. Achievements include creating data regression models to predict company stock prices with 25% more accuracy than historical average. Achieved 20% improvement in investment returns across all clients. Highly skilled in machine learning, data visualization, and creative thinking.
Kerpow! This candidate just went from average to Andrew Ng. All it took were some measurable accomplishments.
wrong
Data scientist with 9 years experience seeks new position. Skilled in statistics, machine learning, critical thinking, and data visualization.
That's actually not terrible. You could qualify for a lower-tier data engineering job with that. But it lacks proof behind the skills it outlines.
And here's some good news—
When making a resume in our builder, drag & drop bullet points, skills, and auto-fill the boring stuff. Spell check? Check. Start building a professional resume template here for free.
When you're done, our online resume builder will score your resume and our resume checker will tell you exactly how to make it better.
Don't have much experience? Check out our next two data scientist resume examples.
Two Entry-Level Data Scientist Resume Objectives
Most experts say a resume objective should show passion and skill with no experience.
But if you've got experience, flaunt it, or you'll easily get beaten out.
With details, even a new data scientist can build this kind of resume objective:
right
Junior data scientist with 3+ years of experience in project work and freelance jobs. Beat 200+ statistics professors and big data professionals in an NCAA pool, by building models that fit the problem best. Skilled in machine learning, statistics, problem solving, and programming.
Remember Beth? Our faithful recruiter?
She wanted proof that you could do the job.
That junior data scientist resume example just gave it to her.On the other hand, don't do it like the candidate who wrote this entry-level data science resume:
WRONG
Entry-level data scientist, seeking a machine learning or data engineering job. No real-world experience yet but I'm eager to get into the Big Data field.
That drops the ball like conflating correlation with causation.
Pro Tip: Participate in Kaggle challenges online. Some pay in cash prizes or job interviews. Plus, you can list any wins on a resume for data science positions.
Want your resume to work like Hadoop? See the data science resume sample up top. Also, check out our guides:
How To Write A Resume Summary: 21 Best Examples You Will See AND 20+ Resume Objective Examples—Use Them on Your Resume (Tips)
3
How to Describe Your Work Experience on a Data Scientist Resume
You're good.
You can basically concoct a Bayesian neural network during snack time.
But the hiring manager won't know that unless you prove it in your data scientist resume.
So, don't just show experience.
Show the right parts of the right experience to get the job.
Start with your most recent position. Add 3–5 bullet points with measurable accomplishments.
The next two data analyst resume samples show how to do it right (and wrong).
Data Scientist Resume Examples [Experience]
Look at these two samples of experience on a resume:
right
Exend Capital
Data Scientist
2013–2017
Fulfilled all data science duties for a high-end capital management firm.
Created and presented models for potential holdings to fund managers. Achieved 20% better returns vs historical performance.
Created machine learning tools that computed adjusted P/E values.
Predicted stock price 25% better than traditional figures.
Now that's a data scientist resume indeed! The recruiter just forgot what "quantile" means. Your well-engineered data science job resume just blew it from her mind.
Here's how to bork it:
wrong
Exend Capital
Data Scientist
2013 - 2017
Worked as a data scientist for a capital management firm.
Created and presented models for potential holdings.
Created machine learning tools to compute adjusted PE values.
Like an empty data set, that lacks details.
You must show proof to get the recruiter to stop skimming.
But what if your experience is null?
If that's you, check out the following fresher data scientist resume examples.
How to Write a Resume for a Data Scientist with no Experience
Don't have experience? Get a little, fast. There is no such thing as a successful resume with no experience—
Do a couple Kaggle challenges. Take on some freelance jobs through Upwork. Contribute to some open source projects on GitHub.
You can even just do data science projects on your own time, or list the ones you did in school.
They won't take years or even weeks. Even so, they'll make a machine learning resume stand out like Corinna Cortes at a NASCAR race.
These two data scientist resume examples spotlight the correct approach.
Two Data Scientist Resume Samples [No Experience]
Add a few hours of freelance work and projects, and even an entry-level data science resume looks like this:
right
Freelance Data Scientist
2016–2017
NCAAMaster: Beat 200+ statistics professors, students, and professionals in an NCAA pool by finding the right data models for the job.
FootForest: Used random forest regressor to predict fantasy football scores.
Pylearn 2: Regular contributor to Machine Learning project on GitHub.
Boom. You went from zero to the next Tim O'Reilly with a couple days of work.
Almost anyone can make a good data scientist resume like that. Just come up with examples of:
The second of our sample data science resume snippets has a major flaw:
WRONG
Data Scientist Experience: No real world experience yet, but I'm a data science enthusiast with a will to learn.
Other Experience:
You might as well just say, "Mongo only pawn in game of life."
Pro Tip: Check the Kaggle job board, Indeed, DataJobs, and Triplebyte. Look for jobs with startups on the HackerNews and AngelList.
A bored recruiter is a vanishing recruiter. Electrify her with action words in your data science resume. Get some here: 80+ Examples of Resume Action Words for Every Profession
4
Highlight Your Education on Your Dara Scientist Resume
Education matters more for entry-level data scientists.
But even a senior data scientist resume can use it as a springboard to get hired.
Here's how to make yours shimmer:
First, add the basics:
College Name and Location.
Years in School.
Degree.
Then tie it to the job offer like probability to p values.
Check out these two professional data science resume examples:
Data Scientist Resume Example [Education]
Both of these sample data scientist resume clips target the same job. It values statistics, machine learning, data regression, and AI.
right
BS in Statistics, Syracuse University
2008–2012
Excelled in machine learning and data science coursework.
Completed a senior project to predict waitress tips in a busy Boston restaurant. Used decision trees, regression models, and SVM.
President, AI club.
Microsoft Professional Program for Data Science
Completed all 10 required courses in Data Science (120 hours).
Mastered 10 crucial data science skills.
That's no mere data scientist. It's Sandy Pentland in disguise. It plugs into the job description like a NoSQL query.
Not so the next of our data science resume examples.
wrong
BS in Statistics, Syracuse University
2008 - 2012
GPA 3.2
Completed all core coursework.
Microsoft Data Science Online Class
That's the hello world of resume material.
But sprinkle in those details, and you're back in Daphne Koller mode.
Pro Tip: Should you add your GPA to a resume for a data scientist? If you're a recent graduate, you sort of have to. If not, only add it if it's impressive.
Want to make your data science student resume stand out like Sherlock Holmes with Cloudera skills? See this guide for any fresher: How to Put Your Education on a Resume [Tips & Examples]
5
Put Relevant Skills on a Resume for a Data Scientist
Let's sneak up behind the hiring manager again.
She's on resume #259.
(She needs a big data analyst to help her sort through all the big data analyst resumes.)
Her biggest problem? Skills.
Everybody lists them all.
Yet no one proves a word of it.
So how can you list skills without flunking the Turing test?
Our next two data science resume examples explain.
Data Scientist Resume Examples [Skills]
Our hiring manager, Beth, put these skills in the job description:
Data Science Skills: Collaboration, CRM, Database Management, Data Visualization.
So, add them to your resume. But don't stop there.
Prove them in your bullet points like in this data scientist resume skills example:
Collaborated with team members to optimize CRM database for a high-volume real estate firm.
Decreased wasted phone and email time by 57%.
Used matplotlib to create real-time ROI graphs that helped the teams focus on high-profit business. This led to a 20% increase in annual profit.
That ties skills to achievements like Spark to Zeppelin.
Use the skills below to launch the process.
List of Skills to Put on a Data Scientist Resume
Let's get you up and running with a list of data science skills.
Add to it from data scientist resumes on Indeed and other online sources.
Data Scientist Resume Example (Skills)
Data Scientist Resume Skills

| | | |
| --- | --- | --- |
| | | |
| | Data Analysis | R Programming |
| | Mathematics | Python |
| | Statistics | NoSQL |
| | Data Visualization | Hadoop |
| | | OpenRefine |
| Active Learning | Quantitative Analysis | TensorFlow |
| Perceptiveness | Machine Learning | Matplotlib |
| Generating Hypotheses | Debugging | Cloudera |
| Judgement | Modeling | PERL |
| | Probability | VB |
Use the plan above, and your data science resume will have you scoring Google/Yahoo/Splunk type jobs in no time.
Pro Tip: Don't overfit your skills to the job description. Toss in a few they didn't ask for.
Want to make a resume for data science jump off the page? See the machine learning sample resume up top. Also, see this guide: 30+ Best Examples of What Skills to Put on a Resume
6
Show Certifications on a Data Scientist Resume
Let's get back to Beth, our hiring manager.
She likes certifications on her data scientist resumes.
They're not the holy grail, but they do prove a base level of competence.
But not if you hide them in a wall of words.
Got a certification that features prominently in the job description?
Add it to your name. Plus, put it in your job summary, and in a certifications section.
Like this:
Certifications
Microsoft Professional Program Certificate in Data Science
GCP—Google Certified Professional Data Engineer
The big data field serves up lots of certifications. One of the most prestigious is Microsoft's. It's a 120+ hour comprehensive course.
A good data scientist resume might show any of the following:
Microsoft Professional Program Certificate in Data Science
GCP – Google Certified Professional Data Engineer
Cornell Data Analytics Certification (Online)
CHDA – Certified Health Data Analyst
CAP – Certified Analytics Professional
Don't have a certification? Don't fret. What matters most is your experience, and how well it fits the job requirements.
Pro Tip: If you land the interview, get ready for some FizzBuzz problems. Review topics like recursion, arrays, graphs, and stacks. Do lots of practice problems too.
Want other tips to make your data scientist resume gleam like Sheldon Cooper's? See our guide: What To Put On A Resume To Make It Perfect [Tips & Examples]
7
Add Other Sections for an Effective Data Scientist Resume
Think of your resume like a great data visualization.
The data it needs to visualize is you.
It has to show you're more than just experience and education.
In other words, you're great to work with.
Show that with "other" sections that share your depth and passion.
The next two data science resume examples light the way.
Data Scientist Resume Examples [Other Sections]
RIGHT
Conferences
AAAI Conference on Artificial Intelligence (2016)
The Machine Learning Conference—Spoke on a Panel About AI (2014)
Awards
On team that won the Kaggle "Titanic: Machine Learning" challenge
Additional Activities
Article "Machine Learning in the Next 10 Years" cited in Forbes
Leader of bi-monthly hiking club
Volunteer monthly at the Boylston St. Soup Kitchen
That's a Norvig-worthy "other" section.
Even the volunteering and the hiking help. They show leadership and service. You can add GitHub and other projects, too.
In turn, this sample R programming resume "other" section bonks:
wrong
I hold several records in World of Warcraft.
I make an amazing brisket.
What's wrong with WoW and brisket? Nothing!
But do they make you a better data scientist?
Not really, right?
Pro Tip: Need more recruiters to impress with your great data science resume? Start answering questions on Stack Overflow. Hiring managers use it to recruit.
Need more help to hone your data science resume "other" sections? See our guide: 20+ Best Examples of Hobbies & Interests To Put on a Resume (5 Tips)
8
Boost Your Chances by Adding a Cover Letter to Your Data Scientist Resume
Recruiters do read data scientist cover letters.
So why do "experts" say they don't?
Because no one reads "Here is my data science resume" type cover letters.
They're wasted space.
Smart candidates use that space to get a resume read carefully.
First, make it personal. Use the hiring manager's name.
Second, show your passion for this data science job.
Third, show specifically how you can help.
Dear Trent,
I've wanted to work for Valens Securities for several years. Your take on the limitations of GAAP fits perfectly with my skill set. I believe my work with data-regression models for company P/Es would be extremely valuable in your quest to adjust for accounting anomalies. My achievements include...
Finish with a request. "Can we set up a call to talk about improving [METRIC XYZ]?" works great.
Plus, a great cover letter that matches your resume will give you an advantage over other candidates. You can write it in our cover letter builder here. Here's what it may look like: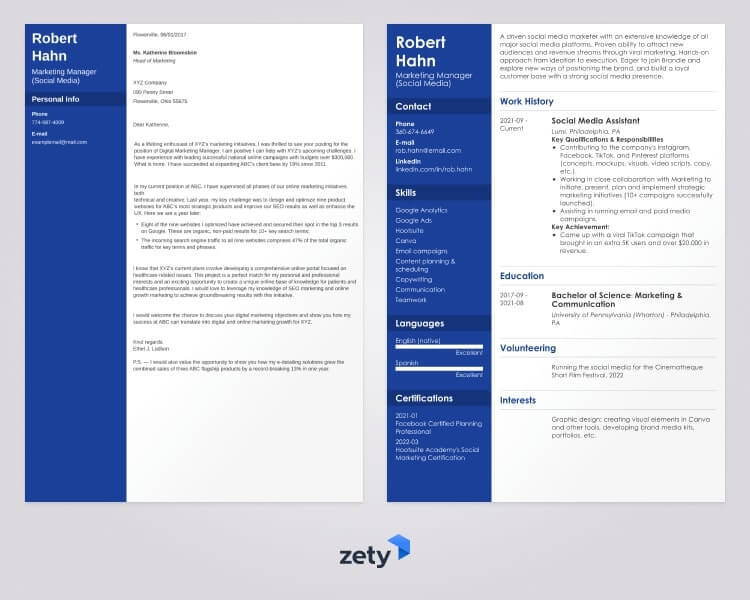 See more cover letter templates and start writing.
Pro Tip: Do you need a masters degree in data science to get a job? No. In fact, a bachelors in math, business, or even political science looks good on a resume for data science.
Your cover letter template should work well with your data science resume template. See our beast of a guide: Data Scientist Cover Letter Example
9
How to Add Contact Info to Your Data Scientist Resume
If you're like most, you'll make one huge mistake with your data science resume.
It's in your contact info.
Of course you'll add:
Full Name
Updated Phone Number
Professional Email Address
Like so:
Trisha Stamm, Data Scientist, trishastamm@gmail.com, 401-439-3501
You probably even know a "professional email address" isn't something like happysillydragonballzplayer23498234@yahoo.com.
For some reason, nobody wants to hire that guy for data science jobs.
But did you know a LinkedIn profile and data science portfolio are even more important than a resume?
About 87% of recruiters hire from LinkedIn.
A personal portfolio site helps too. It can share so much more than a data science resume.
Where to put GitHub on resume?
You can add your GitHub profile to your contact info, too. Put it near your LinkedIn address.
That works especially well if you've got an impressive body of GitHub work and projects.
Pro Tip: Not sure how to write a great data scientist profile on LinkedIn? We've got you covered. Check out our guide on LinkedIn profile excellence.
Need a guide to set up that job-winning professional website for a data analyst? See this guide: How to Make a Professional Website: Complete Guide + 9 Tips
Key Takeaway
Now you know how to write a solid data scientist resume, complete with certifications. And you also know how to make sure you've chosen the right data science resume template! Remember these key tips:
Read the job description carefully. Each bullet point in your data science resume should point back to the job offer.
Don't just list your skills. Taylor them to fit the job with measurable accomplishments.
Add "other" sections to make your resume stand out like a machine learning resume by Daphne Koller or Adam Coates.
Do you have questions on how to write a great resume for a data scientist? Not sure how to describe your skills or achievements? Give us a shout in the comments! We love to help!
About Zety's Editorial Process
This article has been reviewed by our editorial team to make sure it follows Zety's editorial guidelines. We're committed to sharing our expertise and giving you trustworthy career advice tailored to your needs. High-quality content is what brings over 40 million readers to our site every year. But we don't stop there. Our team conducts original research to understand the job market better, and we pride ourselves on being quoted by top universities and prime media outlets from around the world.