ETL Developer Resume Sample [Template & 25+ Tips]
Been in the business intelligence field for a while, but your applications fall flat? It might be time to debug your ETL developer resume.
As an ETL Developer, you're the data whisperer—the one who tames unruly databases and extracts valuable insights. But does your resume have the same impact?
Don't let your job application get lost in cyberspace—follow our expert advice to create a resume that truly showcases your talents.
This guide will show you:
An ETL developer resume example better than 9 out of 10 others.
How you can write an ETL developer resume that instantly gets you more callbacks.
Tips on putting skills and achievements on your ETL developer resume.
The best ways to talk about your past work experience as an ETL developer.
Want to save time and have your resume ready in 5 minutes? Try our resume builder. It's fast and easy to use. Plus, you'll get ready-made content to add with one click. See 20+ resume templates and create your resume here.
Sample resume made with our builder—See more resume examples here.
Not quite what you're looking for? See our other guides here:
Sample ETL Developer Resume
Jonathan S. Keller
ETL Developer
256-751-4786
JonathanSKeller@hotmail.com
Linkedin.com/in/jonathankeller
Summary
Driven ETL developer with 6 years of professional experience. Researched and implemented 4 data management systems from the ground up. Improved efficiency and reduced bug occurrence by 17% through optimizing data warehousing software, in turn resulting in higher rate of met deadlines. Looking to employ my skillset to elevate PixaDrive on the business analytics market.
Experience

ETL Developer
Enginey, Chicago, IL
April 2019–present
Programmed, developed, and optimized databases daily using Teradata and SQL.
Steered team productivity toward a 22% increase in deadline meeting speed.
Supervised communication to and between 30+ other technical and non-technical staff members.
Stayed on top of all data authentication processes and prepared diligent bi-weekly error reports.
Key achievement: Migrated existing data flows for all client accounts, moving away from an obsolete system and decreasing end user waiting times by up to 40%.
Data Engineer
Fareboard, Westerville, OH
November 2014–December 2018
Built new ETL packages using Microsoft SSIS.
Served as a MySQL administrator for several external and internal databases.
Created auditing plans for over 60 individual vendors to verify month-end market data closing.
Education

MSc in Electronics & Computer Technology
Miami University, Oxford, OH
2013
Skills
Critical Thinking
Problem Solving
Communication
Teamwork
SQL
Teradata
MongoDB
Informatica
C++
Java
Python
Other
Participated in over 10 regional hackathons, starting at age 17.
See this above? Here's how you can replicate that amazing ETL developer resume example:
1. Pick the Perfect ETL Developer Resume Format
ETL developers deal with large data sets, organizing and preparing them for further analytical work to be done. This often includes designing and troubleshooting various types of data warehousing software. The tricky part? Convincing the recruiter you're a knowledgeable expert using nothing but your ETL developer resume.
How do you achieve this seemingly impossible feat?
It's quite easy, actually. By selecting the right resume format, you can front-load a lot of your value. This, in turn, saves the recruiter's time, meaning they're less likely to toss your application away after scanning it and not being able to conveniently find the information they're really after.
Therefore, the reverse chronological format is your best bet. It does exactly that.
You will also want to add things such as your relevant contact information as part of your resume header.
Remember, convenience is the name of the game here. Your font choice will also play a big part here, so pick something legible and clean – just like your databases. You'll want to reserve a lot of white space as well. Lastly, if you save the file in PDF format, you greatly reduce the risk of it corrupting, or messing up the formatting.
And, if you happen to be wondering how long your resume should be overall, then the answer is a resounding "one page only".
Read more: Best Resume Formats
2. Choose Between Writing an ETL Developer Resume Objective or Resume Summary
At first glance, this seems like an irrelevant choice. It's anything but.
Even though there's a high demand for professionals in your niche (ETL dev positions are estimated to see a 10% increase by 2029), you still need to make your resume stand out if you want to get noticed.
Yourresume profile will often determine if you're hired or not right from the get-go. There are two options to choose from, largely dependent on your current experience.
If you're a professional working in the field for several years, opt for a resume summary:
Spend some time coming up with your strongest feats that make you a desirable employee.
List a few of them in the opening paragraph. Don't just pick at random, tailor them to the job description.
For fresh graduates, or career-switchers, a resume objective will likely perform better:
Talk about your current professional knowledge and how it'd help you adapt your skillset to match the job, despite lacking in the experience department.
Try to sell yourself by describing tangible results from your past work. This is absolutely crucial!
Pro Tip: Our readers often report this is the hardest part of writing a good resume. If this applies to you, don't worry, and skip ahead to writing the other sections first. You can always come back.
3. Work on Your ETL Developer Resume Work Experience Section
Without a doubt, your resume work experience section is the most important part of the whole thing. Follow this advice to make sure it's all good:
Start from your most recent position, then the second most recent, and so on.
Include details such as your job titles, company names, years you spent working there, and 5 or 6 bullet points condensing your most important professional achievements.
Each bullet point should begin with an action word. Thanks to those, recruiters are more likely to keep reading.
When describing your accomplishments at each job, don't go for bland descriptions like "Did X and helped in doing Y." Instead, use numbers to quantify your achievements and provide some much-needed context.
Once again, something to keep in mind here is tailoring the language you use to fit the job ad. If they call for a "data warehousing expert", make sure they know you can wear that hat as well.
Read more: How to Pick Relevant Experience for Your Resume
4. Improve Your ETL Developer Education Section
With education, you will once again find yourself at a crossroads. Whether you go left or right also depends on your work experience:
With more than 5 years in the field, you can limit yourself to just the school name, years of attendance, the program you completed and the degree you achieved.
However, if you're only just starting out, invest in writing a more detailed education section. That is, include major college achievements and activities, like club memberships, internships, extracurriculars, or competitions.
Read more: How to Put Your Degree on a Resume
5. List the Right Skills
Your skills section is very important, but it's also very easy to fall into a trap and overload it with unnecessary, generic skills. That makes your resume bloated and unattractive—don't go down that path. Follow this advice instead:
Come up with a list of job skills you have, all of them. Divide them into hard skills, soft skills, computer skills, and programming languages.
Then, select the most important ones by cross-checking with the job posting.
Try and make them align with what you described in the work experience section. That will send the hiring manager spinning out of his SecretLab chair.
Here's some example skills:
ETL Developer Skills:
Reading Comprehension
Oracle PL/SQL
NoSQL
MongoDB
Teradata
MySQL
Apache Hive
Oracle Warehouse Builder
Bash
Python
C++
Java
Read more: Best Skills to Put on a Resume
When making a resume in our builder, drag & drop bullet points, skills, and auto-fill the boring stuff. Spell check? Check. Start building a professional resume template here for free.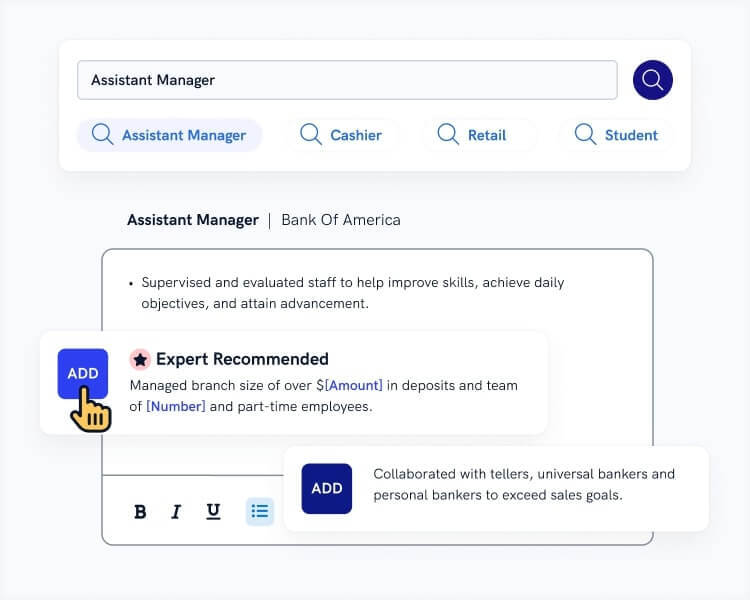 When you're done, our online resume builder will score your resume and our resume checker will tell you exactly how to make it better.
6. Include an Extra Section on Your ETL Developer Resume
For things that don't quite fit into any other basket, but still bring out some of your flair, use an "Other" section:
You can name it anything, like hobbies and interests, achievements, certificates, or volunteering.
When filling it out, the best goal to have in mind is making an impression. You want to wow the recruiter with something unexpected, but still desired. Let's say you're someone who likes to keep up with the industry: that's great, because it's one of the most desirable qualities in IT.
Read more: The Complete Guide to Resume Sections
7. Attach a Cover Letter to Go with Your ETL Developer Resume
If you think you don't need one, think again. Cover letters can do wonders for your chance at getting the job, provided you do them right.
First, pick the correct format for your cover letter. For better chances at success, your cover letter needs to start with a bang. Stuff the middle of it with lots of statements that will reassure the recruiter that hiring you is the best move. Then, finish your cover letter with an offer and a call to action.
Your cover letter length should be limited to just about a page, or 3–4 paragraphs, tops.
Read more: How to Write a Cover Letter: Guide & Examples
Plus, a great cover letter that matches your resume will give you an advantage over other candidates. You can write it in our cover letter builder here. Here's what it may look like: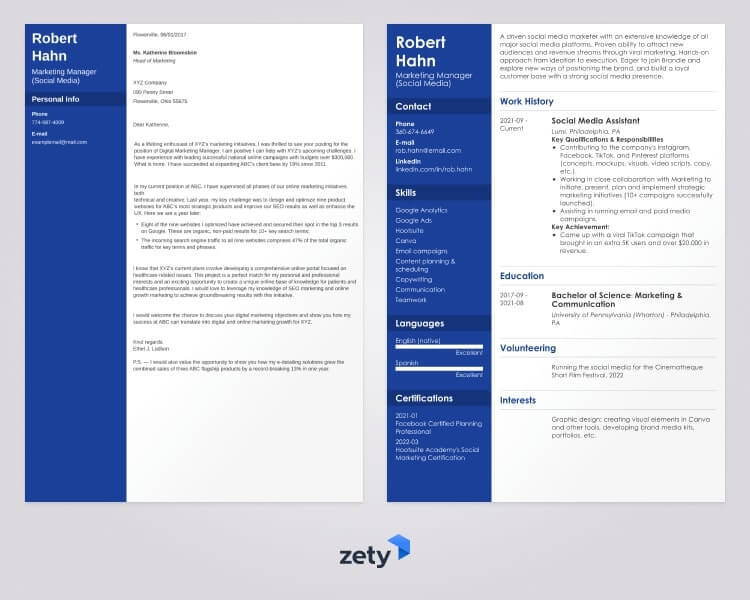 See more cover letter templates and start writing.
There, didn't hurt now, did it?
I told you writing a great ETL developer resume was easier than it sounds!
Looking for a slightly different resume? See our list below!
We'd love to hear your feedback! The comments section below is open for any questions or doubts you may have, so type away, and thanks for reading!
About Zety's Editorial Process
This article has been reviewed by our editorial team to make sure it follows Zety's editorial guidelines. We're committed to sharing our expertise and giving you trustworthy career advice tailored to your needs. High-quality content is what brings over 40 million readers to our site every year. But we don't stop there. Our team conducts original research to understand the job market better, and we pride ourselves on being quoted by top universities and prime media outlets from around the world.
Sources