How to Write an Angular Developer Resume for 2023
Discover the do's and don'ts of writing an Angular developer resume that will impress recruiters and get you hired.
As an Angular developer, you have the skills to create spectacular applications. But in order to get hired by top companies, you need to impress potential employers with your portfolio and resume.
Writing resumes can be stressful if you are immersed in coding. But don't worry. You'll see the perfect blueprint for an Angular developer resume that displays your tech mastery and ways to help a company stand out in the digital world.
This guide will show you:
An Angular developer resume example better than 9 out of 10 others.
How to write an Angular resume that will land you more interviews.
Tips and examples of applying skills and achievements on an Angular resume.
How to describe your experience on a resume for an Angular developer to get any job you want
Want to save time and have your resume ready in 5 minutes? Try our resume builder. It's fast and easy to use. Plus, you'll get ready-made content to add with one click. See 20+ resume templates and create your resume here.
Sample resume made with our builder—See more resume examples here.
Looking for a different resume? Check these guides:
Haven't found your job? See a list of 500+ resume examples.
Angular Developer Resume Sample
Andrea Macdonald
Angular Developer
615-644-7857
andreamacdonald@dayrep.com
linkedin.com/in/andreamacdonald
Summary
An adept Angular developer with 5+ years of experience who contributed to building dynamic user interfaces and web applications with Angular 2/4/6/8, JavaScript, TypeScript, HTML, and CSS. At Nox, improved user engagement by 40% through the design and implementation of a progressive web application. Seeking an Angular developer role at Zaxio to drive innovation and impactful projects.
Work Experience
Senior Angular Developer
Nox, Seattle, WA
January 2021–Present
Key Qualifications & Responsibilities
Led the development and deployment of multiple web applications using Angular 9/10, RxJS, Material Design, and NgRx.
Developed RESTful APIs and microservices using Node.js and Express.js, improving backend performance by 40%.
Created custom dashboards and data visualizations using D3.js and Highcharts.js, improving data insights and decision-making capabilities by 50%.
Mentored junior developers and conducted code reviews, improving code quality and knowledge sharing across the team.
Key Achievement:
Successfully designed and implemented a progressive web application that increased user engagement by 40%.
Angular Developer
MindSeed, San Francisco, CA
August 2019–December 2020
Key Qualifications & Responsibilities
Led the development of several web applications using Angular 7/8, TypeScript, HTML, and CSS.
Developed reusable components and services that improved code efficiency by 20%.
Worked with cross-functional teams to design and implement new features, resulting in a 30% increase in user engagement.
Key Achievement:
Successfully implemented a payment gateway integration that increased customer conversions by 25%.
Junior Angular Developer
MindSeed, San Francisco, CA
March 2018–July 2019
Key Qualifications & Responsibilities
Developed and maintained web applications using Angular 6, HTML, CSS, and JavaScript.
Collaborated with the team to design and implement new user interfaces, improving the user experience by 25%.
Reduced page load times by 15% by optimizing backend APIs and services.
Worked on projects that involved integrating third-party libraries and RESTful APIs.
Key Achievement:
Successfully implemented a search functionality that reduced search times by 30%.
Education
Bachelor of Science in Computer Science
University of California, Los Angeles (UCLA), Los Angeles, CA
September 2014-June 2018
Skills
Angular 2/4/6/8
TypeScript
JavaScript
RESTful APIs
HTML/CSS/SCSS
Teamwork and collaboration
Communication and interpersonal skills
Quick learner and adaptability
Time management and organization
Problem-solving and critical thinking
Interest
Contributing to Angular Material Design
Hosting local Angular meetups
Languages
English—Native
Dutch—Advanced
Here's how to code your Angular developer resume:
1. Choose the Best Format for Your Angular Developer Resume
Angular developers are the wizards behind web applications, building front-end functionalities using AngularJS, Angular 2+, and other related frameworks. A great Angular developer resume must emphasize technical skills, experience in building complex web applications, and a collaborative spirit.
But a messy and poorly formatted resume would only be lost in the pipeline of resume applications to go through. So where do you begin?
Start with the basic resume formatting, like choosing the structure of a reverse chronological resume. This resume format shows your most recent and relevant work experience in an organized way that recruiters and hiring managers are familiar with.
Then find these tips to supercharge your preferred resume format:
2. Write a Convincing Resume Summary or Objective for an Angular Developer
Crafting the perfect resume summary or resume objective for your Angular developer resume is a crucial step in convincing hiring managers that you're the best fit for the job. To do it effectively, keep these rules in mind:
If you have a solid work history, including several years of experience in AngularJS or other related frameworks, opt for a resume summary. This 3-4 line statement should market your unique selling points and technical skills and showcase one or two significant accomplishments that prove your expertise in building complex web applications.
If you're a new developer or just transitioning into Angular web development, choose a resume objective. The objective should describe your goals and passion for working in the industry and still include a measurable achievement that proves your technical competence.
Regardless of which option you choose, make sure to tailor your statement to the job description and the company's vision.
3. Code a Perfect Job Description for an Angular Resume
Creating a powerful work history section is key to displaying your experience, expertise, and skill set on your Angular developer resume.
Whether you've worked on building complex web applications or have experience with related frameworks, each job entry in your work history should include relevant experience and be presented in a clear and concise way. Otherwise, you risk a 404.
By following a few simple but effective tips, you'll be able to create a work history API that speaks to a hiring manager:
4. Refresh Your Education Cache
Although your technical skills and experience may be the highlight of your Angular developer resume, don't underestimate the importance of an education section.
Here are some tips for crafting an education section that demonstrates your credentials:
Remember, just because you have the right skills to excel as an Angular developer doesn't mean academic achievements should be overlooked. By carefully crafting your education section, you can reinforce your expert-level proficiency in the craft.
When making a resume in our builder, drag & drop bullet points, skills, and auto-fill the boring stuff. Spell check? Check. Start building a professional resume template here for free.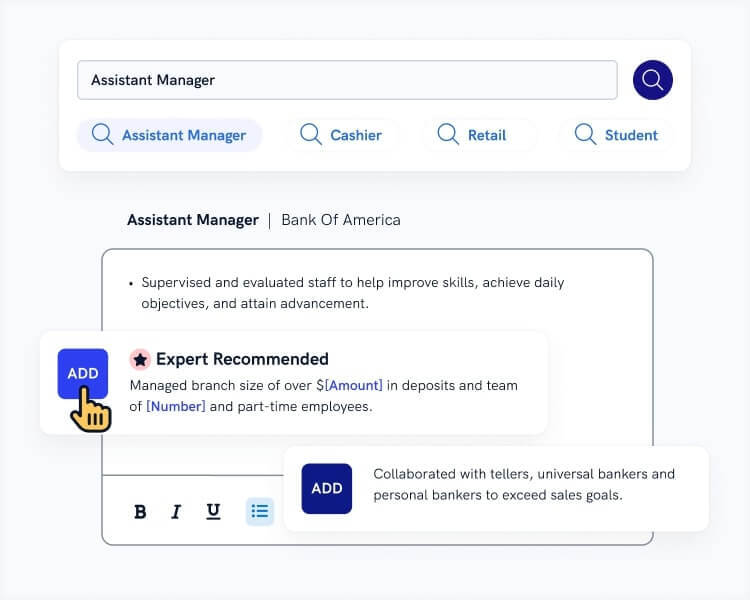 When you're done, Zety's resume builder will score your resume and our resume checker will tell you exactly how to make it better.
5. Present Your Angular Developer Skills
When it comes to listing skills on your resume, it's important to show potential employers that you possess a wide range of hard and soft skills that align with the requirements of the job.
Here's how to list skills on your Angular developer resume:
Start by making a comprehensive list of both your hard skills and soft skills related to Angular development. This should include practical knowledge and experience as well as relevant problem-solving, communication, and decision-making skills.
Refer to the job description for the specific skills and resume keywords mentioned by the employer. If one of those matches one on your list, that's a perfect addition to your resume. (Employers will look for problem-solving and collaboration skills on student resumes, according to the survey.)
Use those keywords when creating your resume, as it can help you pass the ATS resume screening process and increase the chances of getting an interview.
Don't forget to highlight other relevant soft skills such as project management and teamwork ability that demonstrate your ability to deliver results in challenging environments consistently.
To get you started, below you'll find a list of the best skills for an Angular developer resume:
Angular Developer Resume Skills
6. Bring the Extra Sections to the Front-End
To get in front of the competition, you need something extra. From certifications to projects and hobbies, here are some great ideas to help your resume get you the interview:
These sections will help demonstrate to potential employers that you're invested in your craft, committed to ongoing learning, and bring a unique perspective to the workforce.
7. Attach an Angular Developer Cover Letter
Skipping a cover letter when applying for an Angular developer job might seem like a time-saver, but it could also mean you miss out on a great opportunity. Many employers today are looking for more than just a resume or CV, they want to know about the individual and their passion for the work.
So don't hesitate and follow these steps to create an impressive cover letter to accompany your Angular developer resume:
Choose a great cover letter format: You might choose a modern, professional template or create your own custom design. Either way, ensure the format complements your Angular developer resume.
Start in a compelling manner: Begin your cover letter with an engaging opening statement. A few sentences about what you find interesting and fulfilling about Angular development and what drew you to their company or position can help forge a connection.
Show off your experience and skills: Highlight your notable skills and experience that make you a strong candidate for the position. Mention any relevant certifications, specialized training or work-related achievements that align with the job description.
Add key achievements to prove your worth: Did you work independently or as part of a team to complete a recent Angular development project? Talk about it briefly in your cover letter. Providing concrete examples of your achievements, such as the percentage increase in engagement or reduction in page load speeds, is a great way to demonstrate your capabilities.
End on a powerful note: Finish your cover letter with a statement that expresses your enthusiasm for the role and your openness to an interview in the future.
Plus, a great cover letter that matches your resume will give you an advantage over other candidates. You can write it in our cover letter builder here. Here's what it may look like: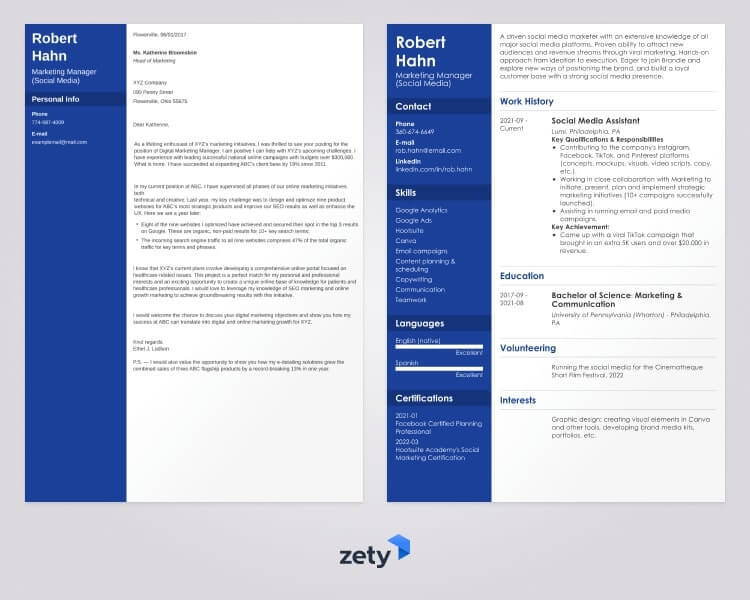 See more cover letter templates and start writing.
And there you have it! A perfect Angular developer resume!
What's the shakiest thing about your Angular developer resume? Does any part of writing a resume for Angular developer jobs make you shudder? Give us a shout in the comments. We'd love to talk!
About Zety's Editorial Process
This article has been reviewed by our editorial team to make sure it follows Zety's editorial guidelines. We're committed to sharing our expertise and giving you trustworthy career advice tailored to your needs. High-quality content is what brings over 40 million readers to our site every year. But we don't stop there. Our team conducts original research to understand the job market better, and we pride ourselves on being quoted by top universities and prime media outlets from around the world.