Android Developer Resume: Sample & Guide [20+ Tips]
Your coding abilities are second to none. In fact, you could make an android yourself. The thing is your android developer resume must communicate it to the recruiter. Immediately.
Given enough coffee, you could write an app for anything and even make it look amazing on 253 different resolutions. But you'd rather not do it alone. Being an indie dev might sound enticing, but working at a software company has great perks.
So you need to get a job. But first, you need to write a resume. Yeah, we get you. You'd rather write code. That's why we've made writing an Android developer resume as quick as possible.
This guide will show you:
An Android developer resume example better than 9 out of 10 other resumes.
How to write an Android developer resume that will land you more interviews.
Tips and examples of how to put skills and achievements on an Android developer resume.
How to describe your experience on a resume for an Android developer to get any job you want.
Want to save time and have your resume ready in 5 minutes? Try our resume builder. It's fast and easy to use. Plus, you'll get ready-made content to add with one click. See 20+ resume templates and create your resume here.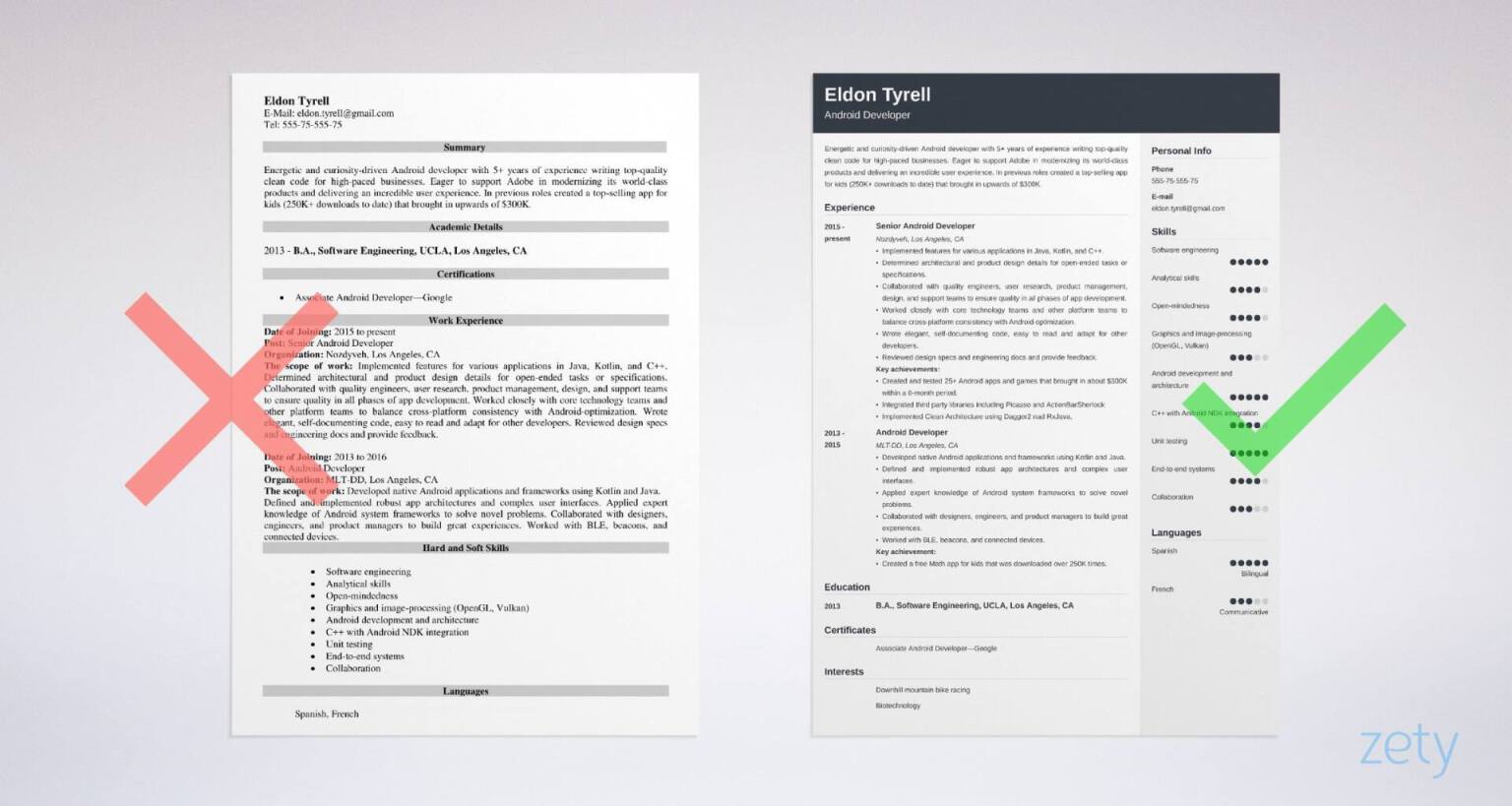 Sample resume made with our builder—See more resume examples here.
Interested in other IT jobs? Check out our guides:
Android Developer Resume Sample
Eldon Tyrell
eldon.tyrell@gmail.com
555-75-555-75
Objective
Energetic and curiosity-driven Android developer with 5+ years of experience writing top-quality clean code for high-paced businesses. Eager to support Adobe in modernizing its world-class products and delivering an incredible user experience. In previous roles created a top-selling app for kids (250K+ downloads to date) that brought in upwards of $300K.
Work Experience
Senior Android Developer
Nozdyveh, Los Angeles, CA
2015–
Implemented features for various applications in Java, Kotlin, and C++.
Determined architectural and product design details for open-ended tasks or specifications.
Collaborated with quality engineers, user research, product management, design, and support teams to ensure quality in all phases of app development.
Worked closely with core technology teams and other platform teams to balance cross-platform consistency with Android-optimization.
Wrote elegant, self-documenting code, easy to read and adapt for other developers.
Reviewed design specs and engineering docs and provide feedback.
Key achievements:
Created and tested 25+ Android apps and games that brought in about $300K within a 6-month period.
Integrated third party libraries including Picasso and ActionBarSherlock
Implemented Clean Architecture using Dagger2 nad RxJava.
Android Developer
MLT-DD, Los Angeles, CA
2013–2015
Developed native Android applications and frameworks using Kotlin and Java.
Defined and implemented robust app architectures and complex user interfaces.
Applied expert knowledge of Android system frameworks to solve novel problems.
Collaborated with designers, engineers, and product managers to build great experiences.
Worked with BLE, beacons, and connected devices.
Key achievement:
Created a free Math app for kids that was downloaded over 250K times.
Education
B.A., Software Engineering
UCLA, Los Angeles, CA
2013
Key Skills
Software engineering
Analytical skills
Open-mindedness
Graphics and image-processing (OpenGL, Vulkan)
Android development and architecture
C++ with Android NDK integration
Unit testing
End-to-end systems
Collaboration
Certifications
Associate Android Developer—Google
Languages
Spanish—Bilingual
French—Communicative
Interests
Downhill mountain bike racing
Biotechnology
Here's how to write an Android developer resume that will even pass the Voight-Kampff test:
1. Choose the Best Format for Your Android Developer Resume
Recruiters are a bit like robots.
They only spend about 6 seconds scanning your resume to decide if it's a go or no-go.
You must be adroit enough to rivet their attention right away.
Here's how you do it:
2. Write an Android Developer Resume Objective or Summary
Start your resume with a profile description.
What's that?
A brief paragraph that introduces you to the recruiter. It functions as a short elevator pitch and focuses on your professional highlights.
There are two options for you to choose:
A summary for a resume is great for a senior Android developer resume with 2+ years in the workforce. A summary stresses your experience and achievements.
A career objective statement is suitable for your entry-level Android developer resume. It emphasizes your transferable skills that prove you're a great fit.
Regardless of the type of your resume opening, it's a good idea to put some numbers there to show your real impact.
Pro Tip: Even though this section starts your resume, you're free to write it last. Once your entire Android developer resume is ready, it will be much easier to pick out the highlights.
3. Create the Perfect Android Developer Job Description for a Resume

It's no secret:
It's your resume experience section that's the make-it or break-it factor.
It only needs to show one thing—
You'll crush it as an Android developer.
The best way to show it to the hiring manager is by tailoring your resume to the job offer:
List your latest position up top.
Put your job title, dates worked, company name and locations in each entry.
Use bullet points rather than full-length paragraphs. 6-7 bullets per job is enough.
Make sure each bullet contains the right resume words, such as created, reviewed, developed, boosted, etc.
Focus on your relevant experience and try to put numbers everywhere you can.
Pro Tip: If you find it problematic to put a number everywhere, pick out up to 3 bullets you can quantify, and put them in a key achievements subsection.
When making a resume in our builder, drag & drop bullet points, skills, and auto-fill the boring stuff. Spell check? Check. Start building a professional resume template here for free.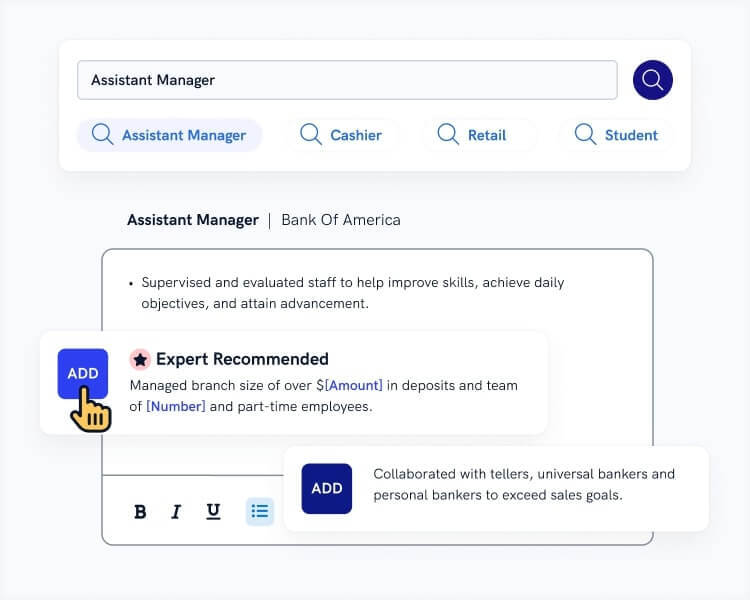 When you're done, Zety's resume builder will score your resume and our resume checker will tell you exactly how to make it better.
4. Make Your Android Developer Resume Education Section Great
A great resume is great through and through.
So don't neglect your education on a resume.
If you have 5+ years of professional experience, you can only list the school name, degree, and graduation year.
If you have less than 5 years of experience, you'll benefit from including info on your academic achievements, extracurricular activities, GPA (if more than 3.5), and relevant coursework.
Your certifications and licences can go straight to a dedicated section so they're more visible.
5. Highlight Your Android Developer Skills
Nobody would employ an Android developer without skills. Even if the developer had 50+ years of experience.
Use the list below to find and highlight your key Android developer skills.
Android App Developer Resume—Skills
Alexa and Google Home integrations
Android Activity
Android development and architecture
Android Studio: workspace configuration, project / target configuration, build configuration, and debugging
C++ with Android NDK integration
End-to-end systems
Graphics and image-processing (OpenGL, Vulkan)
IoT integrations
JavaScript, TypeScript, Node.js, C#, Go, Swift, etc.
Managing code in Git
Microservices on AWS, GCP, and Azure
Multithreaded programming concepts
Object-oriented design
Play Store submission process
Realm/Room
RxJava / RxKotlin / ReactiveX frameworks
Software engineering
Unit testing
UX/UI with native Android views, Constraint Layout, and custom views
Wear OS apps
Attention to detail
Learning mindset
Open-mindedness
Prioritizing
Remember: focus on your key skills. Don't just throw in everything you can do. Singing is a fantastic skill, but not as useful as C++ in developing for Android.
Here's how to get your Android developer skills right on your resume:
Start with making a master list of skills for a resume. Make sure it includes your soft and hard skills, as well as your technical skills.
Revisit the job offer to see what skills it mentions specifically.
Go back to your own list and find the right skills there.
Now, choose up to 10 of your top skills, and put them in a key skills section.
Sprinkle the entire resume with your skills. Make sure some of them go to your resume header and job description sections.
Pro Tip: Focus on your strongest skills. If you add the things you only have a basic understanding of, they'll devalue your strongest abilities. It's called the presenter's paradox.
6. Add Other Sections to Your Android Developer Resume
Show you're truly unique and think about adding these sections to your Android developer resume:
7. Attach an Android Developer Resume Cover Letter

There's this nagging question:
Should I submit a cover letter?
Here's your answer:
Yes, you should.
You will be instantly better than 50% of the candidates who are lazy enough not to submit a cover letter. And half of the recruiters expect you to send yours.
Here's how to write an application letter that will wow the recruiter:
And see how long a cover letter should be so it's read from beginning to end.
Pro Tip: Don't forget to follow up on your job application to show you care.
Plus, a great cover letter that matches your resume will give you an advantage over other candidates. You can write it in our cover letter builder here. Here's what it may look like: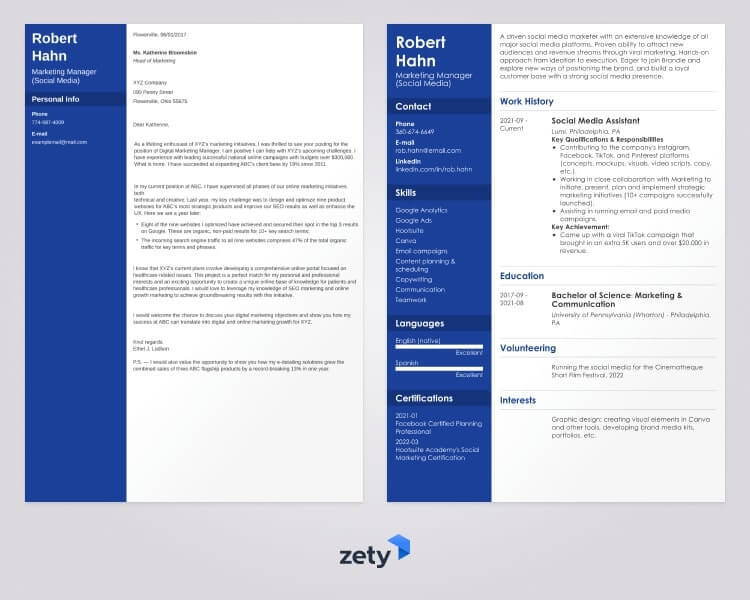 See more cover letter templates and start writing.
Here we are!
This is how you compile a job-winning resume for Android developer positions.


Are you writing an Android developer resume for the first time? Or perhaps you're a seasoned pro eager to help the rookies out? We'd love to hear from you, leave your comment below!
About Zety's Editorial Process
This article has been reviewed by our editorial team to make sure it follows Zety's editorial guidelines. We're committed to sharing our expertise and giving you trustworthy career advice tailored to your needs. High-quality content is what brings over 40 million readers to our site every year. But we don't stop there. Our team conducts original research to understand the job market better, and we pride ourselves on being quoted by top universities and prime media outlets from around the world.
Sources