According to the US government, UI/UX jobs will grow 15% by 2026. Good designers and developers are in demand. But if you want benefits, flexible work, and a salary higher than Irene Au's, your resume must stand out like Apple's homepage. It has to be the best UX/UI resume in the stack.
We realize a UX designer is different from a UI developer (and so are a UX designer resume and a UI developer resume), but both follow the same best practices. Ready to learn what they are?
This guide will show you:
UI and UX designer resume examples better than 9 out of 10 others.
How to write a UX or UI developer resume that gets more interviews.
Tips and examples of how to put skills and achievements on a UI/UX resume.
How to describe your experience on a resume for a UI/UX designer to get any job you want.
Want to save time and have your resume ready in 5 minutes? Try our resume builder. It's fast and easy to use. Plus, you'll get ready-made content to add with one click. See 20+ resume templates and create your resume here.
Sample resume made with our builder—See more resume examples here.
Looking for related career guides? Switch over to:
Haven't found what you are looking for? Check our Sample Resumes for 2023 for landing any job.
Ela Johnson
UX Designer / UI Developer
(123) 456-7890
ela.johnson@email.com
linkedin.com/in/ela.johnson
Summary
Highly creative and multitalented UX Designer / UI Developer with more than 10 years of experience in multimedia, marketing, and print design. Eager to support SpectraByte Technologies in creating immersive, responsive user experiences and translating them into UI code. Developed a multi-platform style guide for QuantumSphere Solutions that improved its user experience and increased web accessibility by 30%.
Experience
Senior UX Designer / UI Developer
QuantumSphere Solutions, Newark, NJ
June 2015–Present
Key Qualifications & Responsibilities
Leading a cross-functional team of UX designers, UI developers, and content strategists.
Conducting regular usability testing on various digital products, identifying areas for improvement.
Collaborating with graphic designers to define and implement innovative solutions.
Developing new ways to optimize processes in the team.
Key Achievement:
Developed a multi-platform style guide that improved user experience and increased web accessibility by 30%.
Junior UX Designer
AstraCore Industries, Newark, NJ
August 2010–May 2015
Key Qualifications & Responsibilities
Assisted in the design and development of user-centric digital experiences.
Created wireframes, prototypes, and high-fidelity mockups for various digital products.
Coordinated with the development team to ensure seamless design-to-development handoff.
Key Achievement:
Designed an interactive onboarding tutorial for a flagship product, leading to a 50% reduction in customer service calls.
Education
Bachelor of Fine Arts in Interactive Design
Rutgers University, Newark, NJ
September 2006–June 2010
Relevant extracurricular activities
Co-organizer, Rutgers Design Forum
Volunteer, Rutgers Code Camp
Skills
User Experience (UX) Design
User Interface (UI) Development
Wireframing & Prototyping
User Testing / Research
HTML / CSS / JavaScript
Problem-Solving
Strong Communication Skills
Team Leadership
Certifications
Certified UX Designer, Interaction Design Foundation, 2016
Awards
2018, Best Mobile UX, AstraCore
Memberships
Member of the Interaction Design Association since 2016
Led a workshop on "UX Design Principles" during the 2018 Interaction Design Association Conference.
Languages
English—Native proficiency
Spanish—Intermediate proficiency
Interests
Host a weekly UX/UI-focused podcast: "The Design Dialogue" (5k+ subscribers)
Volunteer web designer for local non-profit organizations.
1
What's the Best Format for a UI Resume or UX Resume?
Here's some free advice worth $100K/year:
Don't make the hiring manager think.
Give your information in a strong visual hierarchy.
How?
By using the best UX/UI developer resume format.
It's the chronological resume format, and it's popular for a great reason.
It puts your most relevant achievements above the fold.
Use white space, the best resume fonts, and clear headings. Just like in a great website.
You love heatmaps, so here's a study you'll enjoy: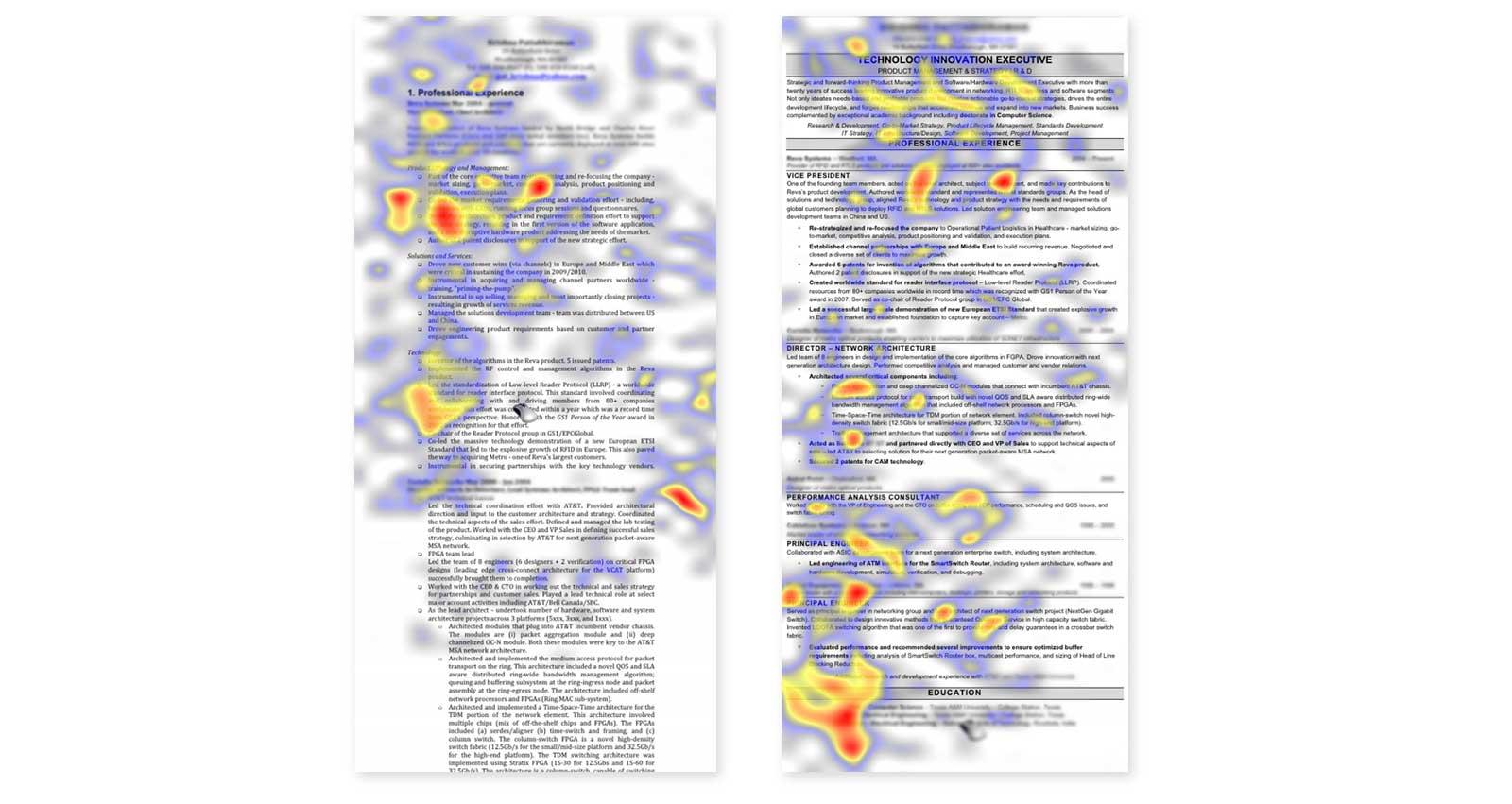 Looks like the familiar F-pattern!
We both know usability is crucial, so give the employer what they need when they need it.
Creative Resumes
What about graphic design resumes with photorealistic backgrounds or word art themes?
Resist the urge to make a creative front end developer resume.
Keep it functional and friendly to impress the manager. Save the art for your portfolio.
No need to do UX research on this, we've got the data:
The same resume in terms of content will get rejected by about 26% of recruiters when it's formal. If it's creative? About 41% will reject!
Not enough evidence for the UX researchers out there? Another study suggests a similar outcome for resumes with fancy formatting: 28% of decision makers consider elaborate formatting a dealbreaker.
Finally, should you send a PDF or Word doc resume?
Unless the job ad specifies, send a UI or UX designer resume PDF.
Nowadays, PDFs are machine-readable. That means they work well with Applicant Tracking Software.
Plus, MS Word doc resumes can turn horsey in transit.
Pro Tip: Switching careers? Got resume gaps? Consider the combination resume format for your ux designer resume or ui designer resume. It trophy-cases all your best transferable achievements.
Need to ideate some other options for your user interface developer resume format? Working on a UX resume? See our guide: The Best Resume Format: How to Get the Formatting Right?
2
UI/UX Design Resume Summary or Objective
Imagine a web development hiring manager. Her name's Mariana.
She's got a T-shirt that says—
</head>
<body>
—and 300 UX/UI resumes to get through by lunch.
She'll spend seven seconds on each one, according to our HR statistics report.
How can you grab her attention like a Banksy installation?
With a resume objective or a resume summary.
A resume summary uses megamenus of experience to prove your hireability.
For an entry-level UX designer resume or UI developer resume, consider a resume objective.
An objective shows your goal when your work history is in the Hello World phase.
Stuff either one with plenty of achievements.
The UX resume examples below provide a walkthrough.
UI and UX Website Designer Resume Examples [Resume Summaries]
What's wrong with this picture?
The UX resume sample below contains a big design flaw:
wrong
UX designer with 4 years of experience. Responsible for UX design at Tavona Arc Design. In charge of collecting project requirements and delivering all jobs on time, including all design elements and color schemes.
That's not as bad as a 90% bevel, but it won't unleash a torrent of interviews.
To get the job, try these examples:
UX Design Resume Summary Example
Right
Talented UX designer with 4+ years of experience, seeking to elevate UX at Spinx, Inc. As lead UX designer at BronzeCast Futura, received 95% client satisfaction scores. Completed projects 10% before goals with 25% higher UX scores than average. Honorable mention, 2017 UX Award.
UI Developer Resume Summary Example
right
Highly skilled UI Developer, seeking to use proven skills in UI prototyping to enhance user experience at T-Shark Dev. At BrightSpan Sky Grp. deployed new features with 10% higher performance than previous UI Developer. Completed jobs 15% before targets with 95% client scores.
That's Steve-Krug-level. The measurable achievements add value.
When making a resume in our builder, drag & drop bullet points, skills, and auto-fill the boring stuff. Spell check? Check. Start building a professional resume template here for free.
When you're done, our free resume builder will score your resume and our resume checker will tell you exactly how to make it better.
Don't have resume experience like that?
See the next junior front end developer resume and UX designer resume examples.
Entry-Level UI Resume and UX Resume Objectives
Is your UX/UI design experience too minimalist?
If so, use a resume objective.
Back in the days of 8-bit animated GIFs, that meant saying, "Here's the kind of job I want."
That's what this entry-level UX designer resume example tries:
wrong
Passionate UX designer, skilled in Sketch, Adobe Suite, CSS, HTML, and JavaScript. Have strengths in creating pleasing UX designs and wireframing. Looking for position at high-end firm.
So, +10 for passion, but minus 15 million for untested skills. That applicant probably just Googled, "What does UX stand for?"
These examples do it right. The first is for a user researcher resume.
User Experience Resume Objective Example
right
Energetic UX Designer, skilled in Sketch and UX research. Have completed several projects, including design of an ecommerce webapp, mobile to do list webapp, 5 wireframes, and improved UX for local animal shelter site.
User Interface Resume Objective Example
right
Goal-focused UI Developer, skilled in UI prototyping. Taught a voc/tech class in HMTL/CSS last year. Finished several projects in debugging and app creation, including a mobile note-taking app that got 1000+ downloads.
Compared to that, the other resumes are Greek. Those UX/UI resume examples have the right mix of measurable accomplishments.
But what if you don't have UI/UX experience like that?
I'll explain that next.
Pro Tip: Put your most impressive achievement in your UI/UX designer resume summary. It's the magnet that attracts the hiring manager to your resume.
Want mad interview traffic? Write the perfect UX designer resume summary or UI developer resume objective. See our guides: How to Write a Professional Resume Summary: 21 Best Examples and +20 Career Objectives for Your Resume (Tips)
3
How to Describe Your UX/UI Designer Experience
Who gets the best UI and UX designer jobs?
The designers with the most experience?
Or those who show it best on UX designer resumes and front end developer resumes?
Would you be shocked to know it's answer #2?
See, there's a key to listing your experience. It hits the hiring manager like a borderless display.
First, pick your battles. If you're writing a UI developer resume with 7 years experience, don't list everything you ever did.
Just add 3-5 bullet points with your best achievements that fit the job.
The professional UX and user interface developer resume examples below show how.
Compare these two sample UI resume and UX resume experience sections:
UI Developer Resume Example [Experience]
right
BrightSpan Sky Group
UI Developer
2015–2018
Senior UI developer for fast-paced event management company.
Deployed new features with 10% higher performance than historical avg.
Worked cross-functionally to deliver to 95% client satisfaction.
Completed jobs 15% faster than targets on average.
Senior UX Designer Resume Example [Experience]
right
BronzeCast Futura Group
UX Designer
2015–2018
Lead UX designer for high-end design firm.
Received 95% positive feedback from clients.
Spearheaded all design elements, templates, and brand consistency.
Completed projects an average of 10% before deadlines.
Boosted UX scores by 25% above average for the company.
With those UX design resume and UI developers resume samples, the hiring manager will call you so fast her fingers will catch fire.
Now remove those measurable achievements:
wrong
BronzeCast Futura Group
UX Designer
2015–2018
Lead UX designer for high-end design firm.
Spearheaded all design elements, templates, and brand consistency.
Responsible for finishing projects within deadlines.
Worked with cross-functional teams to turn client requirements into finished apps.
Flat. There's no measure of performance.
But what if you don't have UI/UX experience?
See the entry-level UI/UX designer resume examples below.
How to Write a Resume for UX/UI Developer with no Experience
Even in an entry-level UX designer resume, you need experience.
You can get experience from:
Transferable achievements from non-UI/UX jobs. Maybe you designed a wireframe in a retail job? Made a home page for a restaurant?
Fake projects in Sketch or Illustrator. Do a mockup of a website, or redesign a site or web app.
Do freebie or freelance jobs for local businesses, for friends, or found online. Consult for a friend who has a few design questions.
Do UI/UX volunteer work. Example: create the site flow for a local soup kitchen.
See that work in these entry-level UX and UI developer resume samples.
Two Entry-Level UI/UX Resume Samples [No Experience]
The first of these UI developer fresher resume samples is mystery meat:
wrong
UI Developer Experience: I'm still looking for my first design job, but I'm a very hard worker.
Other Experience:
Movie theater clerk
Line cook
As pretty as an LA parking sign.
Add details to give your UX or front end developer resume some branding elements:
UX Resume Example Sample [No Experience]
right
Freelance UX Designer
2017–2018
Designed ecommerce webapp to sell calendars.
Created mobile to do list web app.
Designed wireframe for local flower shop.
Improved UX scores 15% for animal shelter website.
UI Developer Resumes Example [No Experience]
right
Freelance UI Developer
2017–2018
Created mobile note taking app that got 1000+ downloads.
Created web app to sell safety videos.
Debugged sections of FezVrasta/Bootstrap material design theme.
Taught HTML/CSS class at Epicodus Voc/Tech school.
Those are both Don-Norman-level.
Pro Tip: For a UI/UX designer or developer, networking is crucial. Find people a few years ahead of you. Don't try to rush them for a referral. Just ask about their careers The insights you gain will be invaluable, and who knows what it could lead to.
Harvard research proves emotion leads to action. Make your UX resume or UI resume more emotional with action words. See our guide: +80 Examples of Resume Action Words for Every Profession
4
Is Your Education Section Unsophisticated? It Might Be
You need education on a UX/UI designer resume.
But if all you do is list it, it's like buying Sketch and then just using it to draw a duck.
Of course start with:
School Name and Location.
Years in School.
Degree.
But don't stop there.
Add relevant achievements to hyperlink your UX designer resume to the job.
See these next UX designer resume and UI developer resume examples.
UI Resume and UX Resume Examples [Education]
UX job requirements: Visual communication skills and UX research skills.
UX Resume Sample [Education]
right
BS in Computer Science, Pomona College
2009–2013
Excelled in UX Design classes.
Executed a Senior Project in Visual Communication.
Wrote weekly column on UX Research for school paper.
UI job requirements: Responsive design, leadership.
UI Developer Resumes Example [Education]
right
BS in Web Development, Portland Community College
2009–2013
Pursued a passion for UI Development.
Excelled in

Responsive Design

classes.

President

, Portland Student Coders Club.
Those aren't generic UX/UI designers. They're Bill Buxton or Laura Klein in prototype.
Now lose the details:
wrong
BS in Computer Science, Pomona College
2008 - 2011
Completed all core coursework.
GPA 3.22
That could be anyone. It's as bad as too much white space.
Is your education a gating item? Brush up with Skillshare, Design tuts, and Lynda. You can add them to your entry-level UI developer resume or UX design resume.
Pro Tip: Can you leave your GPA off a resume for UI/UX jobs? Yes, especially if it's unimpressive or a long time in the past.
Need specifics to make your UX or UI designer resume pop out like a design by Codal Inc? See our guide: How to Include Your Education in a Resume
5
How to Put Skills on a Resume for a UX/UI Designer
Picture this:
The hiring manager for the best UX job ever is convinced you've got the skills.
If you can make that happen, you will get the job.
So, let's link you to that outcome with your UX or Java UI developer resume.
How?
The user flow is pretty simple:
First, know what skills the hiring manager wants. They're in the job ad.
Second, don't just list them. Show a snapshot of you absolutely nailing them.
These UI resume and UX resume examples do it perfectly.
UX and Front End Developer Resumes Examples [Skills]
The job ad asks for:
UX/UI Designer Skills: Fast worker, gathering project requirements, Adobe Creative Suite.
So prove you've mastered those, like this:
UX Designer Resume Example [Skills]
Managed UX design for 90% of customer jobs.
Collected project requirements with 97% customer satisfaction.
Slashed lead times for client jobs by 31%.
Directed 5+ projects simultaneously.
That's better than iOS elastic scrolling.
List of Skills to Put on a UX or UI Developer Resume
Here are some UI/UX and UX researcher resume keywords to get started.
UX Resume Skills and UI Developer Resume Skills

| | | |
| --- | --- | --- |
| Soft Skills | UX Skills | UI Skills |
| | UX Research | UI Prototyping |
| | Wireframing | HTML/CSS |
| | Coding | JavaScript/jQuery |
| | UX Writing | GitHub |
| | Interaction Design | Responsive Design |
| | Analytics | Automation Tools |
| | Visual Communication | Debugging |
| Perceptiveness | Sketch | Command Line |
| Customer Service | Adobe Suite | Browser Developer Tools |
| | Invision | CSS/JS Frameworks |
Use those design skills in your resume. Follow the plan outlined above, and your user interface developer resume will look like MSTQ designed it.
Backup those skills with proof in the experience section. Don't ignore soft skills like leadership or teamwork. Hard skills get interviews, soft skills get jobs.
Pro Tip: Does networking sound daunting? It can up-level a UX/UI resume. Reach out to friends of friends or total strangers. You'll be surprised who will respond to you.
Reduce user frustration for your UX or Java UI developer resume skills section. See our guide: +30 Best Examples of What Skills to Put on a Resume (Proven Tips) and Technical Skills Employers Love
6
Add Value to Your Designer Resume to Get More Interviews
So far, so good.
You list the right experience and education on your UI/UX developer resume.
That'll put you in the top 50.
But how can you beat the other 49?
Well, let's get back to Mariana, our web dev hiring manager.
She wants to know you're more than just a resume.
Show her with dedicated "other" resume sections.
We've got some in the next UI/UX developer resume examples.
UI Resume or UX Resume Examples [Other Sections]
Here's what not to put on a resume for UX/UI design:
wrong
Watching Game of Thrones
Member, Klingon Language Institute
Hey, tlhlngan maH! Right? But neither of those make you a better UX/UI developer.
Instead, model this (excellent) UI/UX designer resume example:
right
Award
2017 Received AWWWARDS Site of the Day
Certifications
HTML5, CSS3, Responsive Design Cert., University of Washington Online
Adobe Certified Expert (ACE)
Conferences
2015 SmashingConf, facilitated panel about wireframe techniques
2017 #PerfMatters, spoke on panel about JavaScript frameworks
Additional Activities
VP, San Diego UX Excellence Group. Raised attendance 30% in 6 months
Scored 97% in UX Design Fundamentals course from Udemy
Publications
Article about Sketch techniques featured in Beautiful Pixels
Prep food every other Sunday for St. Mary's soup kitchen
Robust. That UX designer or front end developer resume is as classic as the IBM logo.
Yet you probably have plenty of extras like that, or you can get some fast.
A UXPA membership is easy and looks great on a UX/UI resume
Pro Tip: Do you need a certification to be a UX/UI professional? No, but they do boost entry-level UX designer resumes or UI developer resumes.
Struggling to add content to your UX or user interface developer resume? See our guide: What to Put on a Resume to Make it Perfect [Tips & Examples]
7
What About a UX/UI Designer Cover Letter?
"Do I need a cover letter for my UI developer resume or UX designer resume?"
Only if you want the hiring manager to read your resume.
Don't go generic. "Hi, here's my resume" UX designer cover letters are worse than carousels and slideshows.
Make yours personal and helpful.
Start your cover letter with the hiring manager's name.
Show you understand the job offer.
Give a big hint you can do the work.
This shortened UX designer cover letter sample does it right:
UX/UI Cover Letter Example
I've been intrigued by T-Shark Dev's approach to customer-focused web development for several years. The way you handle everything from typography to content structure to brand consistency is unparallelled. I believe my own UX skills would fit in nicely, as evidenced by my honorable mention in the 2017 UX Awards.
At BronzeCast Futura...
What about a CTA button?
Add a call to action to end your cover letter. Use something like, "I'd welcome the opportunity to explain how I boosted UX scores by 25%."
Pro Tip: Put your best achievement in your UI designer cover letter. Make it relevant to the job ad. It'll make your UX/UI designer resume more memorable.
Plus, a great cover letter that matches your resume will give you an advantage over other candidates. You can write it in our cover letter builder here. Here's what it may look like: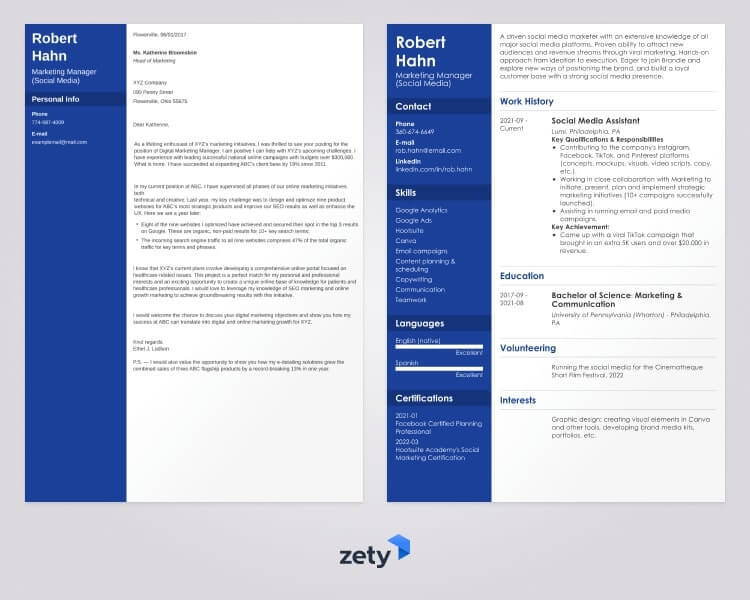 See more cover letter templates and start writing.
Want to reduce user frustration for your UI/UX developer cover letter? See our guide: How To Write a Great Cover Letter for Any Job
8
Don't Add Contact Info to Your Resume Without This
Wow, you almost missed this.
There's one crucial bit of contact info you can't leave off your UI/UX developer resume.
Of course list:
Full Name
Updated Phone Number
Professional Email Address
Like so:
Melanie Tani, UX Designer, melanietani@gmail.com, 760-848-7321
But don't send a UX resume without a link to your UX portfolio.
Your portfolio can show:
Sketch or Illustrator work
User flows
Interactions
Wireframes
Mockups
You can also redesign a web app, or make your own. Create a very simple mobile app or two.
A UI/UX designer portfolio is like extra credit on a designer resume. Find some great examples in this article on great UX/UI portfolios.
You should also add LinkedIn to your UX design resume, since 87% of recruiters hire from LinkedIn.
Pro Tip: Do you know how to write a UX designer portfolio summary for LinkedIn? You will soon if you read our guide: How To Optimize Your LinkedIn Summary & Profile To Get Jobs
Want the W3Schools-level beta for your professional UI/UX designer resume? See our guide: How to Make a Resume: A Step-by-Step Guide (+30 Examples)
Key Takeaway
So, here's a recap of the steps to write a sparkling resume for UX/UI:
To interface your best bits fast, use a UX designer resume summary. Put your best 2-3 achievements in it.
Read the job description like an email from Jeff Bezos. Fit it to your UI developer resume with measurable accomplishments.
A great designer resume needs "other" sections. Stuff yours with awards, commendations, publications, and volunteer work.
Finish it off by writing a great cover letter.
Do you have questions on how to write a great resume for a UX/UI designer? Not sure how to describe your skills or achievements? Give us a shout in the comments! Let's get you in that dream job.
About Zety's Editorial Process
This article has been reviewed by our editorial team to make sure it follows Zety's editorial guidelines. We're committed to sharing our expertise and giving you trustworthy career advice tailored to your needs. High-quality content is what brings over 40 million readers to our site every year. But we don't stop there. Our team conducts original research to understand the job market better, and we pride ourselves on being quoted by top universities and prime media outlets from around the world.
Sources