Senior Graphic Designer Resume: Examples & Writing Guide
You know color theory like the back of your hand. But a senior graphic designer resume is a whole different beast to what you're used to. Learn how to impress with our expert tips.
Graphic design is my passion.
Ugh, that sentence probably sends chills down your spine.
You've seen all the cringe-inducing marketing campaigns, the Kafkaesque posters, the garish color schemes. And you decided to do better, wielding Creative Cloud tools and slaying design monstrosities as you go.
But the competition is fierce, and Photoshop magic can't be your only saving grace.
What you need is a senior graphic designer resume that's more orderly than a curated set of swatches.
This guide will show you:
A senior graphic designer resume example better than 9 out of 10 other resumes.
How to write a senior graphic designer resume that will land you more interviews.
Tips and examples of how to put skills and achievements on a senior graphic designer resume.
How to describe your experience on a resume for a senior graphic designer to get any job you want.
Want to save time and have your resume ready in 5 minutes? Try our resume builder. It's fast and easy to use. Plus, you'll get ready-made content to add with one click. See 20+ resume templates and create your resume here.
Sample resume made with our builder—See more resume examples here.
Curious about applying for slightly different positions as well? We've got you covered:
Senior Graphic Designer Resume Sample
Cory Frazier
Senior Graphic Designer
217-320-2589
coryfrazier@zetymail.us
linkedin.com/in/4cory.frazier
behance.net/cory.frazier
Professional Summary
Highly-skilled, enthusiastic graphic designer with 8 years of experience. Created 100s of luxury marketing materials, social media campaigns, and creative posters for a diverse portfolio of 275+ clients. At KenjiLabs, operated as lead graphic designer, presiding over 40 employees. Produced more than 500 graphical items on-demand.
Work Experience
Senior Graphic Designer
KenjiLabs Ltd., Seattle, WA
April 2016–May 2021
Key Qualifications & Responsibilities
Established digital design direction (DDD) in collaboration with marketing department for 275+ clients.
Reinvented company design process, streamlining production and improving efficiency by 27%.
Trained 30+ entry-level team members in 4-week in-house crash courses.
Established professional relationship with Pinterest's marketing team for cross-promotional content.
Co-designed 3 typefaces for use in company's marketing campaigns.
Creative Graphic Designer
RayArt, San Francisco, CA
October 2013–March 2016
Created 300+ original logos for initial client concepts.
Ensured 100% accurate, high-quality output of printed media.
Researched and assisted in implementation of new ideas for 15 long-running marketing campaigns.
Education
Master of Science in Graphic Design and Media
University of Nevada, Las Vegas
2007–2009
Key Skills
Adobe Creative Suite
Digital Design
Video Editing Software (Premiere Pro, DaVinci Resolve)
Color Theory
Typography
Direct/Branded Response
Strong Collaboration Skills
Efficient Communication
Courses
"Adjustable Design: Meeting Expectations in More Ways Than One" – self-created Skillshare course with 12,000+ monthly students.
"Graphic Design 101" – self-created Udemy course, 5,000 monthly students.
Certifications
Adobe Certified Associate, Adobe, 2016
Graphic Design Certificate, Pratt Institute, 2015
Quite inspiring and fresh, huh? Without further ado, this is how you can write your own stunning senior graphic designer resume:
1. Lay Out the Format of Your Senior Graphic Designer Resume
Senior graphic designers leverage their years of experience to drive creative efforts for a company. To achieve maximum effect, your senior graphic designer resume needs to prove your affinity with the Creative Cloud package, and highlight your time management, communication, and leadership skills.
So how do you go about meeting these (quite elaborate) expectations?
You can actually start by doing what you usually would when launching Photoshop or Illustrator:
By structuring your workflow.
Much like a new visual project, knowing what you want your resume to look like will benefit you greatly. Here are a few essential resume tips to keep in mind:
Read more: Resume Design: Templates, Ideas & Tips
2. Prepare an Excellent Senior Graphic Designer Resume Summary
Here's the dealio: our HR statistics show that recruiters will likely spend just 7 seconds looking at your resume. They don't have the time to spare looking through the hundreds of senior graphic designers' applications they get.
The key to not get brushed over is an effective resume summary:
Begin with a positive adjective about yourself. Think enthusiastic, results-driven, or proficient.
Mention your years of experience as a senior graphic designer.
Proceed to list a few of your crème de la crème achievements, backing them up by numbers to make them even more impressive.
Using that formula effectively captures the attention of your reader as if in an excellent elevator pitch, greatly increasing the chances they'll keep reading.
Pro tip: Don't get hung up on this section for too long. If you're coming up short for ideas, save it for last.
3. Recap Your Professional Senior Graphic Designer Work Experience
Optimizing the work experience section may very well make or break your chances altogether.
Here's how to do it right:
Pro Tip: Before you apply, and this should be a no-brainer, have your portfolio up and running. Needless to say, they will definitely ask to see your past work in the flesh instead of being satisfied with just descriptions. You can include a link to your online portfolio in your resume header, too.
4. Add an Education Section to Your Senior Graphic Designer Resume
Should you even add an education section to your resume? After all, your experience should speak for itself.
Well, it does, but it's not a good enough argument to forego an entire section of your resume. You don't want the recruiter drawing their own conclusions as to why you chose not to mention your education, right?
Lucky for you, since you've got boatloads experience, it's actually super simple:
State the highest degree of schooling you've obtained.
Add the name and location of the school.
Include any majors and minors on your resume.
List your graduation date or years of attendance.
That's literally it. You may also add a GPA score if higher than 3.5 or some relevant coursework, but don't overdo it. That would put a massive Gaussian blur on the rest of your resume.
Read more:How to List a Degree on Your Resume
When making a resume in our builder, drag & drop bullet points, skills, and auto-fill the boring stuff. Spell check? Check. Start building a professional resume template here for free.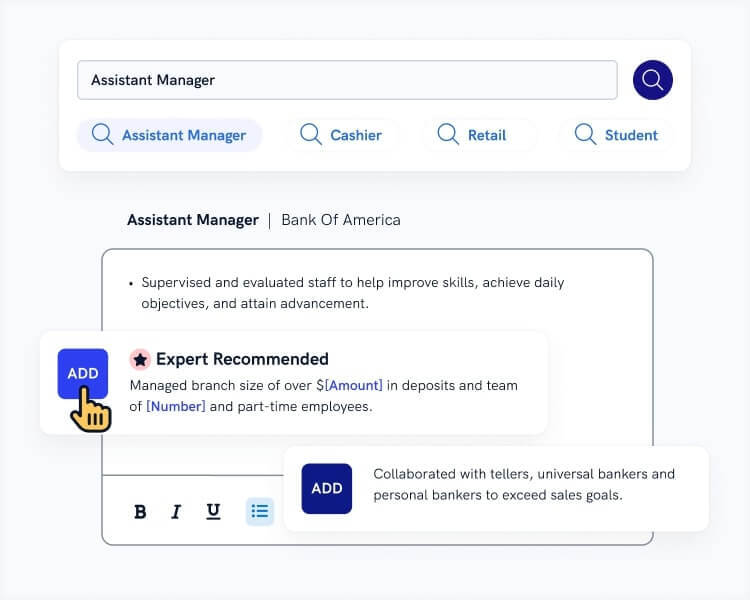 When you're done, our easy resume builder will score your resume and our resume checker will tell you exactly how to make it better.
5. Demonstrate the Right Graphic Design Skills
This is your chance to shine brighter than a lens flare with the levels cranked up. All the experience behind your belt could be converted into an encyclopedia of graphic design, visual artistry, and Adobe know-how.
Here's how to not fumble it (as many people do):
DON'T stuff your skills section with 20–30 items, even if you are confident of your mastery of those skills.
DO research the necessary resume keywords on the job advertisement to see what each company in particular that you apply for expects from their designers.
Once you've figured that out, put only those skills onto your resume. They can be soft skills, they can be hard skills, and technical skills, too.
Here are some examples of great senior graphic designer skills:
Senior Graphic Designer Resume Skills
Adobe CC (Photoshop, InDesign, Illustrator, Lightroom etc.)
Color theory
Creating mockups & templates
Video editing
Web & app design
Sketching
Visual design
Social media/marketing campaigns
IT skills
Branding
Typography
UX/UI design
Problem-solving
Also, don't just talk about your skills, prove them! Use the job description section to show off how exactly you implemented your knowledge of a skill to achieve a desired result.
Pro tip: Do graphic designers need to be able to draw with, like, their hands?According to studies, not necessarily, so if you're not sure if you deserve that promotion, don't worry!
6. Include Bonus Sections for a Senior Graphic Designer Resume
Well, okay, maybe graphic design is your passion after all. Otherwise, you probably wouldn't have spent so much time working in the industry.
Adding extra sections to your resume can add the necessary flair to convey some of that passion and wow the hiring manager. They're far more likely to recruit a living, breathing human rather than a lifeless robot.
So take a gander at some of these ideas below:
Conference attendance
Memberships
Read more: Employability Skills: Guide + Examples
7. Compose a Cover Letter to Go with Your Senior Graphic Designer Resume
Do you need a cover letter? Even for senior positions?
A resounding "yes" should follow every time.
Without a cover letter, plenty of recruiters (nearly half, in fact) won't bother opening your application. It's just that necessary.
Follow this advice to get it done swiftly:
Pro Tip:Always make sure to send a follow-up after about a week if you haven't heard from them by now. This is done just to make sure they don't forget about you.
Plus, a great cover letter that matches your resume will give you an advantage over other candidates. You can write it in our cover letter builder here. Here's what it may look like: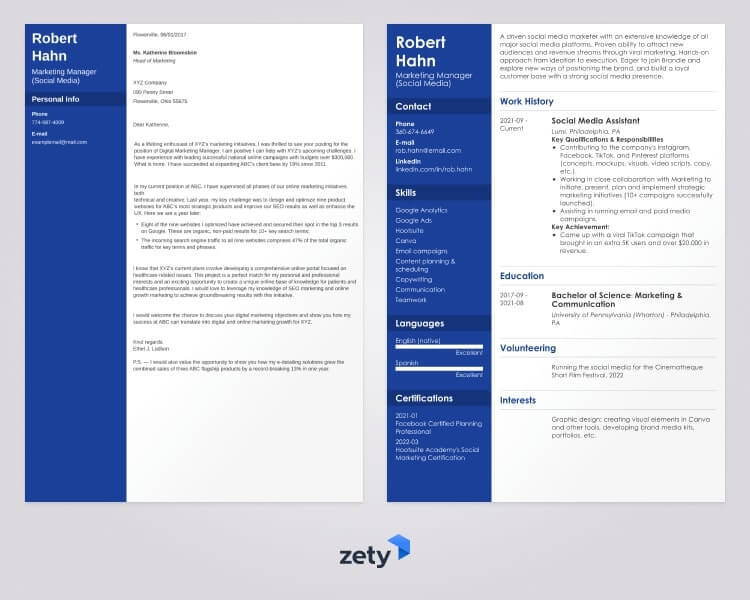 See more cover letter templates and start writing.
Thanks for reading! Do you have any questions related to effectively mentioning your experience on as a senior graphic designer? Maybe we missed some crucial tips you'd like to share with junior designers? The comments section awaits!
About Zety's Editorial Process
This article has been reviewed by our editorial team to make sure it follows Zety's editorial guidelines. We're committed to sharing our expertise and giving you trustworthy career advice tailored to your needs. High-quality content is what brings over 40 million readers to our site every year. But we don't stop there. Our team conducts original research to understand the job market better, and we pride ourselves on being quoted by top universities and prime media outlets from around the world.
Sources