User Experience / UX Researcher Resume Sample & Guide
You're flexible, constantly evolving the user's experience to be A class. But if you don't spend time evolving your UX researcher resume just as much, you'll get left in the dust.
If spearheading design is the name of the game, then you're the leading quarterback.
Your UX research efforts carry the overall end-user impressions of the product on your back.
But have you researched your resume enough?
It's not 1993 anymore, you can't bring up Don Norman and expect to be lauded an expert in your field.
Brand transparency, AR, anthropomorphic animations—the equivalent of that on your resume is how you get that job.
Fortunately, reflecting that on a resume is easier than it sounds.
This guide will show you:
A UX researcher resume example better than 9 out of 10 other resumes.
How to write a UX researcher resume that will land you more interviews.
Tips and examples of how to put skills and achievements on a UX researcher resume.
How to describe your experience on a resume for a UX researcher to get any job you want.
Want to save time and have your resume ready in 5 minutes? Try our resume builder. It's fast and easy to use. Plus, you'll get ready-made content to add with one click. See 20+ resume templates and create your resume here.
Sample resume made with our builder—See more resume examples here.
If you're not excluding similar positions from the industry, check out these guides below:
UX Researcher Resume Sample
Theresa Cabot
UX Researcher
706-468-3619
Theresa.zety.cabot@gmail.com
Linkedin.com/in/theresazcabot
Professional Summary
UX research expert with over 5 years in the field. At MaxCorp utilized a mix of qualitative and quantitative research strategies to facilitate data collection and analysis, leading to 14% shorter project lifecycles. Collaborated with product management and dev teams to produce informed design suggestions and generate 99.5% user satisfaction scores. Seeking to join AlphaCycle to trailblaze new UX solutions and increase profits.
Work History
UX Researcher
MaxCorp Industries, Austin, TX
September 2013–November 2017
Contributed heavily to nearly every design decision for a diverse portfolio of clients with a monthly combined website user base of 250 million.
Presented research data to financial executives and engineering teams alike, spearheading overhauls in UX approaches for noticeable quarterly profits.
Conducted almost 400 one-on-one interviews to gauge user satisfaction.
Enforced consistency in the development and management of research plans and schedules by helping set best practices through the introduction of a complex internal company guidebook.
Key Achievement: Collaborated with product management and dev teams to produce informed design suggestions and generate 99.5% user satisfaction scores.
UX Research Associate
WorkIVA, Austin, TX
August 2012–September 2013
Assisted in coordinating the planning, direction, and implementation of UI/UX improvements and HTML5 migration, and anthropomorphic animation integration.
Collaborated with UX team management to create personas, scenarios, user journeys, story maps, and user flows.
Used understanding and empathy for our target customer by designing and observing user studies and translating research findings into insights to help grow brand's customer base by 25%.
Education
Bachelor's Degree in Experimental Psychology
Palo Alto University, TX
2012
Key Skills
UI design
Adobe CC
Sketch
Google Analytics
Analytical thinking
Behavioral & cognitive psychology
Attention to detail
UX Certifications
Nielsen-Norman Group UX Certification (2016)
Google UX Design Certificate (2017)
Interests
Cognitive Psychology
Self-help and mindfulness
This is how to write a winning UX researcher resume:
1. Use the Right UX Researcher Resume Format
UX researchers (or user experience researchers) run analyses and devise ideas for digital environments that users will enjoy, catering to their needs on a different level than the product department. Your UX researcher resume needs to do exactly that: provide an enjoyable user experience for the recruiter.
As an expert in the field, you know all too well that an unstructured website is a nightmare to navigate and just leads to frustration.
And the hiring manager knows it as well, which is why he or she will only care about your resume if it is formatted correctly.
Here are a few basic resume tips to get the formatting right:
Read more: Resume Format: Full Guide with Tips & Examples
2. Craft a Professional UX Researcher Resume Objective or Summary
Here's the first of two points where you can let your creativity shine through.
Writing a resume profile is one of the most important steps in laying down the foundation for the rest of your resume.
In 3 or 4 sentences, you present a shortened, elevator pitch-like version of your entire self, right there, on a piece of paper.
Elegant. Minimalist. Tailored to the user's needs and expectations. That's the effect you should strive for.
If you're a UX pro, write a resume summary. Focus on past wins and UX trailblazing achievements. And to liven up otherwise bland descriptions, use numbers—they're more tangible than words can ever be.
With no previous UX research experience, a resume objective statement is the choice for you. Focus on emphasizing the impact the transferable skills and knowledge you do possess would have on the company's success, once again not refraining from using numbers for a brighter effect.
Read more: How to Start a Resume
3. Demonstrate Your Professional UX Researcher Work Experience on a Resume
UX in general is definitely booming recently. The BLS identifies it as a "growth area" for the future.
Meaning—
You can expect competition, likely way more than you feel comfortable with.
To get ahead of all of them, you need to research yourself a beautiful and user-friendly work experience resume section.
As mentioned, the reverse-chronological format is your go-to. Start with the most recent job, working your way back.
For each entry, include your job title, company name and location, and time spent working there.
By means of up to 6 bullet points, describe your daily activities and biggest wins. Numbers come in handy to emphasize the real impact you had.
Additionally, using action verbs to start each of your resume bullets helps keep all parties interested and at attention.
Tailoring your resume to the particular job works in your favor, in two ways, actually. First, it shows you know your stuff and can do research. Second, nobody likes generic resumes, especially not the pesky ATS applications used so frequently nowadays.
Read more: How to Write a Targeted Resume
4. Amplify Your Education Section on a UX Researcher Resume
Are you uber-experienced? Are you Steve Krug's most devout follower? Just starting out? No UX experience yet?
It doesn't matter. You need a well-crafted resume education section.
Sure, it's less important, technically speaking. But it could give you that one leg up over your competition that ends up being the deciding factor.
With loads of experience, listing your alma mater, graduation date, and degree obtained is plenty.
However, if you can't quite put the X in UX just yet, make up the difference by adding extra details. Relevant coursework, scholarships and achievements, diploma honors, extracurriculars that show your soft skills, anything that comes to mind—it all feeds into being more employable. As for listing your GPA on a resume, it's only worth doing if you achieved 3.5 or higher.
If you're writing a resume with no experience, switching the position of your education and work sections might be the secret ingredient you need. Remember, the point of your resume is to always make your strongest suits more noticeable by bringing them to the foreground.
When making a resume in our builder, drag & drop bullet points, skills, and auto-fill the boring stuff. Spell check? Check. Start building a professional resume template here for free.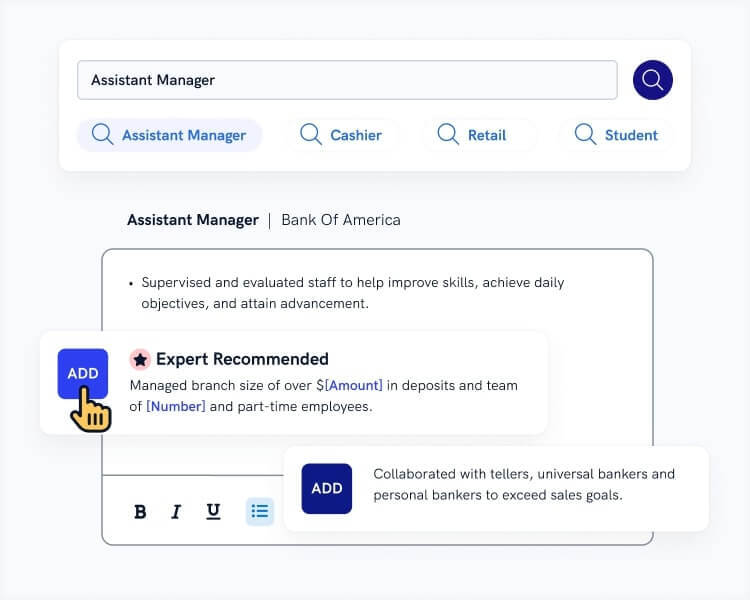 When you're done, our free resume builder will score your resume and our resume checker will tell you exactly how to make it better.
5. Prove Your Skills Are Tailored to the UX Researcher Job
There is no be-all-end-all UX researcher skill list to rule them all. There's so much variety in the field, it's impossible to lump it all into one pile.
That's why tailoring your resume matters so much, and it comes into play here as well.
Here's what you need to do:
Pull up the UX researcher job ad you're interested in and scan its contents for the resume keywords that stand out to you the most. They are, in a nutshell, what the employer is looking for and what they will consider first when comparing applicants.
Compile all your skills in a master spreadsheet to get a good overview of your skillset.
Using your spreadsheet, compare the keywords with the skills you have. Any matches you find are the skills that are the key to your success and should be put onto your resume. Go for 10 skills, tops, and include a mix of soft skills, hard skills, and technical skills.
And just in case you're not feeling so confident, here's a reference list for your convenience:
UX Researcher Resume Skills
Graphic & Web Design
Agile Methodology & Scrum
UX Project Lifecycle
Video Editing
UI Design
Sketch
Google Analytics
Analytical Thinking
Behavioral & Cognitive Psychology
Attention To Detail
Adobe Creative Suite
Analytical Software
Developing Software Plans
Qualitative Researching
Usability Testing
Prioritization
Choosing Proper Research Methods
Market Analysis
Pro Tip: Take some time to really nail down the skills section. This report from McKinsey makes it clear that high-end UX drives success. Employers will look for candidates that exhibit qualities synonymous with excellence, and the skills section is instrumental in showing your professional value.
6. Add Miscellaneous Sections to Your UX Researcher Resume
Here's that other creative part I promised you.
Additional resume sections are your opportunity to show off any advantages or flair that didn't quite fit into the previous parts of your UX researcher resume.
Anything you can think of that sets you apart from the crowd is worth adding. The more passion it shows for UX, the better.
For example, any UX research certifications or licenses go a long way. Maybe you've done some volunteer work, have various passion projects on the side, or are a regular columnist or a UX trend-tracking blog. Each of those would score you bonus points, as would foreign language skills.
Read more: How and When to Put Hobbies & Interests on a Resume
7. Send a Cover Letter with Your UX Researcher Resume
Well, do you need a website to have a mobile-friendly interface?
The answer to both of those is the same.
The facts don't lie: 45% of recruiters won't read a resume that doesn't come with a cover letter alongside it.
And it's not nearly as much of a hassle as you might think it is. Here's how to write a cover letter just as impressive as your new resume:
Lastly, don't mess up the cover letter length. Keep it down to less than one page, no more than 4 paragraphs.
Pro Tip: Avoid talking about salaries and expectations in a cover letter. It reads very poorly and won't get you anywhere. The only exception is when the job ad asks for salary expectations to be included in your application, but that doesn't happen very often nowadays.
Plus, a great cover letter that matches your resume will give you an advantage over other candidates. You can write it in our cover letter builder here. Here's what it may look like: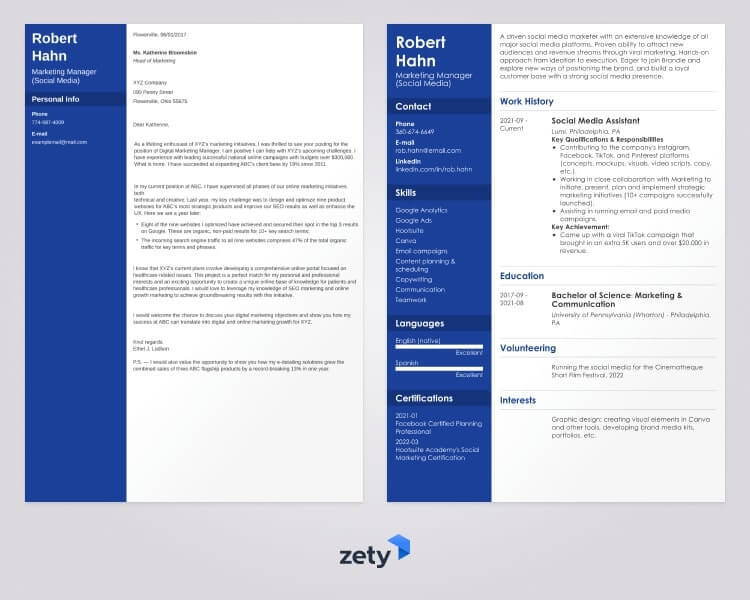 See more cover letter templates and start writing.
That's it.
A Web 4.0 grade UX researcher resume.
Thanks for reading! Still struggling with a particular section? Maybe you're an experienced UX researcher willing to share some knowledge. Whatever the case may be, be sure to look down in our comments to leave feedback and ask questions.
About Zety's Editorial Process
This article has been reviewed by our editorial team to make sure it follows Zety's editorial guidelines. We're committed to sharing our expertise and giving you trustworthy career advice tailored to your needs. High-quality content is what brings over 40 million readers to our site every year. But we don't stop there. Our team conducts original research to understand the job market better, and we pride ourselves on being quoted by top universities and prime media outlets from around the world.