Our customers have been hired by:
Did you know that, according to more than half of all recruiters, failure to target a resume can get you rejected instantly?
How do you not let it happen? What is a targeted resume, and how do you write one? So many questions and so little time. Don't waste another minute, read our guide on creating a targeted resume to match a specific job opening, and don't let opportunities slip!
This guide will show you:
How to write a targeted resume.
Targeted resume templates and examples you can use.
Why customizing your resume is key to getting hired.
How to target the different sections of your resume.
Targeted Resume Template—Examples
Need a targeted resume sample? Check out: 500+ Sample Resumes for Any Job
Want to save time and have your resume ready in 5 minutes? Try our resume builder. It's fast and easy to use. Plus, you'll get ready-made content to add with one click. See 20+ resume templates and create your resume here.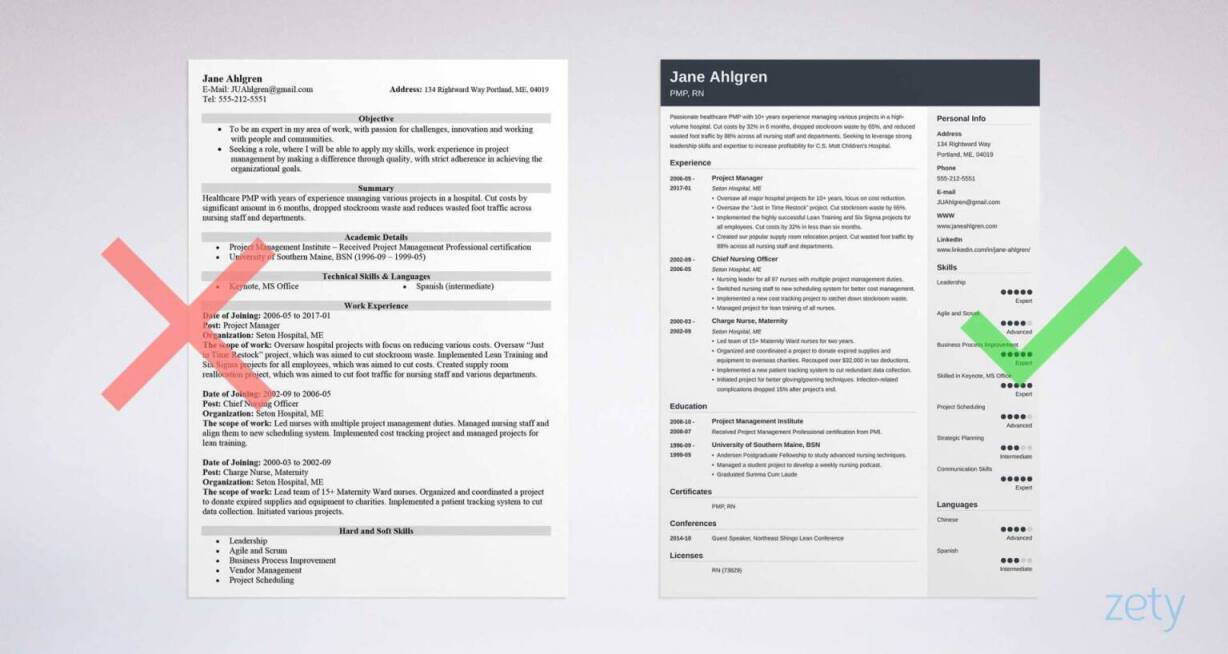 Sample resume made with our builder—See more resume examples here.
Why You Should Target Every Resume
Why target every resume? Because it helps to highlight skills and experience that match particular requirements. Dedicated, targeted resumes are like bespoke suits. They must fit.
Picture this: You apply to 150 jobs in a week. Wow! What a sense of accomplishment! But—crickets. You don't hear back from any. What went wrong? You didn't write a targeted resume. The hiring teams assumed you were spamming them. (Spoiler alert: you were!)
That's why each and every resume should be customized. Sounds agonizing? It's not. Scroll down to see how to do it once. Then see how to do it fast.
Pro Tip: You'll send less resumes when you target. But one targeted resume is worth ten cookie-cutter resumes. Slowing down saves time and gets more calls.
Want more tips to write a targeted resume? See our guide: How to Make a Resume for a Job [from Application to Interview in 24h]
Targeting a Resume — Step-by-step
"I'm pulling out my hair." Why? Slow down, it's not so hard. You can target a resume in two easy steps:
Read the job ad. Note the most important skills and duties.
Stuff your resume with achievements. They should show you've aced those skills and duties.
Put targeted accomplishments in your resume summary (or career objective), experience section, education, and other resume sections.
For specifics, see the targeted resume examples below.
Pro Tip: The most important parts of a targeted resume are the company name and job title. Match those, and at least they'll read your resume.
Now, here's how to target your resume, section-by-section:
1
Read the Job Ad Carefully
To target a resume—you have to know the target. How? It's in the job description displayed in the job ad. It'll give you the clue as to what should you underline in your resume to make it relevant.
Check out this real-world job posting. We'll highlight the important parts.
Job Description
LLJ construction is seeking a full-time construction project manager.
Participates in

client meetings

and provides superior

client service

.

Oversees construction projects

.
Manages infrastructure projects including

planning, design, requirements gathering, bidding, and construction management

.

Develops project budgets

.

Selects and manages contractors

.

Builds and manages teams

of consultants and contractors.

Negotiates contracts

with team members and contractors.
Maintains

client relationships

.
Assists in

conflict resolution

...
(More...)
(More...)
There's our target. It's the skills, duties, job title, and company name. We know what they want.
Now let's hit it like Robin Hood.
Pro Tip: There's a lot more to the above job description, but the most important skills and duties are near the top. Writing a targeted resume starts with priorities.
The job posting is packed with resume keywords. Use them in your targeted resume to impress a human hiring manager. See our guide: Resume Keywords To Use: Step-by-Step Guide
2
Use a Captivating Summary in Your Target Resume
Uh-oh. The hiring manager lost interest. Why? You didn't target your resume summary. Know what? You need to hit the target in the first six seconds or they're gone like Kaizer Soze.
How to Target a Resume Summary:
Mention the company by name.
Use the same job title as the job description.
Include 1–3 skills they really want.
Add your greatest 2–3 accomplishments that prove you own those skills.
If they mention required years of experience, show you have them.
See how that works in these targeted resume examples:
Targeted Resume Examples [Summary]
Pretend you're targeting a graphic designer job that needs 2+ years of experience. It's for a company called Passalaqua Media.
They want skills in layout, production, infographics, brochures, logos, and advertisements.
Right
Graphic designer with 3+ years of experience. Seeking position as designer for Passalaqua Media. Skilled in layout and production. At XYZ designs, worked on an infographic project that received the 2018 BigCommerce Design award. Developed 250+ graphic design projects (brochures, infographics, logos, advertisements) that raised client transactions by 20%.
Bullseye. That's a targeted resume sample because it mentions everything the job ad wants. But watch how you can botch it:
Wrong
Highly-skilled graphic design professional seeking full-time designer position. Experienced in web design, creating print work, and laying out design jobs for client work. Received the 2018 BigCommerce Design award. Handled regular graphic design projects, including websites, marketing materials, and client artwork.
Oops. Still an impressive resume summary, right? But not targeted.
Items in blue missed the mark.
Pro Tip: See those numbers like 20% and 250+? They add a yardstick to your targeted skills. They say, "not only do I have what you want, but it's huge."
How do you write a resume summary? See our guide: Resume Summary Examples (30+ Professional Summary Statements)
3
Prepare a Solid Work Experience Section for a Target Resume
Recruiters like to see you're already familiar with the topic. "Wow, she's already done this job!" Simply put, you need to aim for that reaction.
To write a targeted resume experience section:
Find the duties and skills in the job posting.
Brainstorm times you've done those things well.
Think about the result of your good work.
Tack on dollar figures, percentages, and other numbers.
Make your job titles the same as the one in the job ad.
These targeted resume examples show how:
Targeted Resume Examples [Experience]
This targeted resume experience section is for a manufacturing engineer position.
Duties and skills are develop and implement manufacturing process improvements, Lean manufacturing, work with cross-functional teams, determine requirements, and Pokayoke.
Right
Manufacturing Engineer
Baratheon NISDC
2014 - 2019
Developed and implemented manufacturing processes improvements

for 2 departments that raised efficiency by 28%.
Led a

Lean manufacturing

initiative for 3 departments that slashed costs 35% and cut lead times 20%.

Worked with cross-functional teams

to

determine requirements

for fixturing and process parameters.
Maintained zero defect rate through building

Pokayoke

into all designs.
Exceeded manufacturing targets for quality, cost, and time by a minimum of 15% in all quarters.
Dead center. That targeted resume experience section hits the right spots. The percents and other metrics drive the point home.
But here's a wide shot:
Wrong
Mechanical Engineer
Baratheon NISDC
2014 - 2019
Provided

engineering support

for all client products.

Analyzed and resolved technical problems

in the manufacturing process.

Worked with multiple departments

to

transition products from R&D to Manufacturing

.

Developed validation protocols

, performed

product testing

, and used

statistical techniques

to evaluate results.
Whiff. You seem like a competent engineer. But—"He's just not a good fit."
None of those skills are in the job description. And it's missing achievement.
Pro Tip: You don't just write a targeted resume to use the right resume keywords. Yes, you want to impress the hiring software. But your real goal is to convince a human being.
How do you write a great targeted resume experience section? See our guide: Work Experience on a Resume: Job Description Bullet Points Samples
When making a resume in our builder, drag & drop bullet points, skills, and auto-fill the boring stuff. Spell check? Check. Start building a professional resume template here for free.
When you're done, our easy resume builder will score your resume and our resume checker will tell you exactly how to make it better.
4
Target Your Education Section
Should you target your education? Yes. Even schooling can help in a targeted resume. It helps you earn extra points in the competition called a recruitment process.
How to craft an education section in targeted resumes? Approach it like the other sections—with tailored achievements.
Targeted Resume Examples [Education]
Let's say the job needs a marketing specialist skilled in e-marketing, podcasts, and sporting goods marketing.
Right
2012-2015 MBA
University of Arizona
Created an

e-marketing

campaign that raised $67,000 for the lacrosse team.
Built and ran the student STEM

podcast

.
Conducted a marketing internship for a local

sporting goods company

.
But don't do it like this:
Wrong
2012-2015 MBA
University of Arizona
GPA 3.2
Graduated in the spring of 2015
Played on the lacrosse team
Swing and a miss!
Pro Tip: When is a targeted resume not advantageous? When you've got a mind-blowing work history that doesn't fit the job you're applying for at all.
Want more help targeting your resume education section? See our guide: How to Put Your Education on a Resume
5
Write About Extra Activities or Volunteering in Targeted Resumes
Target almost everything. This is what all target resume examples will show you without a doubt.
If it's in your resume, it should fit the job. Tailor your resume's extra sections like this:
Targeted Resume Examples ["Other" Sections]
These targeted resume "bonus" sections are for a medical assistant job. Required skills are patient education and physical fitness.
Right
Additional Activities
AMSA conference, 2017.
My blog post on

patient education

was shortlisted for an ACD Medical Journalism Award.
Physical Fitness
Avid cyclist.
Weekly yoga instructor.
He shoots, he scores! But here's a fail:
Wrong
Additional Activities
Avid golfer.
Play in a popular cover band 3x per month.
My blog post on gloving and gowning got 15,000 readers.
Nice try. Again, it isn't awful. But it's not targeted. Does all this tailoring feel like too much effort?
Let's see how to speed it up.
Pro Tip: You don't have to customize every part of a targeted resume. They didn't say you had to be an AMSA member, but it helps!
How should you list volunteer work in a targeted resume? See our guide: How to List Volunteer Work on Your Resume
6
Prepare an Awesome Skills List in Your Target Resume
"Wow! He has every skill we need!" Your skills should reflect the job ad. But don't just list every single skill. They won't read them all.
Just list the first 4–6 they mention. Then add a couple so you're not pandering.
Targeted Resume Examples [Skills]
Let's say the job ad wants skills in account reconciliation, financial statements, IT, asset management. It also wants soft skills like communication and time management.
Right
Skills: account reconciliation, IT, financial statements, payroll, asset management, P&L
Soft Skills: communication, interpersonal skills, time management, critical thinking
Touchdown! But avoid this:
Wrong
Skills: Payroll, P&L, GAAP, month-end close, financial statements, tax accounting
Soft Skills: Interpersonal skills, critical thinking, business knowledge, attention to detail
Maybe next time.
Pro Tip: You don't have to tailor every single skill. Leave a few untargeted, like "payroll" and "interpersonal skills" above. Otherwise they may smell something fishy.
Need a list of resume skills for brainstorming? See our guide: 99 Key Skills for a Resume (Best List of Examples for All Types of Jobs)
7
Not a Fan of Targeted Resumes? Build a Generic Resume
"This will take forever!" Nope. After you lay the groundwork, you'll do it lightning-fast.
The first step? Write a generic, non-targeted resume.
Get these things right:
Store that as a resume template. When you apply for a job, swap out parts from your "master list."
Don't have a master list? That's next.
Pro Tip: Whenever you apply to a job, make a copy of your generic resume. Replace all the targeted parts in the new copy and leave your targeted resume template intact.
8
For Speed, Build a Master List of Achievements and Skills
"What's a master list?" It's a list of all your skills and achievements. It can be 4–6 pages long. Take some time to brainstorm it. Add every skill and everything impressive in your career.
But here's the trick: Match your generic resume to the job ad by adding bullets from your master list. After the first few times, you'll write a targeted resume in 10 minutes.
Use a Resume Scanner
Want to check your work? After you tailor your resume, check it in the Jobscan resume scanner. It's a free ATS resume scan that shows your tailored resume score.
Pro Tip: Once you've got a targeted resume template, you should be able to apply to a new job every hour. That's eight jobs a day or 160 a month in full-time job search mode.
Want more tips to tailor your resume to the job description? See our guide: 6 Tips on How to Tailor Your Resume to a Job Description
You need to target your cover letter too. See our guide: How to Write a Cover Letter for a Resume
Plus, a great cover letter that matches your resume will give you an advantage over other candidates. You can write it in our cover letter builder here. Here's what it may look like: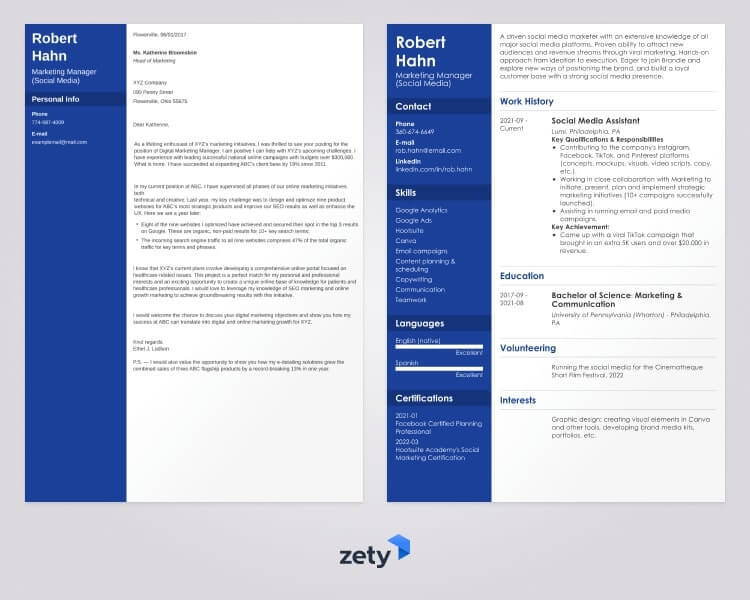 See more cover letter templates and start writing.
Key Takeaway
Summary: How to write a targeted resume:
Write a generic resume.
Write a master list of your skills and career achievements.
Find the most important skills, duties, and other requirements in the job ad.
Stock your professional profile, experience, education, and other resume sections with accomplishments and skills that match the ad.
What's your best career achievement? Do you still have questions about how to write a targeted resume? Give us a shout in the comments. We'd love to talk!
About Zety's Editorial Process
This article has been reviewed by our editorial team to make sure it follows Zety's editorial guidelines. We're committed to sharing our expertise and giving you trustworthy career advice tailored to your needs. High-quality content is what brings over 40 million readers to our site every year. But we don't stop there. Our team conducts original research to understand the job market better, and we pride ourselves on being quoted by top universities and prime media outlets from around the world.