Our customers have been hired by:
You're a QA tester who can spot a bug faster than a frog snatches a fly. But when it comes to landing that dream job, your resume isn't passing the test.
Don't let your glitchy resume stand in your way! Our guide is here to help you craft a QA tester resume that'll have hiring managers scrambling for their "Hire Now" stamp. Let's debug your job search and get you back on track.
Want to save time and have your resume ready in 5 minutes? Try our resume builder. It's fast and easy to use. Plus, you'll get ready-made content to add with one click. See 20+ resume templates and create your resume here.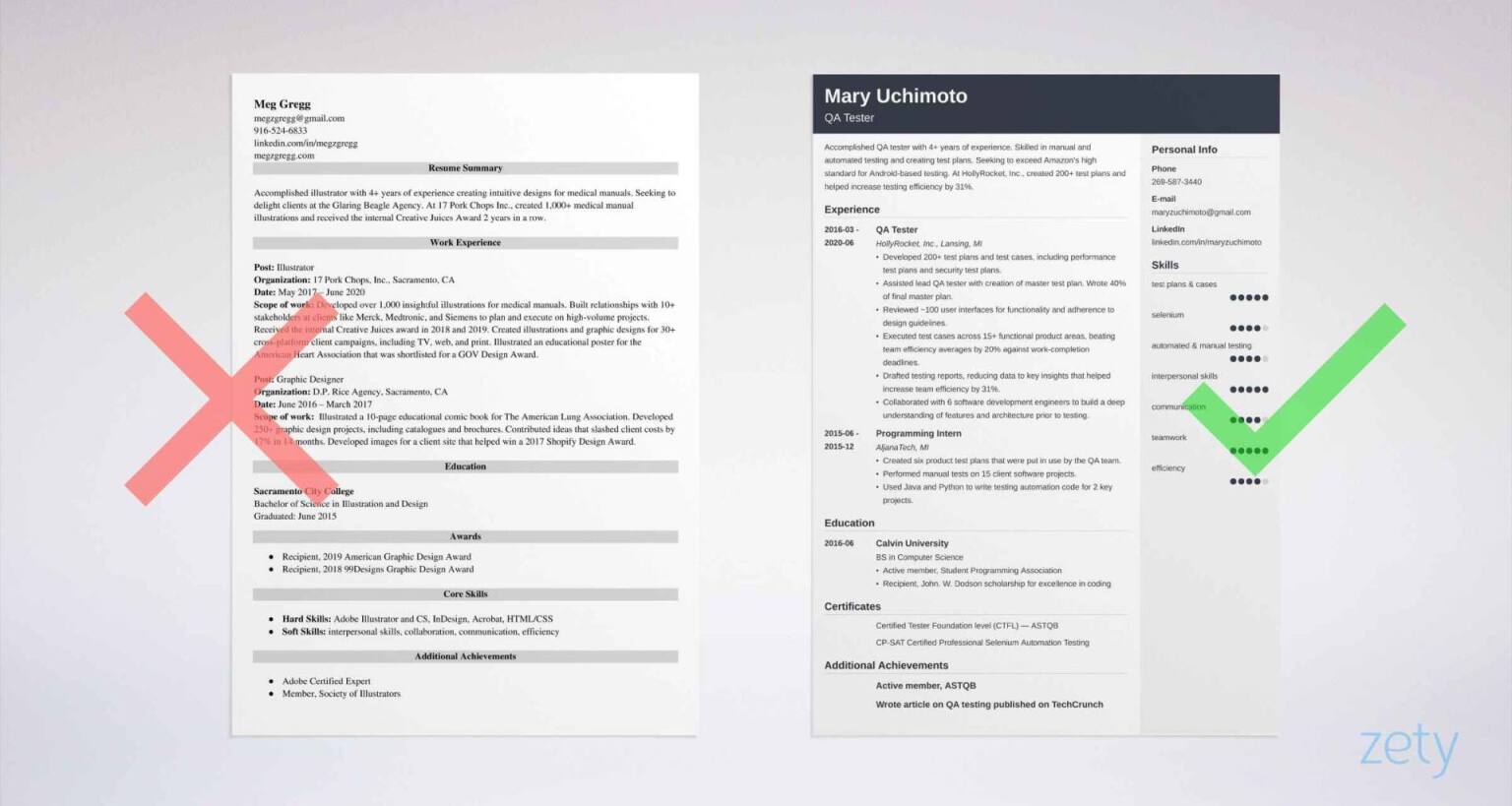 Sample resume made with our builder—See more resume examples here.
Trying to find a manufacturing QA tester resume? See our guides:
Want more technical and IT resume examples? Here you go:
Sample QA Tester Resume Template
Mary Uchimoto
maryzuchimoto@gmail.com
269-587-3440
linkedin.com/in/maryzuchimoto
Resume Summary
Accomplished QA tester with 4+ years of experience. Skilled in manual and automated testing and creating test plans. Seeking to exceed Amazon's high standard for Android-based testing. At HollyRocket, Inc., created 200+ test plans and helped increase testing efficiency by 31%.
Work Experience
QA Tester
HollyRocket, Inc., Lansing, MI
March 2016 – June 2020
Developed 200+ test plans and test cases, including performance test plans and security test plans.
Assisted lead QA tester with creation of master test plan. Wrote 40% of final master plan.
Reviewed ~100 user interfaces for functionality and adherence to design guidelines.
Executed test cases across 15+ functional product areas, beating team efficiency averages by 20% against work-completion deadlines.
Drafted testing reports, reducing data to key insights that helped increase team efficiency by 31%.
Collaborated with 6 software development engineers to build a deep understanding of features and architecture prior to testing.
Programming Intern
AljanaTech, MI
June 2015 – Dec 2015
Created six product test plans that were put in use by the QA team.
Performed manual tests on 15 client software projects.
Used Java and Python to write testing automation code for 2 key projects.
Education
Calvin University
BS in Computer Science
Graduated: June 2016
Active member, Student Programming Association
Recipient, John. W. Dodson scholarship for excellence in coding
Certifications
Certified Tester Foundation level (CTFL) — ASTQB
CP-SAT Certified Professional Selenium Automation Testing
Core Skills
Hard Skills: test plans & cases, selenium, automated & manual testing
Soft Skills: interpersonal skills, communication, teamwork, efficiency
Additional Achievements
Active member, ASTQB
Wrote article on QA testing published on TechCrunch
Here's how to write your own bug-free QA tester resume:
1. Format Your QA Tester Resume Correctly
The first test your resume needs to pass is the glance test. That is—if they glance, will they see a pro or a wannabe? The best QA tester resumes show off certain traits just by how they look. The right layout for resumes comes down to putting things in the right order with the right fonts and sizes.
For the proper resume format use these fast tips:
How long should a resume be for QA tester jobs? One page is your best bet. The idea is to show your best moments in that page, not tell the whole story.
How to organize your resume? See our guide: Resume Order of Jobs, Experience & Items of Information
2. Start with a Resume Profile Statement
Why aren't you getting hired? I know why. It's because hiring teams aren't reading your resume. It's true! They have 200 resumes to evaluate, so they decide in six seconds whether to read your QA manual tester resume. Convince them with a quick professional profile at the top.
Your entire resume is a one-minute elevator pitch. Your resume introduction is even shorter — about six seconds. It's a 3-line sales pitch for your resume. What are the coolest, most hirable things they'll learn if they keep reading your software testing resume?
Sound like a tough challenge? Not if you follow a tried-and-tested plan.
In a first job resume, mention your job title, the job you're applying for, and what you hope to do for the organization. Also, share a couple of personal or school achievements that prove you have the relevant skills. This is called a career objective for a resume.
Been a quality assurance tester for a few years? You'll create a testing resume for a pro.
You'll convey the same details, but your relevant skills proof will come from your biggest work accomplishment. If they want someone who can write test plans and you've done 200+, then put that in your resume summary statement.
What should you leave out? See our guide: What Should Not Be Included in a Resume? [15+ Things]
3. Tailor-Fit Your QA Tester Job Description
If you really want that fat QA tester job, your resume work experience section has to be special. If it's average, you won't get hired. But you've got this. It all comes down to tailoring your software testing resume to the job you want. It sounds challenging, but it's actually pretty easy once you know how.
To write a great experience section:
Choose your business titles wisely. Does the ad ask for a "Java QA Tester?" If you tested Java in your last job, don't say you were a "Software QA Tester."
Include the organization name, location, and the dates you worked.
Write 3–6 bullet points per job. For your most recent job, make it six. For your oldest, write three.
Don't bore the hiring team with a list of all your job duties. If you do, you're only telling them, "I was a QA tester." They can see that from the job title.
But here's the secret sauce. Instead of duties, use resume phrases like "Improved efficiency by X%" or "Wrote 200+ test plans and cases."
The numbers are key because they show you're better than average.
Now that you know how to write achievements in a resume, you'll get a lot more interviews. But you can do that same thing with your education section. More on that below.
Read more: How to Describe Yourself on a Resume the Right Way
4. Streamline Your QA Tester Resume Education Section
Everybody puts education on a resume. But I have some bad news. They won't hire "everybody" for the QA tester job you want. They'll only hire you—and your education section can help. How? By adding the right skills for a resume for QA tester jobs. But which ones are right?
Let these resume tips light the way:
List your degree on a resume by adding the degree name, school name, and graduation date.
Think of a few times you exceeded expectations at school. Did you get a scholarship? A commendation from a prof?
You can also add a bullet point with a student group or club to show teamwork or leadership skills.
You only need two bullet points in a QA tester resume education section. If you graduated more than seven years ago, only add one if it's really impressive.
If you just graduated and are looking for an entry-level QA tester job, you can add relevant coursework.
What about GPA on your resume? If it's blisteringly-high, add it.
Read more: How to List a Major and Minor on a Resume
5. Prove the QA Tester Skills the Company Wants
Every resume for QA tester jobs needs a skills list. It should have 5–10 skills, but they must be the right skills. Otherwise, the hiring team won't notice you and you'll wind up playing Fortnite and eating Ramen noodles for the rest of your life. Then you have to prove your skills.
Here's how to add QA tester skills to a resume:
QA Tester Resume Skills
Creating test plans
Making test cases
Automated testing
Manual testing
Programming languages (Java, JavaScript, Python, etc.)
Selenium
Micro Focus LoadRunner
YourKit Java Profiler
JUnit
Cucumber Pro
Compassion
Adaptability
Pro Tip: QA testers are in demand, with smart companies spending 25% of their development budget on QA. Find a smart company and you'll get a smart salary.
When making a resume in our builder, drag & drop bullet points, skills, and auto-fill the boring stuff. Spell check? Check. Start building a professional resume template here for free.
When you're done, our easy resume builder will score your resume and our resume checker will tell you exactly how to make it better.
6. Add More to Your Quality Assurance Tester Resume
You want to stand out, right? So that means you can't just say, "Here's where I worked and here's where I went to school." You also have to show what you did with all that boundless energy you have. This is what professional qa testing resumes do to win over others. Do it, too, and they'll hire you so fast you'll sound like Iron Man on a landing approach.
Here's how:
Read more: Resume Parts: Elements that Matter
7. Write a Cover Letter for Your Quality Assurance Testing Resume
Do you need a cover letter for a resume for quality assurance tester jobs? Yep. Without a resume covering page, the hiring manager will assume you're taking potshots at every job you see online. They'll think you've already accepted a job somewhere else. So, definitely write a letter to go hand in hand with your testing resume.
Your cover letter's structure makes a big difference.
The proper cover letter format has 3–5 paragraphs in a one-sheet letter.
Your cover letter opening needs to grab them right off the bat. It's not hard if you mention the job title and add something you like about their firm.
Your middle paragraphs should include a few QA tester achievements from your resume.
Here's how to finish a cover letter for QA tester jobs: Recap your top few skills and ask for the interview.
In a few days, send a job follow-up email. Keep it zippy and attach your resume and cover letter as PDF files. Then re-send it in a week.
Read more: Right Cover Letter Layout: Examples and Guide
Plus, a great cover letter that matches your resume will give you an advantage over other candidates. You can write it in our cover letter builder here. Here's what it may look like: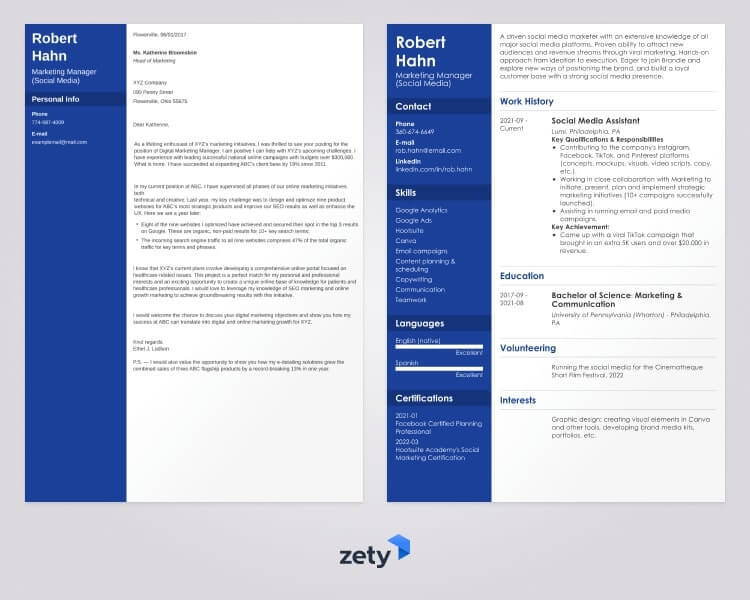 See more cover letter templates and start writing.
That's it!
That's everything you need to write a QA tester resume that works!
Looking for more IT-related resume guides?
Thanks for reading! Still hazy on how to write an Amazon-level QA manual tester resume? Give us a shout in the comments section!
About Zety's Editorial Process
This article has been reviewed by our editorial team to make sure it follows Zety's editorial guidelines. We're committed to sharing our expertise and giving you trustworthy career advice tailored to your needs. High-quality content is what brings over 40 million readers to our site every year. But we don't stop there. Our team conducts original research to understand the job market better, and we pride ourselves on being quoted by top universities and prime media outlets from around the world.
Sources