Informatica Resume: Sample & Writing Guide [+ Developer]
You're a pro with Informatica's software, but are you good enough to work for the company itself? Rest assured, with our Informatica resume guide, we'll get you there in a jiffy!
The world has heard of digital nomads, but you're the opposite of that—a digital hoarder, working with Informatica's software to store your clients' data.
And anybody with half a byte's worth of data somewhere out there needs to store it.
So how come it's so hard to land a job with your skill set?
Jobs in database administration are on the rise, and more candidates means more competition. Simple math, really.
But figuring out how many of them can out-experience and out-skill you? Source file not found. It's an unknown integer.
And the equation to solve it starts with perfecting your Informatica resume.
This guide will show you:
An Informatica resume example better than 9 out of 10 other resumes.
How to write an Informatica resume that will land you more interviews.
Tips and examples of how to put skills and achievements on an Informatica resume.
How to describe your experience on a resume for Informatica specialists to get any job you want.
Want to save time and have your resume ready in 5 minutes? Try our resume builder. It's fast and easy to use. Plus, you'll get ready-made content to add with one click. See 20+ resume templates and create your resume here.
Sample resume made with our builder—See more resume samples here.
Want to look elsewhere in the IT sector? We've got plenty of guides for you to check out:
Sample Informatica Resume
Samantha Martinez
Informatica Specialist
518-463-9925
Linkedin.com/in/samanthamartinez
samanthamartinez@ceemail.com
Professional Summary
Reliable data integration expert with 7+ years of experience working with Informatica software to provide excellent Salesforce analytics. Strong understanding of ETL, DWH, and Report designs. At Luxizant, managed project workflow using Informatica PowerCenter to greatly cut costs and time, saving the company roughly $55,000/yr. Utilized Teradata to more accurately analyze databases of 25 clients, reducing storage needs by 15%.
Work Experience
Informatica Specialist
Luxizant Consulting, Denver, CO
March 2015–Sept 2020
Key Qualifications & Responsibilities
Attuned Informatica's toolkit in tandem with SQL for 25% better database loading times.
Designed 60 unique and client-oriented ETL solutions and testing scenarios.
Implemented end-to-end ETL solutions for complex case studies for a diverse portfolio of 11 clients.
Performed upgrades, security patches, and server maintenance to optimize efficiency.
ETL Developer
SysTec Solutions, Denver, CO
Jan 2013–March 2015
Used different Data warehousing concepts to build a Data warehouse for internal departments of the organization.
Managed and maintained ETLs for dynamic/automated data systems as data changes.
Assisted in the design and development of automated processes to perform scheduled tasks, ETL, data validation, and maintenance activities.
Educational Background
Master's Degree in Data Engineering
Colorado State University, Fort Collins, CO
Graduated in 2011
Professional Skills
Informatica Software
SaaS & Data Analytics
Java, PL/SQL
ETL Design & Testing
Analytical and Detail-Oriented Thinking
Database Maintenance & Security
Exceptional Team Player
Informatica Certifications
Informatica Certified Professional (ICP), 2017
Data Quality Administrator 10, 2015
Other
Six Sigma Certification–Green Belt
Spanish (LatAm): Professional Working Proficiency
That's the kind of no-BS approach that scores luxury jobs. This is how to make one yourself:
1. Begin by Formatting Your Informatica Resume Correctly
Informatica specialists use Informatica software applications for business data storage solutions. They load and test the data, design systems, and adapt to the customers' data storage needs. That's a lot of responsibility, so your Informatica resume needs to show you have what it takes to succeed.
First up, to get yourself a swanky job with an adjustable desk and triple monitor setup, you need to worry about one particular quality test: that of your resume format.
If it doesn't pass with flying colors, I'm afraid your fate will wind up very much the same.
Here's how to prevent that:
Lastly, consider saving the resume file in PDF format. It's readable on practically every device, while Word tends to play up sometimes. Your hard work crafting the perfect resume layout shouldn't go to waste.
Read more: What Should a Resume Look Like to Land a Job?
2. Write a Professional Informatica Resume Summary or Objective
With Database Admin positions scheduled to increase by 8% in the US over the next 10 years, there is no room for mediocrity here.
If you're an Informatica software black belt, then your resume should be the gold-clad certificate proving just that fact.
And the quickest way to get that knowledge into the hiring manager's brain isn't through a two-page-long resume—they get enough paperwork as it is. On the contrary: brevity is not only the soul of wit but also the soul of employability.
And it comes in the form of a resume profile—a quick introductory statement to present your greatest assets.
Here's how to get it right:
If you're a seasoned Informatica veteran, write a resume summary. Brainstorm a few of your qualities that are the most appealing, then summarize your experience and sell yourself to the employer.
And in other cases, like if you're switching careers or are a fresh graduate, write a resume objective instead. Focus on the transferable skills and knowledge you already possess and how it'd help you fit in the new role.
Read more: How to Start the Resume Writing Process
3. Tailor Your Informatica Resume Work Experience Section
Informatica themselves recognize that modernizing the data infrastructure is one of the most crucial elements for an enterprise to undertake.
Likewise, you'll need to modernize your resume to elevate your chances of success. The first metric employers will use to find out if you're a good fit will be your work experience.
But it's not just about what it is, it's how you present it. Better make sure it's up to contemporary standard:
Remember that reverse-chronology we established? First job goes last, last one goes straight to the tippity top.
Every time you begin describing one of them, list the company name, your job title, and years spent working for them.
Alongside those basics above, condense your professional life into 4–6 succinct bullet points. Older jobs can do away with just 3.
Inside these bulleted descriptions, you should talk about your duties and accomplishments. Using power words and numbers to bring some color helps a lot here with grabbing the recruiter's attention and quantifying your achievements.
However, the thing you absolutely must do is focus on tailoring the resume to the position at hand. It helps your chances drastically, shows you put in effort, helps pass the ATS, and practically cures depression all on its own. Okay, maybe not that much, but you get the point.
Writing a resume with no experience? Instead of flooding this section with irrelevant fluff, work with what you got and switch the positions of this section and the education section (coming up next) to play to your strengths.
Read more: Work Experience on a Resume: Everything You Need to Know
4. Straighten out the Education Section (It Really Matters!)
Hey, it's the education section! That'll show 'em you're the unicorn they're after, right?
*crickets*
Now hold on there—while it is true that education on a resume isn't the flashiest part and it won't get you hired single-handedly, there's no reason to dismiss it.
It's a helpful tool to let you get a leg up on the average Joe who just skips it altogether.
Sure, with more than 5 years of experience, you can just list the school, degree, and graduation year and be on your merry way.
However, if you have less than that, add extras from your college life to make up for the difference. Things like relevant coursework in database administration, extracurriculars, club memberships, internships, or a sufficiently high GPA to put on a resume are all great additions!
Pro Tip: Most Informatica jobs will require at minimum a bachelor's. But what if you have a master's degree? What if your bachelor's isn't exactly related to CS? In such cases, refer to our guide on Putting Your Degree on a Resume.
When making a resume in our builder, drag & drop bullet points, skills, and auto-fill the boring stuff. Spell check? Check. Start building a professional resume template here for free.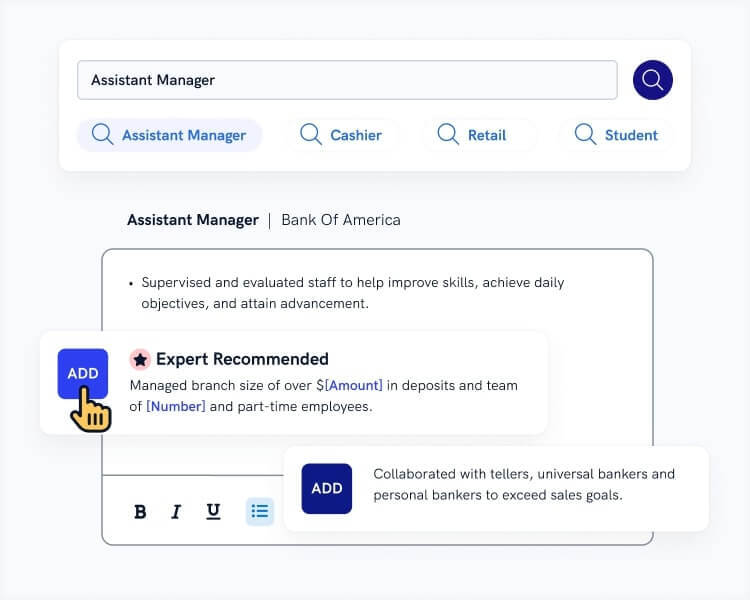 When you're done, our professional resume builder will score your resume and our resume checker will tell you exactly how to make it better.
5. Show off Your Informatica Prowess with the Right Resume Skills
In your own opinion, what constitutes a great employee, the best of the best?
You may be tempted to say "someone with all the skills".
Well…
It's kind of a "Jack of all trades, master of none" type of situation.
If you list 25 job skills on your resume and claim mastery of all of them, eyebrows will be raised. A far better strategy is to look for the resume keywords inserted into the job application by the recruiter. All the information about what skills they value the most is there, you just have to look for them.
If they say they want a "Strong, communicating team player with extensive knowledge of data platforms", you reply with communication skills, teamwork skills, Oracle, Teradata, and Hadoop. Easy peasy!
Here's a list of skills good for any Informatica resume:
List of Skills for an Informatica Resume
Informatica PowerCenter Tools
Workflow Management
Designing & Implementing Databases
MySQL/NoSQL
MongoDB
Teradata
Python, C++, Java, Bash
ETL Tools
Read more: Difference Between Soft and Hard Skills (and Using It to Your Advantage)
6. Elevate Your Informatica Resume to the Next Level with Bonus Sections
No doubt, your resume by now is well-formatted, and your chances at getting the job are surely higher than they were before.
Unfortunately, so are the resumes of thousands of others who prepared them largely the same way.
So, get one step ahead through additional resume sections. They can show variety, versatility, and some much-needed flair.
Here are some ideas to bring in extra value:
Membership in associations
Conferences you participated in (especially as speaker)
Pro Tip: Don't sleep on the extra resume sections! Recruiters really love when candidates actually have a personality or show flaming passion for their job. Even if you feel like you're just a dorky geek who likes Cloud computing and storage a bit too much, own it!
7. Finish Your Informatica Resume by Attaching a Professional Cover Letter
Does your resume need a cover letter?
Depends.
Do you like 50% higher chances of employment? I think you do.
Our HR stats show that almost half of recruiters won't even read a resume if it's not accompanied by a cover letter. You're best of leaving the ifs and buts behind and just writing it, it's not that hard.
Here's how to write a cover letter that's sure to make you stand out:
Choose what cover letter format you'll be going with before you start. That helps to avoid messing it up once you've begun writing.
Go with a clean and crisp cover letter font.
Open the cover letter by addressing the recruiter by name, quickly mentioning how you found out about the job offer, and then turn to listing one or two accomplishments.
Use the midsection of the cover letter to emphasize more of your strengths, as well as talking about what in particular made you want to apply for a position in this company and not a different one.
Finally, end the cover letter with a powerful call to action and suggest a time and date for an in-person interview.
Read more: What Should a Cover Letter Say?
Plus, a great cover letter that matches your resume will give you an advantage over other candidates. You can write it in our cover letter builder here. Here's what it may look like: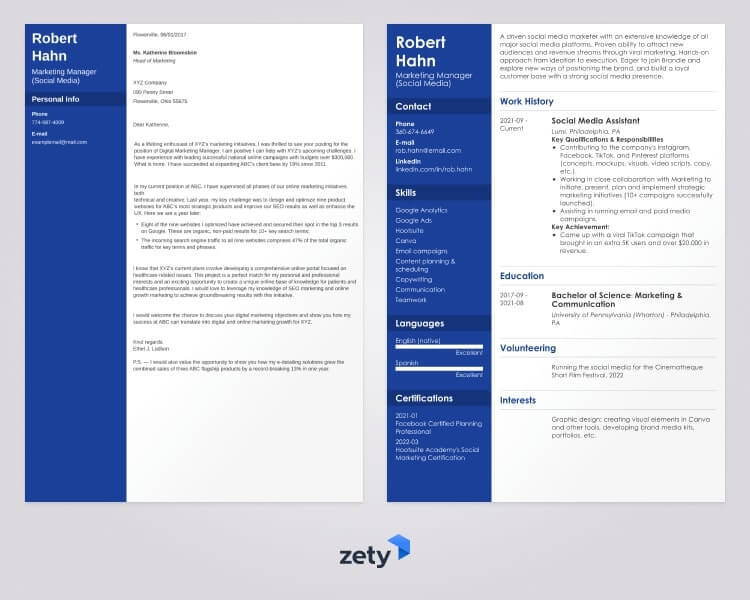 See more cover letter templates and start writing.
Great, now you're all set!
Get to it and land your dream job with your brand-new, excellent Informatica resume!
Do you have any questions about writing an Informatica resume? Still not sure about mentioning skills or presenting achievements like a winner? We're here for you in the comments, so don't hesitate!
About Zety's Editorial Process
This article has been reviewed by our editorial team to make sure it follows Zety's editorial guidelines. We're committed to sharing our expertise and giving you trustworthy career advice tailored to your needs. High-quality content is what brings over 40 million readers to our site every year. But we don't stop there. Our team conducts original research to understand the job market better, and we pride ourselves on being quoted by top universities and prime media outlets from around the world.