Our customers have been hired by:
Though thousands of people do it, not everyone knows how to write a resume.
What does that mean?
Piles of resumes that sound and look exactly the same.
And yours is someone in the middle, waiting for a short glare from a frustrated recruiter who will trash it in as much time it takes to pronounce your name.
How do you stand out? What makes a good resume?
Breathe easy, here are 11 things your resume needs to be great.
Want to save time and have your resume ready in 5 minutes? Try our resume builder. It's fast and easy to use. Plus, you'll get ready-made content to add with one click. See 20+ resume templates and create your resume here.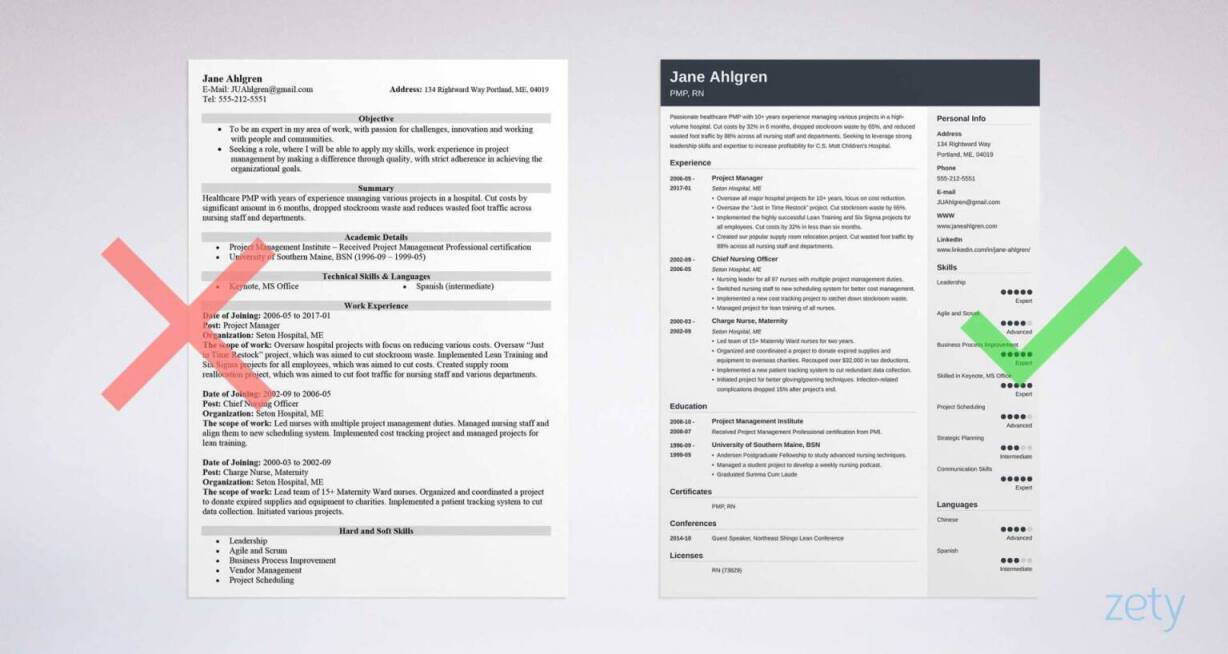 Sample resume made with our builder—See more resume examples here.
Interested in the ins and outs of writing a resume? Try our guide: Making a Resume for a Job: Full Guide
Good Resume Example
Keith L. Alexander
Project Manager
251-322-0354
KeithLAlexander@gmail.com
linkedin.com/in/keithlalexander
Resume Summary
Experienced project manager with over 5 years of experience leading complex projects from start to finish. Skilled in resource management, communication, and delivering projects on time and within budget. Successfully led a cross-functional team of 15 members in delivering a $10M project ahead of schedule while saving the company $2M in costs. Seeking the Project Manager position at Growpal to utilize my skills in project management and team leadership to drive growth.
Work Experience
Project Manager
Ezeo, San Francisco, CA
July 2020–January 2023
Key Qualifications & Responsibilities
Led cross-functional teams to deliver projects on time and within budget for clients in the healthcare industry.
Developed project plans, tracked progress against milestones, and communicated status reports to stakeholders at all levels of the organization.
Managed project budgets ranging from $1M - $5M while ensuring profitability and client satisfaction.
Mentored junior project managers and team members on best practices in project management.
Key Achievement:
Implemented new process improvements that reduced project delivery time by 15% and increased team productivity by 20%.
Project Manager
Riz, San Francisco, CA
November 2018–June 2020
Key Qualifications & Responsibilities
Worked with senior management to develop proposals and statements of work (SOWs) for new business opportunities.
Managed budgets ranging from $500K - $2M while maintaining profitability and client satisfaction.
Led efforts to implement new tools and processes that improved efficiency by reducing manual effort by 25%.
Created detailed reports regarding the overall performance metrics during each phase of development.
Key Achievement:
Successfully delivered a critical upgrade project on time and within the budget that resulted in increased revenue of over $1M for the client.
Education
Master of Science in Project Management
University of California, Berkeley
August 2013–June 2018
Skills
Budgeting & Forecasting
Resource Management
Project Planning & Execution
Risk Mitigation
Stakeholder Management
Problem-Solving
Agile Methodology
Team Leadership
Time Management
Communication
Certifications
CAPM Project Management Institute, Nov 2020
PMP Project Management Institute, June 2018
Language Skills
French—Advanced
Spanish—Communicative
Here's how to write a good resume just like that.
1
The Right Resume Format
There are a few resume styles to choose from and picking the wrong one can have a very negative effect on your resume. So guess what picking the right one can do!
Here are the standard resume formats you can choose from:
To learn more about resume formats, check out this handy guide: Different Resume Formats
2
A Professional, Up-to-Date Resume Contact Information
Don't you hate it when you want to call up an old friend and hear "the number you have dialled is not in service?"
Yes, well, so do recruiters. Keep your contact information relevant and current.
To make a great resume header, you need to include your:
full name (no nicknames)
current address (optional)
cell phone number
professional email address that you check regularly
LinkedIn profile or online portfolio if relevant
Do not add your age, marital status, race, religion, or photos to your resume. These can lead to grounds for discrimination.
For more on what to put in your resume contact information, check out this helpful guide: How to Include Your Resume Contact Information
3
An Impactful Resume Profile
This is the first section the recruiter will really read and if it doesn't get them hooked then the rest of your resume doesn't really make much difference.
There are two standard types of resume profiles: the professional objective and the professional summary.
The professional summary is basically a holistic overview of your work experience, skills, and job expertise. If you have a lot of work experience, this is the statement to choose.
The professional objective is based more on general knowledge and skills and focused more on your career goals. This statement works well for career changers and entry-level candidates.
Whichever you choose, keep them short (5 sentences max) and include your key skills and accomplishments.
Read more: How to Write a Resume Profile: Examples and Tips
4
Relevant Work Experience
This is not the section where you list everything you ever did in your life. This isn't an encyclopedia.
If you want to make a great resume, your work experience section needs to be perfect, so it shows you can do the job. Here's how to do that:
List the most current date and then go back in time with your experience.
Include your current professional job title/position.
Include the company name and location.
List key responsibilities in bullet points. Use no more than 6 for your current position, fewer as you go back in time. Remain concise.
Add key achievements if applicable. You shouldn't have more than 1-3 so choose impressive ones.
Use action verbs to really demonstrate your involvement in your job.
Highlight promotions and group multiple positions in the same company.
Unless you're applying for a highly specialized position or managerial role, there's no need to go back further than 15 years in your job history.
Remember that it's always easier to read numbers.
Compare "created plan that led to doubling of sales" with "created plan that led to 85% increase in sales." They say the same, but they don't have the same impact, do they?
For more information on listing your work experience on your resume, take a look at these guides: How to Add Working Experience to a Resume and How to List Multiple Roles on a Resume
Your education section will probably be the shortest and easiest to write. But that doesn't mean you can just breeze right through.
Just like with every other part, a good education sector makes a good resume.
The education section should include:
If you have a lot of work experience, only list your last degree/diploma.
If you're just starting your career, you can list both college and high school and add a few details to demonstrate your professional worth.
If you want to hit the books on adding education to your resume, read this guide: What to Include in Your Resume Education Section
Unfortunately, lots of candidates believe that a long list of every skill invented makes for a great resume.
That's just not the case.
Skills need to be relevant in order to have meaning. Otherwise your resume will just look like a dictionary exploded all over it.
Here's how to include your skills in your resume:
Remember to add both technical skills and soft (personality driven) skills. They're equally important.
Search the job ad for the professional skills the recruiter is looking for.
Include those skills in the skills section of your resume. Don't lie about having a particular skill though!
Be specific. Resumes are often scanned by an ATS system that picks up on resume keywords. If it's looking for "Microsoft Word" and you just put in "Office", then guess who's going to be overlooked and rejected. Yup, you.
Check out this guide for more about skills on your resume: How to List Your Skill Set on Your Resume
7
Additional, Important Resume Sections
This section is probably the most confusing for job seekers since it's a little more freeform than the rest of the resume sections. But it's not that hard!
A great additional section can be just what you need to take your resume to the next level and noticeably above the rest.
Here are some great additional areas to include on your resume:
No, not "cats, travelling, movies." Add relatively specific hobbies that relate to the job you're applying for. While "sports" is something you'll see everywhere, a martial arts recruiter will be more interested in "muay thay, judo, and jujitsu."
This is also a great moment for candidates with no work experience to prove that they truly have an interest and passion for the industry they're applying to.
This is the perfect place to mention applicable course, certificates, or awards. These can set you apart from other candidates in the job race.
Simply list the name or title of the certificate, course or award, and the year in which you received it.
Volunteer experience is often overlooked by candidates both with and without experience. That's a shame.
Volunteer work shows recruiters that you are passionate enough about a certain thing that you will spend your spare time doing it for free.
This is an especially helpful section for those writing a resume with no job experience since volunteer work can demonstrate different skills, professionalism, and maturity.
List your volunteer almost like you would list your professional work experience. Include the name of the institution/organization, dates, and a couple of concise bullet points on what you specifically did as a volunteer.
Remember to only include it if it's relevant to the role!
There are lots of positions on the job market where knowledge of a foreign language will put you ahead.
Listing languages is simple—add the language and the level of your knowledge next to it. Depending on where you are and where you're applying to, find the best proficiency scale with which to judge your proficiency.
Read more: Include These Resume Sections and Categories in Your Resume
When making a resume in our builder, drag & drop bullet points, skills, and auto-fill the boring stuff. Spell check? Check. Start building a professional resume template here for free.
When you're done, our free resume builder will score your resume and our resume checker will tell you exactly how to make it better.
8
A Cover Letter
But wait, this is about how to make a good resume!
I know hun, but rest assured writing a great resume means writing a great cover letter to go along with it.
Submit a cover letter to go into more in depth examples of your work history, qualifications, and professional expertise and really demonstrate that you're the best candidate for the role.
For tips and tricks on how to write a great cover letter, take a look at this guide: How to Write a Cover Letter
9
Editing and Proofreading
There is probably nothing that a recruiter hates more than a promising resume filled with typos and bad formatting.
If you can't even spell check, why would anyone think you would be able to do a job?
Always proofread your resume before sending it out. Here are a few tips to help you out:
Use a tool like Grammarly or embedded spell checkers to check your resume.
Read your resume slowly and out loud to catch errors.
Give your resume to someone qualified to have it proofread.
Read more: Proper Resume Layout
This shouldn't be on the list, but it is since candidates still like to doctor up their resumes here and there (and sometimes everywhere).
There's no point lying on your resume. Recruiters will verify your claims through interviews, references, and background checks.
Stick to the truth.
11
A Certain Kind of Pretty
You can have the best resume on the planet, but if it's written in Comic Sans, no one is going to take you seriously.
Here are some aesthetic tips to make your resume not only great:
Resume margins: 1" margin on all sides.
Resume font: use professional fonts such as Arial, Helvetica, Georgia, New Times Roman, etc).
Font Size: Use 14-16 pt for resume section headers and 12 pt for the rest of the text.
Font formats: Use bold sparingly to emphasize key points. You can underline your section headers to make for a clearer break between sections. Use italics for text that doesn't need to be at the forefront (e.g. locations).
Resume length: Keep to 1 page; 2 pages are ok for very experienced or senior level candidates.
Read more: Resume Dos and Don'ts: Mistakes to Avoid When Writing a Resume
Plus, a great cover letter that matches your resume will give you an advantage over other candidates. You can write it in our cover letter builder here. Here's what it may look like: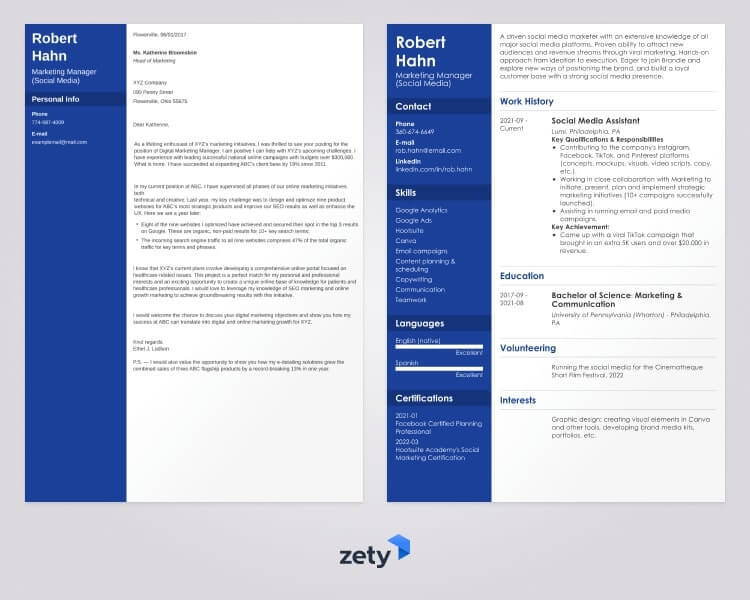 See more cover letter templates and start writing.
It may sometimes seem that making a good resume is next to impossible. But now you can see that it's not all that hard!
Just remember what makes a good resume:
Choose the right resume format for you.
Include up-to-date, relevant information, experience, skills, and examples in all of your resume sections.
Attach a meaningful cover letter that will sweep the recruiter off their feet.
Proofread, proofread, proofread.
Stick to the truth.
Make sure your resume is aesthetically pleasing.
That's it! Now go create the perfect resume and land that interview!
Have any questions? Share them in the comments below and I'll get back to you in a flash!
About Zety's Editorial Process
This article has been reviewed by our editorial team to make sure it follows Zety's editorial guidelines. We're committed to sharing our expertise and giving you trustworthy career advice tailored to your needs. High-quality content is what brings over 40 million readers to our site every year. But we don't stop there. Our team conducts original research to understand the job market better, and we pride ourselves on being quoted by top universities and prime media outlets from around the world.