You're about to write the best QA resume the recruiters could ever get. Whether you're plugging leaks, discovering vulnerabilities, or ensuring compliance, you're a perfectionist. And to get that job, you've got to perfect your quality assurance resume.
How? Don't worry, you're about to find out all there is to know about writing job-winning QA resumes!
This QA resume guide will show you:
A quality assurance resume example better than 9 out of 10 other resumes.
How to write resumes that will land you more quality assurance interviews.
Tips and examples of how to put skills and achievements on a QA tester resume.
How to describe your experience to get any quality inspection jobs you want.
Want to save time and have your resume ready in 5 minutes? Try our resume builder. It's fast and easy to use. Plus, you'll get ready-made content to add with one click. See 20+ resume templates and create your resume here.
Sample Quality Assurance Resume—See more resume examples here.
Also check out our selection of a few guides related to quality assurance resumes:
1
Quality Assurance Resume Example
John Capps
Quality Assurance Analyst
(619) 555-1234
john.capps@email.com
linkedin.com/in/john.capps
Summary
Accomplished and detail-oriented Quality Assurance Analyst with 9+ years of experience in software testing, system analysis, and project management. Seeking to leverage top-notch analytical skills and industry knowledge as a Quality Assurance Analyst at InfiniTech Solutions to help the company reach its goals in terms of product reliability and customer satisfaction. Developed an automated system for ZenithSphere Dynamics that cut down the time spent on manual testing by 70%.
Experience
Quality Assurance Analyst
ZenithSphere Dynamics, San Diego, CA
May 2015–August 2020
Key Qualifications & Responsibilities
Developed, maintained, and documented test plans for several web and mobile applications with close attention to detail to ensure quality assurance standards were met.
Conducted comprehensive tests on software applications prior to release using black box, white box, regression, functional, usability, and acceptance testing methods.
Implemented automation processes by programming scripts with Java language to facilitate test case execution and reduce manual efforts.
Led the design and implementation of a customer feedback system, which resulted in a 20% increase in online reviews collected on a monthly basis.
Key Achievement:
Developed an automated system that reduced the time spent on manual testing by 70%.
Software Development Engineer in Test (SDET)
QuantumX Innovations, San Diego, CA
January 2014–May 2015
Key Qualifications & Responsibilities
Developed custom test suites from scratch using C# language to optimize manual time expenditure during the validation process.
Created detailed bug reports documenting all defects found during the QA process with corresponding priority levels based on potential risk factors associated with each issue.
Collaborated closely with developers throughout the coding phase while running multiple integration tests simultaneously for major software launches.
Key Achievement:
Successfully identified over 50 source code issues leading up to large-scale software launch, preventing unexpected problems from arising upon release.
Education
Bachelor's Degree Program in Computer Science
San Diego State University, San Diego, CA
September 2010–May 2014
Relevant Extracurricular Activities
Participated in various hackathons throughout college years.
Academic Achievements:
Awarded Excellence Scholarship for four consecutive years.
Skills
Quality Assurance
Manual Testing
Automation Testing
Project Management
User Acceptance Tests (UATs)
Agile Methodology
Selenium
JIRA
Certifications
ISTQB Certified Tester, Foundation Level, 2020
AWS Certified Solutions Architect – Associate, 2019
Linux Certification Program (LCP), Linux Professional Institute, 2018
Certified Software Tester (CST), International Software Testing Qualification Board (ISTQB), 2016
Awards
Award of Excellence, QuantumX Innovations Company Competition, 2017
Memberships
Member of the Association for Computing Machinery (ACM) since 2018
Languages
English—Native
Spanish—Fluent
Interests
Attending tech conferences to keep up with the latest industry trends.
Developing machine learning algorithms as a hobby project.
Chose the Best Quality Assurance Resume Format
Quality assurance jobs are ruthless. It makes all weaknesses and faults immediately evident.
Don't let the same happen to your resume when the recruiter examines it.
To get that QA job, submit a flawless QA resume.
To do that, use the chronological resume. The other two-letter department head (the HR manager) loves this layout.
Here's how to write the perfect resume:
Begin with a compelling resume summary or objective statement.
Describe your work history using appropriate duties and key achievements.
Showcase your education and any tech-related coursework you've taken.
List your resume software skills using choice keywords from the job ad.
Include extra sections to stand out from the other quality assurance resumes.
Also, when writing, use legible resume fonts, white space, and headings to guide the recruiter through all of the valuable sections of your resume.
If seeking entry-level QA tester jobs, switch the positions of the education and work history.
But we'll get to that in a moment.
Pro Tip: Save your quality assurance resume as a PDF. The PDF resume format is a QA-approved way to ensure it renders correctly and keeps your resume in quality shape.
Not convinced using the reverse-chron format for a QA analyst resume is right for you? See our guide: 3 Resume Formats for Any Job Seeker
Looking to write a resume for quality control jobs, instead? Check this out: Quality Control Resume Sample & Guide
2
Write a Quality Assurance Resume Objective or Summary
The QA analyst position is the second-happiest job title in the US.
The first?
The hiring manager, when they read your QA resume!
To make them smile, begin with a compelling resume profile.
This brief intro comes in two varieties: resume summary or resume objective.
Got experience, even just entry-level QA jobs?
Use the resume summary.
A summary statement sums up your QA experience by highlighting your quality accomplishments. Don't forget to use numbers to quantify your achievements—they'll immediately draw the recruiter's attention.
Here are two QA resume samples of summary statements:
right
Results-oriented quality assurance tester with 5+ years expertise in a fast-paced SaaS startup with quick application development life cycles. Achieved company-leading improvement metrics (99.95%) based on quality assurance scorecard, and helped reduce customer support workload by 35%.
wrong
I have been a quality tester for the last 5 years. In that time, I have been responsible for testing software, communicating with the IT and Product teams, developed test cases, and reported defects.
That wrong one tells them you have 5 years of experience, but it doesn't prove how great you were at quality assurance tasks. All you did here was list your quality assurance duties.
That's as unwanted as a race condition.
In the right example, they know you're the best quality testing candidate, because you listed numbers to quantify your key wins.
It definitely meets their acceptance criteria!
What if you don't have QA experience?
Write a QA resume objective statement.
Here, state your career goals and give them a quick pitch as to why you're the test engineer of their digital dreams.
Here are two QA resume objective examples for those without experience:
Quality Assurance Resume Objective Examples
right
Diligent high school tutor with 3+ years experience editing assignments and preparing teenagers for university. Seeking to leverage problem-solving work ethic (100% student placement) with best-rated parent satisfaction (also 100%) to help Technetium succeed as the new test automation engineer.
wrong
I am a high school tutor looking for a change of scenery, so I thought I'd try your company. My lack of quality testing experience shouldn't be a problem, as my mother says I learn fast—and she's a difficult woman to please!
The wrong example above is as useless as dead code.
The right one, on the other hand, shows skills relevant to a quality tester role and uses numbers. It also mentions the company's name to get attention!
In sum, it is as orderly and informative as the best issue tracking software!
Pro Tip: Your QA resume introduction gets read first, but don't write it first. Instead, come back to it after you've completed the other quality assurance resume sections. It's hard to summarize a resume if it hasn't been written yet!
Want more advice on writing a career summary or career objective for QA software tester jobs? Check out our guides: Professional Resume Summary Examples and General Resume Objective Examples
When making a resume in our builder, drag & drop bullet points, skills, and auto-fill the boring stuff. Spell check? Check. Start building a professional resume template here for free.
When you're done, our easy resume builder will score your resume and our resume checker will tell you exactly how to make it better.
3
Describe Your Job Experience on a QA Resume
According to the BLS, US employment of quality inspectors is set to decline a whopping 11% between 2016 and 2026.
With less and less QA jobs, competition will get ugly.
How to ensure you aren't left out?
By writing a work history section that passes their quality inspection.
Look at these quality assurance resume examples:
Quality Assurance Job Description for Resume—Examples
right
Software Test Engineer
January 2013–December 2018
Bromine Apps, New York, NY
Key Qualifications & Responsibilities
Identified test scenarios, estimated test effort, and created test plans.
Maintained regression test suite and other testing scenarios.
Created key metrics and audit processes to ensure established goals were met.
Key Achievements
Accomplished a QAS score on key metrics of 99.95%
Decreased IT workload by 20% due to improvement of QA processes.
wrong
Software Test Engineer
January 2013–December 2018
Bromine Apps, New York, NY
Key Responsibilities
Tested software.
Used Selenium.
Reported issues.
That right example is exactly how a software quality tester resume must look—precise and detailed.
The wrong one is missing achievements with numbers to quantify your past successes.
It's a QA testing fail.
What if the only software bug you've ever found was a roach on your keyboard?
No worries.
Here's how to write a QA resume with no experience:
Sample QA Tester Resume No Experience
right
High School Tutor & College Placement Advisor
January 2015–December 2018
Townsend Harris High School, Flushing, NY
Key Qualifications & Responsibilities
Edited assignments, solved problems, and identified solutions with students.
Oversaw college applications and placement testing for universities.
Instructed students on relevant strategies and software systems.
Key Achievement
Placed 100% of students into respectable colleges and technical schools.
A tutor position seems far removed from a junior QA tester resume, right?
Well, make it relevant by mentioning relevant resume achievements and transferable responsibilities that match the new job requirements.
Though you have no QA experience, you have experience relevant to QA—that's what you have to show them.
Pro Tip: Unlike other jobs where you need an IT resume, a software testing role places less emphasis on experience and more on adaptability. If you have no testing experience, no worries—just promote your skills and education more heavily.
4
Document Your Education on a QA Resume
Whether it's a quality analyst resume or an ETL tester resume, your education section is vital.
Go reverse-chron, putting your highest/most-recent first.
Here's how to list a completed degree:
BA in Information Science
Queens College, Flushing, NY
Related Coursework: Six Sigma, Inspection Methods and Techniques, Non-Destructive Testing, Quality Planning.
If still finishing your degree—
Here's how to add it:
Majoring in Computer Science
City University of New York, New York, NY
Expected Graduation: 2021
Related Coursework: Blueprint Reading, Planning for Six Sigma, Sustainability, Machine Shop Calculations, Systems Analysis.
If high school is all you've finished—
Include it like this:
Staten Island Technical High School, Staten Island, NY
Graduated 2016
Don't add high school if you've completed a degree. However, back up a degree-in-the-works with high school.
Remember—
If you have no work history, move education higher to just below the resume heading statement.
Recruiters hiring entry-level quality assurance analysts or testers pay special attention to the candidates' educational background.
Pro Tip: Most software and mobile testing positions don't require a bachelor's degree, but it can vary by testing complexity. Simple pass/fail tests prefer just a high school diploma, while a quality assurance manager resume may need to show college.
What if you have a GED? Or haven't completed high school? Check out: How to List Education on Resumes: 25+ Education Resume Examples.
5
List the Right Quality Assurance Skills on a Quality Assurance Resume
HR managers are the ultimate quality assurance inspectors. You've got to please them like they're the pickiest end users.
How?
Whether you're writing a Selenium testing resume or a quality engineering resume, give them the QA skills they're looking for.
But, which tester skills are right?
First, create a list of essential quality assurance technical skills and soft skills, like this one:
QA Skills for QA Resumes
Quality Assurance Skills for Resume

| | |
| --- | --- |
| QA Hard Skills | QA Soft Skills |
| Micro Focus LoadRunner | |
| YourKit Java Profiler | Work Well Under Pressure |
| JUnit | |
| Selenium | Analysis and Research |
| Soap UI Pro/Ready API | Persistence |
| Cucumber Pro | |
| XSD/JSON Schema validation | |
But, here's the thing—
Don't just list every skill relevant to quality assurance on your resume.
Instead, use the job ad.
Here's an example QA tester job ad's list of responsibilities:
Recommend and expertly use QA tester tools to streamline the testing process.

[1]

Evaluate, recommend and implement solutions to improve efficiency and increase quality.

[2]

Independently interpret and analyze front end data to highlight opportunities for improvement in service and/or process.
Develop solid knowledge of all front-end functions.
Conduct production testing and post-production monitoring.

[3]
See?
Now you know what they're looking for, so make a skills section personalized just for them:
right
Familiar with a variety of automation testing tools and able to provide recommendations [1]
Adept at improving efficiency and increasing quality [2]
Skilled with production testing and post-production monitoring [3]
wrong
Good with data.
Great with numbers.
Okay with testing.
Just look—
The quality assurance job description tells you exactly which QA skills they value.
If you use it correctly, you look as exclusive as a closed beta tester.
Lastly, satisfy the ATS.
Applicant tracking systems are similar to testing suites. They help larger IT teams manage all the resumes for QA jobs they get daily.
HR managers scan QA resumes into the ATS, give the program some choice resume keywords to look for, and beep boop—each candidate gets scored based on how closely they match the position.
Like a traceability matrix, show them you're the best match.
Beat the ATS by using resume keywords from the job ad so the algorithm scores you as the high quality candidate you are.
Want more tips for writing the perfect quality assurance skills for resumes? See our guide: The Ultimate Skill Set for a Resume: 99+ Job Skills to Add Now.
Pro Tip: Problem-solving isn't just an important skill to have on your quality engineer resume—it's literally the job title. Make sure you work that into the quality assurance skills list on your resume!
6
Add Other Sections for an Effective Quality Assurance Resume
To find defects for a living, you first need to eliminate every defect from your QA resume.
One final defect—
Every good QA job applicant has those previous sections in their resumes.
How to make sure your QA engineer resume stands out among all the rest?
To make it unique, improve your metrics with some extra resume sections.
Here are additional resume sections to outshine other candidates:
Quality Assurance Resume Sample: Extra Sections
The most important non-core section to include, especially if you haven't completed a degree.
Here are some great certifications for quality testers:
Certified Test Engineer (CSTE)
ASTQB Expert Level Test Manager – Strategic
Certified Associate in Software Testing (CAST)
For more, check out the International Software Testing Qualifications Board (ISTQB) or the Quality Assurance Institute (QAI).
Volunteer work on a resume is great for college freshers or students who don't have paid work experience yet.
Knowing another language (human, not coding) comes in handy as a software tester, especially if your company has software or documentation in more than one language.
Hobbies and interests bolster the skills you list—but read our guide before adding them. It's a minefield!
There's more where that came from! We've got a great guide on the right things to add to a resume and a complete tutorial on resume sections.
Pro Tip: Volunteer work is always great experience to show. However, add it to its own resume section instead of grouping it with your paid work history.
7
Attach a Quality Assurance Cover Letter to Your QA Resume
A QA resume without a QA cover letter is like the release life cycle alpha phase—
Not ready for production.
Here's how to write a QA cover letter that will strengthen your resume and land you that job interview:
Tailor your cover letter to this one QA job, because recruiters feel icky when they receive general cover letters.
Write a compelling opening paragraph to introduce yourself.
Identify their goals and plans and explain how hiring you will get them there.
Close with a powerful call-to-action to keep them excited.
Pro Tip: Don't let your quality testing cover letter read like a boring changelog. Spice this and any IT cover letter up with some enthusiasm and personality.
Did you know our resume builder will also help you write a professional cover letter for quality assurance jobs? See these articles: Successful Cover Letter Tips and How to Make a Professional Cover Letter
Plus, a great cover letter that matches your resume will give you an advantage over other candidates. You can write it in our cover letter generator here. Here's what it may look like: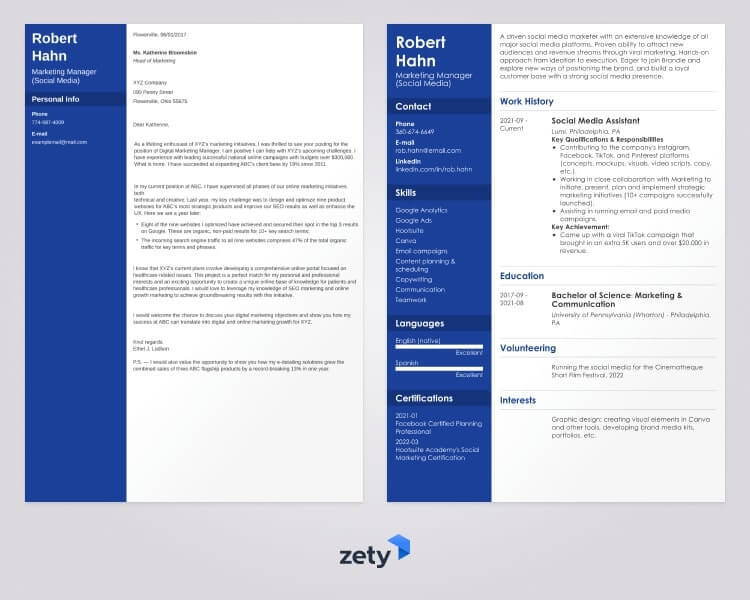 See more cover letter templates and start writing.
Key Takeaway
You've now taken your beta resume, stress-tested the hell out of it, and readied it for stable release—congrats!
Let's recap.
To write the perfect quality assurance resume, remember to:
Use the reverse-chronological format so they're able to assess you quickly.
Write a compelling summary or objective for the QA job position.
Prove how great you are in your experience section with numbered accomplishments.
Keep the job ad handy to choose the skills you have most relevant to them.
Stand out from the pack with extra sections, especially QA certifications, if you have them.
Always include an enticing quality assurance cover letter before sending it off.
Now THAT'S a quality resume, I assure you!
Got any questions on how to write a QA resume? Not sure how to talk up your product assurance skills or achievements? Get at us in the comments below, and thanks for reading!
About Zety's Editorial Process
This article has been reviewed by our editorial team to make sure it follows Zety's editorial guidelines. We're committed to sharing our expertise and giving you trustworthy career advice tailored to your needs. High-quality content is what brings over 40 million readers to our site every year. But we don't stop there. Our team conducts original research to understand the job market better, and we pride ourselves on being quoted by top universities and prime media outlets from around the world.