Parts of a Resume (Elements That Matter in 2023)
Wondering what are the essential components of a resume? Our expert tips on the key parts of a resume will light your path, guiding you towards crafting a stunning resume.
No matter if you have 20 years' experience or are just starting your career, resumes are never easy to write. One thing is the same for everyone though—you need to include the essential resume components in order to be successful.
This short guide will make sense out of how best to organize the parts of your resume and what each resume part should include.
Want to save time and have your resume ready in 5 minutes? Try our resume builder. It's fast and easy to use. Plus, you'll get ready-made content to add with one click. See 20+ resume templates and create your resume here.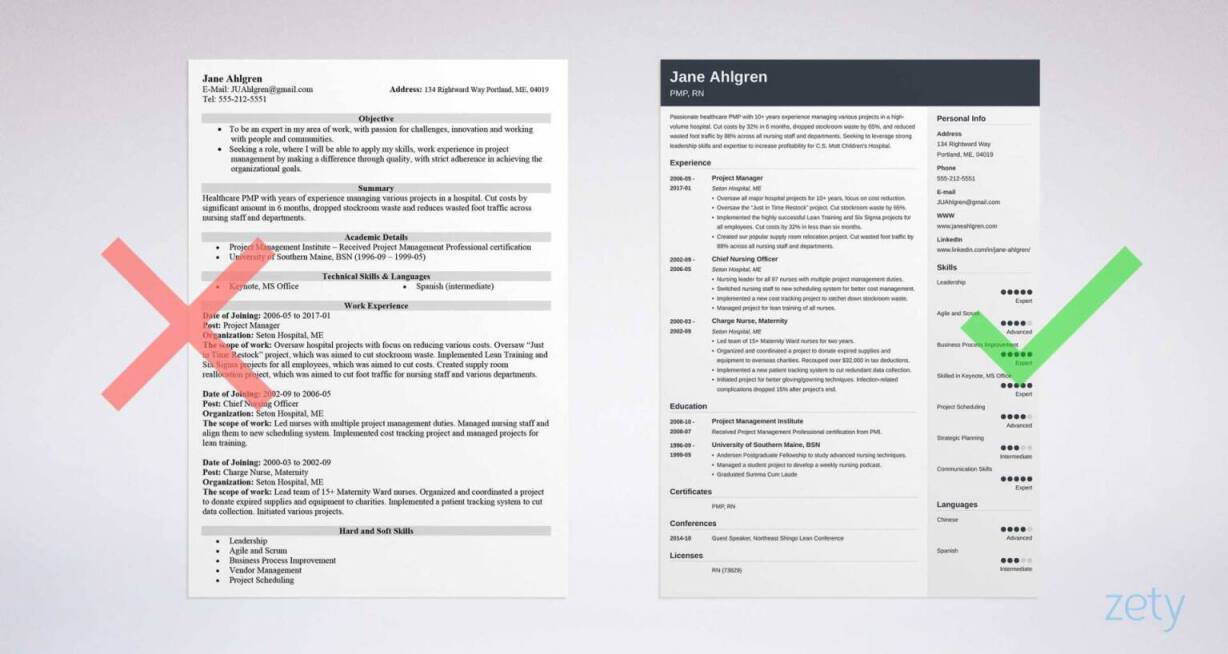 Sample resume made with our builder—See more resume examples here.
If you're looking for more in-depth guides on how to write a resume, try these:
The key parts of any resume are:
Header with Contact Information
Resume Profile (Summary or Objective)
Work Experience
Education
Skills
Additional Section (Awards, Activites, Hobbies, and Interests)
Let's start—
1. Header with Contact Information
If you want the hiring manager to contact you at all, the resume header section is vital and so is at the very top of your resume.
The bare minimum of this resume part is your name, contact phone number, professional email, and address (optional).
If appropriate, dress this part of your resume up with a link to your relevant blog, LinkedIn profile, website, etc.
Pro Tip: Never add information that could be grounds for potential discrimination (race, gender, age/DOB, marital status) on resumes.
Want to know more about what to include in the contact information part of your resumes? Check out this nifty guide: Resume Contact Information: What to List
2. Resume Profile: Resume Summary or Resume Objective
The resume profile is the part of your resume where you basically explain why you're applying for the given job. It should be no longer than a couple of sentences.
Are you an experienced professional? Use a resume summary that outlines your relevant career experience.
Just starting off your career? Use a resume objective. This short blurb mentions your career goals backed up by skills and achievements.
Having doubts as to whether a resume objective or summary is right for you? These two guides should help sort that out: Resume Objective Examples and Resume Summary Examples
3. Work Experience
This element of the resume is where you mention all your professional work experience to show you already have the necessary know-how for the job. Remember to keep it relevant to the position you're applying for. Hiring managers hate generic resumes.
Don't have any work experience or are at the beginning of your career? Mention other gigs that underline your skills in this part of a resume. For example, internships, part-time work, or volunteering.
Be bold and use strong, active resume words to really show that you're the candidate the hiring manager is looking for. Also, give concrete examples to back up your claims.
If you're still unclear as to how to include your job experience, this guide will help you out: Work Experience on a Resume: Samples of Job Description Bulletpoints
4. Education
In the education part of the resume, you list your education credentials. The basic format for listing education in your resume would be the following:
Degree
School Name
Graduation Date
If you're fresh out of school or still studying, consider adding in some relevant coursework or study abroad experience to beef up this resume part. Also, put it in front of your job experience section (which will probably be weaker on entry-level resumes).
Need some more pointers on what to list in the education section? This guide should help: How to Put Your Education on a Resume
5. Skills
This resume part focuses on what expertise you have to get the job. Just like with the experience resume component, being relevant is a key element. Use the job ad as a guide to what skills the employer is looking for.
Remember, don't just focus on your technical skills, list both hard and soft skills appropriate for the job; they're all equally important on resumes.
If you're having a hard time figuring out what skills to include on your resume, check out this guide: What Skills to Put on a Resume: Examples for All Professions
When making a resume in our builder, drag & drop bullet points, skills, and auto-fill the boring stuff. Spell check? Check. Start building a professional resume template here for free.
When you're done, our free resume builder will score your resume and our resume checker will tell you exactly how to make it better.
6. Additional Section
Yes, recruiters do actually look at additional resume information even though it seems to have to do very little with your job or career.
Here's where you can add relevant athletic, academic, or other professional recognition and awards. These would include:
Pro Tip: No matter how well organized your resume parts are, make sure you proofread them. Spelling errors have just as much a chance of shattering your career hopes as a lack of professional experience.
Check out our in-depth guide on key resume categories: Resume Categories: What Sections to Put on a Resume
Plus, a great cover letter that matches your resume will give you an advantage over other candidates. You can write it in our cover letter builder here. Here's what it may look like: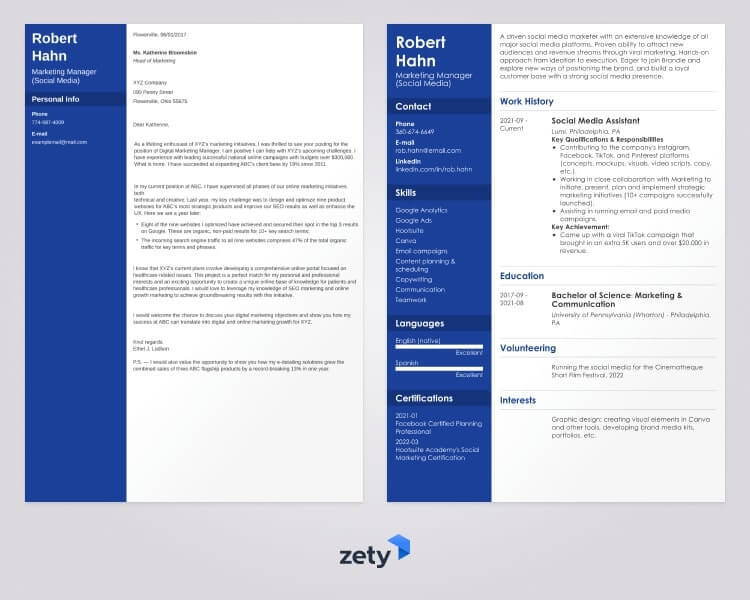 See more cover letter templates and start writing.
And there it is, short and simple! Now go put your resume parts in order and apply for that dream job!
Got any questions on what the essential components of a resume are? Need help with creating a specific part of a resume? Let us know in the comments below, and thanks for reading!
About Zety's Editorial Process
This article has been reviewed by our editorial team to make sure it follows Zety's editorial guidelines. We're committed to sharing our expertise and giving you trustworthy career advice tailored to your needs. High-quality content is what brings over 40 million readers to our site every year. But we don't stop there. Our team conducts original research to understand the job market better, and we pride ourselves on being quoted by top universities and prime media outlets from around the world.
Sources