Our customers have been hired by:
Transforming unfathomable volumes of data into comprehensible solutions that change people's lives? Easy. You do that every day.
Writing a big data resume is somewhat similar—you take all your experience and skills and turn them into a structured data set. This guide will tell you how to do it efficiently so that no important values are missing.
Want to save time and have your resume ready in 5 minutes? Try our resume builder. It's fast and easy to use. Plus, you'll get ready-made content to add with one click. See 20+ resume templates and create your resume here.
Sample resume made with our builder—See more resume examples here.
Big Data Resume Sample
Jason Perez
Big Data Engineer
205-626-4998
jason.perez@email.com
linkedin.com/in/jason.perez17
Summary
A Big Data engineer with over 10 years of experience and a background in statistics. Significantly improved data processing practices at TechBelt based on a thorough understanding of current trends. Revamped Solit's systems to allow new levels of scalability. Eager to join the team at Inventia to drive platform changes and improve processes and tool landscape.
Work Experience
Big Data Engineer
TechBelt, Cincinnati, OH
April 2017–October 2022
Key Responsibilities:
Designed and maintained complex data management & processing systems, ensuring 100% error-free operation.
Collaborated with data scientists to establish data analytics pipelines using ETL processes.
Improved data quality and reliability by 17%, thus raising systems' efficiency.
Key Achievement:
Built a robust data processing system that reduced costs by 21%.
Big Data Developer
Solit, Cleveland, OH
October 2014–February 2017
Key Responsibilities:
Implemented pipelines for data ingestion from a variety of sources, tailoring it to a specific use case and importing it into Hadoop.
Overhauled existing data storing models to support the scalable processing of high-frequency data, which allowed the company to increase revenue by 33%.
Performed code verification, data analysis and control, and documented technical processes.
Key Achievement:
Developed new security protocols in close cooperation with the data protection team, resulting in 13% higher data safety.
Education
Master of Science in Computer Science
Ohio University, Athens, OH
September 2012–June 2014
Bachelor of Science in Statistics
Wright State University, Dayton, OH
September 2009–August 2012
Skills
Hadoop
Spark
Databricks
SQL
Java
Python
Kafka
Oozie
AWS/Azure
Collaboration
Communication
Certifications
CCP Data Engineer, Cloudera, 2019
Google Cloud Certified Data Engineer, 2017
Volunteering
Organized the Kids for the Future Hackaton, 2020
Languages
German—Minimum working proficiency
How to Write a Big Data Resume
Here's the pipeline to a perfect big data resume:
Pick a resume format. Here are the options:
Lay out your resume. That includes arranging the structure of your resume and its visual characteristics.
Map out the mandatory resume sections. They are:
The order of your resume will depend on the format. If you want to be 100% sure your resume is ATS-friendly and that all the sections are there, use a reliable resume template.
Create a resume header. It should include your name, job title, and up-to-date contact details (phone #, email, and LinkedIn link are usually enough.)
Write a summary or objective. Briefly describe your relevant work experience, outstanding achievements, and why you'll be a good fit for the job. Aim at one paragraph and 3–4 sentences.
Give an overview of your experience. Consider the following:
Mention your education. This is probably the easiest part to get right, as you only need to list the final stage of your studies (usually higher education). There's no need to add anything besides the name of the degree and institution, plus dates unless it's a resume for an entry-level candidate. In that case, add a bullet point or two about your academic achievements or awards, noteworthy projects, honors, etc.
List your skills. When you decide which skills to put on your resume, consult the job posting (more in the chapter below).
Don't forget about additional resume details. You can highlight miscellaneous important achievements with the help of extra sections, such as:
Check and optimize. Here's what you do:
For more tips and best practices for every particular step, read this article: How to Write a Resume: General Guide
Noticed a cover letter is required? Don't worry. Here are the instructions on how to create one: How to Write a Cover Letter: Step-By-Step Guide
Key Skills to Add to Your Big Data Resume
Working in big data requires some serious technical skills. However, when assembling your big data resume, you should not just add all the hard skills you've acquired during your career. Study the position requirements carefully to create a truly targeted resume, and add a mix of hard and soft skills matching the expectations. Keep in mind that mentioning some soft skills of yours is equally important—you're working with people too, after all, so interpersonal skills matter.
Feature these top 10 skills on your big data resume:
SQL/NoSQL (Hadoop, Spark, etc.)
Java/Python/other relevant programming languages and tools
Machine learning/AutoML
Data visualization/mining (add job-specific tools, like KNIME, Apache Mahout, etc.)
Knowledge of cloud tech (AWS/Azure, Docker/Kubernetes, etc.)
Pro Tip: Holding a senior position or want to get promoted? Adding leadership skills to your list on top of in-depth IT expertise is always a good idea. Just remember to add some facts justifying these claims (in your resume or cover letter).
Looking for Something Else? We Have the Following:
When making a resume in our builder, drag & drop bullet points, skills, and auto-fill the boring stuff. Spell check? Check. Start building a professional resume template here for free.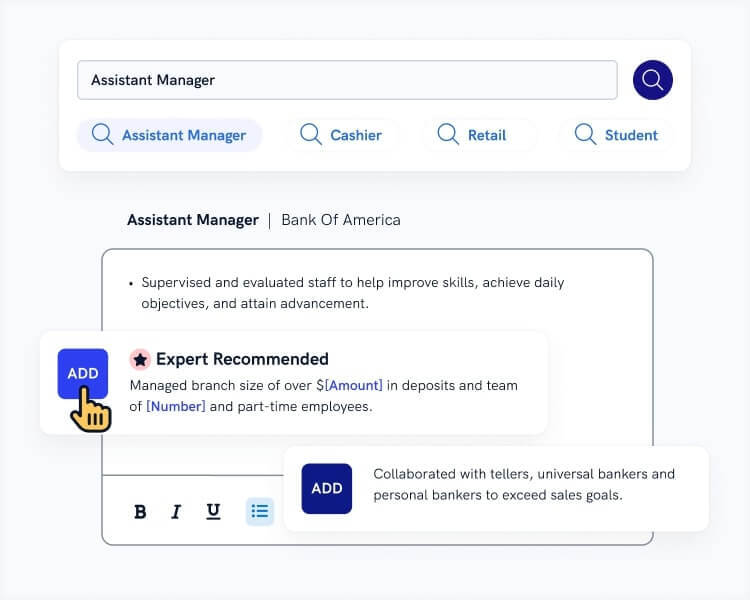 When you're done, Zety's resume builder will score your resume and our resume checker will tell you exactly how to make it better.
Thank you for reading our guide on writing a big data resume. Is there anything you think we should add? Feel free to start a discussion in the comments below.
About Zety's Editorial Process
This article has been reviewed by our editorial team to make sure it follows Zety's editorial guidelines. We're committed to sharing our expertise and giving you trustworthy career advice tailored to your needs. High-quality content is what brings over 40 million readers to our site every year. But we don't stop there. Our team conducts original research to understand the job market better, and we pride ourselves on being quoted by top universities and prime media outlets from around the world.