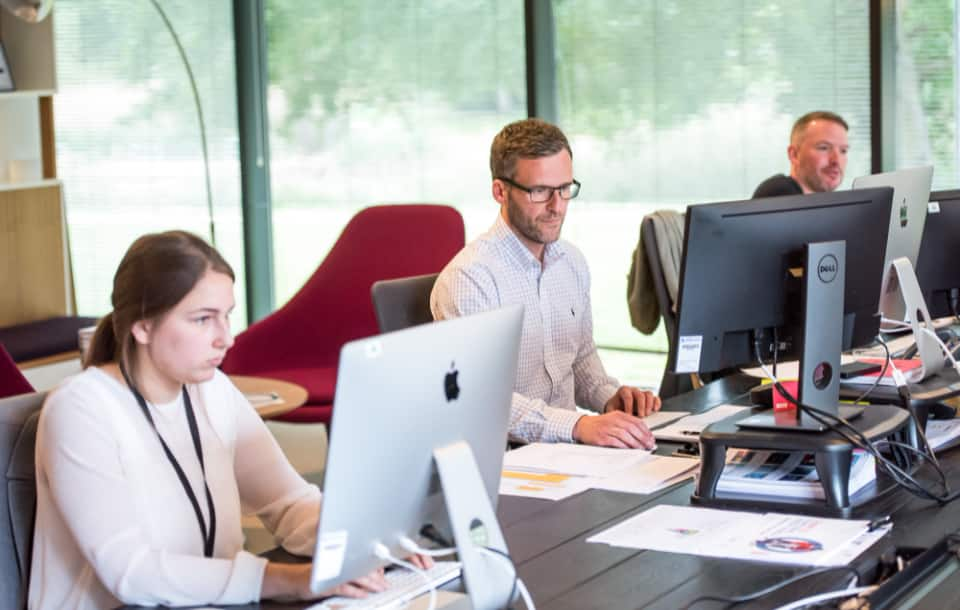 Kubernetes Resume Sample for DevOps Engineer / Consultant
Having trouble containing all your skills and knowledge on your Kubernetes resume? You're in the right place!
Hey there, Kubernetes whiz! Your resume shouldn't be like a container with a memory leak – A generic resume is like a misconfigured YAML file – it just won't work. Let's make it tight and efficient.
See how to orchestrate your accomplishment stack to match the recruiter's intentions and scale your chances of landing the job with a Kubernetes resume.
This guide will show you:
A Kubernetes resume sample better than 9 out of 10 other resumes.
How to write a Kubernetes DevOps resume that will land you more interviews.
Tips and examples of how to create bullet points on a Kubernetes resume.
How to describe your engineer / consultant experience on a Kubernetes resume to get any job you want.
Want to save time and have your resume ready in 5 minutes? Try our resume builder. It's fast and easy to use. Plus, you'll get ready-made content to add with one click. See 20+ resume templates and create your resume here.
Sample resume made with our builder—See more resume examples here.
See other guides we wrote for Linux command masters:
Sample Resume for Kubernetes Jobs
Chuck J. Robinson
3665 Custer Street
Erie, PA 16501
814-964-3378
chuckjrobinson@email.com
linkedin.com/in/chuckjrobinson
github.com/ChuckRobinson/homegrown
Summary
DCA- and CKA-certified Kubernetes DevOps engineer with 5+ years of experience. Seeking career advancement at GROU as Kubernetes DevOps Engineer. Qualified and willing to deploy innovative solutions to raise quality. At NICO, integrated Zabbix and Ansible to limit lead times by 14%.
Experience
Kubernetes Developer
NICO, Edinboro, PA
August 2018–Present
Broke a monolith application into microservices on AWS.
Managed a network of 20+ Unix servers.
Build Kubernetes on AWS with Route53 from scratch.
Set up and managed Docker containers, running Go and PHP applications, for deployment into Kubernetes Pods.
Wrote the specifications and policies for +12 tools automation.
Key achievement:
Limited lead times using Zabbix and Ansible by 14%.
AWS Engineer
TOD Inc., New York, NY
January 2015–May 2018
Designed and developed a solution framework for three Fortune 500 clients.
Proposed recommendations for RFP/RFI responses.
Automated environment provisioning with Chef, boosting access management efficiency by ca. 60%.
Education
2014 Bachelor of Science in Computer Science
Berkley College, New York, NY
Skills
AWS
Google Cloud Platform
Docker management with Kubernetes
CI/CD
Python, Go, Ruby
Jira
Microservices
Scrum
Communication skills
Problem-solving skills
Organization skills
Time management skills
Critical thinking
Courses and Certificates
Docker Certified Associate
Certified Kubernetes Administrator
Google Professional Cloud Developer
Hobbies & Interests
Mountain climbing
Cross-country running
Let's get down to writing a Kubernetes resume:
1. Manage the Format of Your K8s Resume
A Kubernetes DevOps engineer manages the Kubernetes aka k8s aka kube environment. It involves maintenance, optimization, and deployment of scale into clusters. So the Kubernetes resume should prove the candidate is well-versed in cloud engineering and container technologies.
About that—
Why don't you prove you're all about the nitty-gritty while structuring your resume? The rule of three nodes minimum applies here, too:
Resume parts: Header, Summary/Objective, Experience, Education, Skills, Other
Resume format: Reverse chronological
Resume layout: 1-inch margins, 1-1.15 line spacing, 12pt font (Arial, Verdana, or Calibri)
And don't go overboard with your resume length. A One-Page Resume Is Sufficient
2. Integrate All Successes Into the Resume Summary or Objective
Ahoy there!
Bamboozled by the terms career summary or career objective?
Don't be.
Here's how to write an elevator pitch worthy of a "sailing master":
If you're a fan of bullet points, you can also choose to write A Summary Of Qualifications That Proves You Have Experience
3. Develop Your Experience Section
Don't go back as far as to the Project Seven of Nine with your work history. Instead, stick to the most recent experience and qualifications on your resume.
Targeting a specific job posting is essential. You'll save your application from being discarded. Read Why Generic Resumes Are Bad
4. Define Your Degree Status on the Kubernetes DevOps Resume
With the rise of possibilities in tech, the need for qualified personnel is real.
Hardly ever, a bachelor's degree isn't required. For many roles, sometimes even junior, a master's is desirable.
A1 in the professors' books or not, list your degree on the resume, especially if it's closely related.
As an old stager in the industry, you can only mention the school, degree, and graduation date. But—
If your education is the control plane of skills and abilities, add more nodes. Mention the coursework you took and is relevant, as well as your GPA if it was 3.5 or higher. Or whether you made it to the Dean's list and graduated with honors.
Pro Tip: Your education should be more prominent if you have little to no experience. So switch things around in a Kubernetes resume for a junior position and move the education section right below your career objective.
5. Deploy Kubernetes Skills on Your Resume
Writing a resume isn't the time and place to be shy.
In the skills section, talk big about what you know and can do.
Go back to the job description, and see which skills are required to get the gig. List only those you have and the hiring manager wants you to have.
Don't skip the nice-to-haves—they're a decisive factor in most cases.
Be explicit. If you know the software, name it. If you can code, say in which language.
Create a practical configuration of hard and soft skills on your resume. They're your API for building relationships between you and your stakeholders.
Transferable skills work wonders on resumes with no experience.
Take a look at a sample list of skills for your Kubernetes DevOps engineer resume:
Kubernetes Resume Skills
Unix/Linux administration
Automation server (Jenkins)
Cloud-based servers (AWS, Azure, OpenStack, Google Cloud Platform)
Apache Web Server
Docker management with Kubernetes
Continuous Integration and Continuous Delivery (CI/CD)
Programming languages (.NET, Java, Python, Go, Ruby, Bash)
Ticketing software (Jira, Bugzilla, ServiceNow)
Microservices
Agile methodology (Scrum, Kanban)
Adaptability
Active learning
Perceptiveness
Here's even a more extensive list of skills you can use on your resume: 99+ Great Skills For Any Job
When making a resume in our builder, drag & drop bullet points, skills, and auto-fill the boring stuff. Spell check? Check. Start building a professional resume template here for free.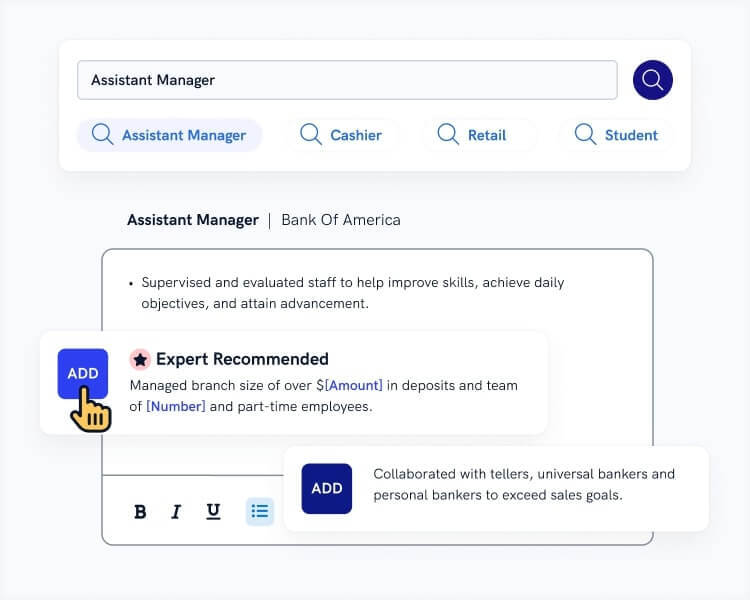 When you're done, our professional resume builder will score your resume and our resume checker will tell you exactly how to make it better.
6. Scale Your Qualifications to Additional Units on the Resume
You ran a capacity test, and what you've written so far is necessary.
But recruiters don't want necessary. They need irreplaceable.
So, use your knowledge of Docker and deliver convincing arguments for your employability in bundles.
Here are some examples of extra points you can include on your Kubernetes resume:
Publications & appearances that matter to tech-freaks
Relevant memberships and associations
Technology conferences (DockerCon, DevOps Days)
And—the VIP of additional resume parts—certificates and licenses.
You need to pepper your strengths all over the resume, and what's better than being a Certified Kubernetes Admin or Docker Certified Associate, right?
If you completed one of the below, make sure they land on your resume:
There's so much you can do but don't know how to write about it? Find the best sectioning advice in our guide: Resume Sections: Write It To Win It
7. Configure a Cover Letter for the Kubernetes Resume
Demand creates its supply. Only between 2019 and 2029, computer and information technology will add over 530,000 new jobs.
You're good with numbers, so imagine the competition.
Jeez.
To top it all—
The recruiters take only 6 (7 at best) seconds to decide whether you fit the company. How about your chances now?
Speak no more about whether you need a cover letter or not, and get down to writing it.
Personalize and elaborate on your career highlights. Here's how to Compose A Job-Landing Cover Letter.
Plus, a great cover letter that matches your resume will give you an advantage over other candidates. You can write it in our cover letter builder here. Here's what it may look like: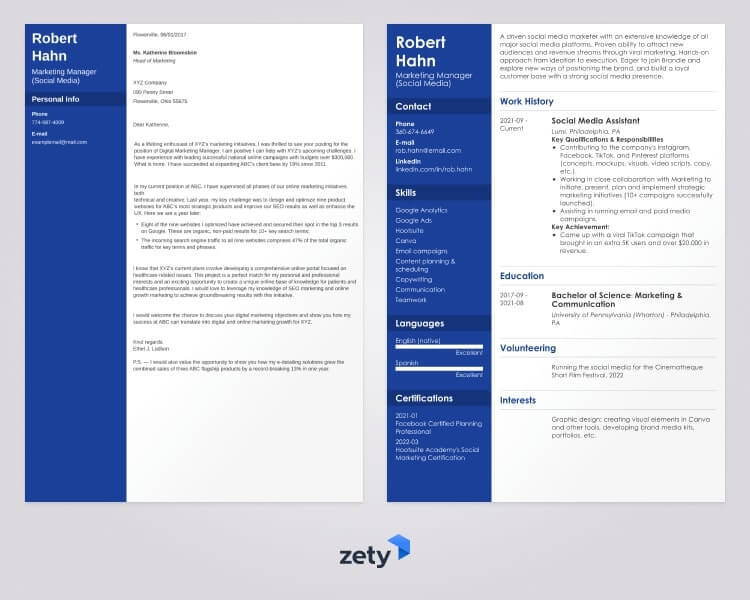 See more cover letter templates and start writing.
Alrighty! That's the one-stop show for your Kubernetes resume.
Enjoy the ride, and good luck!
Please tell us—
Do you think the above tips are helpful? How about writing a cover letter for a Kubernetes DevOps engineer—did you enjoy that part? Give us a shout in the comments section!
About Zety's Editorial Process
This article has been reviewed by our editorial team to make sure it follows Zety's editorial guidelines. We're committed to sharing our expertise and giving you trustworthy career advice tailored to your needs. High-quality content is what brings over 40 million readers to our site every year. But we don't stop there. Our team conducts original research to understand the job market better, and we pride ourselves on being quoted by top universities and prime media outlets from around the world.
Sources