Business Intelligence Resume: Sample & Full Guide [20+ Tips]
You know exactly how to make data tell a compelling story. Now it's time for your business intelligence analyst resume to compel the recruiter to hire you.
Business Intelligence Analyst Resume Sample
Theron Litchfield
theron.litchfield@gmail.com
415-201-9993
Objective
Collaborative and technically-minded business intelligence analyst with 6+ years of experience in Big Data crunching. Eager to support DatAxe with expert analytical skills to advance the company's business operations and strategic initiatives. In previous roles reduced account receivables by 18% by improving billing strategy, as well as boosted sales by 15% through recommendations on process improvements.
Work Experience
Senior Business Intelligence Analyst
InfoSys, Los Angeles, CA
2016–
Operationalized business intelligence solutions and conducted advanced analytics to identify opportunities and strengths to meet business goals.
Presented and communicated the findings in an understandable and actionable way tailored to the audience and customer's needs.
Established long-term and value-added relationships with assigned business partners to educate and develop the analytic capability of business customers and the organization.
Created and maintained data visualizations that educated, informed and engaged business partners on key metrics and performance measures.
Collaborated with enterprise data warehouse, data governance, and business teams on data quality issues, as well as architecture or structure of data repositories.
Key achievements:
Trained 10+ business users in data modeling in Excel using PowerPivot for creating ad-hoc reports.
Converted 300+ reports from Oracle Reports into SSRS.
Identified and recommended process improvements that boosted sales by 15% over a quarter.
Business Intelligence Analyst
Datrix Systems, San Francisco, CA
2013–2016
Worked with cross-functional teams to structure problems, identify appropriate data sources, extract data and develop integrated information delivery solutions.
Played key roles in medium to large projects (e.g. data modeler, data architect).
Participated and provided technical leadership in all phases of BI projects: from discovery and planning through implementation and delivery.
Performed cleansing, de-duplication, and harmonization of data across various systems.
Supported the planning and coordination of data governance activities.
Developed and maintained an enterprise data architecture roadmap to improve the maturity and effectiveness of enterprise data management.
Key achievement:
Coordinated the conversion of 200+ reports from Crystal Enterprise to SSRS.
Redesigned the company's strategic approach to billing that resulted in boosting revenue by 7% and reducing accounts receivable by 18%.
Education
Master of Information and Data Science
University of California, Berkeley, CA
2013
B.A., Information Systems
UCLA, Los Angeles, CA
2011
Key Skills
SQL Server
HIVE
Data visualization
Tableau
Qlik Sense
MS Excel
MS PowerPoint
Analytical skills
Communication
Critical thinking
Certifications
SQL BI Certification—Microsoft
SAS Big Data Certification
Intellipaat Big Data Hadoop Certification
Languages
Interests
Sci-Fi movies of the 80s
Windsurfing
Want to save time and have your resume ready in 5 minutes? Try our resume builder. It's fast and easy to use. Plus, you'll get ready-made content to add with one click. See 20+ resume templates and create your resume here.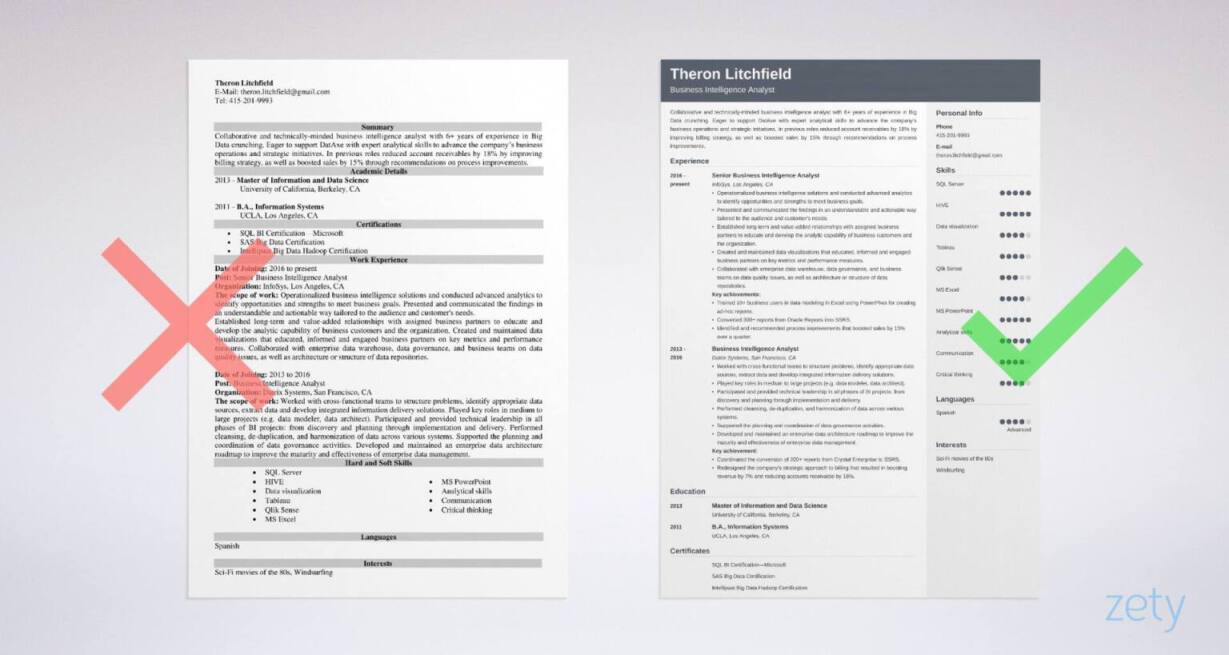 Sample Business Intelligence Resume—See more templates and create your resume here.
Looking for other IT positions resume advice? Cast a glance at our guides:
Here's how to write a business intelligence resume that demonstrates your intelligent approach to the resume science:
1. Choose the Best Format for Your Business Intelligence Analyst Resume
A single glance is enough for a recruiter to have an opinion about you as a candidate.
Here's how to make the best impression possible:
2. Write a Business Intelligence Resume Summary or Objective
The top section of the page should be taken up by a profile on your resume.
It's a short paragraph that brings together the highlights of your resume and is a written version of an elevator pitch.
You have two choices:
A resume summary is great for a senior business intelligence analyst resume with at least 2 years of experience. It focuses on your experience and achievements.
A resume objective is suitable for an entry-level business intelligence analyst resume. It focuses on the skills that make you a perfect fit for the position.
Either way, the opening section of your resume will benefit a lot if you put numbers that demonstrate your impact.
Pro Tip: Write your resume profile once your entire resume is ready. It will be much easier to pick out the meatiest bits.
3. Create the Perfect Business Intelligence Job Description for a Resume

Your resume work experience is vital.
It must convince the recruiter you'll get the job done better than the other 250+ candidates.
How do you do this?
The first step is to tailor your resume to the job posting:
First, say what your latest job was and then move on to the previous ones.
Each entry in your experience section should consist of your job title, company name and location, and dates worked.
Use bullet points. Don't write paragraphs. 5-6 bullets per job will be enough.
Each bullet point should start with a resume action verb, such as developed, redesigned, supported, collaborated, etc.
Focus on the experience that's relevant to the position.
Pro Tip: Quantify as many of your experience bullets as you can. Cherry pick the things you take the most pride in and put them in a key accomplishments subsection.
4. Make Your Business Intelligence Analyst Resume Education Section Stand Tall
Let's admit it—
Your resume education section is just as crucial as any other.
Here's how to cope with it smoothly and quickly:
If you have 5+ years of professional experience limit your education section to listing your degree, graduation date, school name, and location.
Less experience? Consider including your extracurricular activities, academic awards and achievements, as well as relevant coursework.
If you want to include a certification on your resume it's a good idea to create a dedicated section to make it more visible.
Pro Tip: You can also add info on your GPA score if it was upwards of 3.5 and if you graduated less than 3 years ago.
5. Highlight Your Business Intelligence Analyst Skills
There's one thing all recruiters have in common—
They look for skills.
The list below will help you identify your core business intelligence analyst strengths:
Business Intelligence—Skills for a Resume
Big data
Business Objects
Data analysis
Data architecture
Data management tools
Data reporting
Data visualization
Data warehousing
HIVE
MS Excel
MS PowerPoint
Multitasking
Qlik Sense
Quantitative analytic methodologies
Relational databases
SAS
Scripting languages
SQL Server
Statistics
Tableau
Here's how to pick out skills relevant to the position:
Make a list of your good skills to put on a resume, and include your hard and soft skills, as well as all your technical strengths.
Revisit the job listing to see what skills it mentions by name.
Pick out these skills from your master list.
Put up to 10 of your strongest skills in a key skills resume section.
Shower your entire resume with skills: put some in the resume profile and job description too.
Pro Tip: To avoid falling victim to the presenter's paradox, focus on your strongest skills and leave out all the others.
When making a resume in our builder, drag & drop bullet points, skills, and auto-fill the boring stuff. Spell check? Check. Start building your resume here.
When you're done, Zety's resume builder will score your resume and tell you exactly how to make it better.
6. Add Other Sections to Your Business Intelligence Analyst Resume
Wow the recruiter by adding some extra sections to your business intelligence resume:
7. Attach a Business Intelligence Resume Cover Letter

How important are cover letters?
Quite important.
Why?
Half of the recruiters expect you to send a cover letter.
Here's how to how to make a job-winning cover letter in a matter of minutes:
Make sure the length of your cover letter doesn't discourage the recruiter from reading it.
Pro Tip: Write and send a follow up email for a job to stand out.
This is it!
This is how you make a job-winning resume for business intelligence analyst positions.


Are you writing a business intelligence resume for the first time? Or perhaps you're a seasoned pro eager to help the rookies out? We'd love to hear from you, leave your comment below!