Bioinformatics Resume: Example, Skills & Writing Guide
AI can do a lot to make your life easier, but it can't magic up a bioinformatics resume out of thin air. Luckily, this biometrics resume writing guide has got you covered!
Once upon a time, there was biology, and the IT sector, and out from their budding love came the field of biometrics. Clearly, it takes two to tango.
So why does you + your resume not produce a job in biometrics?
Your second addend probably isn't pulling its weight.
It's time to scan for mismatched data in your resume.
This guide will show you:

A bioinformatics resume example better than 9 out of 10 other resumes.
How to write a bioinformatics resume that will land you more interviews.
Tips and examples of how to put skills and achievements on a bioinformatics resume.
How to describe your experience on a resume for bioinformatics scientists to get any job you want.
Want to save time and have your resume ready in 5 minutes? Try our resume builder. It's fast and easy to use. Plus, you'll get ready-made content to add with one click. See 20+ resume templates and create your resume here.
Sample resume made with our builder—See more resume examples here.
Looking for positions with similar sequences? Check out this handy list:
Bioinformatics Resume Example
Gregory Hammons
Bioinformatics Expert
601-309-9927
ghammons@zetymail.com
Linkedin.com/in/greghammons
Professional Summary
Experienced and driven bioinformatics expert with 11 years in the industry and a PhD. At XenixTech, collaborated with technical support scientists and engineers to develop a breakthrough solution in genomic databases, increasing data storage capacity by a third and boosting efficiency by 23%. Seeking to apply my innovative drive and technical expertise towards designing groundbreaking biometrics solutions for DGD Technologies.
Work Experience
Bioinformatics Expert
XenixTech Ltd., San Francisco, CA
2015–Present
Analyzed 400+ large-scale multidisciplinary datasets to extract potentially useful genomic data.
Trained over 30 undergraduate students in testing paradigms, research protocols, and microarray data analysis.
Published and co-authored 80+ papers (including The Lancet and Nature), with 7 gaining recognition in the broader scientific community.
Spearheaded new research and efforts in cancer drug discovery.
Bioinformatics Analyst
LRLScience, Anaheim, CA
2009–2014
Contributed majorly to two >$2 million contracts.
Conducted profiling and sequence analysis of biosamples.
Wrote weekly progress reports to keep clients updated.
Education
PhD in Computational Biology
University of California, Los Angeles
Graduated: 2013
Master of Science in Biotechnology
University of California, Los Angeles
Graduated: 2007
Skills
Microarray analysis
Data operation
Lab management
Computational analysis
Excellent communication
Attention to detail
Programming Languages
Achievements
QCB Certificate obtained from the Lewis-Singler Institute for Integrative Genomics
Speaker at the Gene Therapy Medical Affairs Summit (2019 & 2021)
Without further ado, this is how you write a successful bioinformatics resume:
1. Begin by Choosing the Right Bioinformatics Resume Format
Bioinformatics scientists work with both biologists and IT departments to define analysis questions, interpret results, and then integrate the obtained data into bioinformatics infrastructures. Your bioinformatics resume needs to show your knowledge of state-of-the-art bioinformatics methods, plus skills needed to design effective workflows.
In other words—
That's a lot on your plate. So first up, speaking of workflows:
It's best to apply a consistent one to your resume formatting to make your data as easily accessible to recruiters as possible.
Follow these basic tips to create a navigable, transparent resume layout:
As you design your document, keep in mind that resume length matters. How many pages should a resume be? Well—
Submit a one-page resume if you have fewer than around 7 years of experience. If you focus only on relevant information, you should have no trouble getting it to fit.
Sending in a two-page resume is only a good idea if you have tons of relevant work experience and a long list of achievements to share.
Ready to move on? One last thing:
Save your resume as a PDF file to preserve formatting and layout. Only submit a .docx resume if the job ad specifically asks for this format.
Read more: What Should the Best Resume Look Like?
2. Write a Convincing Bioinformatics Resume Profile
A resume profile is not the genomic sequence of your resume, contrary to what you might think.
It's actually a brief resume introduction statement that serves to capture the attention of the recruiter by summarizing who you are, how you got here, and what goals you have set.
Now, you have two options, depending on your experience.
Write a resume summary if you're an experienced bioinformatics scientist who's already worked in the field. State your most noteworthy accomplishments. Be bold and throw in a positive adjective or two, and back your statements of greatness up with numbers, recruiters love them!
And if you're yearning for a chance to get your first bioinformatics gig, writing a resume objective helps convince the recruiter you're worth a shot. Talk up the skills and knowledge you have from outside the field to sell yourself as the next bioinformatics hotshot. Focus on transferable skills that could find their place in this field.
Read more: How Best to Summarize Your Qualifications
3. Hit Them with Your Bioinformatics Work Experience Highlight Reel
Computational biology is a prosperous field, with a whopping 15% projected growth in employment! That's borderline ridiculous!
While it means plenty of opportunities to get hired, the increased competition also spells larger cohorts of competitors.
Here's the best tips to engineer your work section better than CRISPR could:
As said previously, going with the reverse-chronological format means writing about your latest or current job first.
Each entry should include the job title you held (more on that in a moment), alongside the dates worked, employer name and location, and 4 to 6 efficient resume bullet points detailing your major achievements. Older positions get fewer bullets to prevent overcrowding.
To boost your chances, employ action verbs and numbers. The former help keep the recruiter's attention, the latter quantify your key career achievements to something more easily digestible.
Now, about that job title: The key to a great job application is tailoring your resume to the job. So, even if your last position's official title was "Bioinformatics Analyst", if now you're trying for a "Bioinformatics Scientist", then that's what you are.
Read more: How to Describe Work Experience on a Resume
4. Outline Your Education Properly
Some say education hardly matters on a resume. They're wrong.
Think about it—why would positions requiring at minimum a Bachelor's, and staggeringly often employing candidates that hold a PhD, not care about your education?
A strong resume education section is obviously a must. What's not obvious is how to structure it properly:
If you have sufficient experience to put your college years firmly behind you, list just the school name and location, the year you graduated, and the degree obtained.
However, if you're still relatively inexperienced, peppering in some university achievements definitely helps. Listing relevant coursework on your resume, alongside special electives, honors on your diploma, or a beastly GPA can all serve their purpose in making you shine brighter than a genetically engineered guppy fish.
Read more: Should Your GPA Go on Your Resume? When, Where, and How to List It
When making a resume in our builder, drag & drop bullet points, skills, and auto-fill the boring stuff. Spell check? Check. Start building a professional resume template here for free.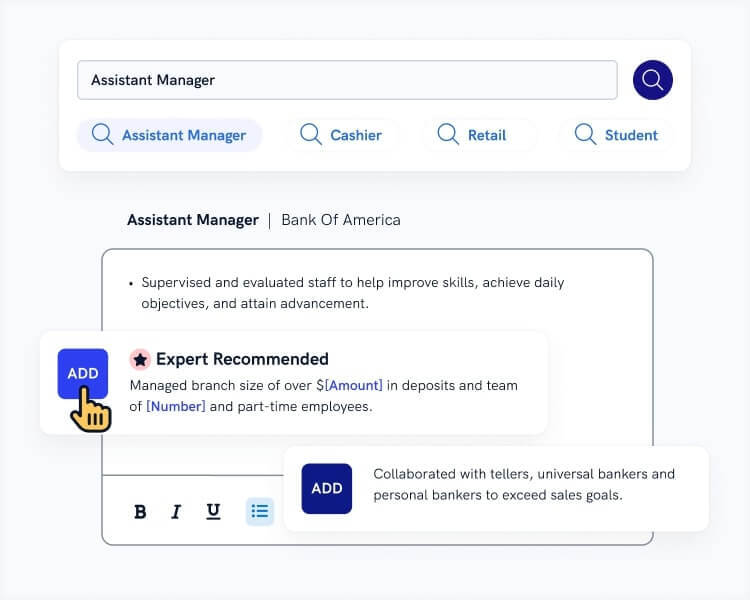 When you're done, Zety's resume builder will score your resume and our resume checker will tell you exactly how to make it better.
5. Build the Perfect Bioinformatics Resume Skills Section
The way to an impeccable skills section lies in carefully selecting those skills the employer wants to see.
But hang on, "mind reading" surely isn't on your list, so how can you possibly do that?
It's not as tricky as you might think. Here's what you do:
Prepare a master list of all the skills you have, divided into several sections, like soft skills, hard skills, and technical skills. Any that don't apply to these three should also be listed, it's not particularly important what you name them.
Then, scan the job posting for the resume keywords used by the employer. It should be rather easy to see what they need from the model candidate by looking directly at the "Requirements" section.
Cross-reference those same keywords with what you put down in your skills list. Any that match should find their way onto your resume.
And just like that, you have an expertly crafted designer baby of a skills section. No copy-pasting, no bloating, just pure skill.
For your reference, here's a list of bioinformatics skills any employer would love to see:
Bioinformatics Skills—Resume
Data processing
NGS protocols
Data sciences
Python
Programming languages (C, C++, Java, SQL, Python, Angular, R)
Lab management
Cloud computing
Clinical research
Microarray data analysis
Writing reports
Genomics
Machine learning
Statistics
Math skills
Ability to work independently
Pro Tip: For even greater chances at success, sneakily weave in those skills mentioned in the job ad when demonstrating your experience in the work section of your resume.
6. Add Extra Sections to Spice up Your Bioinformatics Resume
Congrats, your resume can now stand on its own two legs!
But it's not over. When you consider the sheer number of competitors, you need to stand far above them.
You need to excite your employer about the prospect of hiring you more than a grant from the National Science Foundation would.
To do that, add some additional sections to your resume that show off your passion or uniqueness.
Here are a few ideas:
Extra achievements and awards
Conferences you attended and/or spoke at
Read more: Good Things to Put on Your Resume
7. Attach a Bioinformatics Cover Letter to Your Resume
A resume and a cover letter form a bond stronger than that between two nucleotides, so don't skip out on it!
First, make sure you're following a good cover letter format before you even start writing.
Next, your cover letter should address the hiring manager directly, by name (and academic title if they have one).
In the opening of your cover letter, you should stress what drew you to the company, and provide a major win or two to keep them interested.
Then, in the body, capitalize on the attention you won over by bragging about more of your achievements.
Finally, end your cover letter with a call to action and an incentive that will make them want to talk to you.
As far as identifying the optimum cover letter length goes, keep it contained within 3 or 4 paragraphs (or about 1 page).
Read more: Modern Cover Letter Templates to Use
Plus, a great cover letter that matches your resume will give you an advantage over other candidates. You can write it in our cover letter builder here. Here's what it may look like: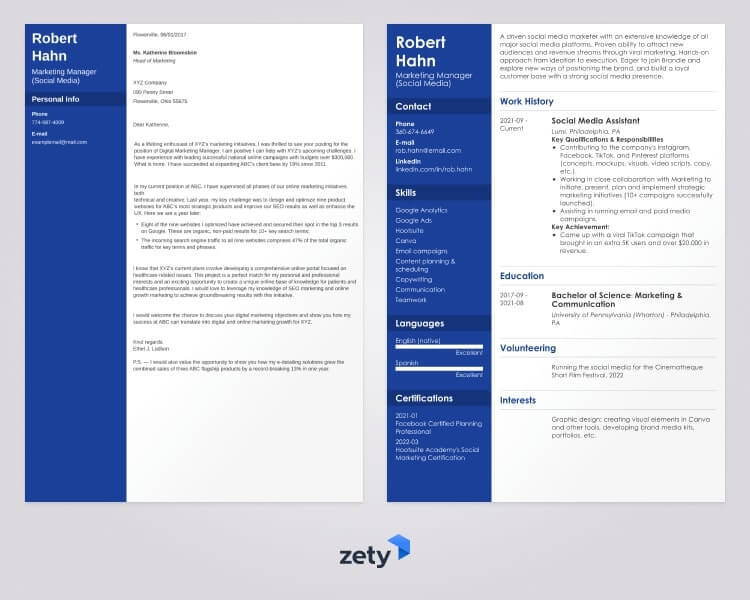 See more cover letter templates and start writing.
Eureka!
A perfect bioinformatics resume! You'll be rolling in job offers before you know it.
Got any burning questions you want answered? Maybe you're still unsure about listing bioinformatics resume skills? Our comments section is always open!
About Zety's Editorial Process
This article has been reviewed by our editorial team to make sure it follows Zety's editorial guidelines. We're committed to sharing our expertise and giving you trustworthy career advice tailored to your needs. High-quality content is what brings over 40 million readers to our site every year. But we don't stop there. Our team conducts original research to understand the job market better, and we pride ourselves on being quoted by top universities and prime media outlets from around the world.