Lab Technician Resume Sample (with Skills & Job Description)
You turn raw samples into science that helps people live longer. Show the hiring manager you're a centrifuge in a white coat with this standout sample lab technician resume.
No lab can possibly function without the patience and skills of lab techs like you. But still, getting a job as a lab tech can be incredibly hard—even if you can calibrate lab equipment with your eyes closed and document your findings with superhuman precision.
The solution? Crafting a lab technician resume that stands out like a test tube of blood against a white lab table.
This guide will show you:
A lab technician resume example better than 9 out of 10 other resumes.
How to write a lab technician resume that will land you more interviews.
Tips and examples of how to put skills and achievements on a lab technician resume.
How to describe your experience on a resume for a lab technician to get any job you want.
Want to save time and have your resume ready in 5 minutes? Try our resume builder. It's fast and easy to use. Plus, you'll get ready-made content to add with one click. See 20+ resume templates and create your resume here.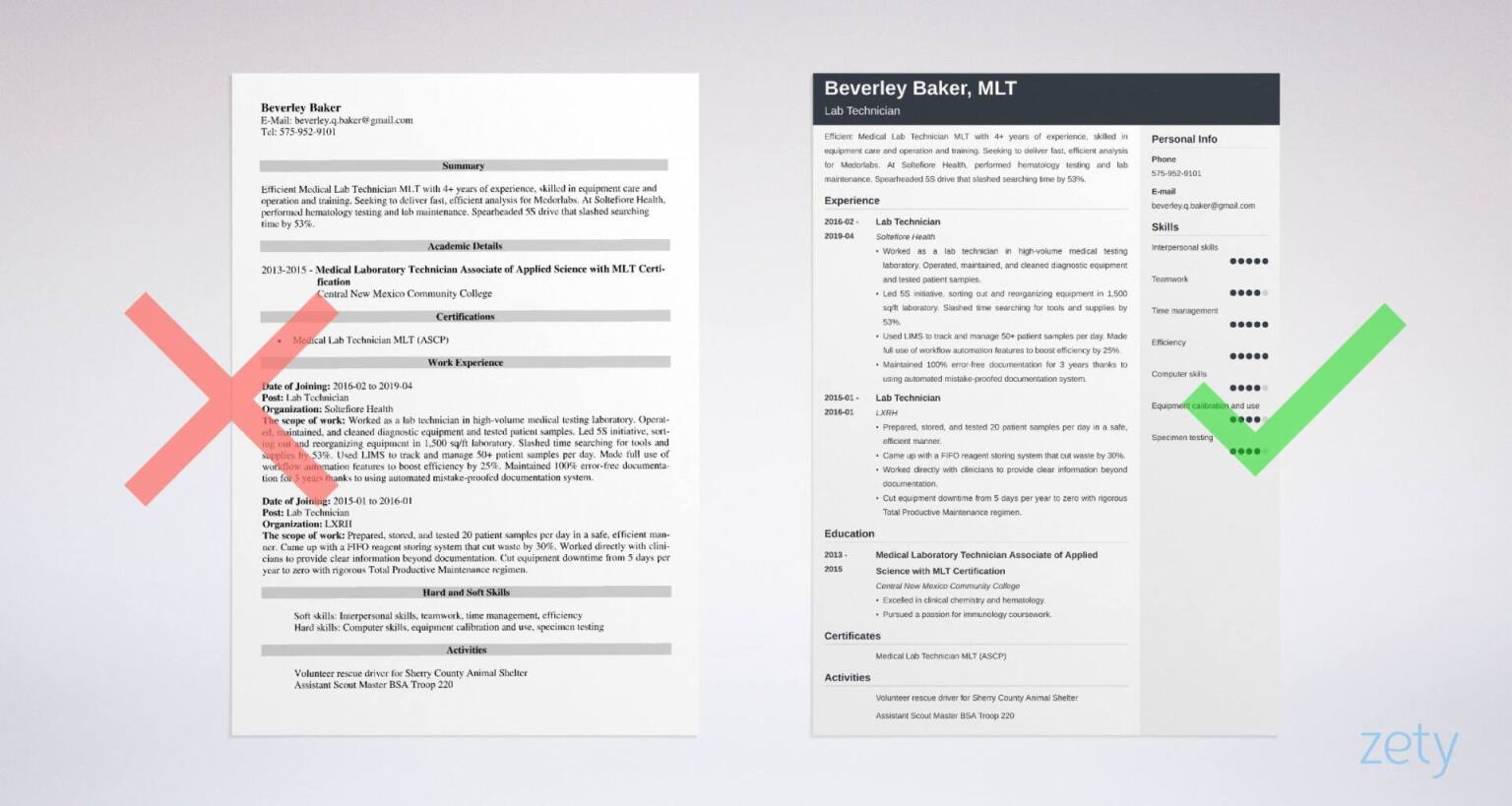 Sample Lab Technician Resume—See more resume templates here.
Looking for a different type of resume in this industry? Check out these guides:
Lab Technician Resume Sample
Beverley Baker, MLT
beverley.q.baker@gmail.com
575-952-9101
Professional Summary
Efficient Medical Lab Technician MLT with 4+ years of experience, skilled in equipment care and operation and training. Seeking to deliver fast, efficient analysis for Medorlabs. At Soltefiore Health, performed hematology testing and lab maintenance. Spearheaded 5S drive that slashed searching time by 53%.
Work Experience
Lab Technician
Soltefiore Health
Feb 2016–April 2019
Worked as a lab technician in high-volume medical testing laboratory. Operated, maintained, and cleaned diagnostic equipment and tested patient samples.
Led 5S initiative, sorting out and reorganizing equipment in 1,500 sq/ft laboratory. Slashed time searching for tools and supplies by 53%.
Used LIMS to track and manage 50+ patient samples per day. Made full use of workflow automation features to boost efficiency by 25%.
Maintained 100% error-free documentation for 3 years thanks to using automated mistake-proofed documentation system.
Lab Technician
LXRH
Jan 2015–Jan 2016
Prepared, stored, and tested 20 patient samples per day in a safe, efficient manner.
Came up with a FIFO reagent storing system that cut waste by 30%.
Worked directly with clinicians to provide clear information beyond documentation.
Cut equipment downtime from 5 days per year to zero with rigorous Total Productive Maintenance regimen.
Education
2013–2015 Central New Mexico Community College
Medical Laboratory Technician Associate of Applied Science with MLT Certification
Excelled in clinical chemistry and hematology.
Pursued a passion for immunology coursework.
Certification
Medical Lab Technician MLT (ASCP)
Skills
Soft skills:

Interpersonal skills, teamwork, time management, efficiency

Hard skills:

Computer skills, equipment calibration and use, specimen testing
Activities
Volunteer rescue driver for Sherry County Animal Shelter
Assistant Scout Master BSA Troop 220
Here's how to write a lab technician resume that gets jobs:
1. Use the Best Format for Your Lab Technician Resume
You can prove you're detail-driven before they even read a word.
How?
With a clean lab technician resume format.
Take these formatting steps to show precision:
Pro Tip: How long should a resume be for lab technician jobs? A single page is best. A resume is just a way to show your very best achievements that fit one page. It's not a life story.
2. Write a Lab Technician Resume Objective or Resume Summary
Why do some people get interviewed a lot?
Because they know lab tech hiring managers are busy.
So—
They get straight to the point.
How?
By writing a resume profile stocked with work accomplishments.
But should you write a lab technician resume summary or a resume objective?
That's based on your experience. Lab techs with 2+ years should write a resume summary. Those with less should use a career objective.
Pro Tip: In entry-level resumes for laboratory technicians, you need to show your transferable skills. Do that with accomplishments from old jobs that prove interpersonal skills, teamwork, etc.
3. Fine-Tune Your Laboratory Technician Job Description for Your Resume
Who will get the job?
A tech who "handled" lab tech duties in a lab technician resume?
Or an MLT who did it really well?
Show you're that second tech. Show work experience in a resume like this:
List each job's title, name of company, and months and years you started/stopped.
Add bullet points—about 3–5—that show a mix of duties and achievements.
Pick accomplishments that prove key skills, like, "Maintained all equipment with zero downtime."
See that "zero?" Add numbers like that to give your lab tech skills some scale.
How to tailor your resume to the job description: Make sure the skills you prove are skills they really want.
Use resume action words to keep them reading.
Pro Tip: Lab technicians with no experience can break in through temp agencies. Not fun, but it gets your foot in the door and can lead to long-term work.
4. Calibrate Your Lab Technician Resume Education Section
Every lab tech has an education.
Some have two years. Some have four.
What really matters?
How you show it on your lab technician resume.
Don't just say your school, degree, and graduation date.
Add bullet points to your education resume section.
In them, prove a mix of your hard skills vs soft skills.
It's done like this:
Show your school's name, the degree you earned, and years you studied.
In your bullets, show your best classes.
Did you belong to clubs or do a special project that shows lab technician skills? List those too.
Definitely show your MLT or MLS certification too.
Pro Tip: Was your GPA impressive? Show it in your medical laboratory technician resume education section. Otherwise, use that space for an accomplishment you're proud of.
5. Prove Lab Technician Skills in Your Resume
Check out this lab technician resume skills list:
Lab Technician Resume Skills
Hard Skills:
Computer skills
CAD
Equipment calibration
Equipment troubleshooting
Equipment maintenance
Equipment programming
Specimen collection
Specimen preparation
Microscope operation
PPE use
Training
Specimen analysis
Record keeping
HIPAA
Inspection preparation
Soft Skills:
Self-motivated
Analytical
Teamwork
Detail-oriented
Efficient
Hand-eye coordination
Following procedures
Safety
But here's the thing—
You need to focus on the professional skills the company wants for this position. Analyze the job posting like it's got the cure for unemployment in it. (It does!)
Pro Tip: Don't list too many skills on your lab technician resume. That looks like you're telling the employer what she wants to hear. Play up the ones you're really strong on.
When making a resume in our builder, drag & drop bullet points, skills, and auto-fill the boring stuff. Spell check? Check. Start building a professional resume template here for free.
When you're done, Zety's resume builder will score your resume and tell you exactly how to make it better.
6. Add Other Sections to Your Lab Technician Resume
Want your lab technician resume to look generic?
Of course you don't.
So, add sections that prove your skills and passion.
You can list:
Activities
Groups
Associations
Kudos from employers
Continuing education
Sports
Pro Tip: Got less lab rat experience? Add more "other" sections. Been spinning blood for years? Add less.
7. Send a Cover Letter With Your Lab Technician Resume
Why add a cover letter to your lab technician resume?
Because most hiring managers like them.
A good lab technician cover letter can make managers say, "This candidate is perfect."
But make yours different:
Pro Tip: Write a follow up email after application. Hiring managers in the lab tech world are busy. Most will appreciate the nudge.
Plus, a great cover letter that matches your resume will give you an advantage over other candidates. You can write it in our cover letter builder here. Here's what it may look like: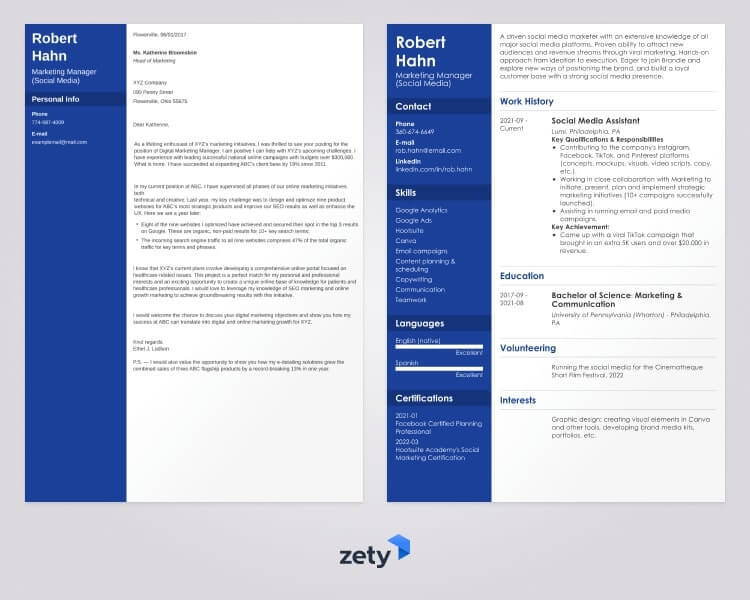 See more cover letter templates and start writing.
That's it!
That's how to write a resume for lab technician positions.
Still got questions about how to write a lab technician resume? Got a story about a great medical laboratory technician resume you wrote? Give us a shout in the comments. We'd love to talk!