Our customers have been hired by:
Writing a resume is not rocket science. But—rocket scientists do need resumes. And good ones if they want to join the Tesla or Genomic Health workforce. But how do you get discovered and become the next breakthrough in an ocean of similar samples? Send the recruiter the best science resume that demonstrates your Jane-Goodall-level skills.
You can do it in less time than it takes to get your lab coat on.
Want to save time and have your resume ready in 5 minutes? Try our resume builder. It's fast and easy to use. Plus, you'll get ready-made content to add with one click. See 20+ resume templates and create your resume here.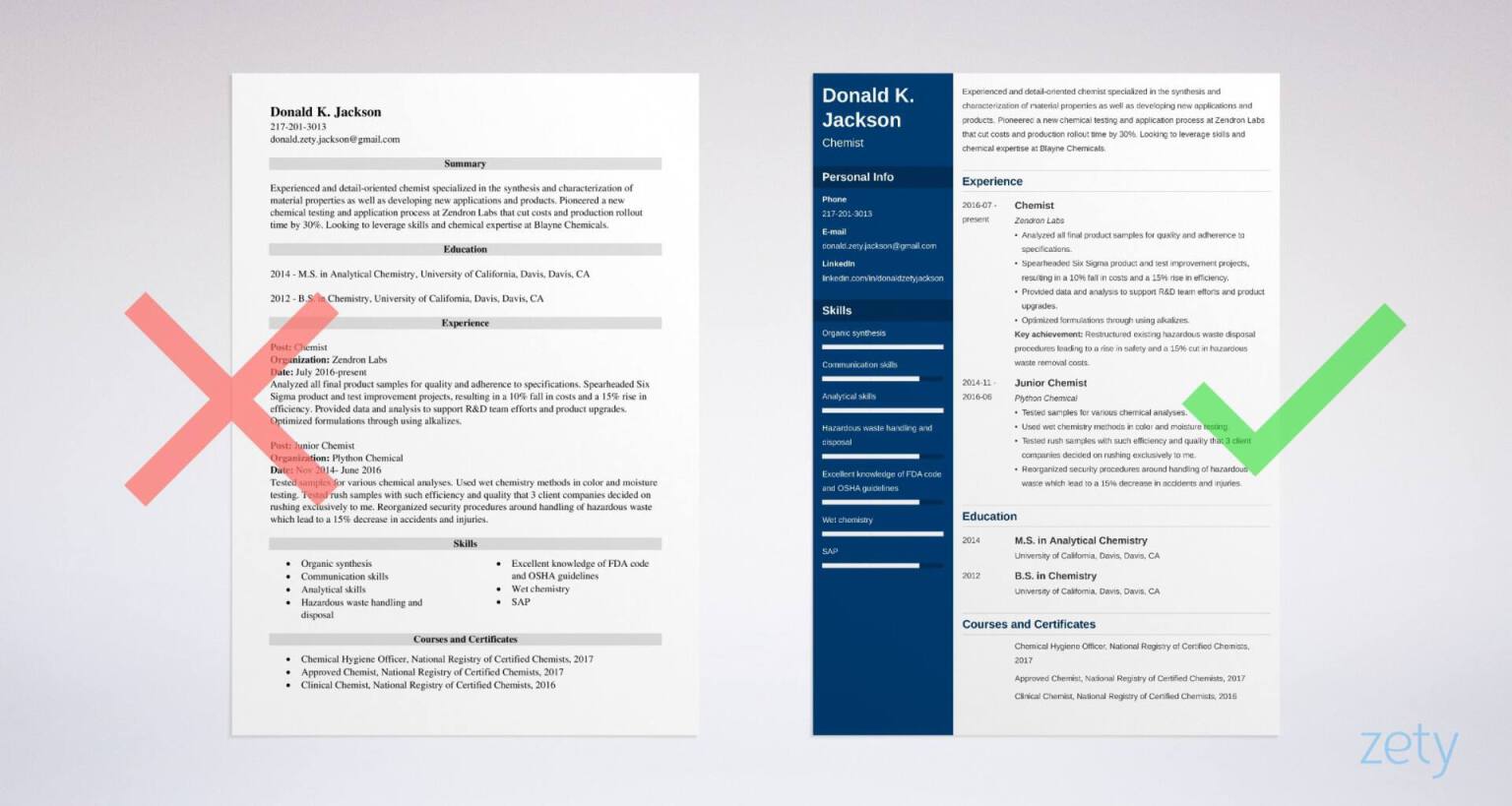 Sample resume made with our builder—See more resume examples here.
Interested in other education-related positions? See:
Sample Science Resume Template
Donald K. Jackson
Chemist
217-201-3013
donald.zety.jackson@gmail.com
linkedin.com/in/donaldzetyjackson
Summary
Experienced and detail-oriented chemist specialized in the synthesis and characterization of material properties as well as developing new applications and products. Pioneered a new chemical testing and application process at Zendron Labs that cut costs and production rollout time by 30%. Looking to leverage skills and chemical expertise at Blayne Chemicals.
Experience
Chemist
Zendron Labs
July 2016-present
Analyzed all final product samples for quality and adherence to specifications.
Spearheaded Six Sigma product and test improvement projects, resulting in a 10% fall in costs and a 15% rise in efficiency.
Provided data and analysis to support R&D team efforts and product upgrades.
Optimized formulations through using alkalizes.
Key achievement: Restructured existing hazardous waste disposal procedures leading to a rise in safety and a 15% cut in hazardous waste removal costs.
Junior Chemist
Plython Chemical
Nov 2014- June 2016
Tested samples for various chemical analyses.
Used wet chemistry methods in color and moisture testing.
Tested rush samples with such efficiency and quality that 3 client companies decided on rushing exclusively to me.
Reorganized security procedures around handling of hazardous waste which lead to a 15% decrease in accidents and injuries.
Education
M.S. in Analytical Chemistry
University of California, Davis, Davis, CA
Graduated 2014
B.S. in Chemistry
University of California, Davis, Davis, CA
Graduated 2012
Skills
Organic synthesis
Communication skills
Analytical skills
Hazardous waste handling and disposal
Excellent knowledge of FDA code and OSHA guidelines
Wet chemistry
SAP
Courses and Certificates
Chemical Hygiene Officer, National Registry of Certified Chemists, 2017
Approved Chemist, National Registry of Certified Chemists, 2017
Clinical Chemist, National Registry of Certified Chemists, 2016
Now here's the job-winning science resume formula:
1. Structure Your Science Resume Template Properly
You wouldn't just bulldoze your way into the lab and start mixing chemicals around to see if they explode, would you?
Science is all about procedure—following the wrong procedure can lead to the wrong results, or worse, an accident.
It's the same thing with a resume. If you don't follow proper format, the hiring manager won't be able to make out and interpret what you're trying to convey. There's only one place for results like that—the trash can.
Here's how to format a science resume:
Format: use the reverse-chronological format.
Section headings: put your name and up-to-date contact information at the top so that recruiters know how to reach you in a flash.
Fonts: use professional, easy to read resume fonts. 14-16 pt for section headers, 12 pt for the rest of the text.
Margins: keep even, 1" resume margins on all sides of the page.
Line spacing: stick with 1.15 line spacing
Clean resume template: use visible section headers and plenty of white space to make your resume easy to read.
Filetype: always save your resume format in PDF unless the job ad says otherwise.
Icons: use resume icons to add a few graphics to your resume and make it a little easier to read.
Don't race off just yet, we've only gone through the resume structure.
Here's a short procedural how-to on what you should include in your resume:
Header: add your current and relevant contact information.
Resume Objective/Summary: a short intro personal statement that explains why you're perfect for the position.
Work Experience: a breakdown of your professional career history andachievements.
Education: a brief description of your academic background.
Skills: a list of your most prominent and relevant scientific skills and abilities.
Extra sections: add a little sparkle to your resume by including relevant awards, certifications, foreign language knowledge, etc.
Read more about resume formatting: Professional Resume Layout
Now, even though your resume summary/objective is next on the page, that's not what we're going to write next. Leaving it for last and moving on to your experience section makes for a much smoother process.
2. Start With a Science CV Work Experience Section
Getting the job you want in any scientific field isn't easy. But just think that it's not only local scientists you need to outdo; you've got scientists from all over the world pitching for your job!
Don't just sit around waiting for them to focus their microscope on you—get all up in that lens!
So how do you do that? Show them you have science experience like no other.
Here's the best way to create a science resume description of your job experience:
Go for the reverse-chronological resume layout. Begin with your most recent positions and work your way back.
Include your job title, the employer's name and location, and the dates you worked there.
Add your science responsibilities in bullet points. Use up to 6 for your current position and fewer as you go back in time.
Remember to always tailor your resume to the requirements of the job ad.
Include quantifiable, noteworthy achievements that show hiring managers that you're the scientist they're looking for.
Make your resume more meaningful by using the PAR (Problem-Action-Result) formula in the description of your scientific responsibilities.
Make sure to use resume action words at the beginning to show recruiters you are a definite professional in your field.
That's the theory. Now let's see it put into play.
Here's a science resume sample of the employment history section:
Research Scientist Resume Job Description
Right
Research Scientist
March 2017-June 2019
Vantryl, Miami, FL
Key Responsibilities
Provided research and development support to all quality departments.
Assisted in development of proposals as well as methodologies and timelines.
Applied behavioral science research approaches to 30+ health-related projects.
Coordinated quantitative and qualitative research with a team of 3 researchers.
Key Achievement
Primary grant proposal writer for most teams with an acceptance rate above 40%.
Wrong
Research Scientist
March 2017-June 2019
Vantryl, Miami, FL
Key Responsibilities
Provided research to all quality departments.
Wrote proposals.
Worked on various projects.
Coordinated team research.
The right example clearly shows that this candidate knows the details associated with the various tasks of a research scientist.
The wrong example sounds like this candidate doesn't know their beaker from their Bunsen burner.
And to think that both these examples come from the same person! See what a difference being detailed can make?
But what if you're just starting out your scientific career?
If you have an entry-level science resume, you need to demonstrate that you have the knowledge and skills to be a valuable contributor to the company.
Take a look at these resume example for someone without experience as a scientist:
Science Resume Work History Sample With No Experience
Right
Research Assistant
Dec 2018-May 2019
Blaur College, Savannah, GA
Key Responsibilities:
Conducted tests on sediment for traces of oxygen, nitrogen, and carbon using the elemental combustion system and mass spectrometry.
Prepared samples for testing by removing inorganic carbon compounds.
Prepared data entry samples, checked for errors, and updated company research database.
Key achievement:
Awarded the "Junior Company Innovation Award" as the youngest person in company history for proposing new processes for sediment testing which would cut research time by 30%.
Wrong
Research Assistant
Dec 2018-May 2019
Blaur College, Savannah, GA
Key Responsibilities:
Conducted various scientific tests on sediment.
Prepared samples for tests.
Maintained company database.
As you can clearly see, even entry-level experience gained as an assistant in college or university can give your resume a decent boost when you present it right.
The bad resume example looks like it's been written by someone who stumbled into the role after taking a wrong turn by the cafeteria.
When making a resume in our builder, drag & drop bullet points, skills, and auto-fill the boring stuff. Spell check? Check. Start building a professional resume template here for free.
When you're done, our easy resume builder will score your resume and our resume checker will tell you exactly how to make it better.
Read up further on describing work experience on a resume: Job Description on a Resume: Examples and Guide
3. Enter Your Education (It's Not That Straightforward!)
Your degree carries a lot of weight in the field of science. That said, some of the time, you don't need to list your entire education unless the position is very in depth. Most definitely, only list the degrees that are relevant.
Here's what your resume education section should look like:
Science CV Education Sample
Right
Bachelors of Science in Biological Science
University of California at Berkeley, Berkeley, CA
Completion: 2018
Though your fingers might be itching to have your GPA on your resume, leave it out unless it's as high as the temperature outside on the Kelvin scale. If you're an experienced scientist, leave your GPA out completely.
For inexperienced scientists who were the brain of the class, it might be a good idea to add your magna cum laude on your resume, list your double major or add relevant coursework.
This is what it would look like on a real resume:
Right
Bachelors of Science in Biological Science, magna cum laude
University of California at Berkeley, Berkeley, CA
Completion: 2018
Easy as pie!
Educate yourself more on listing your education: How to Put Your Degree on a Resume
4. List Science Resume Skills Relevant to Your Specialization
Let's be honest—"science" is really broad. A computer scientist will have a much different skill set than a chemist or a medical laboratory scientist.
Recruiters don't have the time nor the patience to scour your resume with a magnifying glass to find out what your scientific skills really are.
So how do you pinpoint the key skills that will make your resume stand out from the hundreds of others?
Follow these tips:
Let the job ad guide give you helpful hints as to what the employer is looking for through resume keywords.
Think about what relevant skills and knowledge you've acquired over time. Take another look at your experience section if you need extra inspiration.
Write down all your science resume skills on a master list.
Filter out the skills on your master list that match those mentioned in the job ad.
Make a list of the 5-10 most relevant professional skills in your science resume skills section.
Always remember to include both hard and soft skills on your resume. They're equally important even in a technical field!
Take another look at your work experience section. Does it prove the skills you just listed? For maximum impact, make sure these two sections complement each other like a test tube and a stopper.
The following science resume skills will help you compile your own list:
Top Skills for a Science Resume
Advanced Research
Lab Maintenance Expert
Programming Languages
Attention to Detail
Adaptability
Proposal/Grant Writing
Data Structures
Visualization Tools
Research Methods
Not that you've got your resume science skills isolated and noted, let's look at a sample of skills that you might want to list on your resume.
Lab Skills Resume Example
Right
Visualization tools
Microsoft Office
Attention to detail
QC protocols
Laboratory analysis
Excellent interpersonal skills
Problem solving skills
Teamwork
Adaptability
Remember to use the job ad as a guide to which key skills recruiters really want.
Read more about adding skills to resumes:99+ Skills to Add to a Resume
5. Show Don't Tell: Add "Extra" Sections to Your Science Resume
There are nearly 5 million people who hold a degree in science in the United States alone. Wrap your head around that number.
To get anywhere, you need to stand out like the next best thing since genetically modified seeds.
You can do that through extra sections that you can add to your resume. Highlight what makes you different than the rest through including your interests and passions. Make the recruiter read it and say "we've definitely need to interview this one!"
Science CV Examples: Extra Sections
Knowledge of a foreign language can really set you apart from other candidates. From reading about the newest scientific trends to working with an international team, being able to speak a foreign language can be very beneficial.
Although no one really cares that you have the complete LEGO Ninjago collection, recruiters will be interested in your curiosity about new agricultural methods or creating complex Excel macros. These hobbies not only go to show that you have passions outside of work, but also can also have a positive influence on your job.
Volunteer experience can be super helpful especially if you lack work experience. In general, volunteer experience demonstrates a passion to help others and be a part of the community. Think about it—don't scientists primarily study and test things to ultimately benefit their communities?
Memberships in organizations
Membership in any scientific organization shows the hiring manager that you take your career seriously and that this isn't just a job for you.
For more possibilities when it comes to additional parts of a resume, see this guide:What to Include in a Resume: 20+ Top Examples
6. Compile the Best Bits Into a Science Resume Objective or Summary
Let's go back to the beginning of your resume.
There's no reason to go through raw data and test results if you don't know what the conclusion is.
Your resume heading statement is a short, overarching conclusion that lets the hiring manager know who they have in front of them.
There are two types of resume heading statements: the objective or the summary.
Skim over your science resume once again. Look for the skills and achievements that stand out like the recent discovery of the glowing sea turtle.
Choose 2-3 of those top achievements that will grab the recruiter's interest and write out your heading statement based on them.
Now here comes the time to decide. If you have years of experience and quite a list of skills, go for the professional summary.
The resume summary gives a brief, but impressive overview of your accomplishments and work experience. Choose this if you're someone who could give Neil Tyson Degrasse the runaround.
Take a look at these two science resumes summary examples:
Science Resume Summary
Right
Highly accurate data scientist with over 6 years of experience in interpreting large datasets and developing new forecasting models. Feels comfortable in international teams working across large projects and massive amounts of raw data. Looking to leverage wide technical knowledge at Blython Tech.
Wrong
Experience data scientist who enjoys working with large amounts of data looking to work as data scientist in forward-thinking company.
That wrong example gives the recruiter the same feeling you get when you turn your computer on and get nothing but a black screen.
What about those of you at the beginning of your scientific career?
Use the professional objective. This is best when you're writing a resume with little work experience and need to lean on your skills and knowledge to show you're worth hiring.
Here are two science resume objective examples:
Scientist Resume Objective
Right
Friendly and naturally curious environmental science graduate with 3 months of experience in filing and database management. Helped develop a complex Excel macro formula that reduced file cross reference time by 15%. Ready to contribute analytical thinking and problem solving skills as Junior Environmental Scientist at Jamar Inc.
Wrong
I've just graduated with a Bachelor's degree in environmental science and I'd like to use my education and enthusiasm to help the environment!
Both the objective and the summary follow the same rules—tailor them to the needs of the employer and impress through numbers.
Looking for the full download on starting a resume correctly? Look no further:How to Write a Resume Profile: Tips & Examples & Summary of Skills and Qualifications (Examples)
7. Write a Great Science Cover Letter
You don't have to write a cover letter. Especially if the job doesn't specifically ask for one. Even more so if you want your resume volunteered for recycling.
Think about it—if the hiring manager sees both a well-written resume and cover letter, they'll know that they've got a pro on their hands.
This is how to write a science cover letter:
That's all there is to it!
Plus, a great cover letter that matches your resume will give you an advantage over other candidates. You can write it in our cover letter builder here. Here's what it may look like: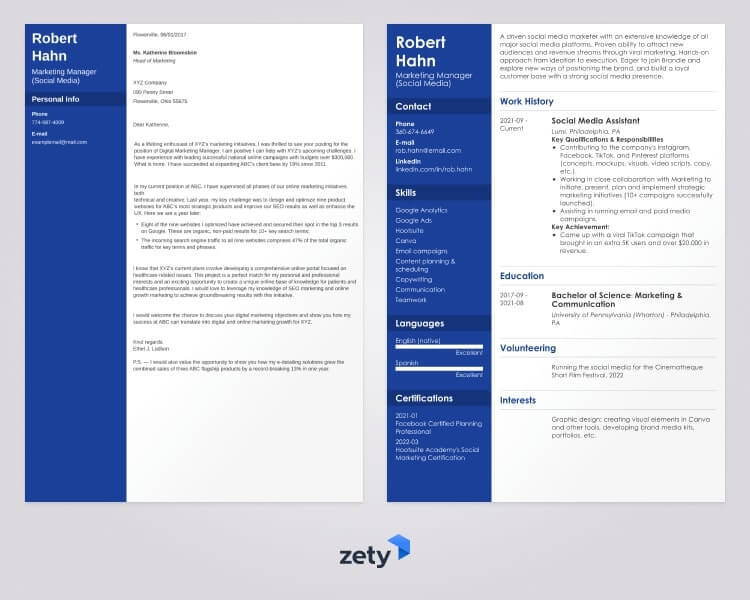 See more cover letter templates and start writing.
Read more: How to Write a Cover Letter for a Job
Recap—Science Resume in a Nutshell
Let's filter this down to the raw data—
Remember about these things when writing a science CV:
Format the scientific resume template with a professional font, correct line spacing, proper margins, and plenty of white space.
Skip writing the scientist resume objective or summary until the end.
Document your previous work history using action verbs, bullet points, and a tailored approach.
List your education correctly.
Add your key scientific skills and double check that they're echoed in your experience section.
Remember to write a science cover letter if you want that interview for your dream job!
That's all! We'd love to hear what you think:
What are the biggest challenges for you when writing a scientific resume?
Are you having problems coming up with relevant scientific skills or achievements?
Do you need help with including your scientific specialization(s) on a resume?
Do you now know how to write a scientist resume? Is our science CV template helpful? Let's chat below in the comments and thanks for reading!
About Zety's Editorial Process
This article has been reviewed by our editorial team to make sure it follows Zety's editorial guidelines. We're committed to sharing our expertise and giving you trustworthy career advice tailored to your needs. High-quality content is what brings over 40 million readers to our site every year. But we don't stop there. Our team conducts original research to understand the job market better, and we pride ourselves on being quoted by top universities and prime media outlets from around the world.
Sources