Picture your new office. It's got a drafting table monitor, a Herman Miller chair, and a 9-foot poster of Alan Voorhees. In that office, you solve fun, massive puzzles that help millions. Over 300 other applicants applied for the job, but you got it. How?
Your civil engineering resume made you look like Elon Musk with an ASCE pin. Civil engineers are trusted with life and limb, so your resume must prove your worth without a single micro crack. Ready to write the best civil engineer resume around?
This guide will show you:
A civil engineering resume example better than 9 out of 10 other resumes.
How to write a civil engineer resume that lands more interviews.
Tips and examples of how to put skills and achievements on a civil site engineer resume.
How to describe your experience on a resume for a civil engineer to get any job you want.
Want to save time and have your resume ready in 5 minutes? Try our resume builder. It's fast and easy to use. Plus, you'll get ready-made content to add with one click. See 20+ resume templates and create your resume here.
Sample resume made with our builder—See more resume examples here.
Not a civil engineer? Don't worry, we've got plenty of sample resumes for people in engineering occupations:
Here's how to write a civil engineer resume:
Civil Engineer Resume Example
Michael Anderson
Civil Engineer
(123) 456-7890
michaelanderson@email.com
linkedin.com/in/michael.anderson
Summary
Results-driven Civil Engineer with 10 years of experience. Eager to support Zenith Sphere Dynamics in building future resilient and sustainable infrastructure. Spearheaded the QuantumX Innovations project that resulted in a 30% reduction in construction costs by using artificial intelligence to make calculations tailored to the needs of our project. It helped us determine more precisely the amount of materials we needed to purchase.
Experience
Senior Civil Engineer
QuantumX Innovations, Orlando, FL
June 2011–Present
Key Qualifications & Responsibilities
Managed and supervised construction projects worth over $1M.
Designed and implemented environmental control systems.
Ensured adherence to safety and building regulations.
Collaborated with architects and contractors.
Key Achievement:
Led a project that achieved a 30% reduction in construction costs.
Junior Civil Engineer
Nexus-Byte Systems, Orlando, FL
January 2006–May 2011
Key Qualifications & Responsibilities
Assisted in the planning and design of infrastructure projects.
Conducted soil testing and materials analysis.
Coordinated with government bodies for permits and licenses.
Key Achievement:
Designed a highway overpass that was chosen over competing designs.
Education
B.Sc. Civil Engineering
University of Florida, Gainesville, FL
August 2001–December 2005
Relevant extracurricular activities
Member, American Society of Civil Engineers (ASCE).
Volunteer, Habitat for Humanity.
Academic achievements
Graduated Magna Cum Laude.
Dean's List 2004–2005.
Skills
Proficient in AutoCAD, Civil 3D, and Microsoft Project
Strong grasp of geotechnical engineering and hydraulic systems
Excellent problem-solving abilities
Effective communicator
Exceptional leadership qualities
Detail-oriented
Strong analytical abilities
Certifications
Certified Construction Manager (CCM), Construction Management Association of America, 2006.
Professional Engineer (PE), Florida, 2007.
Awards
2015, Civil Engineer of the Year, American Society of Civil Engineers.
Memberships
Member of the American Society of Civil Engineers since 2006
Served as Chapter President in 2017.
Organized a regional conference on sustainable infrastructure in 2019.
Languages
English—Native
Spanish—Intermediate
Interests
Running Marathons (Completed Boston Marathon 2018).
Volunteering for Habitat for Humanity.
1
Format Your Civil Engineering Resume Correctly
What's the difference between a beautiful engineering project and disaster?
Attention to detail.
Is it any wonder you need to show that in a civil engineering resume?
Start with the best resume format as a good foundation.
The chronological layout is the best civil engineer resume format. Why?
It breaks ground with your most recent experience.
Design it right with the best resume fonts, clear headings, and a backdrop of white space.
Finally, should you send an MS Word Doc Resume or PDF resume?
In the days before prestressed concrete, PDF resumes weren't up to code.
Today's PDFs are machine readable. Civil engineer resume PDFs are your best bet unless the job offer forbids them.
Do you doubt your ability to turn out perfect written copy?
Find a lawyer in your social network, then have her proofread your civil site engineer resume. Lawyers make great proofreaders because they live by the written word.
Pro Tip: How long should a resume be for civil engineering? If you've got more than 5 years of experience, consider a two page resume. Otherwise, go with one.
Not ready to set the chronological format in stone yet for your civil site engineer resume? See our guide: Resume Formatting: How to Choose the Best Format [with Examples]
2
Write a Civil Engineer Resume Summary or Objective
Imagine you've got 30 seconds with the hiring manager for your dream job.
Do you tell her every detail of your last position? Start reading out a lengthy skills list?
Or do you say, "I oversaw 20 project employees and routinely handled multi-million dollar projects?"
That's the essence of a civil engineering resume objective or summary.
A resume summary is for applicants with skyscrapers of experience. It teases your solid work history.
A resume objective shows passion when you lack experience. Use it if you haven't even built a birdhouse yet.
The real trick? Construct either with measurable achievements.
See these professional civil engg resume examples as a blueprint:
wrong
Engaged civil engineer, looking for new position with a great company and plenty of room for advancement. Highly skilled and motivated in the areas of project management, with top-notch CAD skills and good grasp of structural design.
That's under-reinforced. Stacked up against 300 other civil resumes, it's yawn-inducing.
But what about this experienced civil engineer resume sample:
Civil Engineer Resume Summary Example
right
Detail-oriented Civil Engineer and PE with 5 years of experience and a zest for solving complex problems. Seeking to use proven project management and design skills to improve quality, cost and time metrics for NEP Engineering. At Barthold Smith, completed 8 $3 million+ projects 10% under budget and within specs.
That's positively earthquake-proof.
"But I don't have that kind of civil engineer experience."
That won't stop you. See the entry-level civil engineering resume examples below.
WRONG
Junior civil engineering applicant, seeking entry-level job. I'm fresh out of college, so I haven't handled any real-world projects yet, but I'm very smart and capable.
You can almost see the stress cracks. What hiring manager will trust you with important work?
So, add measurable details. That's what this entry-level engineer resume example does:
Civil Engineer Resume Objective Example
RIGHT
Detail-oriented Civil Engineer with solid math and physics background. Seeking to provide design and project management excellence for Asher Wolff Group. Completed internship with Jones Allen Consulting, regularly using AutoCAD and working on multi-million dollar projects. Also consulted on a bridge that helped 140+ Guatemalan residents safely access basic services.
Zap. That's a great career objective for civil engineers for freshers.
The hiring manager is interested. The best part? You didn't need 10 years of experience.
You already had the summer internship. You did the other project online in a few days.
Pro Tip: Indeed.com, engineerjobs.com, ziprecruiter, and careerbuilder all get great reviews from civil engineers. Post your EIT or civil engineer resume on each to get noticed by recruiters fast.
When making a resume in our builder, drag & drop bullet points, skills, and auto-fill the boring stuff. Spell check? Check. Start building a professional resume template here for free.
When you're done, Zety's resume builder will score your resume and our resume checker will tell you exactly how to make it better.
Should you add a heading to your great civil engineering resume summary? See our guides: How To Write A Resume Summary: 21 Best Examples You Will See and 20+ Best Resume Career Objectives - Use Them on Your Resume
3
Describe Your Civil Engineering Experience
Picture a hiring manager. Her name's Molly. She's got a coffee mug that says, "What's so civil about engineering?" and a stack of resumes 300 deep.
How can your civil engineer resume stand out like a cable-stayed bridge?
Answer:
By picking only the bullet points Molly cares about. To do that, read the job ad carefully. Highlight the duties and responsibilities you see.
Then, make sure every bullet point proves you can deliver them.
The next two professional civil engg resume examples show the plan:
Civil Engineer Job Description for a Resume
RIGHT
Barthold Smith Engineering
Civil Engineer
2014–2018
Managed 8 projects with average budgets of $3 million.
Completed all jobs on time and at least 10% under budget.
Found three design flaws in ongoing projects, preventing catastrophic failure.
Used AutoCAD and creative materials sourcing to cut project costs by 10%.
Who's that, Gustave Eiffel? A resume for a civil engineer like that will knock Molly's M.C. Escher-patterned socks off.
It's packed with measurable accomplishments that fit the job. The next of our samples isn't:
Civil Engineering Resume Samples for Experienced
WRONG
Barthold Smith Engineering
Civil Engineer
2014–2018
Managed design and construction of all major projects.
Worked with cross-functional teams to deliver work on time and within budget.
Tasked with identifying design flaws in ongoing projects.
Worked with STADD Pro on client jobs.
That's like a new AutoCAD document. It shows potential, but it doesn't actually deliver.
Writing an entry-level civil engineering resume with no experience?
No problem. Consider the next two civil engineer resume examples:
How to Write a Resume for Civil Engineering with No Experience
Here's the good news:
Most civil engineering job descriptions overstate required experience.
1-2 years of experience often means an internship.
5 years can mean just one year.
You can also list volunteer work, academic accomplishments, and transferable achievements. They'll all beef up an anemic civil engineer intern resume.
Look at these two entry-level civil engineering resume examples.
Civil Engineering Resume Samples with No Experience
WRONG
Civil Engineering Experience: None yet. Still looking for my first big job.
Other Experience:
That's about as effective as the St. Francis Dam.
But add details, and you're cooking like this junior civil engineering resume sample:
RIGHT
Civil Engineering Experience
2017–2018
Consulted on a bridge for a volunteer project to connect a small town in Guatemala to a hospital and other basic services, helping 143 residents.
Headed local playground design and project management for $60,000 project.
Civil Engineering Internship
2017
Used AutoCAD to create 17 structural designs.
Assisted in field work for construction job with $2 million budget.
That's Bechtel-level. Yet you can probably write a civil engineering student resume like that right now.
Pro Tip: Still worried you don't have enough experience for a great resume for civil engineering? A little underqualified is better than a little overqualified. Managers like to hire people who can grow into a role.
Don't overload the hiring manager with boring language. Build your QA or QC civil engineering resume with action words instead.
Don't miss out on any extra information that could boost your chances of landing a job with help from this guide: Things to Put on a Resume to Make it Perfect [Tips & Examples]
Of course a great civil engineer resume needs education. But did you know it matters how you show it?
Everyone should list:
College Name and Location.
Years in School.
Degree.
But the best applicants add achievements that secure the job like a Pratt Truss.
The graduate civil engineering resume examples below show what I mean.
Picture a job that values structural performance, AutoCAD skills, and a detail-oriented mindset. Which of these two sample civil site engineer resume education sections does it best?
Civil Engineer Resume Examples [Education]
RIGHT
Civil B.S. in Civil Engineering
University of Idaho, 2009–2013
Scored top of the class in Structural Performance.
Independent study project in AutoCAD was featured in The Constructor blog.
Commended by professors 3x for detail-oriented mindset.
Wow, that's in the Pillars of the Earth zone. It's built from details the hiring manager respects.
Now look at the next of our mid-level civil engineering resume examples:
WRONG
B.S. Degree
University of Idaho, 2009–2013
That's like the dog-leg in the channel tunnel. It'll slow everybody down. You've got to show an area of interest in civil engineering, even back in school.
Pro Tip: Don't put your civil engineering internship in your education section. Add it to your work experience—it counts.
Should you show GPA on a resume for civil engineering? See our guide: How to Add Your Education on a Resume [Tips & Examples]
5
Put Skills on a Resume for a Civil Engineering
Let's look in again on our hiring manager, Molly. What's the #1 thing that'll make her hire you?
It's knowing you've got the skills she needs. But you can't just list them all in your civil engineer resume and hope she believes you.
You need to focus on the few shown in the job ad. Then prove them in your bullet points.
Check out two civil site engineer resume examples. In both cases, the job ad wants forensic engineering skills, collaboration, and a detail-oriented mindset.
This first sample civil engineering resume clip is sinking like the Kansai Airport:
WRONG
Civil Engineering Skills: Problem solving, detail-oriented, interpersonal skills, leadership, collaboration, STADD Pro, physics, math, AutoCAD, structural design, project management, basically everything...
You may as well say, "Sure I'm qualified." You need proof, with bullet points like this:
right
Conducted 10 forensic investigations into damaged commercial buildings.
Worked with independent adjusters to fix insurance payments 15% above average.
Identified 8 major hidden design defects with failed constructions.
That's as solid as the Great Wall of China.
Need key skills for a civil engineer resume? Use the list below.
List of Skills to Put on a Civil Engineering Resume
Here's a list of civil engg resume keywords to start.
Add to it from civil engineering job descriptions online.
Civil Engineering Resume Skills

| | |
| --- | --- |
| Soft Skills | Hard Skills |
| Problem Solving | Project Management |
| Organization | Physics |
| | Math |
| | AutoCAD |
| Detail Oriented | STAAD Pro |
| Collaboration | Autodesk Revit |
| Interpersonal Skills | ETABS |
| Communication | Structural Design |
| Leadership | Geotechnical Engineering |
| | Water Resources Engineering |
Follow the steps above, and you'll write a mid-level or civil engineering intern resume worthy of Isambard Brunel.
Pro Tip: Been shopping your best civil engineering resume around too long? Consider taking a job you don't love for a few months, just to get experience. Entry-level civil engineer salaries are the doorway to your dream job.
Need more ideas for skills to list on a great civil engineers resume? See our guide: +30 Best Examples of Skills to List on a Resume
6
Show Licenses on a Resume
If you're not certified, your career is as sturdy as the Titanic. But even if you've got your PE, you need to show it right on your civil engineering resume.
Here's a sample resume headline for civil engineers:
Kate Chausson
Civil Engineer, PE
Next, put it in your resume summary. See the civil engineer resume template up top for placement.
Finally, add it to a special section, like this:
Experience Certificate in Civil Engineering
License
PE License, State of Utah
Certifications
Notice we separated the PE license from the certifications. We don't want to confuse a two week cert with an eight year license.
Pro Tip: Don't give up. Some new grads submit 300+ civil engineering resumes before they get a job. Sound daunting? Recruiting sites like ZipRecruiter offer one-click application.
What certifications should you leave off a resume for a civil engineer? See our dedicated guide: How to Include Certifications on a Resume?
7
Add Other Sections for an Effective Resume
Remember our hiring manager, Molly? She won't hire based on civil engineering experience and education alone. Molly wants to hire a great employee.
How can you convince her with your civil engineer resume?
By using dedicated "other" sections. The goal? To show you're Doc Brown with better organizational skills.
The next two mid-level civil engineering resume examples show how.
Civil Engineers Resume Examples [Other Sections]
Well, we all need ways to pass the time, but those don't show a switched-on civil engineer.
But what about this exceptional civil engineer resume example?
RIGHT
Certificates
Conferences
2017 ASCE Week, Spoke on panel about green design
Publications
2017 Article on AutoCAD appeared in ASCE Magazine
2015 Article on project management linked to by Business Insider
Additional Activities
Leader of local cycling club. Increased membership 50%
That applicant might design the next Palm Islands or Carlsbad Desalination Plant.
But with a little elbow grease, you can write your own civil engineer resume like that.
Pro Tip: Definitely join a pro association like the ASCE, NSPE, or both. They look particularly good on entry-level civil engineering resumes. Plus, the networking alone can get you interviews and jobs.
Want to enhance the durability of your already good civil engineers resume? Find out what "other" sections work best. See our guide: Resume Sections to Include on Your Resume: 20+ Examples
8
Write a Civil Engineering Cover Letter
Hey, nobody reads cover letters, right? So you don't need a cover letter for your civil engineering resume.
Think again.
Nobody reads generic cover letters. Ones that read like blueprints for a post barn.
So, make your engineer cover letter personal. Use the hiring manager's name if you can find it. Show you understand the job. Then, offer proof you'll do it right.
This shortened sample civil engineering cover letter does it perfectly:
NEP Engineering has a reputation for solving massive problems with efficiency and creativity. In my 5 years as a civil engineer, I've demonstrated those qualities, managing 8 $3 million+ projects for Barthold Smith, on time and under budget...
End your cover letter with an offer. Try something like, "I'd welcome the opportunity to explain how I found three design flaws before they caused catastrophic structure failures."
Pro Tip: PS— adding a "PS" to your cover letter is a great way to get it read. Put an eye-opening achievement or other fact in it. A "PS" holds the eye like a hanger reinforcement bar.
Plus, a great cover letter that matches your resume will give you an advantage over other candidates. You can write it in our cover letter builder here. Here's what it may look like: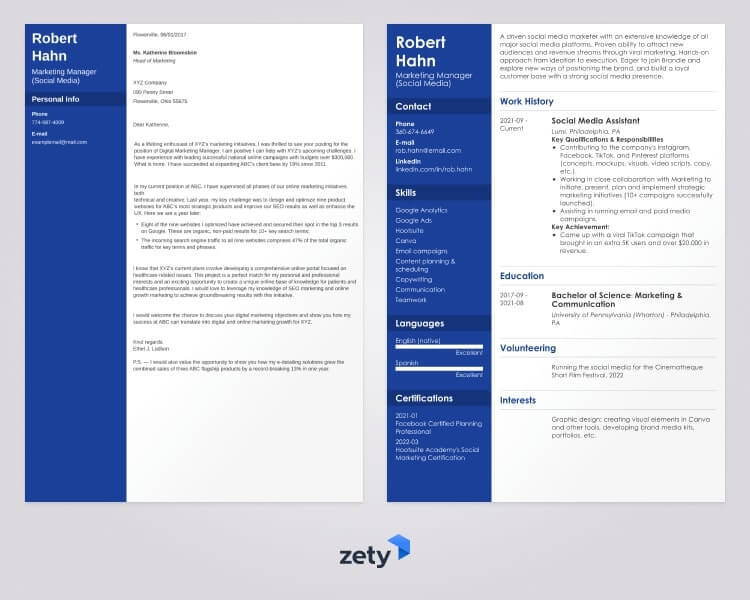 See more cover letter templates and start writing.
Need a template for your civil engineering cover letter? See our guide: How to Create the Perfect Cover Letter in 8 Steps
9
Add Contact Info to Your Engineering Resume
Catastrophic failure.
You nailed your civil engineering resume, but botched the contact info.
Now your dream job is galloping away like the Tacoma Narrows Bridge.
Don't let it. Start with:
Full Name
Updated Phone Number
Professional Email Address
Like this:
Kate Chausson, katechausson@gmail.com, 435-299-4608
But also, consider adding two other pieces of important resume contact info.
A profile website can attract more interviews. Stuff it with projects, CAD designs, dissertations, and other accomplishments.
Plus, our HR statistics report shows 87% of recruiters use LinkedIn during job searches. A LinkedIn profile will definitely boost your hireability.
Pro Tip: An effective LinkedIn profile needs strategic photos. It also needs the right civil engineer resume keywords. Learn the steps in our guide to LinkedIn mastery.
Need the full specs to make a civil engineering resume that does that job? See our guide: How to Make a Great Resume for Any Job: A Guide with 30+ Examples
Now you know how to write a professional civil engineering resume. Remember:
Start with the job offer. Highlight what it's asking for. You'll need that as a blueprint for your great civil engineer resume.
Pick your bullet points carefully. Almost every item in a resume for civil engineering should show a desired skill in use. Add metrics to show mastery.
Put "other" sections in a civil site engineer resume to prove you're more than just a piece of paper. Add an ASCE membership, volunteer work, and publications.
Do you have questions on how to write a great resume for a civil engineering? Not sure how to describe your skills or achievements? Give us a shout in the comments! We'd be happy to reply!
About Zety's Editorial Process
This article has been reviewed by our editorial team to make sure it follows Zety's editorial guidelines. We're committed to sharing our expertise and giving you trustworthy career advice tailored to your needs. High-quality content is what brings over 40 million readers to our site every year. But we don't stop there. Our team conducts original research to understand the job market better, and we pride ourselves on being quoted by top universities and prime media outlets from around the world.
Sources