Our customers have been hired by:
This guide will show how to craft the perfect industrial engineer resume. But, first—what if a manufacturing manager called you up and said "Improve my facility!"
What would you do? You'd probably look to identify important metrics, measure them, collect some data, and find areas to improve, right? That's exactly what this article will do for your industrial engineer resume.
Even though the job growth for industrial engineers is faster than average, you don't want to be praying to hear back about a job offer—you want to be choosing which job offer to accept.
Read on and you'll see an industrial engineer resume example you can refine and make yours. Plus, you'll learn an easy formula for writing a resume for industrial engineering jobs that will land you 10x more interviews than any other resume you've written in the past.
Want to save time and have your resume ready in 5 minutes? Try our resume builder. It's fast and easy to use. Plus, you'll get ready-made content to add with one click. See 20+ resume templates and create your resume here.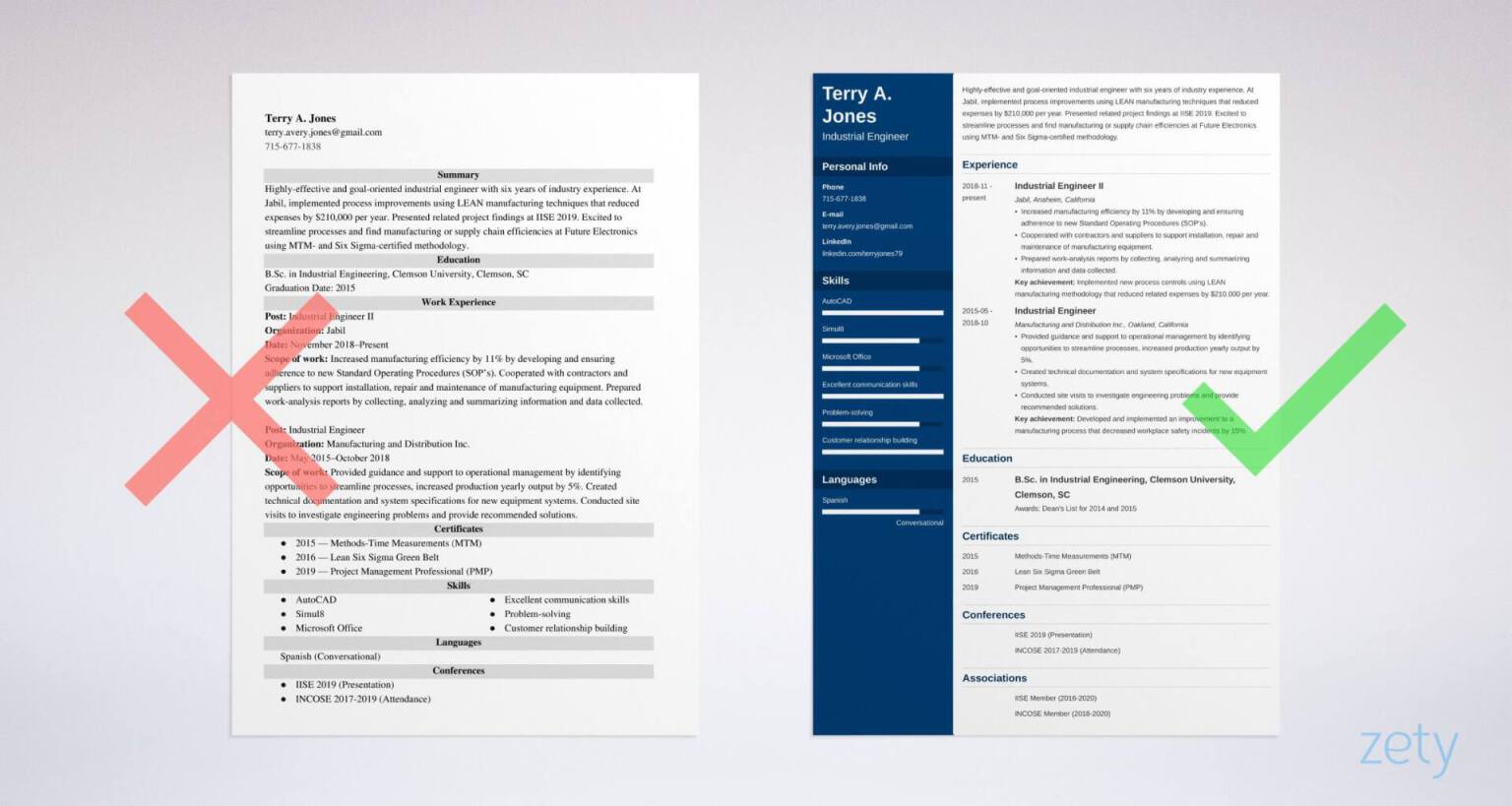 Sample resume made with our builder—See more resume examples here.
For similar positions, check out these dedicated guides:
Sample Industrial Engineer Resume to Get You Inspired (Text Version)
Terry A. Jones
terry.avery.jones@gmail.com
715-677-1838
linkedin.com/terryjones79
Summary
Highly-effective and goal-oriented industrial engineer with six years of industry experience. At Jabil, implemented process improvements using LEAN manufacturing techniques that reduced expenses by $210,000 per year. Presented related project findings at IISE 2019. Excited to streamline processes and find manufacturing or supply chain efficiencies at Future Electronics using MTM- and Six Sigma-certified methodology.
Work Experience
Industrial Engineer II
Jabil
Anaheim, California
November 2018‒Present
Increased manufacturing efficiency by 11% by developing and ensuring adherence to new Standard Operating Procedures (SOP's).
Cooperated with contractors and suppliers to support installation, repair and maintenance of manufacturing equipment.
Prepared work-analysis reports by collecting, analyzing and summarizing information and data collected.
Key achievement: Implemented new process controls using LEAN manufacturing methodology that reduced related expenses by $210,000 per year.
Industrial Engineer
Manufacturing and Distribution Inc.
May 2015‒October 2018
Oakland, California
Provided guidance and support to operational management by identifying opportunities to streamline processes, increased production yearly output by 5%.
Created technical documentation and system specifications for new equipment systems.
Conducted site visits to investigate engineering problems and provide recommended solutions.
Key achievement: Developed and implemented an improvement to a manufacturing process that decreased workplace safety incidents by 15%.
Education
B.Sc. in Industrial Engineering, Clemson University, Clemson, SC
Graduation Date: 2015
Awards: Dean's List for 2014 and 2015
Certificates
2015 — Methods-Time Measurements (MTM)
2016 — Lean Six Sigma Green Belt
2019 — Project Management Professional (PMP)
Skills
AutoCAD
Simul8
Microsoft Office
Excellent communication skills
Problem-solving
Customer relationship building
Languages
Conferences
IISE 2019 (Presentation)
INCOSE 2017-2019 (Attendance)
Associations
INCOSE Member (2018-2020)
Now, here's the job-winning industrial engineering resume formula:
1. Structure Your Industrial Engineer Resume Template Properly
You know how the layout of a factory floor is a key factor in ensuring success? The same is true for the layout of your industrial engineering resume. A good resume design allows the recruiter to find the most important bits right away.
So go with the classic reverse-chronological resume format as it makes your document easy to read and highlights your professional history. You want your most recent experience (or education if you just graduated) to come first as it proves you know your way around industrial engineering.
When outlining your resume, make sure to include the following sections:
Header with contact information
Summary statement/career objective
Work experience
Education
Skills
Additional sections (conferences, extra training, volunteering, certifications, etc.)
Such an industrial engineering resume template works like a blueprint, keeping the information well-organized. If your resume looks like an upside down process chart, how can a company trust you to organize their supply chain?
You can also show your attention to detail and meticulousness by following these dependable resume formatting guidelines:
Now that your formatting has captured the hiring manager's eyes, let's capture their heart. The best way to do that? Start with what they care most about—work experience.
Read more: Best Resume Layout
2. Add Experience to Your Industrial Engineer Resume
Industrial engineering is all about continuously making improvements. Therefore, the best experience you can put on your resume will be examples where you improved a process, productivity, or quality of a product. You want to be shining a giant spotlight on these achievements to pique the HR manager's interest.
Here's the winning strategy for describing your previous experience:
List the job title, company name, and time period you worked at each relevant position.
Describe your responsibilities using the same language as the job description. That's right, each resume should be targeted to the job posting.
Don't go overboard, limit each description in your industrial resume to 6 bullet points or less.
Take a look at these two sample industrial engineer work experience sections:
Industrial Engineer Resume: Work Experience
RIGHT
Industrial Process Engineer
Johnson & Johnson
2017–2019
Analyzed existing procedures and developed a forecasting tool that increased production yield by 15% over 12 months.
Optimized production flow by rearranging the manufacturing floor plan decreasing processing times by 7%.
Provided guidance to a 5-person team consisting of interns and production staff.
Presented management with key information on labor, equipment, and material costs to guide management decision making.
WRONG
Johnson & Johnson
Industrial Process Engineer
2017 - 2019
Responsible for company production forecasting and guiding future purchasing decisions.
Collected and analyzed data to make process improvements.
Participated in meetings with various departments.
Responsible for a team project on quality control.
Shocking, right? A few tweaks and this description went from Bruce Banner to the Hulk. (Although as a scientist, Bruce might be better suited to industrial and systems engineering.)
So what made the difference?
Use action or power words. These heavy-hitting words show leadership and gumption, so change phrases like "responsible for" and "participated in" to words like "directed" and "created."
Quantify your results. If you want to stand out from the crowd, numbers will change you from a zero to a hero in the eyes of the industrial engineering HR manager.
Focus on achievements and accomplishments. Every job has responsibilities. Show that you went above and beyond the bare minimum.
What if you're a fresh industrial engineering graduate writing an entry-level resume? No worries.
You can focus on volunteering, internships, co-ops, or relevant experience in different industries.
Entry-Level Industrial Engineer Resume: Job Description
RIGHT
Industrial Engineering Intern
Michelin
2017–2019
Managed supply and demand planning on a team that helped reduce inventory demands by 10-15%.
Scheduled and monitored production projects, and suggested a new process guideline that surpassed production targets by 1,500 units.
Utilized Kaizen methodology to perform continuous improvement projects on a cross-functional team of 10 engineers and technicians.
WRONG
Michelin
Industrial Engineering Intern
2017 - 2019
Responsible for managing supply and demand planning and risk assessments.
Helped manufacturing on specific projects to monitor production.
Assisted with Kaizen projects.
The key is that you have something to show you can and will deliver results. Even if it's your senior design project, showing your passion and engineering skills will always score you points.
Need more help writing about your experience on a resume? Check out our guide: Resume Work Experience, Professional History & Example Job Descriptions
When making a resume in our builder, drag & drop bullet points, skills, and auto-fill the boring stuff. Spell check? Check. Start building a professional resume template here for free.
When you're done, our professional resume builder will score your resume and our resume checker will tell you exactly how to make it better.
3. Show Off Your Degree with a Great Education Section
If you have been in the industrial engineering field for some time now, the secret to adding an education section to your resume is keep it short. Only list your degree, university, and graduation date.
On the other hand, if this will be your first job resume for the real world, this is a great chance to go into more detail. Here are some details you can add:
Take a look at these industrial engineering resume examples:
Industrial Engineer Resume Examples [Education Section]
RIGHT
Education
Bachelor of Science in Industrial and Systems Engineering, University of Washington
2016 - 2020
GPA: 3.7
Additional coursework: Statistical Quality Control and Reliability Engineering
Complete senior design project on tooling lifespan monitoring
Member, Psi Kappa Alpha, 2012–2015
Bam. You just knocked some socks off.
Now let's see an education section example of an experienced industrial engineer.
Industrial Engineering Resume Template [Education]
RIGHT
Education
Bachelor of Science in Industrial and Systems Engineering
University of Washington
2010 - 2014
See? Short and sweet. And let's be honest—
Despite those all-night study sessions, GPA doesn't matter that much once you have quality work experience.
Read more: How to Put Your Degree on a Resume
4. Tailor Your Industrial Engineer Resume Skills to the Position
The right skills for an industrial engineer resume depend on which field you're pursuing: supply chain and logistics, quality, procurement, or data analytics. And though your work experience section should prove you know QRP from FDT, the skills section is a great place to:
Identify key skills from the job posting and display them on your resume.
Make up for gaps in your work experience.
Show that you are well-rounded in hard skills, soft skills, and software skills.
Start with these common industrial engineer resume skills:
Industrial Engineering Skills for a Resume
Production and Processing
Statistical Analysis and Modeling
Inventory Control
Data Analysis and Visualization
Process Analysis
Factory Planning
Material Handling
Methodologies: Lean/Six Sigma, Root Cause Analysis, Kaizen, FMEA, 5S, Time and Motion Studies
Accounting Skills: Cost Analysis, Return on Investment, Business Accounting
Attention to Detail
Software Skills for Industrial Engineer Resume
Excel: VBA, Macros, Automation
CAD Software: AutoCAD, Solidworks, Inventor, Revit
Statistical Software: SPSS, Minitab
Programming: Matlab, C, Java, Python, R
Microsoft Access
Enterprise Resource Planning (ERP)
Now—should you bombard each and every HR manager with a mile-long list of all the skills you've acquired since you started university? Should you pack your industrial resume with them?
Definitely not. Instead, you need to tailor your resume to match the job description. Find the overlap between your skills and the ones you see on the job posting and only list those (those will be your resume keywords).
Using industrial engineering resume keywords from job postings will also make sure your resume is ATS-friendly. This study from the Missouri University of Science & Technology found buzzwords "widespread on industrial engineer job-search websites", so get familiar with them.
OK—look at this sample skills section from an entry level industrial engineering resume:
Industrial Engineering Resume Examples [Skills]
RIGHT
Skills
Process Analysis
Factory Planning
AutoCAD
Python
Excellent Communication Skills
See? This skill list would be perfect for a fresh graduate process engineering role.
Here is a sample industrial engineering resume skills section for a senior specializing in data analytics:
Sample Senior Industrial Engineer Resume
RIGHT
Skills
Data Analysis and Visualization
Production Control
Lean/Six Sigma
Statistical Analysis and Modeling
Excel (Advanced)
Analytical Skills
Speaking and Communication Skills
Slam dunk.
Need more skills ideas? Check out: 99+ Examples of What Skills to Put on a Resume
5. Add "Extra" Sections to Your Industrial Engineer Resume
Here is the chance to show your resume is the needle in the haystack.
"Extra" sections can tip the balance in your favor by differentiating you from the other candidates proving your AECOM-worthy. Additional sections can include:
Certifications show your industry expertise in a way that your university degree can't. Of course, the most desirable certifications for industrial engineers depend on the industry you are specialized in. Here are the most popular certifications in industrial engineering:
Certified Supply Chain Professional (CSCP)
Certified Professional in Supply Management (CPSM)
Certified Manufacturing Engineer (CMfgE)
Certified Automation Professional (CAP)
Lean Bronze Certification
Lean Silver Certification
Lean Gold Certification
Six Sigma Green Belt Certification
Six Sigma Black Belt Certification
Six Sigma Master Black Belt Certification
Who likes to be a part of members-only clubs? Industrial engineers, that's who. Here are the biggest associations related to industrial engineering:
Institute of Industrial and Systems Engineers (IISE)
International Council on Systems Engineering (INCOSE)
American Society of Quality (ASQ)
Check out these industrial engineering resume samples for inspiration:
Senior Industrial Engineer Resume Examples [Other Sections]
Right
Awards and Achievements
Received Project of the Year Award by employer for redesigning a manufacturing process flow.
Recognized as a Distinguished Engineer in 2018 for mentoring undergraduate ISE students.
Guest speaker at IEIM 2019.
Entry-Level Industrial Engineer Resume Examples [Other Sections]
Right
Awards and Achievements
Senior design project received Outstanding ISE Capstone Senior Design Project award.
Interviewed fellow IE students for a promotional video for prospective undergraduates.
Wow, impressive right?
Feel like your resume is missing something? Read: What to Put on a Resume to Make it Perfect
6. Write an Industrial Engineer Resume Summary or Resume Objective
According to our HR statistics report, the average corporate job offer attracts 250 resumes. If a hiring manager happens to be filling 5 new positions, how can they read over 1,000 resumes?
Surprise—they don't.
That's what a resume summary or objective is for. This short paragraph should be the best of your resume sieved until you are left with a nugget of gold. That piece of gold should be the 2-3 most impressive things from your experience, skills, and extra sections. This is what the HR manager will read to decide whether to even look at the rest of your industrial engineer resume.
Should you write a resume summary or objective statement?
If you already have some experience in your industry, go with a resume summary.
Meanwhile, if you're an applicant fresh out of college or looking to switch careers, pick the resume objective.
Use this template shortcut to writing a resume summary:
Choose an adjective from your list of soft skills like "organized" or "motivated".
Add your job title. (Pro Tip: This doesn't have to be your official title).
Include how much experience you have (in years).
Highlight one or two of your best achievements or skills.
Finish with what you have to offer the prospective employer.
Look at these industrial engineering resume summary examples:
Experienced Industrial Engineer Resume Summary
Right
Analytical and organized industrial process engineer with 6+ years of experience in supply chain management and inventory control. Managed a Six Sigma Green Belt project that increased a product's production output by 13%. Seeking to use data analysis skills to improve operating procedures at Tesla.
Wrong
Industrial engineer with 6 years of experience in the aerospace sector. Six Sigma Green Belt certified. Lacking experience in the automotive industry, but willing to learn.
Whoa. Are those really the same candidate? The good resume example includes quantified results, key skills, and mentions the company name specifically. That's the recipe for success.
For fresh graduate industrial engineers, you want to be writing a career objective. You can use the same shortcut mentioned above, just leave out the experience (or lack thereof) part.
Take a look at these examples:
Fresh Graduate Industrial Engineer Resume Objective
Right
Data-driven industrial and systems engineering graduate with well-developed presentation and statistical skills. Seeking a position as an entry-level industrial engineer to use Kaizen techniques to continuously improve manufacturing procedures at WaferTech.
Wrong
New industrial engineering graduate looking for a position in industrial engineering, supply chain management, or data analysis.
Wow. The first example shows you're the next Henry Ford.
Still have writer's block? Check out: Resume Profile: Examples and Tips
7. Increase Your Chances of Success with an Industrial Engineering Cover Letter
So you finish incorporating all the above advice into your resume. After a little hard work, you take a step back and look at your resume. The only thing to do is give a chef's kiss, because it's perfect. That means you're ready to apply, right?
Not so fast. Based on one study, 56% of employers prefer for candidates to attach a cover letter to their resume. So if you don't want to sabotage your chances, write a cover letter.
Here are some key points in writing your industrial engineering cover letter:
Want a specific guide? Read: Engineering Cover Letter Examples
Plus, a great cover letter that matches your resume will give you an advantage over other candidates. You can write it in our cover letter builder here. Here's what it may look like: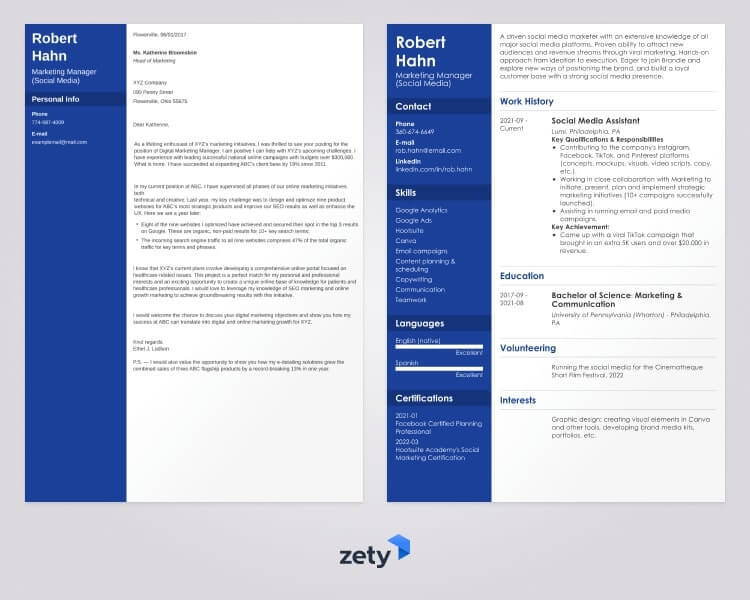 See more cover letter templates and start writing.
Key Takeaway
The steps to make the best industrial engineering resume take some time, but don't worry—
Everything will pay off once you're sitting in the new office of your dream job.
Here's a recap of how to write the best industrial engineer resume possible:
Use a good industrial engineer resume template that is easy to read.
Polish your work experience section as it's the most important part of your industrial resume.
Tailor which soft, hard, and technical skills to include according to each job description.
Use "extra" sections as icing on the cake to impress the hiring manager.
Write a compelling resume summary or objective using our special formula.
Write a cover letter to make sure you're not sabotaging your industrial engineer resume.
Thanks for reading my guide! Now, we'd love to hear from you:
What's the hardest part about writing a good systems engineering resume?
What technical skills are most in demand according to industrial engineer job postings?
Do you think certifications are important for industrial engineering resumes?
Ask us a question below and we'll do our best to help!
About Zety's Editorial Process
This article has been reviewed by our editorial team to make sure it follows Zety's editorial guidelines. We're committed to sharing our expertise and giving you trustworthy career advice tailored to your needs. High-quality content is what brings over 40 million readers to our site every year. But we don't stop there. Our team conducts original research to understand the job market better, and we pride ourselves on being quoted by top universities and prime media outlets from around the world.
Sources