Crafting a professional electrical engineer resume will be decisive for your future career. Why? IEEE describes electrical engineering job trends nowadays with one word: high. High growth, high salaries, high demand, and, at the same time, extremely high competition.
The good news is, you are going to beat all your competitors. Just follow the proven resume writing advice I'm about to share.
Read on, and I'll show you:
An electrical engineering resume sample better than 9 out of 10 other resumes.
How to write an electrical engineer resume even if you have no experience.
Tips and examples of how to put skills and achievements on an electrical engineering resume.
How to describe your experience on a resume for electrical engineer positions to get any job you want.
Want to save time and have your resume ready in 5 minutes? Try our resume builder. It's fast and easy to use. Plus, you'll get ready-made content to add with one click. See 20+ resume templates and create your resume here.
Sample resume made with our builder—See more resume examples here.
Writing a resume for electrician or engineering jobs? Check out these guides:
Here's how to write an electrical engineer resume:
Electrical engineer resume example
Jennifer Stang
Electrical Engineer
(123)-456-7890
jennifer.stang@email.com
linkedin.com/in/jennifer.stang
Summary
Detail-oriented Certified Electrical Engineer with over 8 years of experience in designing and implementing electrical systems. Eager to leverage my technical and project management skills to help QuantumWing Innovations in optimizing their electrical system designs. In my previous role at FusionByte Co., successfully reduced system downtime by 15%.
Experience
Senior Electrical Engineer
FusionByte Co., Portland, ME
August 2013–Present
Key Qualifications & Responsibilities
Managed and executed electrical design and development projects.
Implemented strategies that reduce system downtime by 15%.
Led a team of junior engineers and provided training and mentoring.
Performed electrical system troubleshooting and maintenance.
Key Achievement:
Reduced system downtime by 15%.
Junior Electrical Engineer
Genisys Dynamics, Portland, ME
May 2011–July 2013
Key Qualifications & Responsibilities
Assisted in planning, designing, and reviewing electrical system designs.
Conducted system checks and troubleshooting.
Worked in a team to meet project deadlines.
Key Achievement:
Assisted in the successful completion of 10 high-priority projects within the stipulated timeline.
Education
B.E. in Electrical Engineering
University of Maine, Portland, ME
September 2007–May 2011
Relevant extracurricular activities
Member, Electrical Engineering Students' Association.
Participated in National Level Tech Fest, securing 2nd position in Project Presentation.
Skills
Advanced knowledge of electrical design software
Project management
Strong problem-solving skills
Excellent communication skills
Detail-oriented
Ability to work in a team
Strong knowledge of electrical systems and troubleshooting
Adaptability
Certifications
Certified Electrical Engineer, National Society of Professional Engineers, 2012
Awards
2018, Engineer of the Year, FusionByte Co.
Memberships
Member of the National Society of Professional Engineers since 2013
Presented a paper on "Innovative Solutions in Electrical Engineering" during the 2019 NSPE Annual Conference.
Languages
English—Native
Spanish—Intermediate
Interests
Mentoring college students in electrical engineering.
Volunteering at local tech clubs, conducting workshops on electrical systems design.
1
Choose the Best Electrical Engineering Resume Format
Before you start writing a resume for electrical engineer jobs, you need to pick a good resume format. It will help recruiters find the most important details about you in a flash.
What should you do?
Long story short—pick the respected, elegant reverse-chronological resume format.
Recruiters are familiar with it, plus, it helps you highlight your best assets.
Here's what sections to include in an electrical engineering rev-chron resume format.
Electrical Engineering Resume Template
Contact information
Resume objective or summary
Work experience in reverse-chronological order
Education
Skills
Additional Sections (Certifications, Awards, Conference Participation, Volunteer Experience, or Hobbies and Interests)
Pro Tip: Once you finish crafting your electrical engineer resume, save it in PDF so that your resume layout stays intact. But make sure to read the job ad carefully. Some employers don't accept PDF files—if such is the case, send your electrical engineer resume in DOC.
Writing an entry-level electrical engineer resume with no experience to show off? Check out the best tips for your fresher EE resume here: Entry-Level Resume: Sample and Writing Guide
For more information on resume formatting, visit our comprehensive guide: Resume Format: How to Choose the Best One
Now, have a look at how to write each consecutive section of your resume:
2
Write an Electrical Engineer Resume Summary or Objective
7 seconds.
That's how much time, on average, recruiters spend scanning each resume they receive, according to our HR statistics report.
But here's the twist—
You can make them read your electrical engineering resume in full. How?
Start your EE resume with either a resume summary or resume objective—a brief paragraph that explains why you're the perfect electrical engineer for the job.
Think about it as a trailer for your job application. If it's interesting for the hiring manager, they'll want to read on.
If you're an experienced electrical engineer writing a senior electrical engineer resume, use a resume summary. Highlight your career progress and skills set.
Writing a fresher electrical engineering resume? Go for a resume objective. Show what you've already learned and what you can offer your employer.
Whichever one you choose, remember—
In the headline of an electrical engineering resume, don't write about what you want out of the job. Focus on what you have to offer instead.
Check out these sample electrical engineering objectives and summaries to see what I mean.
Electrical Engineering Objective for a Resume
right
Technical-minded, EIT Certified electrical engineering graduate looking for a junior Electrical Engineer position at Entech Engineering. Looking to leverage my working knowledge of AutoCAD, Microstation, and Revit, and experience in electronic troubleshooting activities to help you with your upcoming projects.
Wow, right?
Despite no working experience, this candidate delivers a clear message—
I've got what it takes to perform well in this job and I can help you with your challenges.
Electrical Engineer Resume Objective Sample
wrong
I am a recent electrical engineering graduate and I would like to get a junior electrical engineer job with a company where I could further develop my electrical knowledge by hands-on experience.
Why is it so bad?
Because it reads like something along the lines of: I want any job so I can learn more.
You won't land your next job if you don't show what you've got to offer.
Now, let's have a look at two very different professional summaries for an electrical engineering resume.
Electrical Engineer Resume Summary
RIGHT
Detailed-oriented senior electrical engineer with 10+ years of experience with construction and industrial electrical installations. Upgraded XYZ's old test system to a new system running on C++, cutting average testing time by 58%. Seeking to leverage my knowledge of and expertise in industrial control, circuit management, and power distribution to help ABC Corp. maximize productivity and quality of electrical operations. Traveling as needed.
This one's guaranteed to make every recruiter think: "We've got a future Nikola Tesla over here! I'd have to be a lunatic not to hire this one."
Senior Electrical Engineering Summary Resume Example
WRONG
Experienced (over 10 years) MEP electrical engineer. Have designed, developed, installed, and tested electrical and mechanical equipment for clients in diverse industries. Have worked with both business and individual clients.
Do you think you could be any more generic?
"Clients in diverse industries?!" What industries exactly?
The biggest problem with this summary is that it fails to achieve its main purpose—introduce the candidate to the employer in a brief but comprehensive way.
Pro Tip: In every resume objective or summary for electrical engineering positions, address the company by name and indicate the position you're targeting. Yup—that means you cannot send an identical resume for every application. And that's the point. Personalize every resume you send!
When making a resume in our builder, drag & drop bullet points, skills, and auto-fill the boring stuff. Spell check? Check. Start building a professional resume template here for free.
When you're done, our online resume builder will score your resume and our resume checker will tell you exactly how to make it better.
Writing the perfect electrical engineering resume objective or summary can be challenging. For more expert tips and real-life examples, check out our handy guides: How to Write a Professional Summary for a Resume and How to Write a Resume Career Objective
3
Describe Your Electrical Engineering Experience
What matters most for recruiters is your work experience. This section of your electrical engineering resume gets the most attention.
If you want to land that dream job, your resume's work experience section has to be perfect.
How to make it happen?
Don't talk only about your duties and responsibilities. Highlight your achievements and accomplishments instead.
Take a look:
How to Write an Electronic Engineering Resume Experience Section
Start with your current or most recent job.
Follow it with your previous position and the one before that, and so on. In each entry, include your position name, the company, and the dates worked.
Add up to 5 bullet points describing your duties and, more importantly, your achievements.
Quantify whenever possible. Don't say you "significantly reduced manufacturing time." Say how much exactly. Numbers pop!
Use action verbs throughout your work experience section. "Coordinated," "created," "reviewed," not "responsible for coordinating, creating, and reviewing."
At the bottom, add a "Key achievement" subsection where you show off your most impressive success.
Last but not least—pick phrases from the job ad, and refer to them in your work experience section. List relevant duties, not every single task you've performed. It's called tailoring or targeting a resume.
Let's see how it works in practice.
Senior Electrical Engineering Resume Sample—Work Experience Section
RIGHT
Electrical Engineer
Delta Constructors, Watford City, ND
2014–present
Coordinated the preparation and implementation of executions plans in various work locations.
Provided guidance, training, and development of the field electrical and instrumentation personnel. Fully trained 20+ employees.
Reviewed and corrected site drawings, redlined, and produced hand-drawn field sketches to meet industry standards.
Key achievement: Redesigned machine arrangements for improved efficiency. Increased production efficiency by 35% over previous arrangement.
Example Electrical Engineering Internship Resume With No Experience
WRONG
Electrical Engineer
2013 - 2018, Warley Parsons
Responsibilities:
Producing design drawings.
Handling of code variances and technical deviations.
Creating power systems and area classifications.
See the difference?
The right electrical engineering resume sample showcases quantifiable achievements and specific duties. Plus, it's packed full of action words.
The wrong one? That reads like a re-written description of responsibilities listed in the job ad.
Pro Tip: The common advice is to keep your resume one-page. But you know the old saying: the most expensive wire is the one cut short. The same goes for your electrical engineering resume. It's better to have a two-page resume than to omit any important information.
If you want to learn more useful tricks on how to put work experience on a professional electrical engineering resume, see this handy guide: How to List Work Experience on Your Resume
4
Mention Your Education Section Underpowered
Good news!
Listing education on your resume is usually easy. Here's what to include:
Your major (or your minors if applicable)
School name
List only your highest degree of education (the only exception is if you've completed graduate studies—in this case, include your Bachelor's too).
If you've got more than 6 months of working experience, skip your GPA. Also, don't include it if it's lower than 3.5. It could do you more harm than good.
Have a look:
Resume for an Electrical Engineer Fresher
BSc Electrical Engineering 2014
Toledo University, Toledo, OH
These are the basics.
Things get a bit more tricky if you're writing a fresher electrical engineering resume, an undergraduate EE resume, or any other entry-level electrical engineering resume. If this is your case, elaborate on your education a bit more.
Consider including:
Favorite fields of study
Academic achievements
Pro Tip: Eyeing graduation and unsure what should your next career step be? Check out this report and see the highest-paying industries for electrical engineering graduates.
If you want to learn more about listing your education on a resume for electrical engineers, check out this piece: How to Put Education on a Resume [Tips & Examples]
5
CheckTips on How to write an Electrical Engineering Internship Resume with No Experience
The rules for writing an electrical engineering internship resume or an electrical engineering student resume are slightly different from general resume writing principles.
The first thing you should do is to put your education section above the work experience section.
If you're an electrical engineering student, your education is probably your best asset. Lead with it and put it right under your resume objective.
As explained in the section above, provide additional info about your academic experience.
Have a look at this example.
Entry Level Electrical Engineering Resume Education Section
Virginia Tech
BS in Electrical Engineering
Expected to graduate in 2019
Dean's List: 2015, 2017
Current GPA: 3.94
Followed my passion in Product Design and Digital Signal Processing coursework
Excelled in Solid State Electronics and Linear Systems
Pursued an independent study program in Machine Layout Design
What about your experience section? Should you omit it altogether?
Not at all.
You might not have full-time professional experience, but if you're an electrical engineer student, any experience can dazzle recruiters.
For instance:
Freelance work
Part-time jobs
Volunteering
It doesn't have to be strictly related to electrical engineering. Check out the sample below.
Sample Electrical Engineering Internship Resume—Freelance Work
Freelance Engineer
2016 to present
Completed several client projects including small consulting and engineering research jobs.
Assisted with design of simple MEP installations.
Updated AutoCAD drawings
Planted Single Line Drawings
Yup, that'll do the trick. You don't need fancy achievements at this point of your career. But recruiters want to know you're willing to constantly learn and self-develop. That's one of the most crucial qualities they seek in prospective interns.
Want more in-depth information on writing a killer electrical engineering student resume? Visit this guide: Student Resume: Sample and Writing Guide
Desperate to land that dream electrical engineering internship? Go here: Internship Resume: Sample and Writing Guide
6
Plug In Your Electrical Engineering Skills to Your Resume
At the end of the day, your skills are what's of most value to employers.

But that doesn't mean your electrical engineer resume should feature a list of 20+ skills listed in whatever order you see fit.


Again, relevance is key. Take a look:
Electrical Engineering Resume Skills Section Step by Step
Start with a spreadsheet that lists all your professional skills.
Read the job description carefully. Look for skills-related keywords.
Check how many of these are there in your spreadsheet. Quite a few? Great. That's your skills list.
Don't just put the names of your EE skills. Provide evidence that shows your level of proficiency.
Pro Tip: Apart from the skills section, you should also mention your best electrical engineering and technical skills throughout your work experience section and refer to one or two of the most relevant ones in your electrical engineer resume objective or summary.
Need some inspiration?
Check out our list of the most desired electrical engineering resume skills.
Electrical Engineering Resume Skills
Skills for an Electrical Engineer Resume

| | |
| --- | --- |
| Technical Skills for an Electrical Engineering Resume | |
| Microcontrollers (8051, ARM, AVR, PIC etc.) | Communication with non-technical team members |
| Linux | Working odd hours |
| Programming (C/C++/Java) | Presentation skills |
| Circuit designing | Innovative and critical thinking |
| Electrical measurements | |
| Orcad | Initiative |
| P Spice | Complex problem-solving |
| Eagle | Precision |
| PCB designing | |
| PLC | Accuracy |
| AutoCAD/Microstation | |
| Revit | Mentoring skills |
| NFPA Standards | Active learning |
| Programmable Logic Controllers (PLC) | Willingness to travel |
| EIT | |
See more examples of job-winning skills sets that could supercharge any electrical engineer resume here: 30+ Best Examples of What Skills to Put on a Resume (Proven Tips)
7
Add Other Sections for an Effective EE Resume
So far so good—
You've got your career objective or a professional summary at the top of your electrical engineering resume, you've described your experience, education, and skills.
That's a really decent resume you've got there.
Want to take it from decent to the best electrical engineering resume on the recruiter's desk?
Add an extra section that not only shows but proves your value. Mention your verifiable achievements.
Such as?
Have a look:
Examples of Electrical Engineering Resume Extra Sections
Industry awards
Professional certifications
Conference participation
Trainings attended
Industry blog
Don't have any of the above? Don't fret. A junior electrical engineer resume can still greatly benefit from an extra section. Here are some ideas:
Examples of an Entry-Level Electrical Engineering Resume Extra Sections
Extracurricular activities
Not sure what to include in that additional section of your professional electrical engg resume? See this handy guide: What to Put on a Resume to Make It Perfect
8
Write an Electrical Engineering Cover Letter
Yes, you do need a cover letter.
Why?
Because almost half of the recruiters won't even bother to cast a glance at your resume if there's no electrical engineer cover letter attached.
Yup. You read that right.
Plus, a well-written cover letter can be used to your massive advantage.
Think about writing an electrical engineering internship resume or a student resume for electrical engineering jobs. Daunting, right?
Here comes your savior: the cover letter.
In it, you can showcase your creativity and explain why you're interested in electrical engineering career.

Your cover letter can prove to the recruiters that you're motivated and really mean business.
But it's not only freshers who should include a cover letter in their application.
It doesn't matter if you've got 1 year experience, if you're a mid level electrical engineer, or a seasoned professional in marine electrical engineering.
Attaching a cover letter doubles your chances of getting hired. There's no arguing with hard numbers, is there?
Pro Tip: Once you send your electrical engineer resume and a cover letter—follow up. A nudge by phone, email, or in person can prove your follow-through ability!
Plus, a great cover letter that matches your resume will give you an advantage over other candidates. You can write it in our cover letter builder here. Here's what it may look like: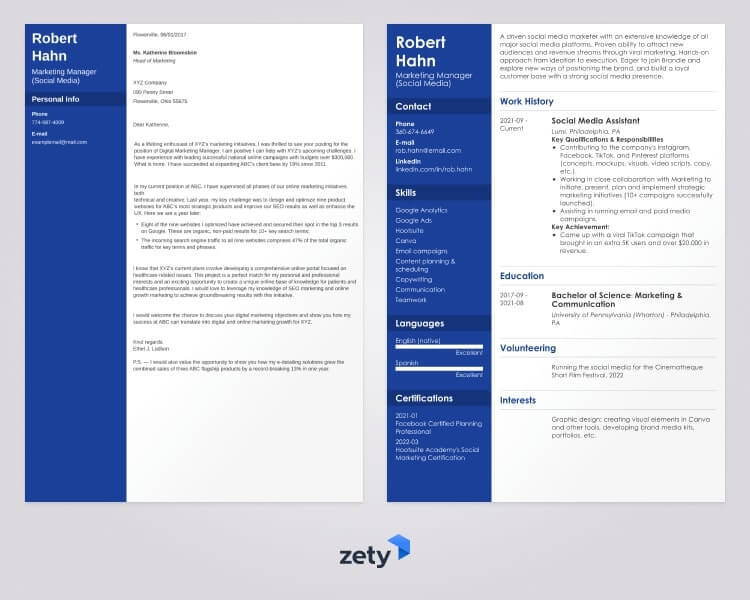 See more cover letter templates and start writing.
Need an example cover letter for your engineering resume? See the sample in this guide: Electrical Engineering Cover Letter Sample & Step-by-Step Guide [15+ Examples]
For general cover letter writing tips, give this article a read: Cover Letter in 8 Simple Steps
Key Takeaway
To have the best electrical engineering resume possible, follow the key steps we covered:
Open your electrical engineer resume with a resume career objective or a resume summary. Say what makes you a great candidate and make an offer.
In the work experience section, focus on your achievements, not just responsibilities. Use action verbs and quantify whenever possible.
Match your skills list with the skills required in the job ad.
Include additional sections that prove your value as a candidate.
Personalize every resume you send. Use the name of the company you're applying to and tailor the contents of your resume to the requirements in the job description.
All check? Well then—Good luck at your big interview!
Got any questions? Need further help? Want to chat about writing your electrical engineer resume? That's great cause I can't wait to hear your thoughts! Drop me a line in the comments and I'll make sure to get back to you right off!
About Zety's Editorial Process
This article has been reviewed by our editorial team to make sure it follows Zety's editorial guidelines. We're committed to sharing our expertise and giving you trustworthy career advice tailored to your needs. High-quality content is what brings over 40 million readers to our site every year. But we don't stop there. Our team conducts original research to understand the job market better, and we pride ourselves on being quoted by top universities and prime media outlets from around the world.