You came to the right place to write a supercharged electrican resume. First, here's a quick story for you—
It was a dark and stormy night in Philadelphia.
Benjamin Franklin went outside with his kite, got hit by lightning, and electricity has ruled the world ever since.
Electric power runs everything important in our lives. Every time it goes out, we're panic-stricken.
And to us, mere mortals, you're the only superhero who can fix it!
So: if you're the one that makes the world go round, why would you even need a resume to get a job?
Because you're not the only one.
U.S. BLS data shows that demand for electricians is projected to grow at a lightning pace (10%!) by 2024.
If you're serious about landing your new job, you're going to need the best electrician resume out there.
Don't worry, you'll have one in no time.
This guide will show you:
An electrician resume example better than 9 out of 10 other resumes.
How to write an electrician resume that will land you more interviews.
Tips and examples of how to put skills and achievements on an electrician resume.
How to describe your experience on a resume for an electrician to get any job you want.
Here's a sample resume for an electrician made using our resume builder.
Want to save time and have your resume ready in 5 minutes? Try our resume builder. It's fast and easy to use. Plus, you'll get tips and right vs. wrong examples while writing your resume. See +20 resume templates and create your resume here.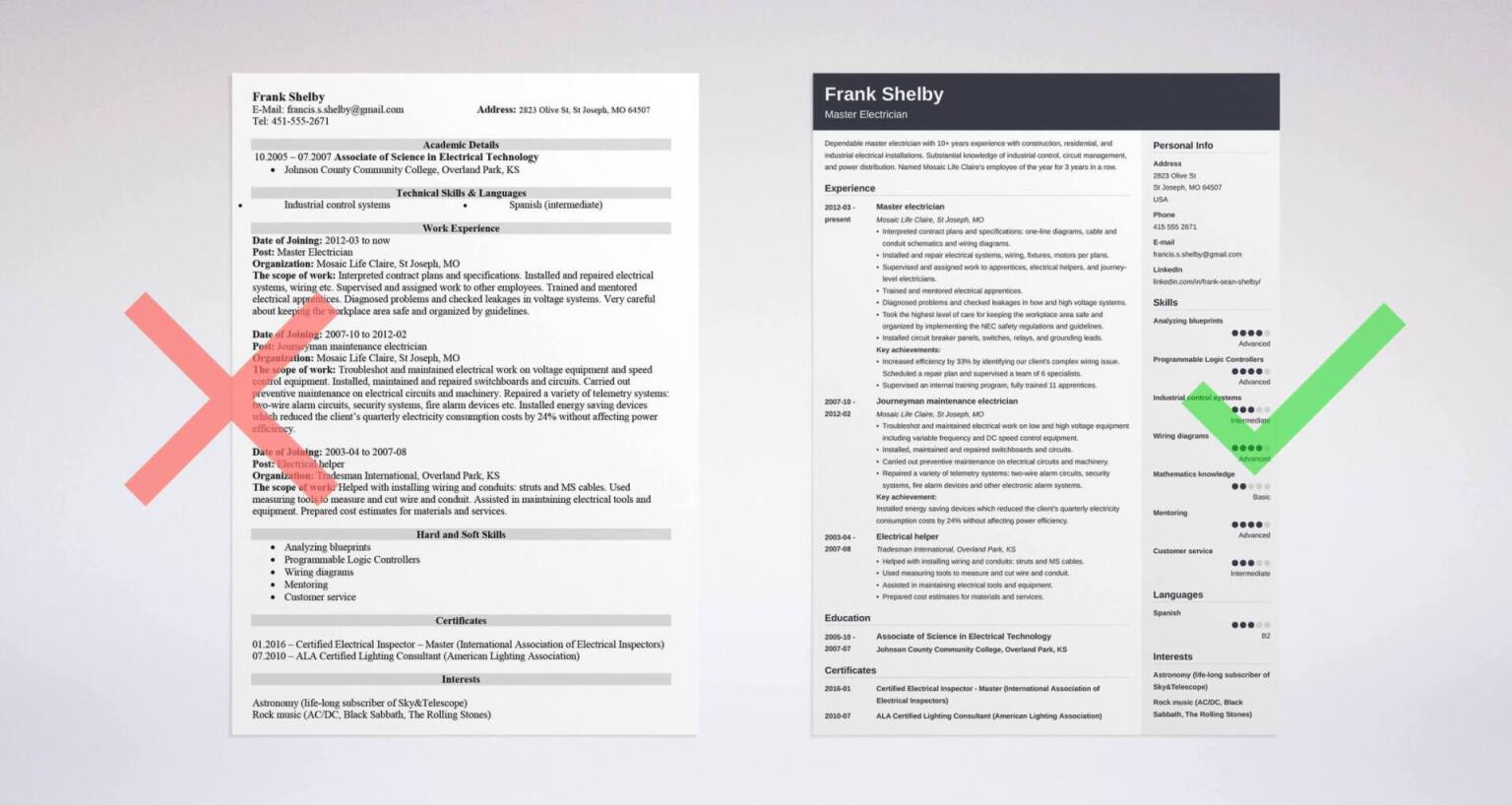 Electrician Resume Examples - See more templates and create your resume here.
Considering other jobs in maintenance and repair? See one of our guides:
Construction Resume Example & Writing Guide
Mechanic Resume Example & Writing Guide
Housekeeping Resume Example & Writing Guide
HVAC Resume Example & Writing Guide
Mechanic Resume Example & Writing Guide
Painter Resume Example & Writing Guide
Or maybe you want to craft a winning technical resume? There we go:
Technical Resume Example & Writing Guide
1
What's the Best Format for an Electrician Resume?
Patterns, schemes, sequences, and their right setup. That's the name of the game for every electrician, right?
Because of that, a professional resume for an electrician has to reflect your attention to detail.
And the way to make sure it does is by choosing the best electrician resume format.
Why?
Picture a wiring diagram.
You can read it easily because it's based on a precise layout and uses schematic symbols that you're familiar with.
Now, would you like to see a wiring diagram with resistor zig-zags substituted for switches? Inductors sketched instead of transformers?
Of course not. It would be completely useless.
And so will be your industrial electrician resume if you don't use the appropriate format. You don't want the recruiters to go haywire, do you?
On the other hand, a properly formatted, professional electrician resume will let you place the focus on the highlights of your career.
How do you choose your electrician resume format?
In short, the reverse-chronological format is going to be your best bet.
It's the gold standard of every recruitment process. The recruiters are familiar with it. They will instantly find all the relevant information.
And it gives you an additional edge:
It places an emphasis on the pinnacle of your career. Your most recent job will be at the very top of the resume.
Pro Tip: The general advice is to save your electrician resume as a PDF so that your formatting stays intact. But make sure to read the job descriptions carefully. Some Applicant Tracking Systems (ATS) might short-circuit on PDFs and require a doc file.
But what if you need an electrical helper resume?
Or what if you have to write a 1st year apprentice electrician resume with no experience to list?
You should still pick the trusted reverse-chronological layout.
Don't worry if you don't have a wealth of electrician experience.
You can showcase your volunteer experience and part-time jobs. Make the recruiters know that it won't take you long to learn the ropes (or, perhaps, to learn the wires).
Still don't know what electrician resume format to choose? Read our guide: 3 Resume Formats: How to Choose the Best One [Examples]
Want to make sure your resume will hook every recruiter and get you that interview? Get our free checklist and learn what makes a job-winning resume: 46 Things You Need To Do Before You Send Your Resume
2
How to Write an Electrician Resume Objective or Resume Summary?
Here's how a music band can help you land your dream job:
Remember AC/DC's electrifying hit, Thunderstruck?
These guys made sure their tune will get stuck in fans' heads.
All because of the iconic intro: once you hear it, you'll be humming it all day.
You want your professional electrical resume to do just that: make your application impossible to forget. Make the recruiters feel thunderstruck.
There's only one way to do it:
Start your electrician resume with either a resume summary or resume objective - a brief paragraph that explains why you're the perfect electrician for the job.
A resume summary highlights your career progress and skill set.
A resume objective, in turn, reflects what you've already achieved and what you can offer your employer.
This part of your resume is the first thing the recruiters look at. If it doesn't present you as one hell of a live wire, you can kiss your resume goodbye.
Here's which one you should choose.
A resume objective is the best choice for:
Entry-level electrician resumes
Electrician helper resumes
Electrical apprentice resumes
A resume summary, on the other hand, should be used in:
Journeyman electrician resumes
Master electrician resumes
Other resumes for electricians with experience in the industry
Let's have a look at some sample electrician resume objectives and summaries:
How to Write an Objective for an Apprentice Electrician Resume
Check out these apprentice electrician resume objective examples:
right
Technical-minded Virginia Tech graduate looking for an electrical apprentice position at Entech Engineering. Bringing working knowledge of basic electrical tools and equipment for installing conduit systems and related troubleshooting activities.
wrong
I would like to get an electrical apprentice job with your company where I could further develop my electrical knowledge by hands-on experience, working under journeyman electrician's supervision.
See the difference? The candidate from the right example focused on what he can offer the employer.
In the wrong example, the bottom line is basically "I want a job so I can learn more."
Make your electrician apprenticeship resume about employer's profit, not your personal gain.
Remember: match it to the electrician apprentice job description from the ad.
How to Write a Senior Electrician Resume Summary
Now it's time to compare two senior electrician resume samples:
right
Dependable, detail-oriented master electrician with 10+ years experience with construction, residential, and industrial electrical installations. Substantial knowledge of industrial control, circuit management, and power distribution. Named Consolidated Edison's New York branch employee of the year for 3 years in a row for consistently increasing customer satisfaction.
This resume summary is guaranteed to make the recruiters think: "I'd have to have my wires crossed not to hire this one! I mean… This guy is like the new Nikola Tesla!"
wrong
Organized, hard-working electrician. Over 10 years experience in installing, maintaining, repairing and testing equipment for generating and utilizing electric energy. Has cooperated with clients in diverse industries.
Not awful right? But it's generic and full of meaningless buzzwords. It looks as if the candidate just googled "sample electrician resume free download" and copied it word for word.
And the recruiters will know it as soon as they see it.
Our resume builder (you can create your resume here) will give you tips and examples on how to write your resume summary or any other section. You can easily copy them straight into your resume - it will save you a ton of time.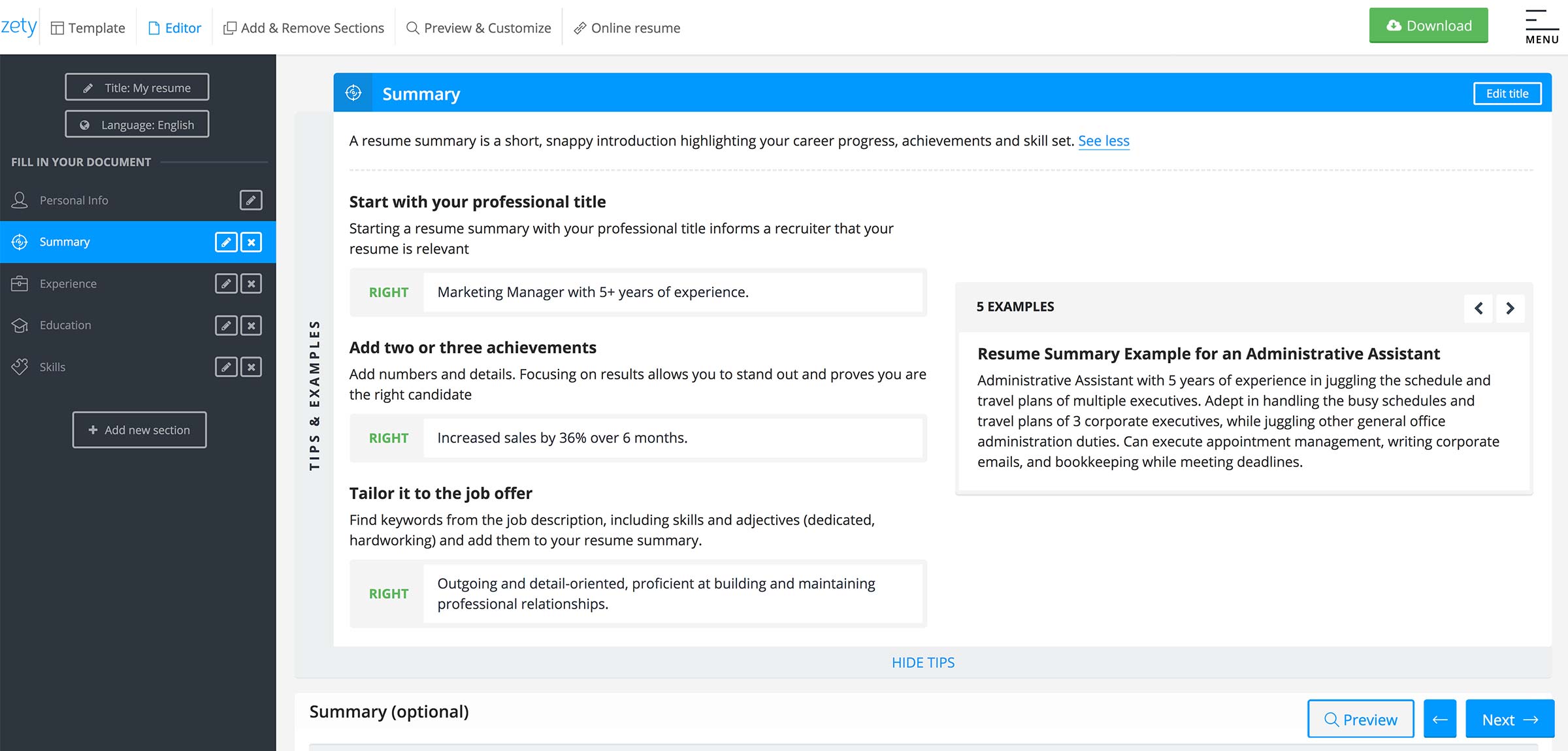 Inside Zety's resume tool you will find tips and examples for your resume.
Want to see more tips on how to write a resume sample or objective? Read our guides: How To Write A Resume Summary: 21 Best Examples You Will See and 20+ Resume Objective Examples - Use Them On Your Resume (Tips)
3
How to Describe Your Electrician Experience?
What can an electrician do in 6 seconds?
Not much, right?
Well, actually there is one such thing: get a job!
Wondering how's that even possible? Check this out:
Statistically, 6 seconds is how much an average recruiter takes to review your electrical resume. And you really want to make the most of those 6 seconds.
Don't worry, there's a way to do it.
What matters most for recruiters is your work experience. This section of your electrician resume gets the most attention. So do your best to make it glow!
How?
Start with your most recent job. Then work your way back in time and list all your previous positions.
Underneath each job, add up to six bullet points. Boast your measurable achievements and list your responsibilities.
Easy, huh?
The thing is, that's what everybody else does.
In order to really stand out, you have to supercharge the work experience section in your electrician resume.
The gist of it is listing your relevant experience.
Here's what we mean by this:
If you're applying for a construction electrician job, the recruiter won't really care about your expertise in installing aircraft landing gear or pilot instrumentation systems.
You need to tailor your work experience section to the job description.
Read the job ad carefully. Then, jot down all the responsibilities the company expects you to carry out. The recruiters will be looking for the same keywords in your electrician resume.
If you notice tasks that you're familiar with, make sure to mention them in your work experience section.
There you go! That's how tailoring works.
Let's have a look at some examples.
Here's a sample maintenance journeyman electrician job description: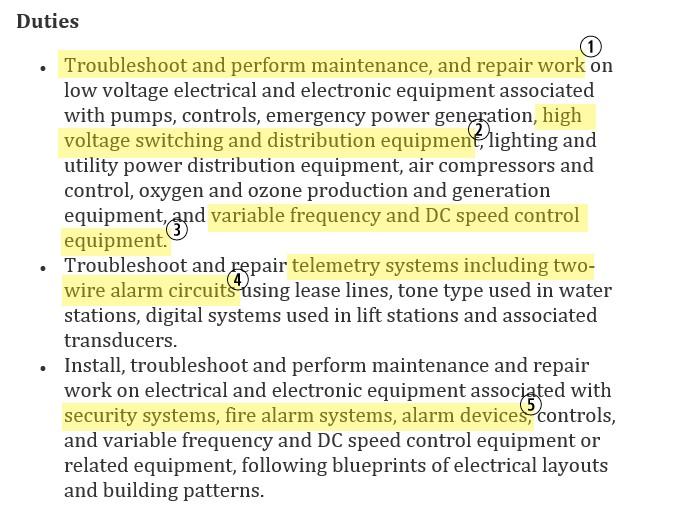 Now, have a look at a sample electrician resume work experience section tailored to the job description.
Notice how the candidate matched his responsibilities with the highlighted keywords:
right
Journeyman maintenance electrician
Mosaic Life Clair 2014 - 2017
Saint Joseph, MO
Troubleshot and maintained(1) electrical work on low and high voltage equipment(2), including switching and distribution(2), variable frequency and DC speed control equipment(3).
Installed, maintained and repaired switchboards, circuits and electronic equipment.
Carried out preventive maintenance on electrical circuits and machinery.
Repaired a variety of

telemetry systems(4): two-wire alarm circuits(4)

,

security systems, and fire alarm devices(5)

.
Key achievement:
Installed energy saving devices which reduced the client's quarterly electricity consumption costs by 24% without affecting power efficiency.
wrong
Electrician
VOLTEX
Saint Joseph, MO, 2014-2017
Responsibilities:
Repairing and maintaining electrical equipment
Installing wiring and fixtures
Cutting and installing electrical conduits
Implementing blueprints
Why is the second maintenance electrician resume sample so bad?
Because it's too general.
Entering typical electrician duties won't make your resume stand out.
Remember when we mentioned listing your measurable achievements? That's exactly what the candidate form the right example did:
"Installed energy saving devices which reduced the client's quarterly electricity consumption costs by 24% without affecting power efficiency."
He used the PAR (Problem Action Result) formula.
PROBLEM: the client's electricity bills were too high.
ACTION: installing energy saving devices.
RESULT: electricity costs were reduced by 24%.
The candidate used action words throughout his work experience section.
"Installed, maintained, and repaired" sounds so much better than "responsible for installation, maintenance and reparation."
Pro Tip: The common advice is to keep your resume one-page. But you know the old saying: the most expensive wire is the one cut short. The same goes for your electrician resume. It's better to have a two-page resume than to omit any important information.
Alright, but what if you don't have any spectacular achievements to show off?
What if you're writing an electrical apprentice resume with no experience to list?
You should still include your work experience section. List your volunteer positions or part-time jobs. Even if unrelated to electrical duties, they will make you come across as a hard-working, determined individual.
Employers want to know that you're serious about pursuing an electrician career. And they want to know you're diligent.
Sometimes that's all it takes to land an electrical apprenticeship.
Want to know exactly how to boost your work experience section by listing your achievements? See our guide: How to Put Achievements on a Resume - Complete Guide (30+ Examples)
4
How to Put Skills on Your Electrician Resume?
electrician
noun [elec·tri·cian]
: someone who does precision guesswork based on unreliable data provided by those of questionable knowledge. See also: wizard, magician
Accurate, isn't it?
If you're an electrician you have to be great at so many things. You have to be a master problem solver, a careful listener, good at calculations, in a word: a jack-of-all-trades (and master of each).
The recruiters know it. That's what they expect of you: your skills.
So you have to know exactly how to list your skills on an electrician resume.
Fret not, read on and you'll learn to do it in a flash.
Start with creating a spreadsheet. Think about the skills that you have that make you a great electrician.
And don't limit the skills on your electrical resume to technical skills. As an electrician, you're expected to display a wide range of "soft" skills too!
Here's a sample electrician resume skills list:
Skills for an electrician resume - examples
Electrician Resume Skills

| | |
| --- | --- |
| Technical skills | Soft skills |
| Analyzing blueprints | Communication |
| Programmable Logic Controllers (PLC) | Working odd hours |
| Risk evaluation | Organization |
| Processes evaluation | Mentoring skills |
| Industrial control systems | Safety-oriented |
| National Electrical Code (NEC) | Problem solving |
| Repairing electrical systems | Precision |
| Schematics | Friendliness |
| Wiring diagrams | Customer service skills |
| Knowledge of safety regulations | Dependable |
| 3-phase motor replacement | Decision-making |
| Mathematics | Teamwork |
| Construction experience | Accuracy |
Pro Tip: Don't make the skills list too long. Link some of your key skills to your professional achievements in the work experience section.
What's next?
Once you've listed all your skills, carefully read the job description. Look for skills-related keywords and highlight all of them.
Finally, ask yourself the big question: "Which of these skills do I possess?"
Quite a few, right?
Voila! This is your list of skills to put on an electrician resume.
Here, see how it's done.
Take a look at an entry-level electrician job description:
And here's a sample electrical apprentice resume skills list tailored to the description above:
right
Installing, maintaining, and repairing electrical systems and equipment

(1, 5)

Analyzing and interpreting blueprints

(3) and

electrical plans

(4)

Lifting and placing heavy systems

(6, 7)

Knowledge of safety procedures and regulations

(2)
Just perfect.
The candidate didn't list all of his skills.
Neither did he refer to each and every requirement from the job description. He linked the skills that he has to those required by the employer.
That's exactly what a tailored skills section on a professional resume for electrician candidates should look like!
Need some more ideas on how to make your skills section truly electrifying? See our guide: 30+ Best Examples of What Skills to Put on a Resume (Proven Tips)
5
Is Your Education Section Underperforming? It Might Be
You don't need a major to become an electrician, that's true.
So does it mean that you don't have to include an education section on your resume?
Of course not!
All electrical employers require a High School Degree. If you choose to drop the education section from your electrician resume altogether, it will look suspicious. As if you're hiding something.
In a word: list your highest level of education on your electrician resume.
If your highest level of education is high school, this is what your entry should look like:
Julian High School, Chicago, IL
Graduated in 2011
If you're a college graduate, it's equally easy.
Have a look:
2014 Associate of Science in Electrical Technology
Johnson County Community College, Overland Park, KS
Seriously. That's all you have to list: graduation date and the name and location of your school.
Pro Tip: The common advice is to mention your GPA if it's higher than 3.0. The truth is, if you have any experience in the electrical field, you don't need to include your GPA at all.
Didn't graduate high school but completed a GED later? Went to college but didn't finish your degree? Read our guide and learn how to include it on your resume: How to Put Your Education on a Resume [Tips & Examples]
6
How to Add Other Sections on an Effective Electrician Resume
Electrical contractors have a problem.
They're in desperate need for qualified electricians but, as reports show, they sometimes find it hard to identify them.
They could really use a verifiable way to separate the sheep from the goats. And you can help them out!
How?
By giving them a tangible proof that your electrical skills stand out.
The best way to do it is by listing your electrical certifications in a separate section.
Here are some of the certifications you can list in a resume for electrician jobs:
ALA Certified Lighting Consultant (American Lighting Association)
Certified Electrical Inspector - Master (International Association of Electrical Inspectors)
Electrified Hardware Consultant (Door and Hardware Institute)
Certified Entertainment Electrician (Professional Lighting and Sound Association)
Electrical Plan Examiner (International Code Council)
Pre-Engineered Industrial Fire Extinguishing System Technician (International Code Council)
Microprocessors in Traffic Signals Technician (International Municipal Signal Association)
Pro Tip: If you're a self-employed electrician looking for freelance jobs or applying for a position with a small company, it's a good idea to list the electrical tools and equipment that you own.
If you're seeking an entry-level electrical job and don't have any specialist certifications yet, your electrical apprentice resume will still benefit from an extra section.
Have a look at some ideas of what to include:
Volunteer experience
Industry blogs
Hobbies and interests
Languages
Additional student experience
School projects
Not quite sure what to include in the extra section of your electrician resume and what to leave off? Read our guide: 20 Best Examples of Hobbies & Interests To Put on a Resume (5 Tips)
7
Here's the Most Common Myth About Cover Letters
"You're an electrician, not a poet. Nobody expects you to be good with words, right? Besides - cover letters are unnecessary in your industry."
WHO TOLD YOU THAT?!
Seriously - remember who that was?
Because the best thing you can do is never take any advice from them again.
Almost half of the recruiters won't open even the best electrician's resume if there's no cover letter attached.
Sound like a risk you want to take? No?
So we thought.
Cover letters are often expected even if the job description doesn't explicitly state so.
And they can be used to your massive advantage.
Think about looking for an electrical apprenticeship. It can be daunting, right? Especially if you're trying to land one with a commercial company, not a union.
It's your electrician cover letter that can get you there!
If you attach a cover letter to your electrical apprentice resume, you can highlight your creativity. And you get the chance to explain why you're interested in an electrical career.
Your cover letter can prove to the recruiters that you're motivated and really mean business.
But it's not only entry-level candidates who should write a cover letter.
It doesn't matter if you're an ITI journeyman, a residential electrical technician, or a master aircraft electrician.
Including a cover letter in your application doubles your chances of getting hired. Can't argue with the stats, can you?
Plus, a great cover letter that match your resume will give you an advantage over other candidates. You can write your cover letter in our resume builder here. Here's what it may look like: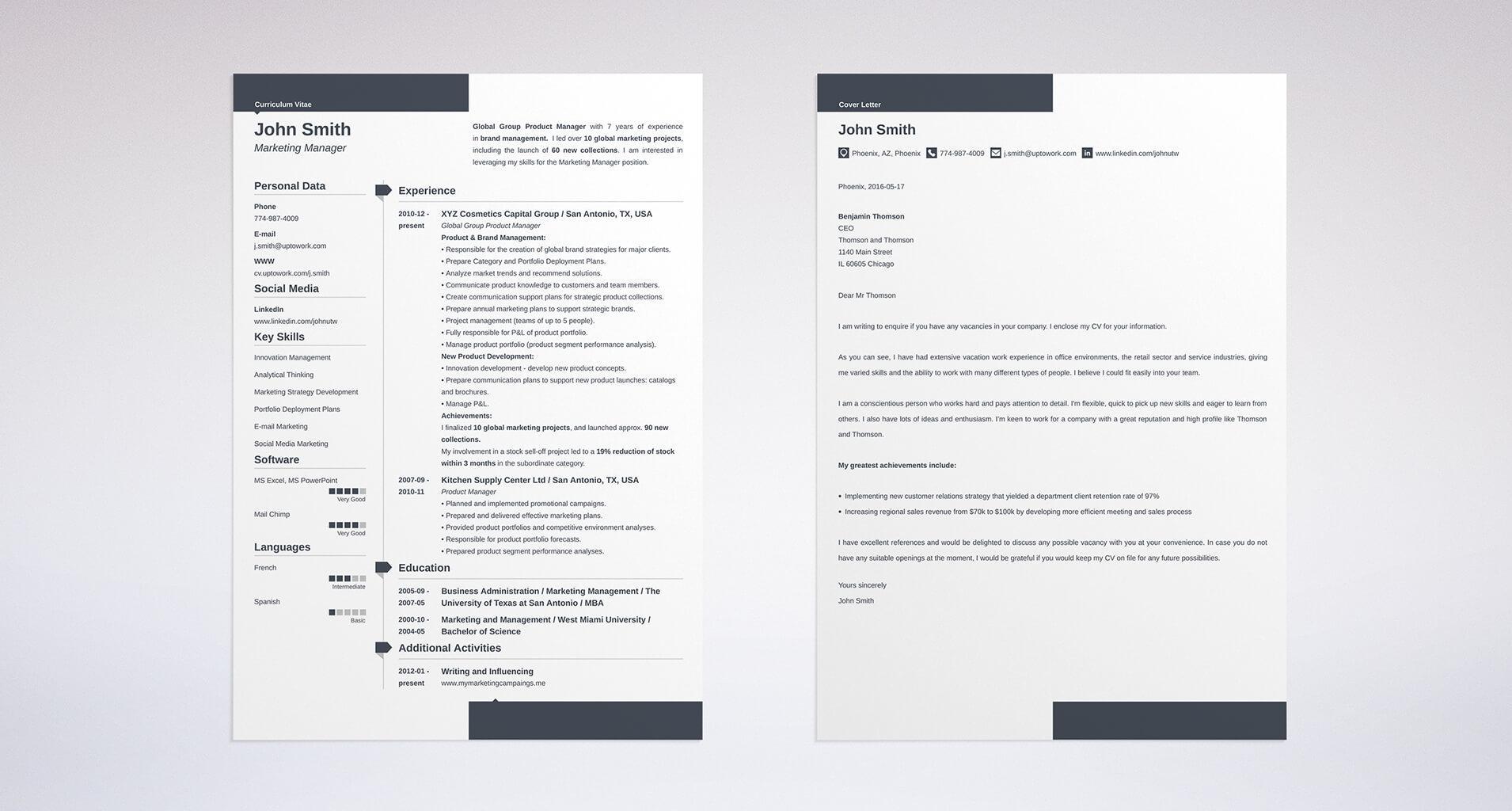 See more templates and create your resume and cover letter here.
Pro Tip: After you send your electrician resume and cover letter, don't forget to follow up! It'll take you no more than a minute and you'll no longer be anonymous to employers.
Need some tips on how to write your electrician cover letter? See our guide: How To Write A Cover Letter [Complete Guide With Examples]
Key Takeaway
As an electrician, you fix problems beyond our comprehension. It's not an easy trade. But it's not that hard to land your dream electrical job.
Just remember about the key strategies we covered:
Tailor your resume to the job opening. Make a list of all your achievements, skills, and previous responsibilities and match them with the keywords from the job description.
Don't omit your education section

- a high school degree is pretty much always required by the employers.

If you're writing an electrical apprentice resume, list all your volunteer and part-time positions

. Show the recruiters that you're serious about becoming an electrician.

Remember to attach an electrician cover letter to your job application.
Want to learn more about how to write the best electrician resume out there? Feel like you could use some tips about listing your major achievements? Give us a shout in the comments, and we'll answer your questions!