How to Write a Pipefitter Resume (Guide With Examples)
Learn how to create a pipefitter resume that gets noticed by employers. From formatting to keywords, this guide has everything you need to know.
You know everything about installing and maintaining piping systems, welding techniques, and blueprint reading. But can you convince potential employers that you're the one to take their piping projects to the next level? Even if writing isn't your strong suit, it's time to put pen to paper and showcase your expertise.
In this guide, you'll get the essential sections, formatting tips, and dos and don'ts of crafting a winning pipefitter resume that gets you an interview.
Want to save time and have your resume ready in 5 minutes? Try our resume builder. It's fast and easy to use. Plus, you'll get ready-made content to add with one click. See 20+ resume templates and create your resume here.
Sample resume made with our builder—See more resume examples here.
Looking for a different job? Check these guides:
Haven't found the job? See a list of 500+ resume examples to get you what you want.
Pipefitter Resume Sample
Paul Williams
Pipefitter
212-255-7521
paulwilliams@jourrapide.com
linkedin.com/in/paulwilliams
Summary
Dedicated Pipefitter with over 7 years of experience in the industry. Skilled in interpreting blueprints and schematics to ensure the accurate installation of pipes, fittings, and fixtures. Proficient in using various tools and equipment to cut and weld piping systems per specifications. Successfully collaborated with a team of welders and fabricators at my previous employer, Pipepundit, to complete a project for a commercial building under a tight deadline, resulting in a 20% increase in productivity. Excited about the opportunity to leverage the skills and expertise to contribute to the success of Weldfab.
Work Experience
Lead Pipefitter
Pipepundit, New York, NY
Jan 2017–Present
Key Qualifications & Responsibilities
Interpreted blueprints, schematics, and diagrams and modified them as necessary to ensure proper installation of pipes and fixtures for commercial and industrial buildings.
Cut, threaded, and assembled pipes, tubes, and fittings using hand tools and power tools, such as saws, cutting torches, and pipe threaders.
Collaborated with contractors, building managers, engineers, and other trade professionals to develop and implement effective installation plans.
Oversaw a team of 5 pipefitters and 2 apprentices to ensure work quality and productivity.
Managed the inventory of materials, tools, and supplies in compliance with quality and safety policies.
Key Achievement:
Successfully led a team in the installation of a piping system for a commercial building, working closely with the engineering team under a tight deadline, resulting in a 20% increase in productivity.
Pipefitter
SparkSaga, New York, NY
March 2014–December 2016
Key Qualifications & Responsibilities
Installed, assembled, and maintained piping and plumbing systems for various commercial and residential projects.
Worked with other tradesmen, such as welders, electricians, and builders, to coordinate the installation of piping systems.
Operated various hand and power tools such as pipe threaders and cutters to install pipes and fitting.
Provided training to new apprentices to teach them about the installation of piping systems, correct usage of tools, and safety procedures.
Maintained installation records and created detailed diagrams to assist other team members.
Key Achievement:
Executed an extensive renovation of the piping and plumbing systems for a large commercial building, resulting in significant energy savings.
Education
Certificate in Pipefitting Technology
Houston Community College, Houston, TX
September 2012–June 2014
Skills
Pipe installation and repair
Knowledge of pipe materials and cutting techniques
Blueprint reading
Mathematical and analytical skills
Pipe system installation and maintenance
Knowledge of safety procedures and regulations
Teamwork and collaboration
Technical instruction comprehension
Effective communication
Troubleshooting
Certifications
Pipefitting Certification, NCCER, 2018
Certified Welder, AWS, 2015
Now follow these steps to learn how to write a successful pipefitter resume:
1. Pick the Best Resume Format for Your Pipefitter Resume
Pipefitters can identify the piping and fitting types needed for a job. They understand the fluid flow and are familiar with the installation and maintenance of piping systems. Plus, they can read and understand blueprints and know welding techniques and piping regulations.
No matter the level of expertise, a cluttered mess on your resume lowers the chances of your resume getting noticed by potential employers. That's why it's crucial to format your pipefitter resume effectively.
While there are different resume formats to choose from, the reverse chronological resume format is widely considered the most effective for pipefitters.
Here are some formatting tips for your resume to achieve such format:
Pro Tip: To get the most out of your chronological resume, stick to the relevant experience and skills only and go 10–15 years back on your resume maximum. Recruiters are familiar with that format and know where to look for the information that interests them. Deliver it to them fast and get a call even faster.
2. Couple Your Experience and Skills for a Summary or Objective
To make a strong impression from the get-go, join your expert background with the strongest skills to create a compelling resume summary or career objective. Think of them as your elevator pitch or personal statement highlighting your unique value as a pipefitter.
If you're just starting out in the industry, think about including a resume objective that focuses on your transferable skills and goals. For example, you could highlight your knowledge of safety regulations, experience with power tools, and dedication to accuracy and precision in all piping work.
However, if you have a number of years of experience, choose a resume summary. It should give a concise overview of your background, professional achievements, and necessary skills to perform the job. For example, you could include one of your most significant accomplishments as a pipefitter, like overseeing a successful renovation project.
No matter which one you choose to go for, consider the following:
A couple of adjectives that describe your work style, such as "detail-oriented" or "analytical."
Your title, such as "Experienced Pipefitter" or "Certified Welding Specialist."
The number of years of experience you have in the industry, such as "10+ years of experience in industrial pipe fitting."
Any relevant certifications or licenses, such as a welding certification or OSHA safety training.
Specific achievements and metrics, such as "Installed and maintained over 100 piping systems with zero accidents or incidents."
Your career goals or value proposition, such as "Dedicated to ensuring safe and efficient piping systems for commercial and residential clients."
Remember, your summary or objective is your chance to make a memorable first impression, so make sure it proves your unique skills, experience, and value as a pipefitter.
3. Customize Your Pipefitter Job Description
Imagine you're a piping project manager searching for the ideal candidate. What skills and experience do you want to see in a pipefitter? Look for those keywords and phrases in the job description, and tailor your application to the specific job you're applying for. If possible, use the same job titles and descriptions found in the job listing.
Also, be specific with your achievements and metrics in your work experience section. Have you installed complex piping systems or used your welding expertise to save time and money on a project? Let the hiring managers know.
By taking the time to tailor your resume, you'll show potential employers that you're the perfect fit for their company and stand out from other applicants who just send in a one-size-fits-all resume.
An NPT will not fit a BSP, so don't just send in a generic resume. Read more about them here: What Is a General Resume & When Can You Use It?
4. Add Education to Your Pipefitter Resume
When it comes to your pipefitter resume, the education section may not be the most important part, especially if you have extensive industry experience. However, it's still important to include relevant credentials and training to present your qualifications.
Here are best practices when crafting the education section for your pipefitter resume:
If you have completed technical training or college, list those first. Include the name of the institution, the degree or certificate earned, and the dates attended.
If you are a recent graduate or entry-level pipefitter, you can include more detail about your education. For example, you may want to include relevant coursework or academic projects that highlight your understanding of piping systems and materials.
Include your high school education if you have not pursued any further technical training or college. If you have, prioritize those educational experiences instead.
Even if education isn't the most critical aspect of your application, it speaks dedication and sets you apart from the competition.
When making a resume in our builder, drag & drop bullet points, skills, and auto-fill the boring stuff. Spell check? Check. Start building a professional resume template here for free.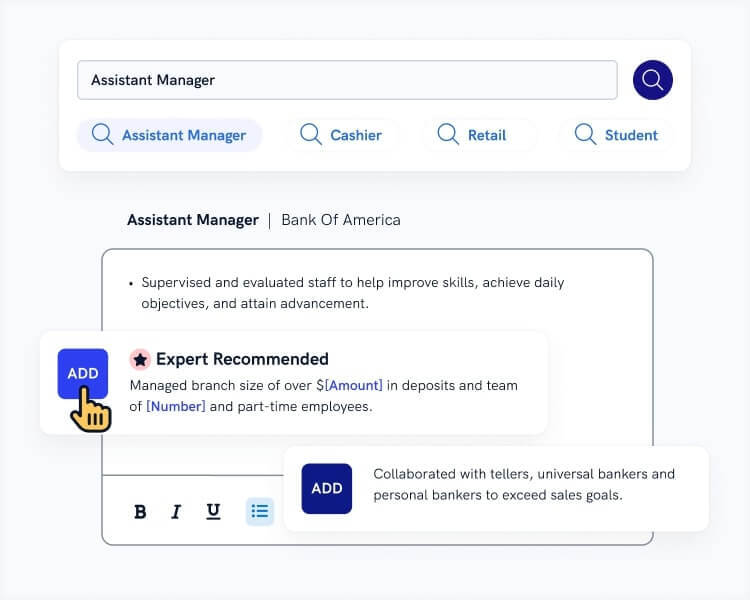 When you're done, our free resume builder will score your resume and our resume checker will tell you exactly how to make it better.
5. Accumulate the Essential Skills on a Pipefitter Resume
For your pipefitter resume, the skills section is the place to shine.
Begin by featuring all of your relevant technical skills, such as welding techniques, blueprint reading, pipe threading, system installation, and knowledge of safety regulations and codes.
You'll also want to include any soft skills that apply to the job role. (Yes! Pipefitters must combine hard skills with soft abilities to perform the job well.) Think teamwork, communication, and problem-solving abilities.
Here you have a sample list of pipefitter skills to get you started:
Pipefitter Resume Skills
Welding techniques
Blueprint reading
Pipe threading
System installation
Knowledge of safety regulations and codes
Mechanical aptitude
Ability to handle physical labor
Ability to read and interpret technical documents
Troubleshooting
Self-motivation with a strong work ethic
6. Include Other Sections on Your Pipefitter Resume
You've crafted a solid pipefitter resume, but how do you make it rust-free? By showing your passion for the job and highlighting your unique skills and qualities. One way to accomplish that is by adding extra information to your resume.
Here are some ideas:
Certifications and licenses: Highlight any relevant certifications or licenses, such as a journeyman pipefitter certification or an OSHA safety certification. It shows that you're committed to the trade, which is a major plus in the eyes of the recruiting manager.
Training: Mention any training courses or workshops that relate to pipefitting. This indicates that you're constantly learning and upgrading your skills to keep up with industry changes.
Volunteer Experience: If you have volunteered for organizations or non-profits that are similar to your field, this will help your prospective employer understand the passion that you bring to the job.
With a more complete picture of your experience and expertise, you'll have a bigger chance of landing the job.
7. Attach a Cover Letter to Make the Most of the Pipefitter Resume
Do you think a cover letter is an unnecessary addition to your pipefitter resume? Think again. According to HR statistics, including a well-written cover letter can increase your chances of getting hired. In fact, many recruiters won't even consider a resume unless it's accompanied by a cover letter.
To help you write it, here are some tips on how to make it error-free:
Plus, a great cover letter that matches your resume will give you an advantage over other candidates. You can write it in our cover letter builder here. Here's what it may look like: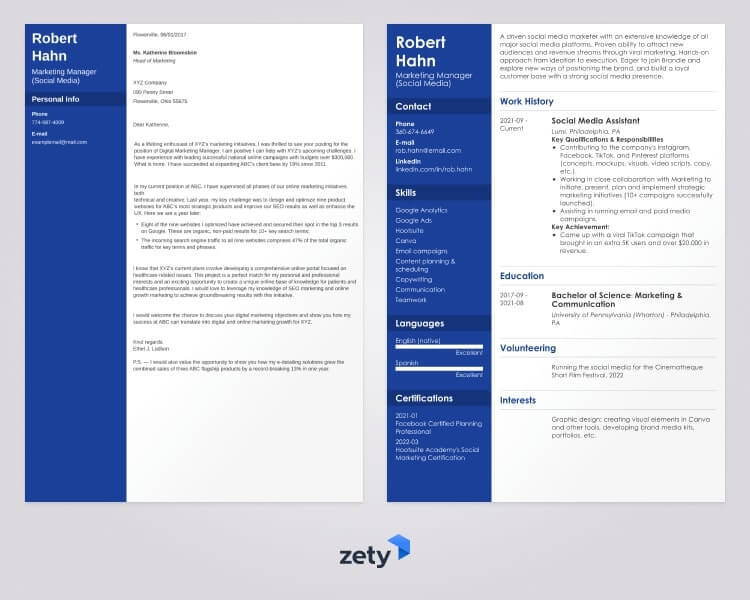 See more cover letter templates and start writing.
Your pipefitter resume is ready! Now it's time to land your dream job.
Are you creating a pipefitter resume for the first time? Or maybe you're an experienced pro who wants to help newcomers in the industry? We'd love to hear from you! Please leave your comment below and share your tips and advice on how to craft a standout pipefitter resume.
About Zety's Editorial Process
This article has been reviewed by our editorial team to make sure it follows Zety's editorial guidelines. We're committed to sharing our expertise and giving you trustworthy career advice tailored to your needs. High-quality content is what brings over 40 million readers to our site every year. But we don't stop there. Our team conducts original research to understand the job market better, and we pride ourselves on being quoted by top universities and prime media outlets from around the world.
Sources