Our customers have been hired by:
They say Rome wasn't built in a day, but with your carpentry skills, you could probably give it a run for its money. However, crafting a resume that showcases your talents can feel like constructing the Colosseum with toothpicks.
Fret not, our guide will provide you with the blueprint to nail your carpenter resume and secure your dream job. Time to hammer out the details!
This guide will show you:
A carpenter resume example better than 9 out of 10 other resumes.
How to write a carpenter resume that will land you more interviews.
Tips and examples of how to put skills and achievements on a carpenter resume.
How to describe your experience on a resume for a carpenter to get any job you want.
Want to save time and have your resume ready in 5 minutes? Try our resume builder. It's fast and easy to use. Plus, you'll get ready-made content to add with one click. See 20+ resume templates and create your resume here.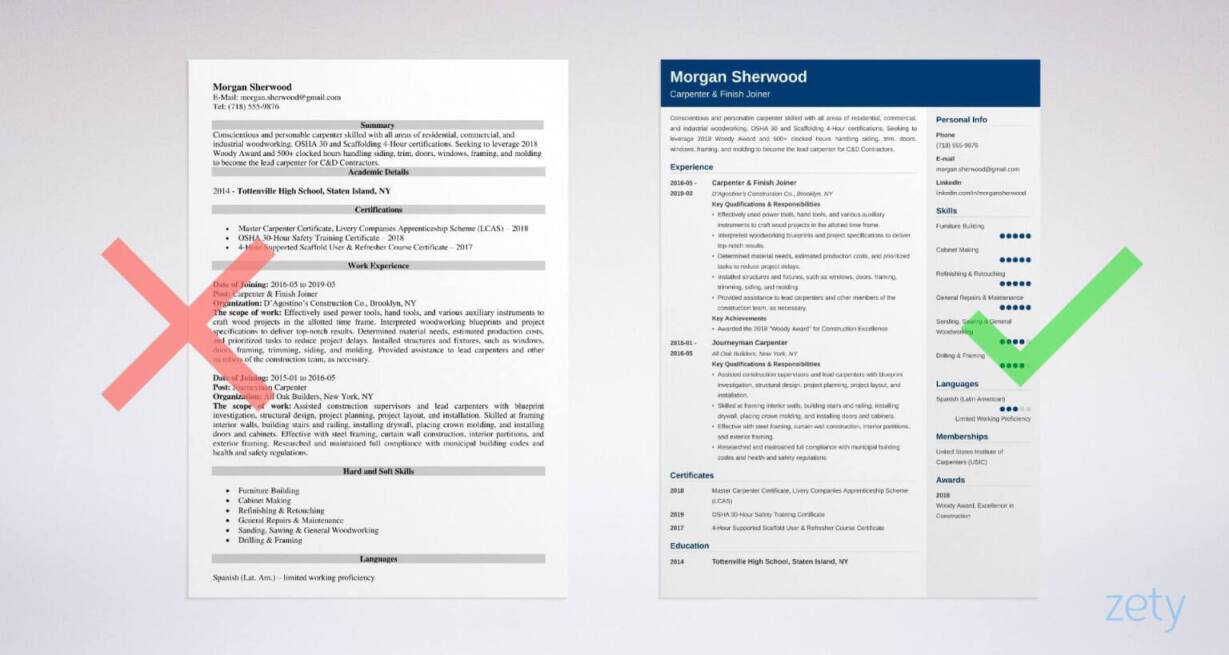 Sample resume made with our builder—See more resume samples here.
Carpenter Resume Sample
Morgan Sherwood
Carpenter & Finish Joiner
morgan.sherwood@gmail.com
(718) 555-9876
linkedin.com/in/morgansherwood
Summary of Qualifications
Conscientious and personable carpenter skilled with all areas of residential, commercial, and industrial woodworking. OSHA 30 and Scaffolding 4-Hour certifications. Seeking to leverage 2018 Woody Award and 500+ clocked hours handling siding, trim, doors, windows, framing, and molding to become the lead carpenter for C&D Contractors.
Work Experience
Carpenter & Finish Joiner
May 2016–March 2019
D'Agostino's Construction Co., Brooklyn, NY
Key Qualifications & Responsibilities
Effectively used power tools, hand tools, and various auxiliary instruments to craft wood projects in the allotted time frame.
Interpreted woodworking blueprints and project specifications to deliver top-notch results.
Determined material needs, estimated production costs, and prioritized tasks to reduce project delays.
Installed structures and fixtures, such as windows, doors, framing, trimming, siding, and molding.
Provided assistance to lead carpenters and other members of the construction team, as necessary.
Key Achievements
Awarded the 2018 "Woody Award" for Construction Excellence
Journeyman Carpenter
January 2015–May 2016
All Oak Builders, New York, NY
Key Qualifications & Responsibilities
Assisted construction supervisors and lead carpenters with blueprint investigation, structural design, project planning, project layout, and installation.
Skilled at framing interior walls, building stairs and railing, installing drywall, placing crown molding, and installing doors and cabinets.
Effective with steel framing, curtain wall construction, interior partitions, and exterior framing.
Researched and maintained full compliance with municipal building codes and health and safety regulations.
Education
Tottenville High School, Staten Island, NY
Graduated 2014
Key Skills
Furniture Building
Cabinet Making
Refinishing & Retouching
General Repairs & Maintenance
Sanding, Sawing & General Woodworking
Drilling & Framing
Certifications
2018 Master Carpenter Certificate, Livery Companies Apprenticeship Scheme (LCAS)
2018 OSHA 30-Hour Safety Training Certificate
2017 4-Hour Supported Scaffold User & Refresher Course Certificate
Awards
2018 Woody Award, Excellence in Construction
Memberships
United States Institute of Carpenters (USIC)
Languages
Spanish (Latin American): Limited Working Proficiency
Now, here's how to write a carpenter resume:
1. Choose the Best Format for Your Carpenter Resume
Whether it's building a simple wooden box or constructing curtain walls for an office building, a blueprint keeps the project from failure.
Same on a carpentry resume—
The right resume format ensures you turn in a document that's in order and easy to understand.
Keep these resume formatting rules in mind:
Pro Tip: If you are writing a no-experience resume for carpentry jobs, think about getting an apprenticeship. Many journeyman carpenters require it, so search for "carpenter apprentice jobs" when hunting on Indeed or Monster.
2. Write a Carpenter Resume Objective or Summary
You take trees and you turn them into ornate furniture or strong foundational frameworks able to last generations.
A resume needs the same crafty touch—
If you want your woodworker resume to last through the hiring process to employment, start with a great resume profile.
Also called a resume objective or summary, this intro paragraph is 3–4 lines long.
It gives contractors, foremen, and lead carpenters a quick breakdown of your woodworking background, carpentry skills, project experience, and career goals.
The resume summary works if you have over 2 years of carpentry experience. It talks up your carpenter skills and experience while including a numbered accomplishment to prove you're the top choice.
The resume objective is best for when you have little woodworking experience. It talks up your carpentry career goals while still including a quantifiable achievement.
Pro Tip: The carpenter resume summary or objective goes at the top, you don't have to write it first. Save it for the end, instead, because it's a bit hard to "sum up" your resume if you haven't even written it yet!
3. Create the Perfect Carpenter Job Description for a Resume

According to the Bureau of Labor Statistics, carpentry jobs are projected to grow by 8% between 2016 and 2026.
That's 83,800 new woodworkers to compete against.
So—
Get your work experience section correct, whether you are a commercial carpenter, industrial carpenter, or cabinetmaker.
Here's how to nail your carpenter job description for resumes:
Follow your most recent job with the one before it, and so on.
Add the job title, dates worked, company name, and several responsibilities.
Reduce the number of job description bullet points as you go further back.
Begin each bullet point entry with a resume action word or power verb (e.g., built, constructed, etc.)
Give measurable achievements, rather than standard carpentry job duties and tasks.
Target each resume to one job, rather than writing a generic carpenter's resume.
Pro Tip: When you list experience for a job that isn't related to carpentry, still list the most carpenter-relevant job duties in your bullet points. Choose entries which highlight your ability to follow blueprints, physical fitness, construction knowledge, etc.
When making a resume in our builder, drag & drop bullet points, skills, and auto-fill the boring stuff. Spell check? Check. Start building a professional resume template here for free.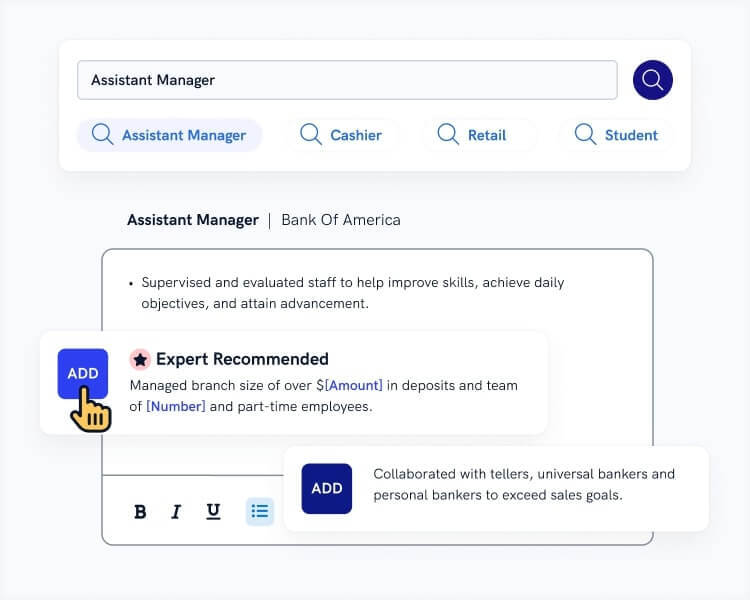 When you're done, Zety's resume builder will score your resume and our resume checker will tell you exactly how to make it better.
4. Make Your Woodworking Resume Education Section Shine
Your woodworking buddies might say that an education section on a carpenters resume is just a waste of space.
Don't listen to them.
Here's how to write an education section as strong as a load-bearing wall:
Completed college? Don't include high school on your resume.
Not done with college? Add high school as a secondary entry.
Only have high school? List that as your sole entry, with the name of the school, city, state, and graduation date.
Pro Tip: Most carpentry jobs require only a high school diploma (or equivalent, like a GED). However, if you have high school or college classes like shop or woodworking, add those to a subsection such as "Relevant Coursework," as it definitely impresses them.
5. Highlight Your Carpenter Skills on a Resume
From circular saws to framing squares to cat's paws, you know your way around wood.
Well—
Prove it to them by listing the best carpenter resume skills:
Top Carpenter Resume Skills
Furniture Building
Wood Types & Varieties
Cabinet Making
Refinishing & Retouching
General Repairs & Maintenance
Sanding, Sawing & General Woodworking
Drilling & Framing
Residential Carpentry
Building Construction
Carving Tools
Industrial Carpentry
Commercial Carpentry
Framing & Paneling
Renovation & Restoration
Physical Fitness
Carpentry Tools
However—
Don't just copy-paste this list of construction carpenter resume skills and send off your resume.
Do this, instead:
Pro Tip: As a prospective carpenter, your resume should focus on hard skills (framing, molding) over soft skills (time management, creative thinking).
6. Add Other Sections to Your Carpenter Resume
You've got the standard sections for a good carpenter resume.
However—
All the other carpenter candidates have the same resume parts.
So, add extra resume sections to stand out from the pack.
Here are some great additions to a resume for carpenter jobs:
projects
licenses
memberships
7. Attach a Carpenter Cover Letter to Your Carpenter Resume

More than half of employers say a resume alone isn't enough.
So—
Whether you're a rough carpenter, joister, trim carpenter, or roofer, don't skip the cover letter.
Here's how to write a cover letter for carpenter jobs they'll love:
Also, we've got the best cover letter tips to help you write a carpenter cover letter. Check them out!
Pro Tip: Don't forget to follow up on your job application. Shooting off a quick email or making a brief call might be the thing that gets you hired.
Plus, a great cover letter that matches your resume will give you an advantage over other candidates. You can write it in our cover letter builder here. Here's what it may look like: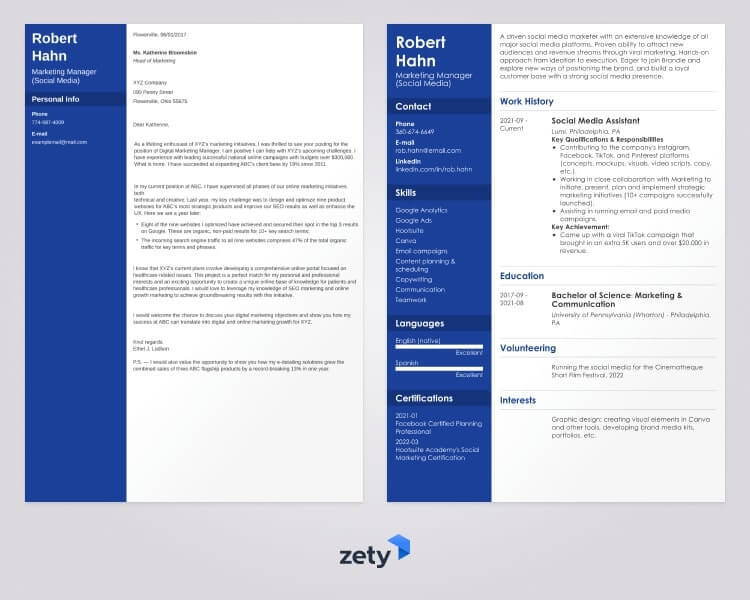 See more cover letter templates and start writing.
So, that's it—
Now THAT'S a carpenter's resume as strong as if it were made of greenheart wood!


Got any questions on how to write a carpenter resume? Need more construction carpenter resume examples? Not sure how to talk about carpenter resume skills, construction certifications, or crafting achievements? Get at us in the comments below, and thanks for reading!
About Zety's Editorial Process
This article has been reviewed by our editorial team to make sure it follows Zety's editorial guidelines. We're committed to sharing our expertise and giving you trustworthy career advice tailored to your needs. High-quality content is what brings over 40 million readers to our site every year. But we don't stop there. Our team conducts original research to understand the job market better, and we pride ourselves on being quoted by top universities and prime media outlets from around the world.
Sources