Material Handler Resume Sample and Job Description
You pick and kit like lightning, getting raw materials to the shop floor so things run smooth as silk. Prove you do it well with this fully-stocked sample material handler resume.
You might be the only person in the world who could find a needle in a haystack. As a material handler, you know exactly where all materials are in the warehouse. But when it comes to your resume, are you feeling lost in the stacks?
Fear not! Our expert guide will help you craft a material handler resume that showcases your skills and lands you that dream job on the shelves.
This guide will show you:
A material handler resume example better than 9 out of 10 other resumes.
How to write a material handler resume that will land you more interviews.
Tips and examples of how to put skills and achievements on a material handler resume.
How to describe your experience on a resume for a material handler to get any job you want.
Want to save time and have your resume ready in 5 minutes? Try our resume builder. It's fast and easy to use. Plus, you'll get ready-made content to add with one click. See 20+ resume templates and create your resume here.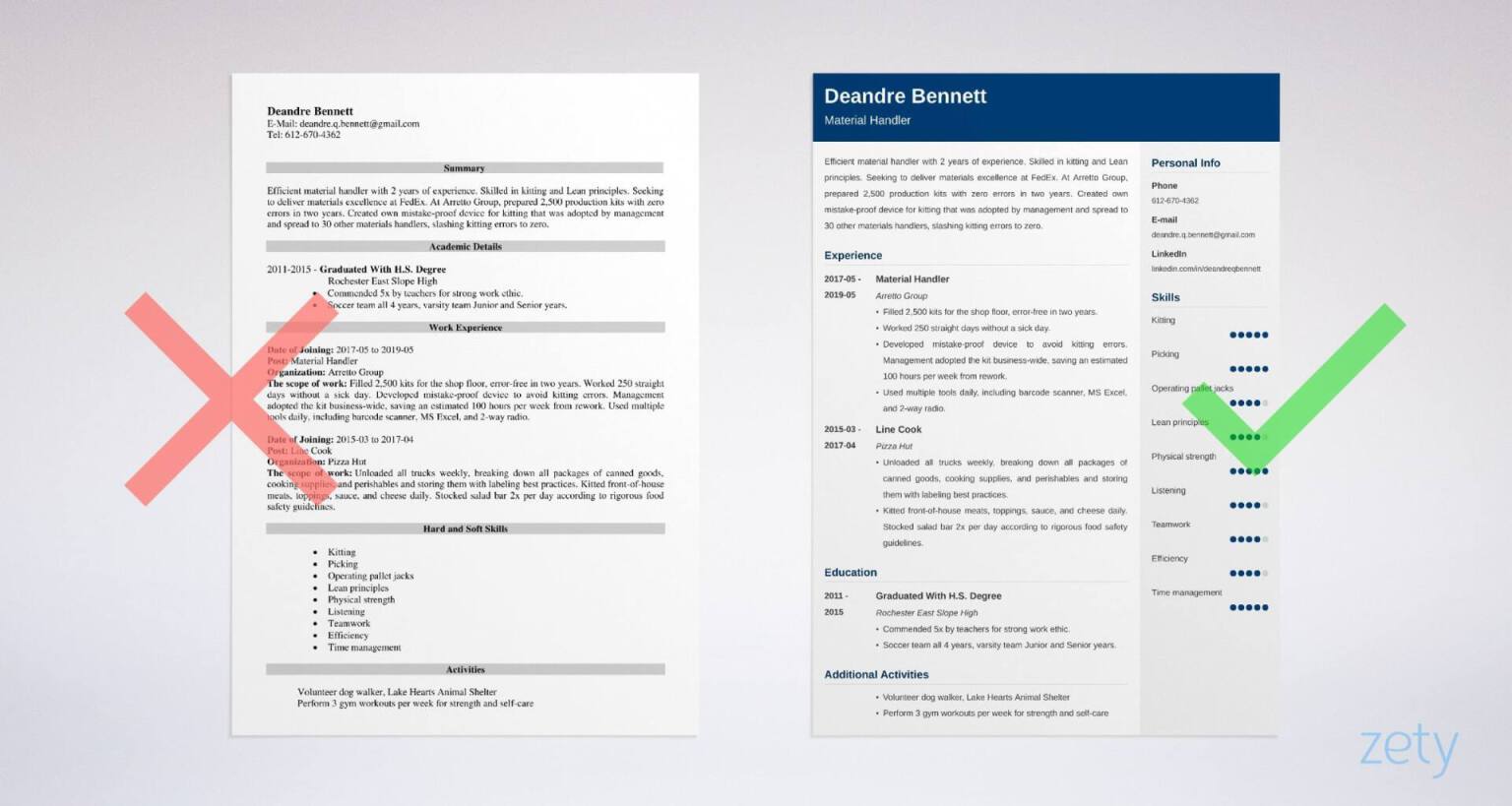 Sample resume made with our builder—See more resume examples here.
Why limit yourself to a resume for material handlers? See our guides:
Material Handler Resume Sample
Deandre Bennett, Material Handler
deandre.q.bennett@gmail.com
linkedin.com/in/deandreqbennett
612-670-4362
Professional Summary
Efficient material handler with 2 years of experience. Skilled in kitting and Lean principles. Seeking to deliver materials excellence at FedEx. At Arretto Group, prepared 2,500 production kits with zero errors in two years. Created own mistake-proof device for kitting that was adopted by management and spread to 30 other materials handlers, slashing kitting errors to zero.
Work Experience
Material Handler
Arretto Group
May 2017–May 2019
Filled 2,500 kits for the shop floor, error-free in two years.
Worked 250 straight days without a sick day.
Developed mistake-proof device to avoid kitting errors. Management adopted the kit business-wide, saving an estimated 100 hours per week from rework.
Used multiple tools daily, including barcode scanner, MS Excel, and 2-way radio.
Line Cook
Pizza Hut
March 2015–April 2017
Unloaded all trucks weekly, breaking down all packages of canned goods, cooking supplies, and perishables and storing them with labeling best practices.
Kitted front-of-house meats, toppings, sauce, and cheese daily. Stocked salad bar 2x per day according to rigorous food safety guidelines.
Education
2011–2015 Rochester East Slope High
Graduated With H.S. Degree
Commended 5x by teachers for strong work ethic.
Soccer team all 4 years, varsity team Junior and Senior years.
Skills
Technical Skills:

Kitting, picking, operating pallet jacks, Lean principles

Soft Skills:

Physical strength, listening, teamwork, efficiency, time management
Activities
Volunteer dog walker, Lake Hearts Animal Shelter
Perform 3 gym workouts per week for strength and self-care
Here's how to write a material handler resume that gets jobs:
1. Pick the Best Material Handler Resume Format
Material Handlers move stock raw materials on production floors and in warehouses. They may find and kit materials and load them on a cart or move them from the cart to the shelf space. Material handler resumes need to show physical stamina, accuracy, and efficiency.
Psst.
Hiring managers can see right through you.
Your resume for material handler jobs is telling them a story.
If it's poorly formatted, they know you're poorly formatted.
The layout of a resume matters, so follow these rules:
Pro Tip: Send a professional resume format PDF. Why? Because PDFs don't reformat by accident on different screens. Check first to see if the job announcement says "No PDFs."
2. Write a Material Handler Resume Objective or Resume Summary
Be quick.
Don't bore the hiring manager, or he'll read someone else's material handler resume.
Summarize your application with a resume profile. Include:
1 adjective ("hard-working" or "efficient")
"Material Handler"
#years of experience
Goal ("deliver materials efficiency")
A couple skills from the job posting
A couple accomplishments for evidence you've got those skills
Not sure how to make a resume for your first job? Start with a career objective in your resume.
List accomplishments that tout transferable skills like efficiency or teamwork.
Pro Tip: How long should a resume be for materials handlers? Always, always a single page.
3. Kit Your Resume for the Material Handler Job Description
Stop the line!
Most material handler resumes get tossed out because—
They don't fit.
So make yours fit.
Show experience on a resume for material handlers in a way that slots into the opening.
Here's how to tailor your resume to a job description:
Pro Tip: Engage their interest with resume power words like filled, developed, or unloaded. Don't say what you "handled." Say how well you handled it.
4. Stock Your Material Handler Resume Education Section
Warning:
A resume education section isn't as simple as it seems.
Of course list a school name with a degree and years.
But also—
Add resume bullets that show a couple key materials handler skills.
Were you on a school sports team? That shows physical stamina. Did teachers compliment you on your work ethic? Add that to your FedEx material handler resume.
Pro Tip: Haven't had a job yet? No one said an education section on a materials handler resume had to be short. In a pinch, one class can list three achievements.
5. List Material Handler Skills in Your Resume
Put these skills on a resume for material handler jobs:
Material Handler Resume Skills
Start with resume technical skills:
Picking
Kitting
Operating pallet jacks
Reading orders
Lean principles
Kanban
FIFO
Verifying items
Using barcode scanners
Inventory management
Record keeping
Packaging
Following safety procedures
But list both soft skills and hard skills.
Physical stamina
Strength
Accuracy
Efficiency
Detail oriented
Pro Tip: A materials handler resume with all those skills will look dishonest. List a few. Which few? Find the ones the job ad seems to care about most.
When making a resume in our builder, drag & drop bullet points, skills, and auto-fill the boring stuff. Spell check? Check. Start building a professional resume template here for free.
When you're done, our professional resume builder will score your resume and our resume checker will tell you exactly how to make it better.
6. Add Bonus Sections to Your Material Handler Resume
Prove you're worth their time.
Do it by adding sections to your material handler resume.
Pick from:
Supervisor compliments
Sports pastimes
What are your interests? Those can fill space on a weak resume too. Dressmaking, dog grooming, or collecting vinyls shows you've got some basic competence.
Pro Tip: Not sure how to put certifications on a resume for material handler jobs? If you've got a safety certificate or forklift certification, add it to a "Certifications" section just under education.
7. Send a Cover Letter With Your Material Handler Resume
Do I need a cover letter for my resume for material handler jobs?
You do.
Here's how to write a good cover letter that gets jobs:
Use the three-paragraph cover letter format.
Learn how to start cover letter with a tasty hook. Example: "Filling 2,500 kits without an error in two years was a fun accomplishment. When..."
In the second paragraph of your material handler cover letter, prove you'll snap into the job. Mention things you've done that they need done.
Offer something tempting in your cover letter closing paragraph. Example, "I'd love to explain how I saved the company 100 hours a week."
The length of a cover letter should be a half page.
Pro Tip: Send one application follow up email every week after you apply. Make it short and remind them of the biggest reason you're a fit.
Plus, a great cover letter that matches your resume will give you an advantage over other candidates. You can write it in our cover letter builder here. Here's what it may look like: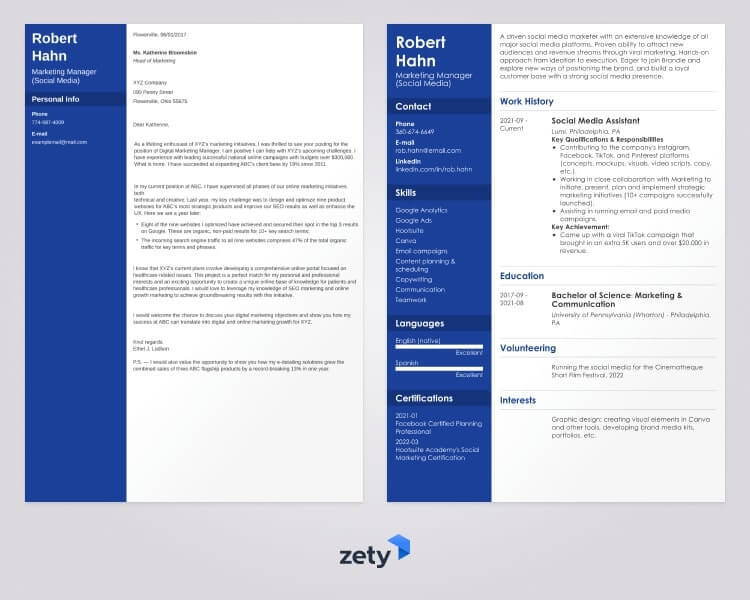 See more cover letter templates and start writing.
That's it!
That's how to write a material handler resume.
How long have you been working on your materials handler resume? What do you hope the manager learns about you when she reads your resume for material handler jobs? Give us a shout in the comments. We'd love to talk!
About Zety's Editorial Process
This article has been reviewed by our editorial team to make sure it follows Zety's editorial guidelines. We're committed to sharing our expertise and giving you trustworthy career advice tailored to your needs. High-quality content is what brings over 40 million readers to our site every year. But we don't stop there. Our team conducts original research to understand the job market better, and we pride ourselves on being quoted by top universities and prime media outlets from around the world.