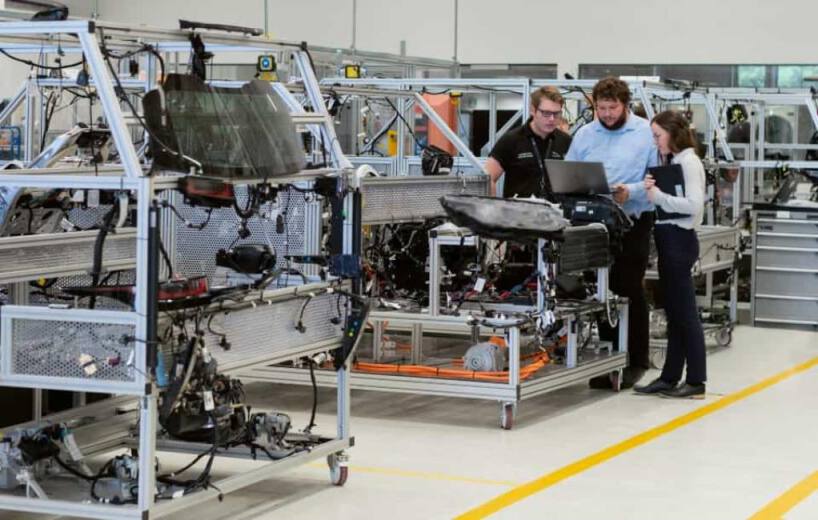 Factory Worker Resume: Sample & Guide (+ No Experience)
You nail the production line, and keep the working area neat and tidy. But to get a great job to match your great skills, you also need an excellent factory worker resume.
Imagine a rinky-dink establishment with hardly any safety measures, a neglectful foreman, and improperly stored equipment. Just a giant mess. Ugh! That's not the kind of job you want to have.
To avoid ending up in a job with 19th-century working conditions, you must ensure your factory worker resume is up to present-day standards, too.
This guide will show you:
A factory worker resume example better than 9 out of 10 other resumes.
How to write a factory worker resume that will land you more interviews.
Tips and examples of how to put skills and achievements on a factory worker resume.
How to describe your experience on a resume for factory workers to get any manufacturing job you want.
Want to save time and have your resume ready in 5 minutes? Try our resume builder. It's fast and easy to use. Plus, you'll get ready-made content to add with one click. See 20+ resume templates and create your resume here.
Sample resume made with our builder—See more resume examples here.
Need something different to satisfy your job-seeking? See our other guides here:
Sample Resume for Factory Worker Jobs
Michael Frerichs
Factory Worker
210-275-3380
michaelfrerichs@zmail.com
Linkedin.com/in/michaelfrerichs
Professional Summary
Dependable factory worker with 7 years of experience. Excellent teamwork skills and timely organization. Helped reduce workplace accidents by 40% through strict adherence to OSHA regulations. Seeking to join MetalCarbon to bring safety orientation and reduce company costs.
Work Experience
Production Worker
MetalCarbon Ltd, Las Vegas, Nevada
Feb 2015–Aug 2020
Implemented a new and improved packing method, slashing operation time by 25%.
Received 8 Flawless Employee Awards between 2016 and 2020.
Was appointed as shift leader after just 4 months of working, fastest in company history.
Calibrated machinery to better adhere to quality standards, increasing QC pass rates of finished products by 15%.
Forklift Operator
Fiddley-Bewick-Coppley, Spokane, WA
June 2013–Feb 2015
Trained over 15 new employees in efficient forklift operation.
Performed strict shipping and receiving procedures.
Conducted daily safety checks on 8 different vehicles.
Education
Des Moines Technical High School, Des Moines, IA
Graduated in 2010
Key Skills
Setup Reduction
Powertool Operation
Health and Safety
Collaboration
Hand-Eye Coordination
Loading & Unloading
Teamwork
Multitasking
Certifications
RBA Factory Lead Certification Program, RBA Learning Academy, 2018
OSHA Training (30 hours), OSHA Nevada, 2015
Forklift Operator Certification, OSHA Nevada, 2015
Now, follow these steps to a perfect factory worker resume:
1. Begin by Formatting Your Factory Worker Resume Properly
Regardless of the specific industry, factory workers ensure quality is maintained throughout each stage of product manufacturing while keeping process areas clean, adhering to safety measures, and operating machinery. Your factory worker resume needs to show you're reliable and organized.
Factory staff has quite a few tasks on their plates. Expected, since manufacturing is a multistep process.
So is writing a resume, and the best way to nail it is planning ahead.
That's why, for best results, you should stick to resume formatting best practices:
How many pages should a resume be, really? Seeing as it's not an operating manual for a bulldozer or loader, one page is definitely enough.
Read more: Best Resume Templates You Can Download and Customize
2. Choose a Factory Worker Resume Objective or Resume Summary
Unfortunately for you, recruiting managers don't have all day to sift through the (likely) hundreds of applications they receive.
They want to get through them as quickly as possible, punch out, and leave for the day.
Your resume, therefore, needs to be scannable, first and foremost.
What does that mean in practice?
Let's put it this way: without a straight and to-the-point resume profile statement, your resume gets discarded faster than a faulty product that didn't pass the quality check before shipping. The profile is like a short introduction to your resume, and it should go right below the header of your document.
For a factory worker resume, choose between a career objective statement and a professional summary statement. How? Well—
Resume summaries work best for experienced individuals. Flaunt your experience and boast about your achievements. Bonus points if you include numbers, as they make your past actions more quantifiable, e.g. "Increased production efficiency by 20% by reorganizing the workspace".
However, if you're writing a resume for a factory worker with no experience, choose an objective. Focus on the knowledge and skills you have that would still apply in a factory. For instance, in a resume objective for factory workers, you can use manual skills, technical education, or physical fitness as useful transferable skills.
Pro Tip: Is your brain jammed up, scrambling to come up with what to actually write in this section? Save it for last while you figure out the other resume parts first.
3. Add a Convincing Experience Section to Your Resume
The best way to show the recruiter you're a manufacturing veteran?
A convincing, succinct work experience section. It does the heavy lifting for you.
Here's how to add work experience to your resume:
Start with your last job first, and list the earlier ones further below.
Include 4 to 6 bullet points, describing what you did in a way that works with the phrasing from the job ad. For your older jobs, 3 bullets are enough.
State what your job title was, the company's name and years worked.
Describe your accomplishments using action words and numbers. Both of them work wonders for keeping the recruiter's attention square on your application.
Tailor your resume to the job posting, I cannot stress this enough. It's the resume writing equivalent of "work smart, not hard". You could have 25 years' worth of experience, but if you can't talk about it right, it won't make a difference.
But what if you're writing a resume for a factory worker with no experience? If you have relevant education, qualifications, certificates, or licenses, you can let your education section take over. Swap their positions in your resume to put your best foot forward.
Read more: How to Write a Resume with No Work Experience: Step-by-Step Guide with Examples
4. Prepare a Great Education Section
Physical labor requires no education, so you might as well skip this section, right?
Wrong. Dead wrong.
You wouldn't skip it the same way you wouldn't scoff at the safety requirements. Employers hate that, given that in 2008, workplace accidents cost them over $57 billion dollars in the US alone.
While the education section may not be the most important element, ignoring it is one way to get skipped on.
Here's what your resume education section should look like:
If you have a completed degree higher than high school and lots factory experience, list the school name, degree, and graduation date.
If you're still finishing that degree, also include information about your high school.
In every other case, whatever your highest completed schooling is, you want to sprinkle in some additional wins, like the courses you excelled at, favorite subjects, or additional achievements that fit the factory theme.
Read more: How to List Unfinished Education on Your Resume
5. Prove Your Factory Worker Skills
Skills are crucial in a factory setting. I mean, you wouldn't let a toddler operate a forklift. Not until they've been properly trained, at least.
So how do you show the recruiter you're a pro? Through the use of a tailored skills section.
First, write down all of your job skills. There's likely going to be a lot of them, but don't worry: we'll trim that list later.
Once all of your hard skills, soft skills, technical skills, and all other factory-relevant skills are in place, go back to the job posting. What does it say under "requirements"? You should be able to extract a few critical resume keywords that let you in on what the company is seeking in particular.
And then, once you've found them, simply cross-check with the list you created and select those that make the best matches. Pick up to 10 of the best ones and add those to your resume. Congratulations, you just increased your chances at getting hired by a mile.
Additionally, in the present day, being tech-savvy definitely plays in your favor. According to reports, Industry 4.0 is just beginning. Embracing technology will boost your chances, shunning it will hurt them for sure: so if you have any tech and computer skills, remember to mention them, too.
Here's a sample list of skills for factory workers, just for reference:
Factory Worker Skills for a Resume
Assembly Protocols
Hand Tools & Power Tools
Machinery Operation
Quality Assurance
Setting up & Testing Machinery
Picking
Efficiency
Packing
Cleaning Equipment
Record Keeping
Math Skills
Loading & Unloading
Physically Fit
Shipping
Reliable
Computer Skills
Pallet Jack Operation
Housekeeping
Health & Safety Regulations
Strong Work Ethic
Able to Lift Over 50 Lbs
As well as adding these skills to a section of their own, remember to sprinkle them throughout your work experience section and resume profile.
When making a resume in our builder, drag & drop bullet points, skills, and auto-fill the boring stuff. Spell check? Check. Start building a professional resume template here for free.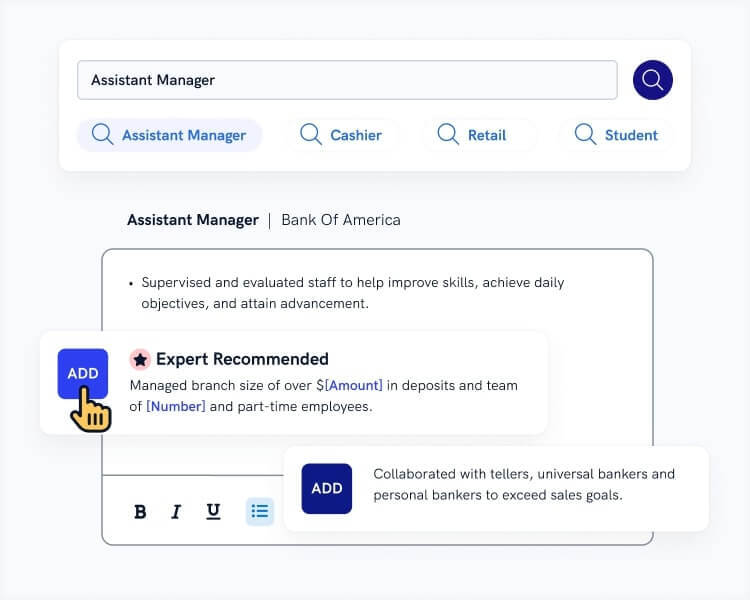 When you're done, our online resume builder will score your resume and our resume checker will tell you exactly how to make it better.
6. Add Extra Sections to Distinguish Your Factory Worker Resume
Time to take it to the next level.
So far, the structure of your resume, while excellent, doesn't offer much in terms of individuality. It's not really your resume, but rather a resume. Among many.
So, including additional sections to display some uniqueness is definitely a good idea. Try some of those:
Association memberships
Freelance work
7. Include a Cover Letter with Your Factory Worker Resume
How essential is a cover letter, if at all?
Very much so. Our key HR statistics show that a significant number of recruiters won't bother reading your application if a cover letter is nowhere to be seen.
Here's how to write a cover letter in a nutshell:
Pick the right format for your cover letter to kick things off.
Start the cover letter off strong to make a good impression right away.
Add more information about your skills and accomplishments in manual labor, machine operation, or past factory experience.
Finish off with a strong cover letter ending and include an enticing offer.
At the end, save the file in a PDF format for a nice PDF package (resume + cover letter).
If you can, pick a cover letter template that matches the style of your resume. It'll make you look even more professional!
Plus, a great cover letter that matches your resume will give you an advantage over other candidates. You can write it in our cover letter builder here. Here's what it may look like: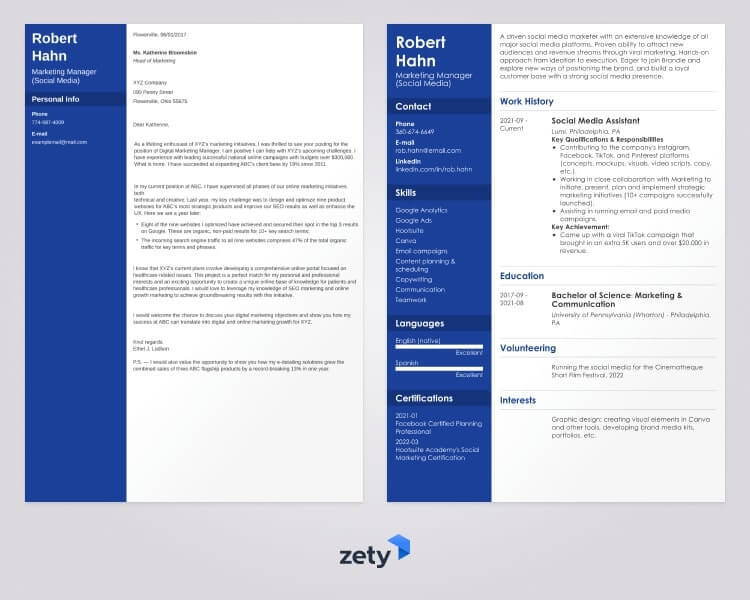 See more cover letter templates and start writing.
And done!
A factory worker resume cast from the perfect mold.
Thanks for reading. Are there any details you're unsure about? Need more advice on including the best skills on a resume for factory worker jobs? Our experts are available around the clock to answer your queries in the comments, so have at it!
About Zety's Editorial Process
This article has been reviewed by our editorial team to make sure it follows Zety's editorial guidelines. We're committed to sharing our expertise and giving you trustworthy career advice tailored to your needs. High-quality content is what brings over 40 million readers to our site every year. But we don't stop there. Our team conducts original research to understand the job market better, and we pride ourselves on being quoted by top universities and prime media outlets from around the world.