This guide shows you a job-getting mechanic resume sample, and how to make yours.
There's a mechanic shortage. It should be easy to get a job. Right?
Sure. One that pays a flat rate, feeds you rust work, and makes you buy your tools at a markup.
Oh—You want a good mechanic job? One that pays well, in a good shop that treats you well?
For that job you'll need an automotive technician resume that stands out like an Aston Martin on a go-kart track.
This guide will show you:
A mechanic resume sample better than 9 out of 10 others.
How to write a mechanic resume that gets more interviews.
Tips and examples of how to put skills and achievements on an automotive resume.
How to describe your experience on a resume for a mechanic to get any job you want.
Here's a mechanic resume template made with our online resume builder tool.
Want to save time and have your resume ready in 5 minutes? Try our resume builder. It's fast and easy to use. Plus, you'll get tips and right vs. wrong examples while writing your resume. See +20 resume templates and create your resume here.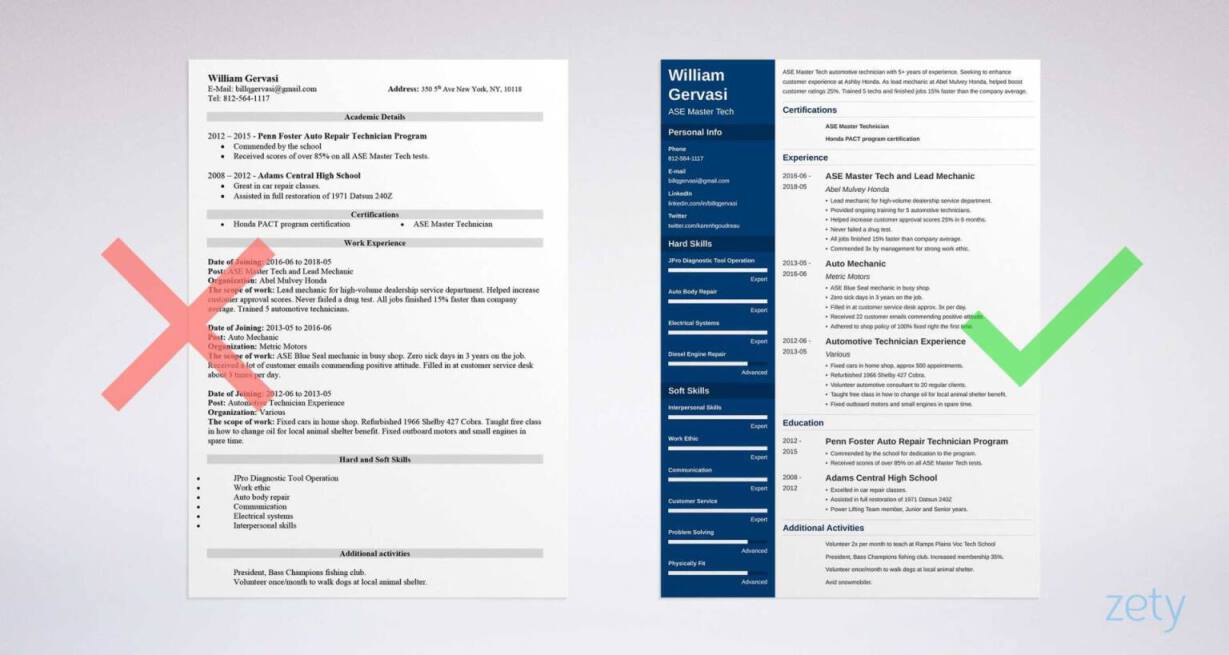 Sample Mechanic Resume - See +20 resume templates and create your resume here.
Are you writing a mechanical engineer resume or looking for a general tech resume template? Switch to one of our other guides:
1
What's the Best Format for a Mechanic Resume?
Who cares about mechanic resume format?
Nobody.
Except the shop manager.
Since he's the one who's hiring, you care too.
The good news? If you can dodge a wrench, you can format an automotive resume.
Start with the best resume fonts so your resume won't read like tech specs.
Add big headings and lots of white space to keep it visual. The hiring manager will thank you.
Finally, save your auto technician resume as a PDF. Automotive technician resumes in Word format can drop a gasket in transit.
Pro Tip: Are PDF auto resumes compatible with the job offer? Make sure you read the offer. If it doesn't say, "No PDF resumes," you're good.
Need a better options package when it comes to auto mechanic resume format? See our guide: 3 Resume Formats: How to Choose the Best One [Examples]
2
Mechanic Resume Objective or Resume Summary?
The shop manager is answering three phones, smoking five cigarettes, and reading 130 automotive resumes.
How much attention do you think your resume will get?
You need to grab his focus like a Cherry Red Ferrari.
Do that with a mechanic resume objective or resume summary.
Which is which?
A resume objective shows passion when your experience doesn't have a lot of miles.
A resume summary shows experience if you've been around long enough to work on Pacers new.
Load either up with measurable accomplishments.
These two master automotive technician resume examples demonstrate.
Mechanic Resume Examples [Resume Summaries]
The first of these mechanic resume examples has a knocking sound:
wrong
Experienced mechanic with 5+ years of experience and ASE Master Automotive Technician certification. Responsible for lead mechanic duties and responsibilities at Abel Mulvey Honda, including car repair and maintenance tasks, some training and customer service. Skilled in communication and brake work.
That's not leaking-head-gasket bad, but it won't roll out the interviews.
Try something like the next of our mechanic resume examples instead:
right
ASE Master Tech automotive technician with 5+ years of experience. Seeking to enhance customer experience at Ashby Honda. As lead mechanic at Abel Mulvey Honda, helped boost customer ratings 25%. Trained 5 techs and finished jobs 15% faster than company average.
Fixed. With an auto mechanic resume summary like that, you could probably tune up an X-Wing fighter.
Don't have that much experience? See the entry-level mechanic resume examples below.
Two Entry-Level Mechanic Resume Objectives
Is your mechanic experience still packed in grease?
Back in the classic car days, you'd fix that by showing passion. That's what this sample mechanic resume objective does:
wrong
Hard-working mechanic, skilled in diagnostic tools, auto body repair, electrical systems, and diesel engine repair. No actual work experience yet but I've worked on my own cars for years.
The trouble with passion? Other applicants have that plus experience.
So, add measurable achievements. The next of our mechanic resume examples does it right:
right
Enthusiastic mechanic, skilled in diagnostics and auto body repair. Handled 500+ appointments in own home shop. Volunteer consult regularly to 20+ clients. Fix small engines in spare time 5+ hrs/week.
That'll make the hiring manager stop daydreaming about Chevy Small-Block V-8s.
And if you have no experience?
You've got experience. You just need to polish it up.
I'll show how, next.
Pro Tip: Don't sweat the resume objective right away. Write the rest of your automotive technician resume first. Then bolt-on the best 2–3 achievements from it.
Our resume builder (you can create your resume here) will give you tips and examples on how to write your resume professional summary section. Or any section for that matter. You can copy the examples to your resume, customize, and save a lot of time.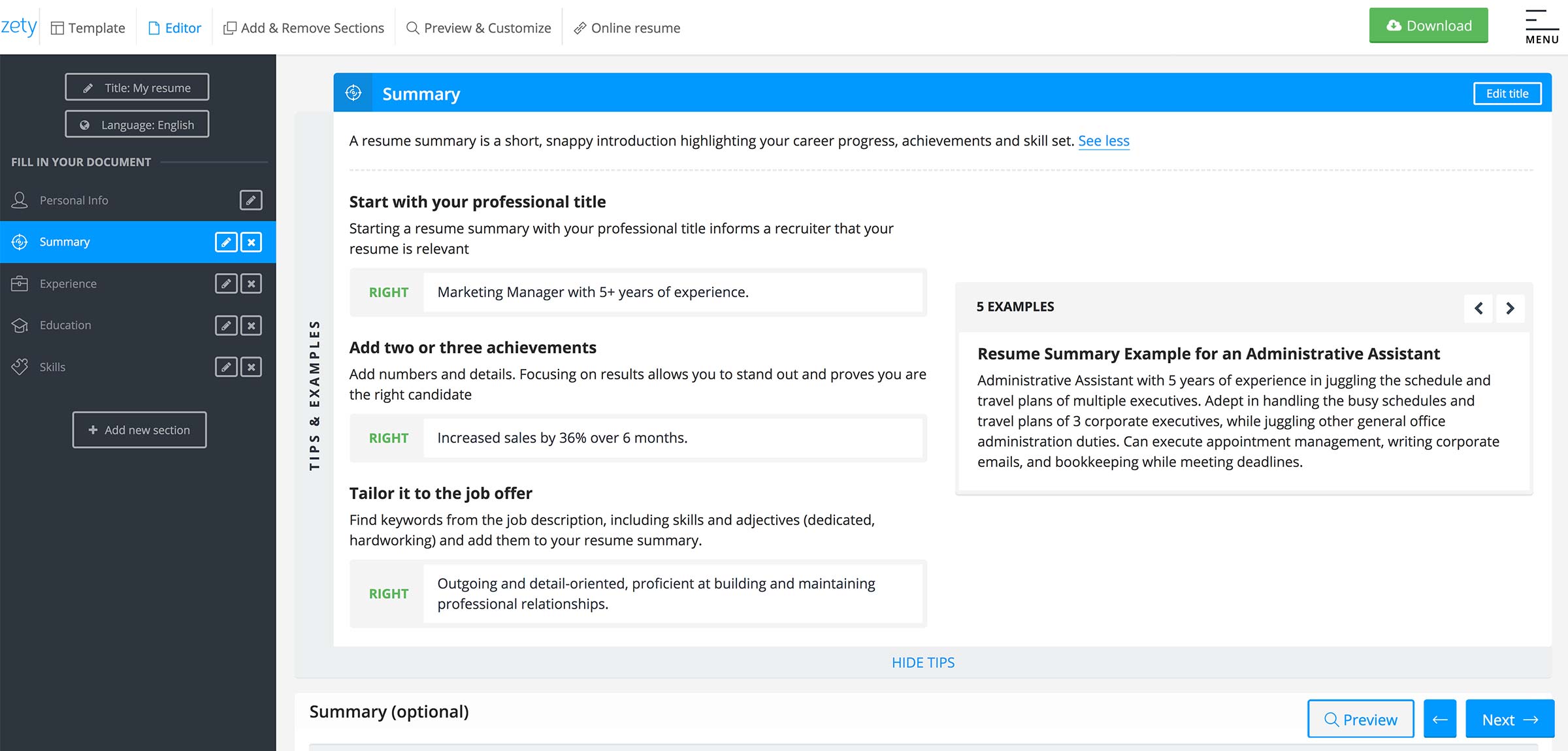 Inside our resume builder, you'll find expert tips and examples for your resume summary.
Want to churn out interviews like Ford turns out F-Series trucks? See our guides: How To Write A Resume Summary: 21 Best Examples You Will See AND +20 Resume Objective Examples - Use Them on Your Resume (Tips)
3
How to Describe Your Mechanic Experience
Do you know why writing a resume is so hard?
Because you need to boil down years of work onto one sheet of paper.
But there's a real trick that makes it fast and easy.
Show your most recent job first.
Then pick the right 3–5 bullet points, stuffed with accomplishments.
Do that, and you'll fit the job like an OEM part. See the professional mechanic resume examples below.
Mechanic Resume Examples [Experience]
Look at the first of these sample mechanic resume experience sections:
right
Abel Mulvey Honda
ASE Master Tech and Lead Mechanic
2016–2018
Lead mechanic for high-volume dealership service department.
Provided ongoing training for 5 automotive technicians.
Helped increase customer approval scores 25% in 6 months.
Never failed a drug test.
All jobs finished 15% faster than company average.
Commended 3x by management for strong work ethic.
You could get hired to do a valve job on the Death Star with an automotive resume like that.
But strip it down, and you get this lemon:
wrong
Abel Mulvey Honda
ASE Master Tech and Lead Mechanic
2016–2018
Lead mechanic for high-volume dealership service department.
Responsible to provide ongoing training to other techs.
Handled daily maintenance and repair jobs.
Required to fill in at customer service desk.
Total breakdown. No achievements. Just responsibilities.
And if you don't have experience?
In that case, test-drive the next two entry-level mechanic resume examples.
How to Write a Resume for Mechanic with no Experience
If you want to be a mechanic, then you have experience.
You just need to show it.
Have you ever:
Worked on cars for money or fun?
Volunteered as a mechanic?
Filled in do do automotive work?
Worked on your own car?
Done hands-on auto work for school?
Worked on any kind of engine?
Done assistant automotive tech work?
Add any of those to an entry-level automotive technician resume and it'll sing like Buick V6.
These two auto mechanic resume examples give the specs:
Two Entry-Level Mechanic Design Resume Samples [No Experience]
The first of these mechanic resume examples is strictly stock:
wrong
Mechanic Experience: Haven't actually had an official mechanic job yet.
Other Experience:
Light carpentry
Janitorial work
Yeesh. That's the resume equivalent of a Pinto.
So trick it out with details:
right
Automotive Technician Experience
2017–2018
Fixed cars in home shop, approx 500 appointments.
Refurbished 1966 Shelby 427 Cobra.
Volunteer automotive consultant to 20 regular clients.
Cherry. With that auto technician resume, you may get hired to overhaul the Batmobile.
Pro Tip: How do you know what bullet points to list on an automotive resume? If the job ad asks for a qualification, show you've done it in a bullet point.
Don't make the hiring manager fall asleep at the wheel. Rev up your automotive resume with action words. See our guide: 240 Resume Action Words & Power Words to Make Your Resume Shine
4
Is Your Education Section Totaled? It Might Be
Does education matter on an automotive technician resume?
Nope. Your experience matters a lot more.
But it has to be there. If you don't use it, it's like having an Alfa Romeo V6 but only using it to run your home refrigerator.
Of course you'll start with:
School Name and Location.
Years in School.
Degree.
But then add achievements that matter to the mechanic job description.
The two example auto mechanic resumes below show how.
Mechanic Resume Examples [Education]
Both these mechanic resume samples are for a shop that wants (1) a strong work ethic and (2) physical fitness.
right
Penn Foster Auto Repair Technician Program
2012–2015
Commended by the school for (1)

work ethic

.
Received scores of over 85% on all ASE Master Tech tests.
Adams Central High School
2008–2012
Excelled in car repair classes.
Assisted in full restoration of 1971 Datsun 240Z
(2) Power Lifting Team member, Junior and Senior years.
That's no slack-jawed wrench turner. That guy was born in Radiator Springs. He could do a brake job on the Starship Enterprise someday.
But don't do this with your automotive resume:
wrong
Adams Central High School
2008–2012
Pro Tip: Don't list your GPA in an automotive resume unless it's eye-popping. Use the space to lay down a more impressive achievement instead.
Want to make your automotive technician resume stand out like a Lotus Elise? So do we. See our guide: How to Put Your Education on a Resume
5
How to Put Skills on a Resume for a Mechanic
If you have the right skills, you're hired. But it's hard to prove it in auto resumes.
You can do it, but not with a laundry list of mechanic skills.
You need to show the precise skills in the right way.
The good news? The hiring manager actually told you what he wants.
It's listed in the job description.
Prove you've got those skills by installing them in your bullet points.
The next two mechanic resume examples show the dos and don'ts.
Mechanic Resume Examples [Skills]
Let's say the shop owner wants (1) ASE Blue Seal status, (2) strong work ethic, and (3) customer service skills.
Of course you'll list them.
But you'll also show them in your auto resume bullet points, like this:
(1) ASE Blue Seal mechanic in busy shop.
(2) Zero sick days in 3 years.
Filled in at (3) customer service desk approx. 3x per day.
Received 22 customer emails commending positive attitude.
Do that, and you'll get enough interview requests to fill a garage.
List of Skills to Put on a Mechanic Resume
Need some sample mechanic skills to start?
Use the ones below. Find more in auto mechanic job descriptions online.
They make great resume keywords too.
List of Skills to Put on Mechanic Resume
Mechanic Resume Skills

| | |
| --- | --- |
| Soft Skills | Hard Skills |
| Communication | Technical Aptitude |
| Work Ethic | Diagnostic Skills |
| Customer Service | Brake Repair |
| Problem Solving | Auto Body Repair |
| Leadership | Car Tune-Up |
| Detail Oriented | Diesel Engine Repair |
| Physically Fit | Oil Change |
| Critical Thinking | General Engine Repair |
| Coordination | Diagnostic Tech |
| Perceptiveness | Electrical Systems |
Pro Tip: The list above isn't comprehensive. Pay attention to the job ad and look for more mechanic skills in postings from online job websites.
Need more help with what skills to put on an automotive resume? See our guide: +30 Best Examples of What Skills to Put on a Resume (Proven Tips)
6
How to Show Certifications on a Resume
Have you got an ASE certification? Congrats! But make sure the shop manager sees it.
Don't bury it in just one place on your automotive technician resume.
Put it:
By your name
In your summary
In your auto mechanic resume job descriptions
Then, add it in a special certifications section, above your work experience.
Certifications
ASE Master Technician
Honda PACT program certification
Does that seem like too much of a good thing? It's not. Most hiring managers skim and won't see them all anyway.
Whatever certifications you show on an automotive resume, make sure they match the job requirements. Do it, and you'll pull down the big auto tech salary.
Pro Tip: Is an online class a certification? No. The only respected automotive technician certifications come from ASE.
Need other ideas for what to put on a mechanic resume? See our guide: What To Put On A Resume To Make It Perfect [Tips & Examples]
7
Add These Things to Make Your Resume Turn Heads
What else does the shop manager want besides skills and experience?
He wants to know how you'll fit in.
In other words—
Do you care about the job? Will you break down after a couple months?
How can you prove he can depend on you?
By adding "other" sections to your automechanic resume.
See these two diesel mechanic resume examples.
Mechanic Resume Examples [Other Sections]
Don't do this in a resume for mechanics:
wrong
Playing the kazoo
Dressing up as a clown
I'm sure that applicant is fun at parties. But I'm not sure I'd hire her to fix cars.
But look at this auto mechanic resume example:
right
Additional Activities
Volunteer 2x per month to teach at Ramps Plains Voc Tech School teaching diesel basics.
President, Bass Champions fishing club. Increased membership 35%.
Volunteer once/month to walk dogs at local animal shelter.
Avid snowmobiler.
That professional automotive technician resume works like James Bond's Lotus Esprit submarine.
Your history probably has tons of extras like that.
Pro Tip: Have you written articles about cars? Spoken on a podcast? Been to conferences? Those make great additions to automotive technician resumes.
Not sure what "other" items to add to your auto technician resume? See our guide: +20 Best Examples of Hobbies & Interests To Put on a Resume (5 Tips)
8
What About a Mechanic Cover Letter?
Ugh. Do I need to write a cover letter? Really?
Yes. Almost half the hiring managers will toss a resume without one.
But don't just say, "I'm applying for the auto mechanic job."
Use the shop manager's name if you can find it.
Our own names get our attention in a good way.
Then, show you understand the job's needs like you plugged into the manager with a MaxiCOM.
This short example mechanic cover letter does it right.
Mechanic Cover Letter Example
I've wanted to work for Ashby Honda since I moved into the area. Your dedication to real-time service inventory makes you a leader in the industry. During my visits to your shop, your waiting room is quiet and your techs are happy. I think I'd make a great addition to the team based on my success at helping boost customer reviews by 25% at Abel Mulvey. When I trained 5 other techs...
Close your cover letter with an offer. Try, "I'd really like to get the chance to talk about improving your customer ratings even more."
Pro Tip: Always follow up on a mechanic resume and cover letter. Set a reminder for three days, and another for one week. Each follow-up is like an extra lottery ticket in the job search sweepstakes.
Plus, a great cover letter that matches your resume will give you an advantage over other candidates. You can write your cover letter in our resume builder here. Here's what it may look like: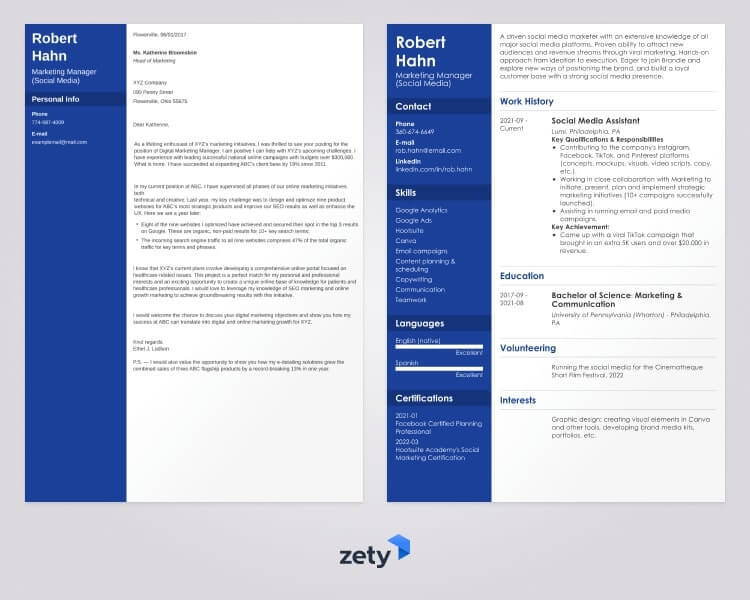 See more templates and create your resume and cover letter here.
Want your automotive technician cover letter and resume to stand out like Lightning McQueen? See our guide: How To Write A Cover Letter in 8 Simple Steps
9
Don't Add Contact Info to Your Resume Without This
How do you put contact info on a mechanic resume?
Start with:
Full Name
Updated Phone Number
Professional Email Address
Like this:
William Gervasi, ASE Master Tech, billqgervasi@gmail.com, 812-564-1117
By "professional email address" I don't mean FunGuyPartyTime13409@yahoo.com.
Use a pro address like firstname.lastname@gmail.com.
Add a LinkedIn address or portfolio website too. These days, 87% of employers use LinkedIn when hiring.
A personal site or Instagram account can show off projects you've done, too.
You can leave off the mailing address unless it shows you'll have a short commute.
Pro Tip: Not sure how to assemble a good LinkedIn profile? Us our guide to LinkedIn profile optimization.
Need more help to make the best auto mechanic resume on the lot? Want more interviews? See our guide: How to Make a Resume: A Step-by-Step Guide (+30 Examples)
Key Takeaway
Here's a recap of how to make a mechanic resume that gets more interviews:
Get your best moments across fast. Put them in an auto mechanic resume objective or resume summary up top.
Customize your automotive technician resume. Find the skills and responsibilities in the job description. Then craft your bullet points to match.
Add "other" sections that show your love of fixing cars. List certifications, classes, conferences, and volunteer work.
Add a mechanic cover letter. An automotive resume without a cover letter stands a 45% chance of getting tossed.
Do you have questions on how to write a great resume for a mechanic? Not sure how to describe your skills or achievements? Give us a shout in the comments! Let's get the conversation rolling.