Forklift Operator Resume (Sample Job Description & Guide)
Whether a rough-terrain Hi-Lo, side-standing counterbalance forklifts, or sky-high cherry pickers, get ready to get in the driver's seat with this guide on how to make a resume.
Forklift Operator Resume Sample
Patricia D. Baker
Certified Forklift Operator
patricia.baker@gmail.com
(212) 333-4466
linkedin.com/in/patriciabaker
Summary of Qualifications
Competent forklift driver with 3+ years of experience driving side-standing and front-facing counterbalance forklifts. Maintained 100% safety rating while achieving 105% Pick-n-Pull output or higher. OSHA Forklift Certification. Looking to utilize and build upon forklift skills as the new forklift operator for Nozama Warehouse.
Work Experience
Forklift Operator & Warehouse Associate
April 2016–May 2019
Zalmon Warehouse #4, Brooklyn, NY
Key Qualifications & Responsibilities
Coordinated with Shipping Clerk and Receiving Clerk to dock trailers, unload shipments, and ship products by loading trucks.
Fulfilled company orders by using Pick-n-Pull system and computer to locate needed products, bring them down from racks, and assemble them into a crate.
Sorted offloaded materials, packaged them onto secure pallets, lifted them onto racks, and documented their warehouse locations.
Assisted in onboarding, training, and mentoring new warehouse forklift drivers on pallet jacks, cherry pickers, and counterbalanced forklift trucks.
Key Achievements
Achieved a minimum of 105% Pick-n-Pull output during each shift.
Maintained 100% warehouse safety record through 3 years of forklift driving.
Machine Operator
January 2015–March 2016
XT Warehouse & Machinery, Brooklyn, NY
Key Qualifications & Responsibilities
Operated Computer Numerical Control (CNC) machine to control machine tools.
Utilized lathe machine to perform various operations, such as cutting, drilling, sanding, knurling, and deformation.
Fulfilled task list daily with no discrepancies or material handling errors.
Education
Majoring in Operations Management Technology (Bachelor of Science)
Brooklyn College, Brooklyn, NY
Expected Graduation: 2022
Relevant Coursework: Inventory Management, Managerial Accounting, Business Management, Warehouse Operations, Principles of Management, Project Management, Transportation and Traffic, Supply Chain and Logistics, Warehouse Health and Safety.
Edward R. Murrow High School, Brooklyn, NY
Graduated 2016
Key Skills
Stand-Up Counterbalance Forklift
Telescopic Handler Forklift
Powered Pallet Jack
Safety Awareness
Excellent Communication & Listening
Good Judgment
Hand-Eye Coordination
Certifications
OSHA Forklift Certification
Certified Material Handling Specialist (CMHS)
Memberships
International Warehouse Logistics Association (IWLA)
Languages
Spanish: Limited Working Proficiency
Want to save time and have your resume ready in 5 minutes? Try our resume builder. It's fast and easy to use. Plus, you'll get ready-made content to add with one click. See 20+ resume templates and create your resume here.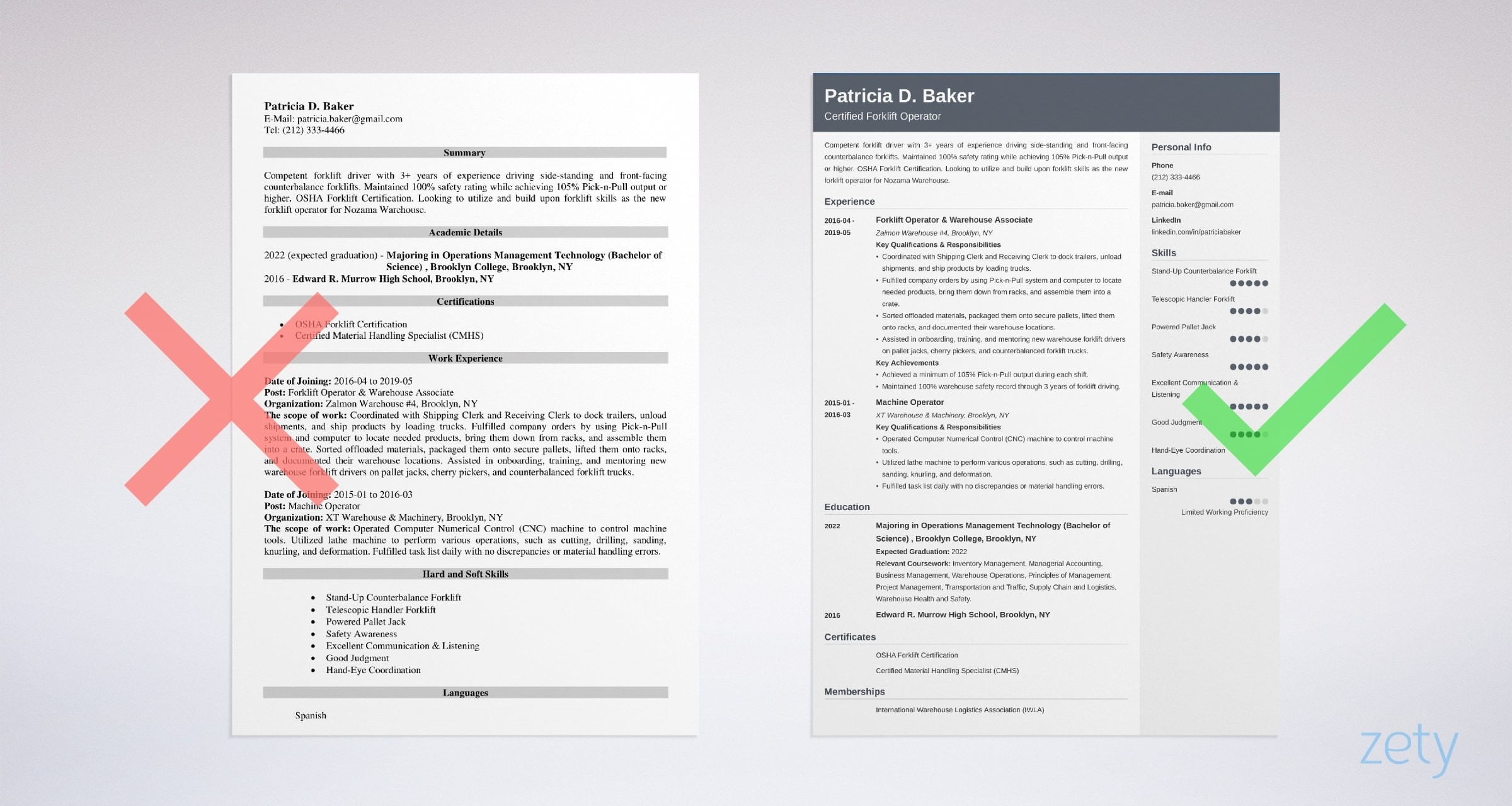 Sample Forklift Operator Resume—See more templates and create your resume here.
Check out other warehouse-related resume guides:
Now, let's learn how to write a forklift operator resume:
1. Choose the Best Format for Your Forklift Operator Resume
There are rules in place to keep forklift drivers (and those poor workers on foot) safe.
Well—
On a forklift operator resume, there are formatting rules to follow if you want to stay safe in the applicant pool.
Follow these rules when formatting a forklift resume:
Pro Tip: Send a PDF resume when emailing them, unless they ask you to send a Word resume. The PDF version looks right on any screen the warehouse supervisor or hiring manager views it on.
2. Write a Forklift Operator Resume Objective or Summary
Also called a professional profile, the summary or objective is a brief paragraph at the top of your resume.
At just 3–4 sentences in length, it gives the employer an introduction into your work history, forklift skills, and warehouse experience.
It's like an elevator pitch—
It has to grab their attention right from the start.
Use the career summary when you have 2+ years of forklift experience. In a summary statement, you talk up your experience around pallet jacks, forklifts, and cherry pickers. Then you wow them with a quantifiable achievement to prove you're the best.
Use career objectives when you have less experience (or none). In an objective statement, you tell them your career goals. However, like the summary, you still give them a numbered accomplishment so they know you're not all talk.
Pro Tip: It goes at the top of your resume, but the summary or objective statement should be written last. This way, you have a clear idea of the best points to sum up for this heading.
3. Create the Perfect Forklift Operator Job Description for a Resume

You've got to talk up the experience in a resume for forklift jobs in a way that meets compliance.
So—
Here's how to write a forklift operator job description for resumes:
Start with your current or most recent job, and go backwards from there.
Put job titles at the top of your forklift operator resume, the months and years of employment, the company name and location, and 5–6 bullet points detailing your forklift operator duties.
Start each bullet point with power verbs (e.g., offloaded, supplied, etc.).
List one or two quantifiable achievements, just as in your summary or objective.
Tailor your resume to this one forklift operator position. Generic resumes are spam resumes, and spam resumes go straight into the trash.
Pro Tip: Writing a no experience resume for forklift jobs? Follow the same resume outline. Just list the most forklift- and warehouse-relevant bullet points in your work history section.
4. Make Your Forklift Resume Education Section Shine
Other forklift drivers may say that the education in a resume doesn't matter.
Don't listen to them.
A great resume education section might just win you that warehouse job.
Here's how to get it right:
Got plenty of forklift driving experience? Add the basics, such as your degree, major, college name, and school location.
New to operating a forklift or cherry picker? Give them some extras to make up for your lack of experience, such as academic honors and relevant coursework.
Pro Tip: Finished a degree at college? There's no need to add high school to your resume. However, if you're still working on it, add high school below as a second entry.
5. Highlight Your Forklift Operator Skills on a Resume
Material moving machine operators (as the BLS calls them), including forklift drivers, are expected to grow by 6% between 2016 and 2026.
That's 43,700 people to compete against.
To stand out, show them your driving abilities and pick list know-how is second to none with a forklift skills resume section:
Forklift Operator Skills Examples
Stand-Up Counterbalance Forklift
Rough Terrain Forklift
Side Loader Forklift
Telescopic Handler Forklift
Manual Pallet Jack
Cherry Picker
Powered Pallet Jack
Safety Awareness
Good Judgment
Hand-Eye Coordination
Adaptability
Cycle Counts and RF Gun
Shipping & Receiving
Loading & Unloading Trailers
Ability to Lift 75+ Lbs
Stocking & Packing
Work Well Under Pressure
But—
Don't just take this list and use it in your certified forklift operator resume.
Here's what to do, instead:
Jot down a list of skills you have connected with warehouse work, construction jobs, and forklift driving.
Always include both hard and soft skills!
To find the best keywords to use on a resume, highlight skills the warehouse is looking for by looking in the job requirements from the ad.
If something on your list matches one of your highlighted skills, add that to your resume skills list.
Pro Tip: Hard skills are abilities you study to learn, such as unloading trailers or driving a Hi-Lo. Soft skills are traits you develop throughout your life, such as time management and communication. Your forklift resume should have both pretty equally.
When making a resume in our builder, drag & drop bullet points, skills, and auto-fill the boring stuff. Spell check? Check. Start building your resume here.
When you're done, Zety's resume builder will score your resume and tell you exactly how to make it better.
6. Add Other Sections to Your Forklift Driver Resume
You've created a decent resume so far.
But how to make it strong as a diesel-powered rough terrain forklift?
Go the extra mile on your forklift operator resume to stand out by adding some extra resume sections to make yours unique.
Here are some great additions to a resume for forklift jobs:
Forklift Resume Samples—Extra Sections
7. Attach a Forklift Operator Cover Letter to Your Resume

How important is a cover letter?
More than half of hiring managers say a resume without a covering letter isn't enough.
Skip it at your own peril.
Whether you'll drive an off-road rough terrain forklift or a peaceful order picker, always include your forklift driver cover letter.
Here's how to write a forklift operator cover letter they'll be happy about:
Make sure you do it right: Check out our best cover letter tips, along with our posts on how long should a cover letter be and what to include in a cover letter.
Pro Tip: Don't forget to send a job follow up email. After that, prepare for the interview!
Got any questions on how to write a forklift operator resume? Not sure how to talk about warehouse skills or Hi-Lo operator achievements? Get at us in the comments below, and thanks for reading!