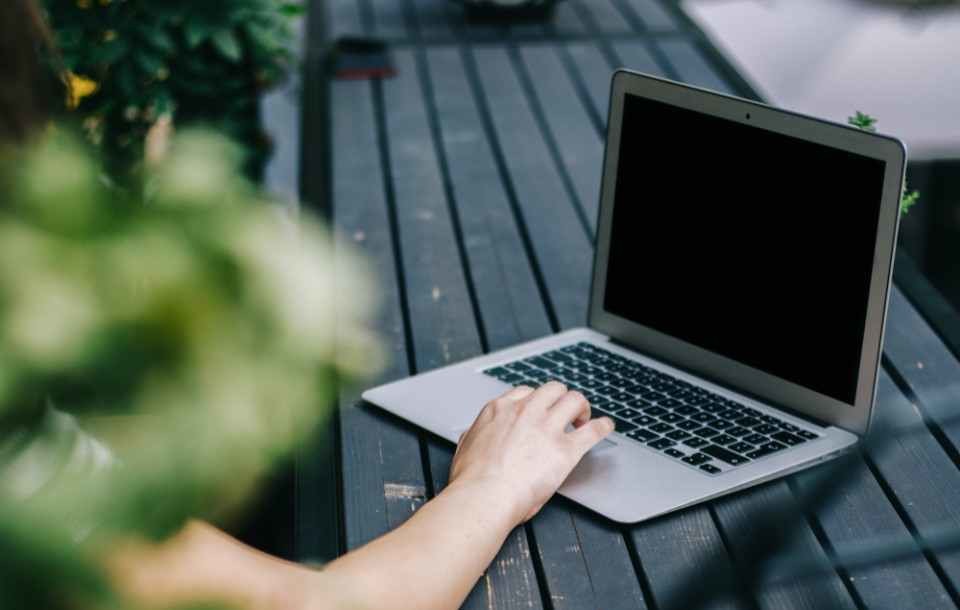 Heavy Equipment Operator Resume: Sample & Job Description
Are you running low on fuel when it comes to writing your resume? Put on all of your safety gear: it's time to learn how to write a job-scoring heavy equipment operator resume.
As a heavy equipment operator, you know how to lay the groundwork for success. Now it's time to pave the way for your own career with a standout resume!
Our expert guide will help you build a heavy equipment operator resume that showcases your skills and experience, ensuring hiring managers are eager to hire you for their next big project.
Keep reading and you will find:
A heavy equipment operator resume example better than 9 out of 10 other resumes.
How to write a heavy equipment operator resume that will land you more interviews.
Tips and examples of how to put skills and achievements on a heavy equipment operator resume.
How to describe your experience on a resume for a heavy equipment operator resume to get any construction job you want.
Want to save time and have your resume ready in 5 minutes? Try our resume builder. It's fast and easy to use. Plus, you'll get ready-made content to add with one click. See 20+ resume templates and create your resume here.
Sample resume made with our builder—See more resume examples here.
Looking to take your skills elsewhere? See some of our other construction-related guides below:
Heavy Equipment Operator Resume Sample
Peter Levy
Heavy Equipment Operator
plevy@zmail.com
770-201-4789
Linkedin.com/in/peterlevy
Summary
Dependable and safety-oriented heavy equipment operator with 4 years of experience. At ThrasherStorage, operated and maintained good working condition of 7 different vehicles, including front-end loaders, tractor trailers and forklifts. Handled offloading of up to 15 shipments daily. Looking to provide Pane&Co with my reliable skillset in operating machinery.
Work Experience
Heavy Equipment & Machinery Operator
April 2017–April 2020
ThrasherStorage, Mobile, AL
Off-loaded over 500 thousand pounds of construction equipment and materials incident free.
Maintained a clean and organized working area in a 12000 sq ft warehouse to maximize throughput around delivery times.
Performed routine fitness-to-use checks on a fleet of 12 vehicles prior to use.
Learned procedures and methods quickly and efficiently, adapting to logistical needs of a diverse client portfolio.
Key Achievement: Saved the company around $3000 per year on maintenance costs by training other employees' in safe loader operation.
Machine Operator
June 2015–July 2016
StatBlock, Louisville, KY
Maintained daily logs of equipment usage, maintenance schedule, and minor/major accidents.
Ensured product quality met customer specifications with no handling errors.
Operated various machines and equipment for metalworking such as rotary table, punch press, and stamp press.
Education
Bachelor of Science in Construction Management
Eastern Kentucky University, Richmond, Kentucky
Graduated: 2021
Relevant Coursework: Statics & Strength of Materials, Horizontal Construction, Foundation Construction, Construction Structural Design
Skills
Front-end loader operation
Forklift operation
Tractor-trailer operation
OSHA compliance
Reading blueprints
Design and planning
Communication skills
First aid
Hand-eye coordination
Able to lift 120 pounds
Certifications
Construction Health and Safety Technician (CHST) certification
Board of Certified Safety Professionals (BCSP), 2020
Front-end loader, forklift and tractor trailer licenses
Occupational Safety and Health Administration (OSHA), 2015
Memberships
Construction Management Association of America (CMAA)
Here's how to write an excellent heavy equipment operator resume of your own:
1. Select the Right Format for a Heavy Equipment Operator Resume
Heavy equipment operators do much more than drive heavy-duty machinery: they also inspect equipment, report faults, and observe safety procedures at all times. The role requires appropriate manual skills, but also good communication and critical thinking. That's what you need to show on your heavy equipment operator resume.
Plus, any failure to communicate properly at work may result in a safety hazard, meaning teamwork constitutes another key factor for heavy equipment operators.
For hiring managers, however, the key factor of your application is whether they can read your resume and know instantly if you're in or out.
To maximize your chances of the former, follow these guidelines:
When considering ideal resume length, keep it limited to just one page.
Read more: The Best Resume Format: How to Format Your Resume [With Examples]
2. Write a Heavy Equipment Operator Resume Profile
A resume profile is a short description that lists your selling points instantly to attract the recruiter's attention.
And here, you have a choice, depending on the amount of professional experience you have.
If the foreman's yelled at you plenty, meaning you've been in the industry for over 2 years, write a resume summary. In it, state the best qualities about you that would make anyone hire you.
And if you're a newbie or someone switching careers, opt for writing a resume objective. To write one effectively, you need to focus on the skills and knowledge you do have and how you think it could prove useful on a construction site.
There's no shame in getting hung up on this part, lots of people do. Feel free to come back to it later down the line, after you've written all the other sections.
Read more: The Complete Guide to Writing the Perfect Resume Introduction
3. Construct the Perfect Job Description for Your Heavy Equipment Operator Resume
Whether it's loaders, tractors, forklifts, or dozers, the HR rep needs to know you take your job seriously, and are good at it. They will definitely dig very deep to find any flaws that could point to a sub-standard work ethic, as improper methods have been found to be the leading cause of construction accidents.
Here's how to help them see it your way:
List your most recently held position first, and then the rest subsequently below it. Each one should come equipped with a job title, company name, length of employment, some bullet points describing your daily tasks, and a hardhat for good measure (not really).
Begin each bullet point with an action word to help keep the recruiter's attention.
The key to writing a good experience section is including numbers next to your professional achievements. They do the heavy lifting when it comes to proving the real effects of your work.
If you're writing a heavy equipment operator resume with no experience, come up with anything in your life that could give you the edge. Maybe you helped around doing yardwork in your neighborhood, or did some renovating around a friend's house—it's definitely a good idea to include such information.
Pro Tip: Tailoring your resume instead of sending generic copies also helps the recruiter see you care. Trust me, they know a standard template when they see one.
4. Polish Up Your Heavy Equipment Operator Resume Education Section
Oftentimes, recruiters will not require heavy equipment operators to have more than a high school diploma. This will, of course, vary from company to company.
What doesn't change—no matter your education level—is that you can't afford to make the education section of your resume look sloppy.
So, if you're experienced in heavy machinery, feel free to only list your school name and location, degree, major and minors if you have them, and your graduation year.
Otherwise, to make up for a lack in experience, add relevant coursework, volunteering or internships undertaken during education.
Pro Tip: For resume writing purposes, having a college degree essentially makes your high school degree obsolete, so don't put both on your resume.
5. Include the Right Skills on Your Heavy Equipment Operator Resume
The United States Bureau of Labor Statistics predicts a 4% growth among construction equipment operators by 2029. That may not sound like much, but it's over 19,000 other people seeking to get into the industry.
19,000 people for you to outcompete.
How?
By proving you come equipped with the right skillset.
Here's a few steps for you to follow:
Brainstorm a list of all of your skills. And I mean all: soft skills, hard skills, and technical skills.
Look at the job description to see specifically what kind of machinery is involved, and what skills are required to operate it.
Extract those keywords to use on your resume.
Add additional skills to avoid looking as if you just copy-pasted your skills from the job ad, but don't overdo it. A bloated resume will likely end up in the baler.
Here's a sample list of skills for you to get inspiration from:
Heavy Equipment Operator Resume Skills
Forklift Operation
Tractor-trailer Operation
CNC Operation
Loader Operation
Compactor Operation
Cherry Picker Operation
Equipment Maintenance
OSHA Compliance
CDL License
Physical Strength
Hand-eye Coordination
Troubleshooting
Technical Skills
Read more: What Skills to Put on a Resume? 99+ Examples
When making a resume in our builder, drag & drop bullet points, skills, and auto-fill the boring stuff. Spell check? Check. Start building a professional resume template here for free.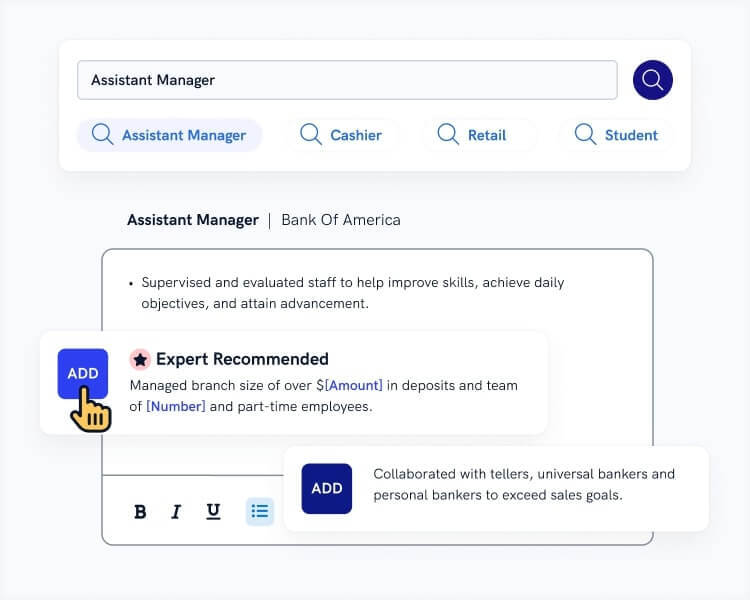 When you're done, our online resume builder will score your resume and our resume checker will tell you exactly how to make it better.
6. Add Extra Sections to Your Resume for a Heavy Equipment Operator
Have you ever looked at the last section of your resume and wondered why it even exists? It surely must be just for padding, right?
Wrong.
A well-written misc section can be your secret weapon and score you the job when you least expect it by making you stand out and look unique among other, generic, bland applications.
Some ideas include writing about your volunteer work, hobbies and interests, certifications and licenses, conferences you spoke at, training you completed, or any foreign languages you speak.
Read more: What to Put on a Resume? Guide and Examples
7. Attach a Cover Letter with Your Heavy Equipment Operator Resume
"Psst, cover letters are a thing of the past," said the naïve applicant, unaware of his folly.
While they may seem obsolete or almost ancient, roughly 45% of recruiters are of a different opinion. So much so that they won't even bother opening your resume if they don't see a cover letter next to it. So yes, you need a cover letter.
Here's a few tips on how to write a cover letter properly:
Start the cover letter by addressing the recruiter by name, and immediately stating your best achievements and reasons or applying.
In the main body, describe yourself while highlighting what makes you and the company a perfect match. Throw in some measurable achievements to score extra points.
End the cover letter by sealing the deal with an enticing offer.
Also, don't forget to format the cover letter correctly. Keep your cover letter length to 3 or 4 paragraphs, tops.
Read more: What Should a Cover Letter Say?
Plus, a great cover letter that matches your resume will give you an advantage over other candidates. You can write it in our cover letter builder here. Here's what it may look like: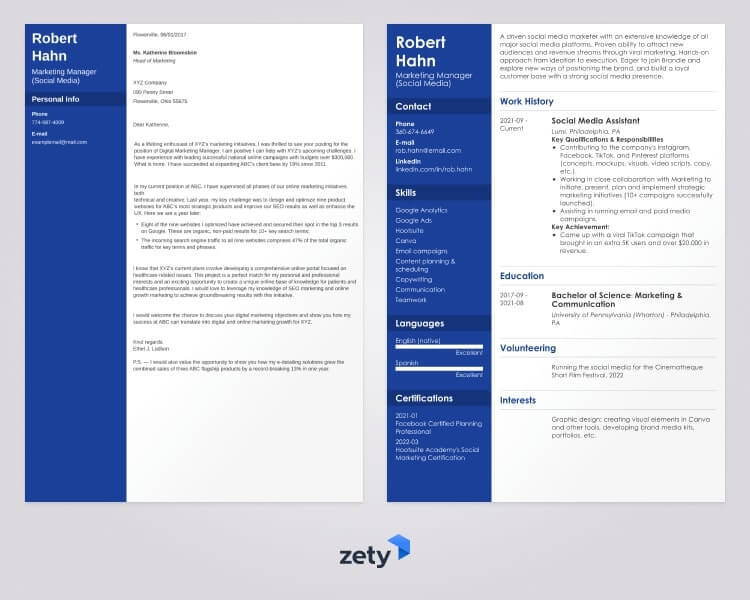 See more cover letter templates and start writing.
That's it!
Thanks for reading! Are you still fuzzy on some details? Need help in procuring a work experience section up to industry standard? We're here for you, just let us know in the comments!
About Zety's Editorial Process
This article has been reviewed by our editorial team to make sure it follows Zety's editorial guidelines. We're committed to sharing our expertise and giving you trustworthy career advice tailored to your needs. High-quality content is what brings over 40 million readers to our site every year. But we don't stop there. Our team conducts original research to understand the job market better, and we pride ourselves on being quoted by top universities and prime media outlets from around the world.
Sources