Production Resume Examples with Job Description (+ Tips)
You meet all safety and production standards, but your resume is still not par for the course? Rid yourself of job-seeking struggles with our perfect production resume guide.
You could shrink-wrap your resume, check it for leaks, clean and polish each square inch, and label boxes full of the stuff before sending it to shipping with 100% accuracy—and your application could still fail. Like in a production line, there's a million different things that can go wrong at many stages.
You're about to learn how to fix your production resume so that it runs smoother than ever.
This guide will show you:
A production resume example better than 9 out of 10 other resumes.
How to write a production worker resume that will land you more interviews.
How to pick the right production skills for a resume to attract recruiters.
What your production worker job description for a resume needs to say.
Want to save time and have your resume ready in 5 minutes? Try our resume builder. It's fast and easy to use. Plus, you'll get ready-made content to add with one click. See 20+ resume templates and create your resume here.
Sample resume made with our builder—See more resume examples here.
Looking for success in other manual labor positions? See these articles:
Production Resume Example
Keith Hawes
Production Worker
k.hawes@zetymail.com
727-378-0570
Summary
Dedicated and safety-oriented production worker with 2 years of experience working manual labor. Performed routine safety and quality inspections of products at various stages, recalling faulty batches with 100% accuracy. Trained 7 employees in proper OSHA precautions and procedures.
Work Experience
Production Worker
Cargill, Yankton, SD
June 2018–July 2020
Performed facility operations like loading/unloading trucks and rail cars or equipment maintenance at highest possible efficiency, cutting down time by 33%.
Provided excellent customer service with 9/10 clients reporting satisfaction.
Participated in continuous improvement sessions/trainings. Promoted to shift by management for outpacing other same-level employees.
Completed paperwork, followed up on shop orders and verified correctness of deliveries.
Part-Time Warehouse Worker
Buck Company LLC, Quarryville, SD
April 2017–October 2017
Performed general warehousing tasks as assigned.
Consistently lifted 50–70 lbs of wares.
Commended by warehouse supervisor for excellent dependability and punctuality.
Education
High School Diploma
Roosevelt High School, Quarryville, SD
2015–2019
Member of the school weightlifting club
Excelled in handiwork/manual classes
Skills
Organization
Power/Hand tool operation
Attention to detail
Quality checks
Packing
Loading & unloading
Documentation
Interpersonal Skills
Efficiency
Other
Leader of a local park's weekly running group
Passed OSHA basic workplace safety orientation training
Class D driver's license
Get your steel-toed boots ready, this is how to write a proper production resume:
1. Use a Foolproof Production Resume Template
Production workers can work on the production lines in factories for various industries, like pharma or food. Operating machinery, handling manufactured goods, and observing safety measures are crucial responsibilities. A well-fitting production resume will also show accuracy and organization.
On that note, how can you show you're a well-organized individual through a simple piece of paper?
It may seem obvious (or not), but the answer lies within the structure of your resume:
Read more: What Should a Resume Look Like? Examples & Guide
2. Prepare a Production Resume Profile
How can you communicate you're safety-oriented, cause no accidents on the production lines, and are a reliable professional through and through in just about 7 seconds? Believe it or not, statistically, that's how much reading time your resume will get before the judgment call is made.
Coming back to the question, however, the answer lies in the resume profile. It's a statement similar to an elevator pitch: it showcases your best side in an easily digestible format.
Write a resume summary if you've been employed in production for more than 2 years. Highlight your strongest suits and important achievements with numbers next to them to make them look even more impressive.
And if you need to write a resume with no experience, the production worker resume objective is the choice for you. Bring up the transferable skills that could help you work in that industry while also mentioning achievements.
Pro tip: Think about your resume like a closed-loop supply chain. Finish writing every other section first, then, using the insights gathered, produce an unforgettable resume introduction.
3. Write an Amazing Production Work History Section
If your resume doesn't make you stand out as the reliable, organized, and only reasonable choice for the position, you're toast. Consider that in the U.S., production occupations have recently seen a drop in worker compensations, plus they generally don't pay out bonuses.
Ouch.
All the more reason to tighten all the nuts and bolts on your production worker job description for a resume: to make sure you make it and find a job in a company that actually cares about you.
Here's how to do some quality control on your work experience section:
Lead with your most recent job, then list others going back in time from that point. Don't go too far back, though.
Each position needs to show your job title, the name and location of the company, the years you stayed with them.
Use about 6 bullet points (or 3 for older, by now less relevant jobs) to describe duties and responsibilities.
Add numbers to show your job had a real impact, and that you didn't just sit by the assembly line smoking cigarettes and bumming off.
Don't say worked, helped, and checked. Use power verbs instead, like improved, boosted, and elevated etc.
Pro tip: Tailoring your resume to the application will help them understand you're serious and ready to go the extra step to meet specifications and requirements.
4. Make the Most out of Your Education Section
Your education section most likely won't be the shining jewel of your resume. Save for managerial and engineering positions, college degrees and specific education requirements don't apply for production floor jobs.
Still, it needs to make its way onto it. Why?
First, it could actually make a difference and tip the scales in your favor.
Second, if you're not experienced enough, you can easily turn this seemingly unfavorable position into an advantageous one.
This is how to put education on a production resume:
Read more: How to Put a Degree on Your Resume
When making a resume in our builder, drag & drop bullet points, skills, and auto-fill the boring stuff. Spell check? Check. Start building a professional resume template here for free.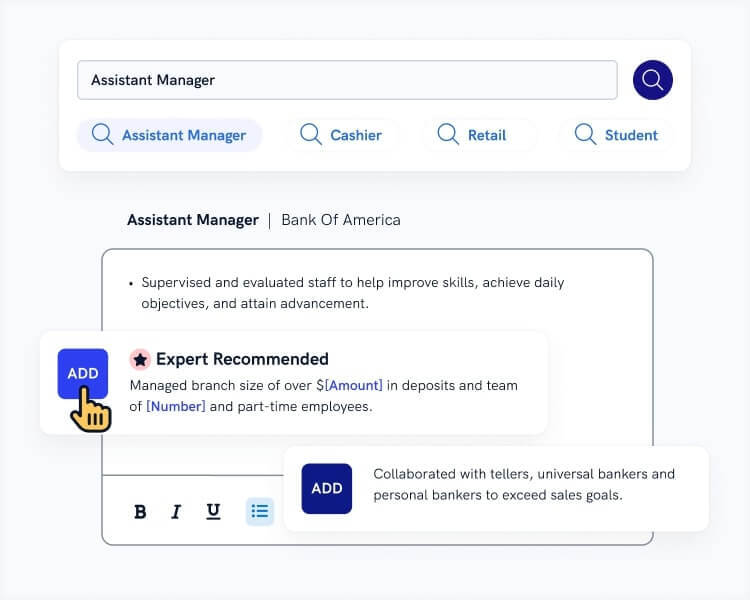 When you're done, Zety's resume builder will score your resume and tell you exactly how to make it better.
5. Pick the Right Production Skills for a Resume
No matter if you manufacture baby formula or complex aeronautical machinery, your skills section is pretty much where the recruiter will look to confirm your capabilities.
Tempted to bend the truth a little bit to get a leg up on the competition? Don't be: it's easily verifiable, not worth it, and lying on a resume could potentially land you in trouble.
Instead, look at the job ad once again and take a closer look at the requirements and responsibilities listed there. When you think about it, the company just provided you a list of "this is what skills we want you to have on your resume," so why not use it?
Doing so keeps your application nice and tailored (which, as we mentioned before, is crucial), and helps pass ATS checks on your resume. ATS (Applicant Tracking Systems) software scans incoming resumes to show the recruiter only the most relevant ones, so those resume keywords you've just picked out of the job ad will really help!
Now, back to skills. Here's a sample list of top production resume skills for any industry:
Best Production Worker Skills for a Resume
Physical Fitness
Careful Packaging
Handling of Goods
Hand Tools & Power Tools
Machinery Operation
Quality Assurance & Control Checks
PLCs
Efficiency
Equipment Maintenance
Record Keeping
Reporting to Management
Math Skills
Loading & Unloading
Shipping & Dispatch
Reading Comprehension
Strong Work Ethic
Able to Lift Over 50 Lbs
Pro Tip: Many companies in the United States are experiencing a skilled labor shortage, and their solution often involves automation. To avoid getting cut, make sure you develop an adaptable skill set and are open to learning new skills.
6. Show off Your Passion in Extra Production Resume Sections
A good resume would end right here. A great resume for production jobs should take it a step further, and strive to stand out from the rest of the competition.
The truth is, everybody else will also have a work, education, and skills section. Show you're not just a faceless robot by adding extra sections to your resume.
Here are a few great examples for a production worker resume:
Memberships in associations and organizations
Read more: How to List Hobbies and Interests on a Resume
7. Write a Cover Letter for Production Positions
Should you include a cover letter with your production resume?
Most of the time, if not always. Lots of recruiters will reject anyone who doesn't submit one, so it's not a risk worth taking—especially when writing a cover letter is not as hard as most people make it out to be.
Here's how to write a cover letter for a production job:
Get your cover letter formatting in working order ahead of time, maintaining proper spacing and margins as well.
Write a convincing cover letter opening. Your goal is to keep them from dosing off before they get to the good parts.
In your middle paragraph(s), mention some of the best achievements in your resume and how they would relate to the challenges of this production job.
In your cover letter closing paragraph, offer them something tempting, like "I'd love to show you my methods of keeping the workplace accident-free."
Pro tip: Don't forget to follow up on your job application after about a week. It might end up being the thing that tips the scales in your favor.
Plus, a great cover letter that matches your resume will give you an advantage over other candidates. You can write it in our cover letter builder here. Here's what it may look like: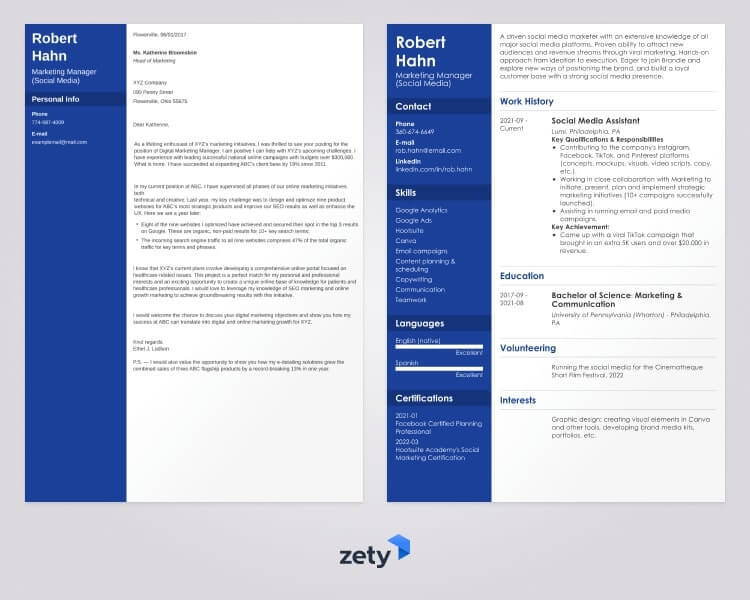 See more cover letter templates and start writing.
Thanks for reading! What did you think of our sample production resume? Still uncertain about listing production skills? Our team is ready to answer all of your questions down below.
About Zety's Editorial Process
This article has been reviewed by our editorial team to make sure it follows Zety's editorial guidelines. We're committed to sharing our expertise and giving you trustworthy career advice tailored to your needs. High-quality content is what brings over 40 million readers to our site every year. But we don't stop there. Our team conducts original research to understand the job market better, and we pride ourselves on being quoted by top universities and prime media outlets from around the world.