Custodian Resume (Sample Job Description & Skills)
You need a custodian job. They need a custodian. Trouble is, you're not the only one applying. Show them you're the best pick with this top notch sample custodian resume.
Being a custodian can be fun: you don't get to interact with mean people, you can listen to music at work, and no one's trying to micromanage you.
But there's quite a bit of competition for the better-paid custodian jobs, so you need to stand out among the other candidates. Long story short: you need a clean, organized resume that shows why you're the best custodian out there.
This guide will show you:
A custodian resume example better than 9 out of 10 other resumes.
How to write a custodian resume that will land you more interviews.
Tips and examples of how to put skills and achievements on a custodian resume.
How to describe your experience on a resume for a custodian to get any job you want.
Want to save time and have your resume ready in 5 minutes? Try our resume builder. It's fast and easy to use. Plus, you'll get ready-made content to add with one click. See 20+ resume templates and create your resume here.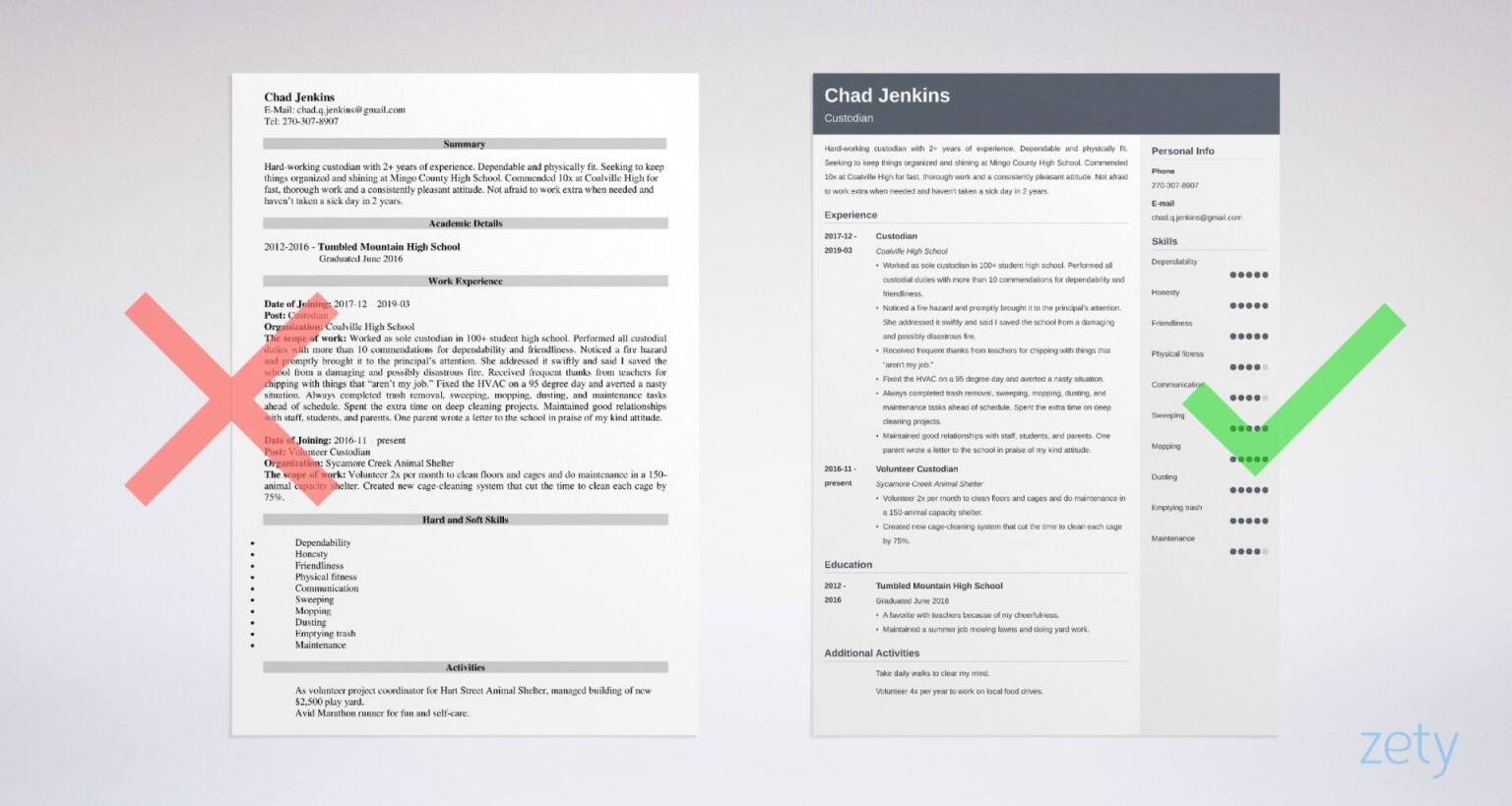 Sample resume made with our builder—See more resume samples here.
See our other guides:
Sample Custodian Resume Sample
Chad Jenkins
chad.q.jenkins@gmail.com
270-307-8907
Professional Summary
Hard-working custodian with 2+ years of experience. Dependable and physically fit. Seeking to keep things organized and shining at Mingo County High School. Commended 10x at Coalville High for fast, thorough work and a consistently pleasant attitude. Not afraid to work extra when needed and haven't taken a sick day in 2 years.
Work Experience
Custodian
Coalville High School
Dec 2017–March 2019
Worked as sole custodian in 100+ student high school. Performed all custodial duties with more than 10 commendations for dependability and friendliness.
Noticed a fire hazard and promptly brought it to the principal's attention. She addressed it swiftly and said I saved the school from a damaging and possibly disastrous fire.
Received frequent thanks from teachers for chipping with things that "aren't my job."
Fixed the HVAC on a 95 degree day and averted a nasty situation.
Always completed trash removal, sweeping, mopping, dusting, and maintenance tasks ahead of schedule. Spent the extra time on deep cleaning projects.
Maintained good relationships with staff, students, and parents. One parent wrote a letter to the school in praise of my kind attitude.
Volunteer Custodian
Sycamore Creek Animal Shelter
Nov 2016–Present
Volunteer 2x per month to clean floors and cages and do maintenance in a 150-animal capacity shelter.
Created new cage-cleaning system that cut the time to clean each cage by 75%.
Education
2012–2016 Tumbled Mountain High School
Graduated June 2016
A favorite with teachers because of my cheerfulness.
Maintained a summer job mowing lawns and doing yard work.
Skills
Soft skills: Dependability, honesty, friendliness, physical fitness, communication
Hard skills: Sweeping, mopping, dusting, emptying trash, maintenance.
Activities
Take daily walks to clear my mind.
Volunteer 4x per year to work on local food drives.
Here's how to write a custodian resume that gets jobs:
1. Choose the Best Format for Your Custodian Resume
A sloppy custodian resume makes employers think you're sloppy.
That's bad news for a custodian.
Show them the good news with these quick steps:
Pro Tip: How long is a resume for custodian jobs? One page is your best bet. Can't fit it all? Consider taking out the trash and just leaving your shiniest moments.
2. Write a Custodian Resume Objective or Summary
How can you make your custodian resume stand out?
With a well written professional profile.
With 2+ years of custodian experience, write a resume summary. That's just 3–4 sentences that show a couple skills and your best achievements.
With less than 2 years, make a resume objective. Those focus more on skills, but here's a secret: Add a couple transferable accomplishments from other jobs.
Pro Tip: It's hard to write a custodial worker resume profile right off the bat. Write the other sections first, then summarize the best chunks in your profile.
3. Write a Clean Custodian Job Description for Your Resume
How do you show custodian experience on a resume?
Well think about this:
Custodian vs Janitor:
A custodian takes care of a building, including cleaning, maintaining, and caring for its various needs and processes. Custodians might unlock the building every morning, de-ice walkways, raise flags, and check on HVAC systems. A janitor cleans the building, but generally doesn't handle other jobs.
So, what should you show in a custodian resume work experience section?
That you've done all the above.
Put your last job first. Give it a clear job title (Custodian).
Show the name of your company/school and your start and end dates.
To each job in your work history, add 3–5 resume bullet points.
In them show the custodian job duties and responsibilities you had. But—
Also show how good you did each one by adding achievements.
Tailor your resume to each position you apply to. How? By tweaking your accomplishments so they match the job's needs.
Add numbers like "commended 10x" or "100+ student high school" to show the size of what you've done.
Start sentences with resume action words to keep the hiring manager's attention.
Pro Tip: Put more bullet points on the last job you worked and less as you get lower on your resume. The idea is to show more detail about work you've done most recently.
4. Write a Strong Custodian Resume Education Section
What?
You don't need education on a resume for a custodian. Do you?
Yep.
But don't make yours like everybody else's.
Put a few things in it that show custodian skills:
If you want to show your good attitude, talk about how much teachers liked you.
To show your work ethic, talk about a summer job you kept.
You can mention sports teams to show physical fitness, or clubs to show you work well with others.
What about a GPA? You can leave it off.
Pro Tip: In an entry-level custodian resume, you can't show much work history. So, make your education section—and your other sections—longer. I'll show how in a bit.
5. Prove Your Custodian Skills
Use this custodian resume skills list in your resume:
Custodian Resume Skills
Hard Skills:
Sweeping
Mopping
Dusting
Emptying trash
Maintenance
HVAC repair
Generator repair
Electrical work
Light carpentry
Soft Skills:
Physical fitness
Dependability
Honesty
Teamwork
Cheerfulness
Organization
Wait!
Should you put all those professional skills in a resume for custodian jobs? No!
Just add the few mentioned in the job description. Mix in some hard skills & soft skills.
Pro Tip: If you don't have much custodian experience, that's the time to focus on proving transferable skills. Show those with achievements in your other sections (next)!
When making a resume in our builder, drag & drop bullet points, skills, and auto-fill the boring stuff. Spell check? Check. Start building a professional resume template here for free.
When you're done, our online resume builder will score your resume and our resume checker will tell you exactly how to make it better.
6. Add Other Sections to Your Custodian Resume
Are you here to punch a clock?
If employers think you go home and watch TV when you're not working, they'll find you less attractive.
So—
Put "other" sections in your custodian resume.
Cram them with accomplishments. Add sections like:
The more bullet points your custodian has that show achievements, the better your chance at getting hired.
Pro Tip: Don't have any "other" activities to show? Build a few. Take a couple days and do some volunteering. Or—just wrack your brain to think of kudos you've received.
7. Attach a Cover Letter to Your Custodian Resume
"I don't do cover letters."
Say custodians who don't get hired.
Yes, cover letters still matter. Most recruiters love them. The problem?
Most cover letters are carbon copies.
So:
Kick off with the best cover letter format.
Begin your cover letter with a shocker, like something really good you did that helped your last employer.
The best cover letters show passion. Show yours by finding something you love about the company or school.
End your cover letter strong by offering something. That can be a promise to explain how you fixed the HVAC on a hot day and saved the day.
Pro Tip: Make a reminder in your calendar to follow up on your job application and custodian resume. A little push at the right moment can get you out of the jobless line.
Plus, a great cover letter that matches your resume will give you an advantage over other candidates. You can write it in our cover letter builder here. Here's what it may look like: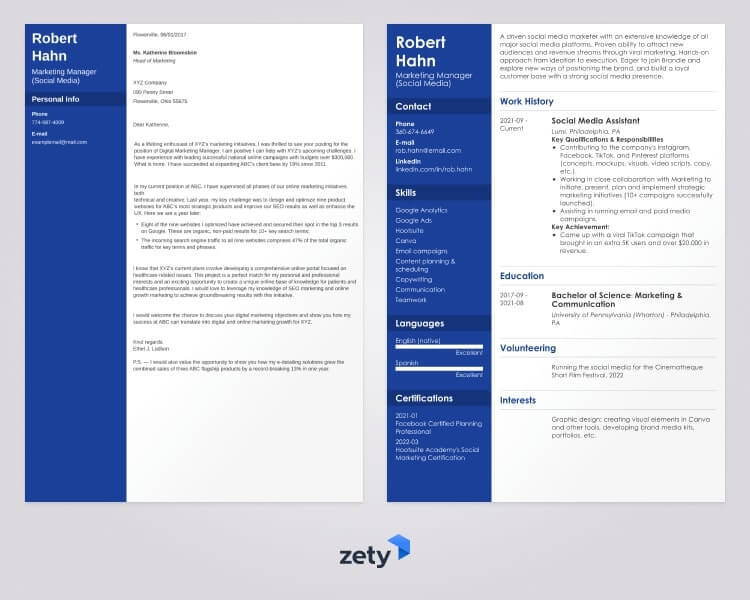 See more cover letter templates and start writing.
That's it!
That's how to write a resume for custodian positions.
Got more questions about how to write a professional custodial worker resume? Are you a career-changer looking for advice? Give us a shout in the comments. We'd love to talk!
About Zety's Editorial Process
This article has been reviewed by our editorial team to make sure it follows Zety's editorial guidelines. We're committed to sharing our expertise and giving you trustworthy career advice tailored to your needs. High-quality content is what brings over 40 million readers to our site every year. But we don't stop there. Our team conducts original research to understand the job market better, and we pride ourselves on being quoted by top universities and prime media outlets from around the world.