Janitor Resume Sample (Job Description, Duties, Skills & Tips)
When everyone else is home sleeping, you work behind the scenes to keep the place clean and functional. Show hiring teams you do it well with this spotless sample janitor resume.
You know how to keep things squeaky clean and maintain perfect order in a way that would make Marie Kondo jealous.
Now you want to get paid for it. But you have to write a janitor resume first… and that can get tricky.
But it doesn't have to be.
This guide will show you:
A janitor resume example better than 9 out of 10 other resumes.
How to write a janitor resume that will land you more interviews.
Tips and examples of how to put skills and achievements on a janitor resume.
How to describe your experience on a resume for a janitor to get any job you want.
Want to save time and have your resume ready in 5 minutes? Try our resume builder. It's fast and easy to use. Plus, you'll get ready-made content to add with one click. See 20+ resume templates and create your resume here.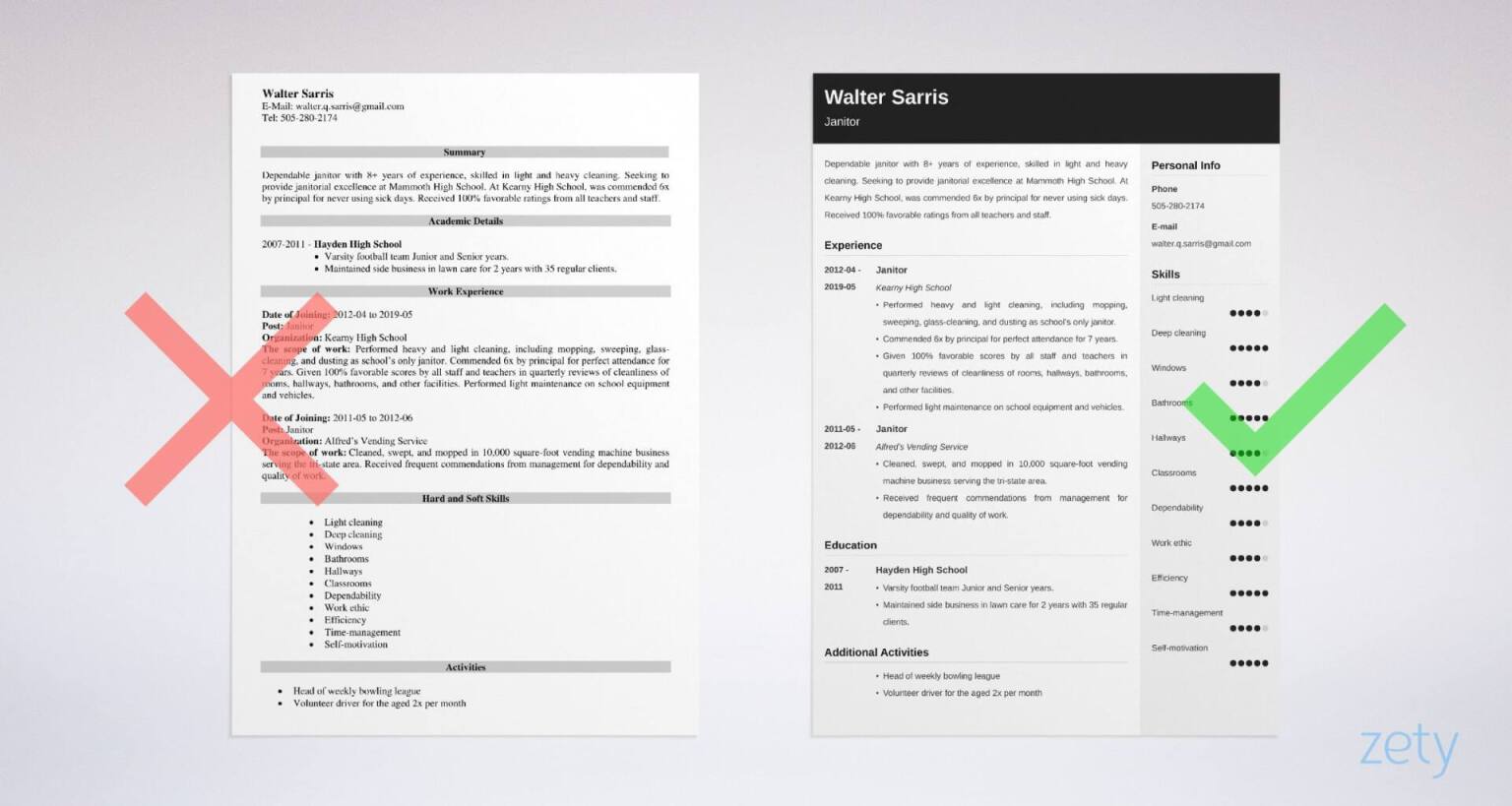 Sample Janitor Resume—See more resume templates here.
Do you really need a resume for janitor jobs? Could you step up to custodian work or other career options? See our guides:
Janitor Resume Sample
Walter Sarris, Janitor
walter.q.sarris@gmail.com
505-280-2174
Professional Summary
Dependable janitor with 8+ years of experience, skilled in light and heavy cleaning. Seeking to provide janitorial excellence at Mammoth High School. At Kearny High School, was commended 6x by principal for never using sick days. Received 100% favorable ratings from all teachers and staff.
Work Experience
Janitor
Kearny High School
April 2012–May 2019
Performed heavy and light cleaning, including mopping, sweeping, glass-cleaning, and dusting as school's only janitor.
Commended 6x by principal for perfect attendance for 7 years.
Given 100% favorable scores by all staff and teachers in quarterly reviews of cleanliness of rooms, hallways, bathrooms, and other facilities.
Performed light maintenance on school equipment and vehicles.
Janitor
Alfred's Vending Service
May 2011–June 2012
Cleaned, swept, and mopped in 10,000 square-foot vending machine business serving the tri-state area.
Received frequent commendations from management for dependability and quality of work.
Education
2007–2011 Hayden High School
Graduated 2011
Varsity football team Junior and Senior years.
Maintained side business in lawn care for 2 years with 35 regular clients.
Skills
Hard skills:

Light cleaning, deep cleaning, windows, bathrooms, hallways, classrooms

Soft skills:

Dependability, work ethic, efficiency, time-management, self-motivation
Activities
Head of weekly bowling league
Volunteer driver for the aged 2x per month
Here's how to write a janitor resume that gets jobs:
1. Pick the Best Janitor Resume Format
Janitors keep buildings clean, usually at night when other staff or students have gone home. They remove trash and sweep and mop. A janitor resume must show a strong work ethic and the ability to clean dozens of rooms and hallways in a single shift.
Look presentable—
Show the principal you won't overlook the small stuff.
Start with the chronological resume template. It's the best format for a resume because it puts your latest janitor job at the top.
To do it well:
Pro Tip: Don't worry if your janitor resume has a good amount of white space. That makes it easier to read, which makes it easier for the school HR team to hire you.
2. Write a Janitor Resume Objective or Resume Summary
How can your janitor resume get attention fast?
With a short profile summary up top.
That's a paragraph that sums up your best qualities.
If you've got 2+ years of janitorial experience, write it as a "resume summary statement"
List:
Your job title (Janitor)
Your goal (to keep the facility clean)
2–3 skills they like
Two achievements that show you're a good janitor to hire.
In a resume with no experience, your profile summary is different. New janitors with less than two years of experience should write a career objective. That says what you want to do in the job. But—
It's still a good idea to list achievements.
Pro Tip: Write your profile summary once your janitorial resume is all cleaned up. Writing it last means you'll pile up lots of good accomplishments and skills for a great summary.
3. Aim Your Resume at the Janitor Job Description
Want to get hired?
Show you match this janitorial job description.
How?
By tailoring the work experience description on your resume for janitor jobs.
List your latest position with the job title, school or company, and dates.
Look hard at the job description. What skills does it call for?
Tailor your resume by showing janitor professional accomplishments that prove those skills.
Add measurements like "7 years" or "100% favorable scores."
Pro Tip: Use powerful resume phrases like "received favorable ratings" or "commended by" in your janitor resume. They keep hiring teams focused on your good points.
4. Clean Up Your Janitor Resume Education Section
Don't waste space.
If you only say you graduated, education in a resume for janitors means nothing.
But if you did something that shows dependability or motivation, it can get you hired.
So—
Add janitorial resume bullets to your education.
List things like sports teams, side projects, or groups you belonged to.
Use them to prove janitor skills like honesty or fitness.
Pro Tip: Try to think of two things you did in school that show good janitor qualities. Even a compliment from a teacher works. If you can't think of anything, don't stress.
5. Show Janitor Skills in Your Resume
Use this janitor resume skills list.
Janitor Resume Skills
Hard Skills:
Daily cleaning
Deep cleaning
Hallways
Bathrooms
Glass
Dusting
Light maintenance
Trash removal
Sweeping
Mopping
Soft Skills:
Physical fitness
Dependability
Honesty
Attention to detail
Perceptiveness
Self-motivation
But—
Don't list all those janitorial skills in your resume.
Center your story around the ones this janitor job requires.
Pro Tip: Need hard skills examples for your janitor resume? For one resume bullet, you could say, "Swept and mopped a 200,000 square-foot high school nightly."
When making a resume in our builder, drag & drop bullet points, skills, and auto-fill the boring stuff. Spell check? Check. Start building a professional resume template here for free.
When you're done, Zety's resume builder will score your resume and tell you exactly how to make it better.
6. Add Other Sections to Your Janitor Resume
You're not just a janitor.
You're a person, with interests and passions.
Hiring teams love that.
Give it to them with bonus sections on your resume.
You can add sections like:
Activities
Home projects
Commendations from employers
Sports activities
Pro Tip: In a janitor resume without much work experience or education, bonus sections help a lot. If you worked as a part-time volunteer, list it as a job with its own bullets and achievements.
7. Send a Cover Letter With Your Janitor Resume
Are cover letters still necessary?
More than ever.
The internet black hole of job-application websites is impersonal.
Cover letters show your human side.
But—
Do it right.
Use the best of the cover letter formats. (That's the 3-paragraph cover letter.)
Put something catchy in the opening paragraph of your cover letter. "The principal at Kettersville High School said they'll never be able to replace me" would be perfect (if true).
Use the next paragraph to show why you're excited about the job. (That often means listing more janitor job accomplishments.)
Cover letter word count should be about 300 words or half a page.
Pro Tip: Wondering how to handle janitor interview questions? Be ready by understanding the job and bringing evidence you've done things exactly like it (and done them well!)
Plus, a great cover letter that matches your resume will give you an advantage over other candidates. You can write it in our cover letter builder here. Here's what it may look like: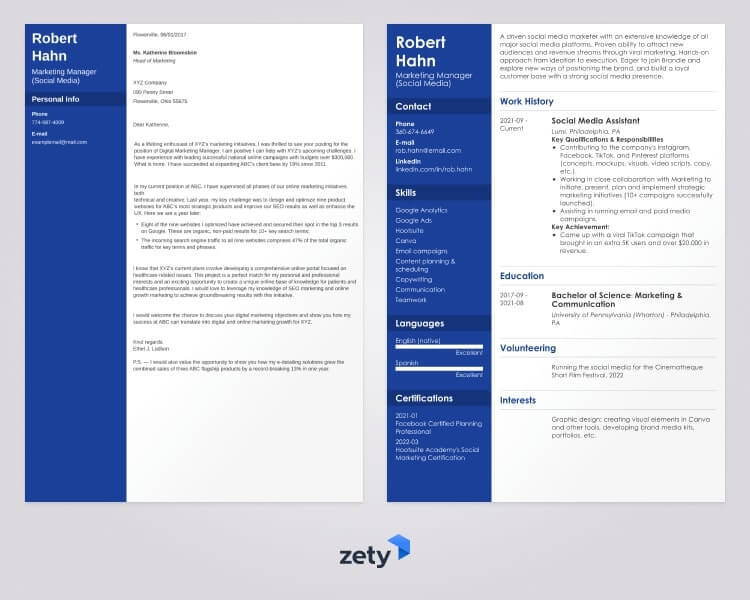 See more cover letter templates and start writing.
That's it!
That's how to write a janitor resume.
What works well in your resume for janitor jobs? What part of your janitor resume needs work? Give us a shout in the comments. We'd love to talk!