You're about to write the perfect housekeeping resume. But first say hello to the housekeeping hiring manager. Her name's Alice. She's hiring for a job with sky-high pay and stratospheric benefits. Naturally, she's got 300+ housekeeping resumes to sort through.
They all say the same thing: "I'm an experienced housekeeper. Hire me." What keeps her from picking a name from an ice bucket? How can you make your housekeeper resume sparkle like a newly serviced suite?
This guide will show you:
A housekeeping resume example better than 9 out of 10 other resumes.
How to write a housekeeper resume that will land you more interviews.
Tips and examples of how to put skills and achievements on a housekeeping resume.
How to describe your experience on a resume for a housekeeper to get any job you want.
Here's a sample resume for a housekeeper made using our resume builder.
Want to save time and have your resume ready in 5 minutes? Try our resume builder. It's fast and easy to use. Plus, you'll get ready-made content to add with one click. See 20+ resume templates and create your resume here.
Sample resume made with our builder—See more resume samples here.
Looking for other positions related to maintenance and repair, too? We've got you covered:
Or maybe you want to craft a winning technical resume? There we go: Technical Resume Example & Writing Guide
1
Housekeeping Resume Example
Sarah Daly
Housekeeper
123-456-7890
sarahdaly@email.com
linkedin.com/in/sarah.daly
Summary
Dedicated and dependable housekeeper with over 5 years of experience providing efficient and comprehensive housekeeping service. Eager to apply my organizational and cleaning skills to contribute to FreshSweep Housekeepers' commitment to customer satisfaction. Significantly reduced cleaning time by 20% at Hospitality Services through the implementation of a new cleaning procedure and awarded 'Employee of the Year' in 2019 by Fargo.
Experience
Housekeeping Supervisor
Hospitality Services, Fargo, ND
January 2017–Present
Key Qualifications & Responsibilities
Supervised a team of 15 housekeepers.
Trained new staff in cleaning and maintenance tasks.
Implemented a new cleaning procedure that reduced cleaning time by 20%.
Created training materials for the new housekeepers.
Key Achievement:
Awarded 'Employee of the Year' in 2019.
Housekeeper
Housekeeping Solutions, Fargo, ND
May 2014–December 2016
Key Qualifications & Responsibilities
Carried out daily cleaning tasks in guest rooms and common areas.
Ensured all rooms were cleaned to a high standard.
Assisted with guest requests promptly and courteously.
Key Achievement:
Recognized for exceptional customer service in 2016.
Skills
Excellent communication skills
Eye for detail
High level of accuracy
Ability to work independently and in a team
Speed and efficiency
Knowledge of cleaning products and equipment
Problem-solving skills
Education
High School Diploma
West Fargo High School, Fargo, North Dakota
September 2009–July 2013
Relevant extracurricular activities
Volunteered at the local hospital twice a week throughout high school
Participated in monthly clean-up events in the neighborhood
Certification
Housekeeping Certification, American Hotel & Lodging Educational Institute, 2019
Awards
Employee of the Year, Hospitality Services, 2019
Most Improved Employee, Housekeeping Solutions, 2016
Languages
English—Native proficiency
Spanish—Intermediate proficiency
Interests
Volunteering at a local homeless shelter.
Participating in local green initiatives to improve public spaces.
What's the Best Format for a Housekeeping Resume?
Does format really matter for a housekeeping resume?
You bet it does.
The person who hires housekeepers is the one with the white glove, checking for dust. She will not accept housekeeper resumes with typos and formatting errors. Impress her with a respected resume layout like the reverse-chronological format. It puts your best attributes first.
That's great, since the average hotel HR manager spends mere seconds reading each resume.
Not sure how to do it? Don't worry. I'm about to show you how to knock your housekeeping resume format out of the park. Pick a clear, legible resume font. Use eye-friendly headings. Make good use of white space.
Save your professional housekeeper resume in the PDF format. Other formats can scramble in transit. PDFs look the same even on Mars.
Need a template for your reverse-chronological resume format? See the housekeeping resume samples at the top of this article, and in the rest of this article.
Pro Tip: Check the job description to make sure PDFs are allowed. Some Applicant Tracking Systems struggle with housekeeper resumes saved in that format.
Want to try a few other formats for your hotel housekeeping resume? See this guide: "3 Resume Formats: How to Choose the Best One [Examples]"
2
How to Write a Resume Summary or Resume Objective
Most resumes for housekeepers have the same effect on HR people as soft pillows on hotel guests: They put them to sleep. You want your housekeeping resume to work like a 5am wakeup call.
Let's peek into the HR manager's office.
She's sitting under her gigantic framed Mondrian, sipping Frappuccino and nibbling Stroopwafel. She's bored out of her mind looking at the same copy-pasted resumes for housekeeping.
Booooring.
Then she sees yours. She doesn't break into song, but you get the distinct impression she might.
What did you do right?
You started your housekeeping resume with a captivating resume profile.
Use a resume summary if you've got bins of experience. Use a resume objective if you've got hardly any. Either way, use numbers and professional achievements, like in our executive housekeeping resume samples below.
Housekeeping Resume Examples: The Perfect Summary
Here are two very different house cleaner resume samples:
wrong
Experienced housekeeping supervisor. Experienced at cleaning rooms and supervising housekeepers. Seeking job as housekeeping executive with Hyatt.
Like a bad vacuum cleaner, that resume summary does the job, but not very well.
But look at the next of our housekeeping resume samples. It stands out like a honeymoon suite with a gift basket of Vosges chocolates on the duvet.
right
Experienced housekeeping supervisor with proven skills in daily and deep cleaning, seeking job with Hyatt Hotels. Directed six housekeeping staff at Marriott Courtyard and increased positive customer comments by 38%. Saved $200,000 for management by noticing recurring problem with the guest room toilet valves.
That's guaranteed to make the HR manager stop daydreaming about The Vampire Diaries.
When making a resume in our builder, drag & drop bullet points, skills, and auto-fill the boring stuff. Spell check? Check. Start building a professional resume template here for free.
When you're done, our online resume builder will score your resume and our resume checker will tell you exactly how to make it better.
I'll show you how to make a housekeeping resume summary just like it in a minute.
How to Write a Housekeeper Resume Objective
Let's say you don't have experience, or you do, but it's not in housekeeping. In that case, start your hotel or residential housekeeper resume with a resume objective.
Here's how that can work:
wrong
Housekeeper seeking job with Marriott. No experience yet but I'm a very fast learner.
That's not awful, but neither are the other 300 housekeeping resumes on the manager's desk. You've got to rise above them.
To do that, add achievements backed by numbers. Look at this entry level housekeeping resume sample:
right
Energetic housekeeper, skilled in daily cleaning and responding to customer needs. As a crew member at McDonalds, facilitated regular sweeping, mopping, vacuuming, and customer service. Received 95% positive feedback from management for punctuality, presentability, and flexibility.
Now that's how to show experience on a hotel housekeeping resume, even when you don't have experience. Our hiring manager, Jan, just dropped her beignet.
The key concept? Search your past jobs to find hidden housekeeping duties. For more help, look again at the sample resume for housekeeping at the top of this guide.
Pro Tip: Your resume summary or resume objective is the highlights reel for your housekeeper resume. Write it last so you've got plenty of material.
Want more tips to write the best housekeeping resume you can? See these guides: How To Write A Resume Summary: 21 Best Examples You Will See AND +20 Resume Objective Examples - Use Them on Your Resume (Tips)
3
How to Describe Your Housekeeping Experience
True or false: Housekeepers don't need tips.
False, right? Nothing could be more wrong. Here's another:
True or false: Housekeepers don't need work experience on a resume.
False.
To get a job as a housekeeper, you need housekeeping experience. If you want to be a housekeeper supervisor, you need experience at that. In other words, match your experience to the housekeeping job description.
List your most recent job first. Add 5-6 bullet points, packed with achievements and numbers.
Here are two hotel housekeeping resume samples that show how that works.
Housekeeping Resume Examples
right
Housekeeping Supervisor
Marriott Courtyard NYC
2014 - 2017
Directed 6 housekeeping staff in daily duties, including cleaning rooms, delivering guest requests, removing items from hallways, and storing materials.
Increased favorable ratings in customer comment cards by 38%.
Ensured all housekeeping staff were trained and certified in Marriott safety protocols. Facilitated regular meetings for safety idea collection.
Cleaned rooms, responded promptly to requests from guests and other departments. Identified and reported maintenance issues in all areas.
Noticed a recurring problem with the hotel's toilet valves. Saved $200,000 for management by suggesting a simple solution.
Remember our hiring manager? She's forgotten all the other cleaning service resumes on her desk.
But compare it to this:
wrong
Housekeeping Supervisor
Marriott Courtyard NYC
2014 - 2017
Housekeeping supervisor in a large hotel.
Cleaned rooms daily.
Responded to guest requests.
Vacuumed, swept, mopped, polished, dusted.
It's clean, but it's a little too clean. Like a suite with all the furniture gone.
But what if you don't have any housekeeping experience? What if you've never had any private, hospital, or hotel housekeeping jobs?
How to Write a Resume for a Housekeeper with no Experience
Remember what we did with our housekeeper resume objective statement? We mined your past for housekeeping achievements.
We'll do the same for a housekeeper resume with no experience.
wrong
Housekeeping Experience: Never had any hotel cleaning jobs yet, but I'm very enthusiastic!
Other Experience
Waiting Tables
Odd Jobs
Groundskeeper
Ugh. Fawlty Towers, right? I'm not denying it's experience. But it's not housekeeping experience.
There's no reason to pass that to a hotel HR manager. Instead, imitate the next of our housekeeping resume examples:
right
Housekeeping Experience
Executed daily cleaning, sweeping, mopping, vacuuming as a waiter at Denny's. Received 92% positive customer comment cards.
Maintained a small odd jobs business for 10 months. Frequently cleaned bedrooms and common areas, and performed deep cleanings. Responded promptly to customer requests.
As a groundskeeper for Chelyan Carwashes, Inc., removed trash, swept multiple areas, and cleaned bathrooms. Commended by management for exemplary work ethic.
Now that's a housekeeper, even though he's never actually been one. He dug into his past jobs and pulled out all the housekeeping duties.
Better still, he matched his housekeeping responsibilities to the position.
Pro Tip: Be careful not to bore the hotel or hospital hiring manager with stale words like "led," or "managed." Use action words in your cleaning resume.
You can use a plain old online thesaurus to find other words for "cleaning," or synonyms for "strong work ethic." Tip: Don't assume all synonyms work everywhere. You don't want to say you maintained beds, but rather that you changed bed sheets.
Need specific action words to make your housekeeping resume shimmer? Find some here: "+80 Examples of Resume Action Words for Every Profession"
4
Is Your Education Section Dusty? It Might Be
Housekeepers don't need much education. Right?
Wrong.
Most housekeepers can get by with just high school. But a bilingual education helps. And a college degree looks great on a housekeeping supervisor resume.
Put hospital corners on your housekeeping resume education section by adding:
School Name and Location.
Years in School.
Degree.
Then list details that fit the job description. Like this:
Two Housekeeping Resume Examples
wrong
Greater Bronx High School
New York
Graduated in 2009 with a high school degree.
3.2 GPA
That's like a set of 50-thread-count sheets. Too thin.
But look what happens when we add a few details:
right
Greater Bronx High School
New York
Excelled in home economics classes.
Key player on the school softball team. Played in New York High School Playoffs.
Vice President of Kids Helping Kids. Facilitated six soccer fundraising events. Our group raised $55,000 for local youth charities.
Any housekeeper can do that. It just takes a little thought to match a housekeeping resume to a job description like a set of fitted sheets.
Pro Tip: The best housekeeper resumes custom-fit each section to the job description. For help with that, see our guide on tailoring a resume to a job offer.
Want your housekeeping resume to get attention like a gold plated ice machine? Make your education section glitter with this guide: "How to Put Your Education on a Resume [Tips & Examples]"
5
How to Put Skills on a Resume for a Housekeeper
Step into the hotel HR director's office. On the desk sits a massive bottle of Advil. The reason? She's read hundreds of housekeeping resumes. They list the same skills, then fail to prove them.
But not yours.
Your housekeeper resume skill repertoire is one-of-a-kind. You prove your housekeeping skills with experience and education.
But first, why do you need skills keywords in a resume for housekeeping?
Answer: because most hotel HR managers use Applicant Tracking Systems (ATS).
If your resume lacks the right keywords, you won't even get through the electronic lobby. After all, what is a housekeeper without skills?
How to Prove Your Skills on a Resume
First build a master list of all your housekeeping skills. Then list those housekeeper skills that match this job description.
Finally, show them in your experience section, like this:
Example
Executed all housekeeping duties for a major midtown hotel, including

cleaning rooms

and

responding promptly to guest requests

.
Received 95% positive

customer service

ratings in comment cards. Given the Housekeeper of the Month award by management four times for job performance.
Found and returned a guest's misplaced wedding ring. Received a three-page letter of thanks from the guest for

honesty

. Given a bonus by management.
Managed day to day housekeeping of 25 rooms in a busy urban motel. Used

multitasking

to perform all duties in a timely fashion.
Commended by management for

punctuality

,

presentability

, and

attention to detail

. Saved $2,500 for motel by noticing a worsening maintenance issue.
Bam. You win. The private homeowner or HR manager just put your house cleaning resume in the Interview pile.
Need some sample housekeeping skills for resume? Get them in the job offer, and in other job offers online. Use the list below to get started.
List of Skills to Put on a Housekeeping Resume
Housekeeping Resume Skills

| | | |
| --- | --- | --- |
| Hard Skills | Hard Skills | Soft Skills |
| Cleaning Rooms | Cleaning Bathrooms | Communication |
| Daily Cleaning | Polishing | Teamwork |
| Deep Cleaning | Buffing | Time Management |
| Vacuuming | Cleaning Common Areas | Customer Service |
| Mopping | Reporting Safety Issues | Multitasking |
| Window Treatment Cleaning | Infection Control | Honesty |
| Carpet Cleaning | Chemical Handling, MSDS | Service Mindset |
| Responding to Guest Requests | Sweeping | Listening |
| Waxing | Supply Management | Problem Solving |
| Replacing Linens | Reporting Maintenance Problems | Self-Motivation |
| Removing Trash | Reporting Lost Items | Flexibility |
The advice above can turn your housekeeping resume into Conrad Hilton's dream come true.
It works just as well for a hospital housekeeping resume, a private housekeeper resume, or a resume for a hotel job.
Pro Tip: If you only use the skills in the job description, it's pandering. Mix it up. See the the sample resume for housekeeping at the top of this article for guidance.
Want to give your housekeeper resume skills section an upgrade? Use our guide: "+30 Best Examples of What Skills to Put on a Resume (Proven Tips)"
6
No One Adds a Hobbies Section, But it Works So Well
Let's say you're the recruiter. How do you between two equally good housekeeping resumes?
Answer: you pick the most well-rounded person. You know, the one you'd want to work with.
Prove you are that person, with a hobbies section.
Hobbies
Embroidery
Baking
Monthly Book Club Meetings
Animal Rescue
In a pile of identical housekeeper resumes, that one stands out like room service at the Four Seasons.
Why?
Because it shows qualities that improve your quality of work.
Embroidery and baking both demonstrate attention to detail. Book club meetings show teamwork. The animal rescue hobby shows a service mindset.
Consider Adding Other Sections to Your Housekeeping Resume
Don't want to add a hobbies section? List other activities that prove your housekeeping chops.
Housekeepers need to be active, so physical activity makes a good resume builder. Housekeepers should have a service mindset, so volunteer work looks good, too.
Volunteer Work
Walk dogs once a week for the local animal shelter.
Cook chowder once a month for the 5th Street Baptist Church homeless shelter.
Deliver meals regularly to my next door neighbor, in her eighties.
Now that job candidate is competent, service-minded, and physically able.
Yet almost anyone can find some lifestyle trappings like that. Do it, and your housekeeping resume will shine like it's been polished with a magic chamois.
It works just as well on a director of housekeeping resume as it does on a resume for a self-employed housekeeper.
Pro Tip: A housekeeper resume can include hobbies, volunteer work, and interests. Also add classes, references, sports, or anything else that makes you shine.
Need some help building a great hobbies section for your housekeeping resume? See our guide: "+20 Best Examples of Hobbies & Interests To Put on a Resume (5 Tips)"
7
Here's the Most Common Myth About Cover Letters
Myth: Nobody reads cover letters any more.
Fact: 60% of hiring managers don't read cover letters. 40% consider them essential.
Don't know which group your hiring manager falls into? Include a housekeeper cover letter with your resume. Worst case, the HR director doesn't read it.
Best case, you get first pick of the best hospital or hotel housekeeping jobs. Write it like this:
Use the recruiter's name.

Mention a few details about the company.

Mention the two or three best features from your resume that fit the position.

End your cover letter with a call to action. That's as easy as, "I'd welcome the chance to speak more with you about your needs."
A well-written cover letter can elevate your resume to VIP status.
Pro Tip: After you send in your housekeeping resume and cover letter, follow up on your job application! A phone call or email in a few days will refresh the HR manager's memory at just the right time.
Plus, a great cover letter that matches your resume will give you an advantage over other candidates. You can write it in our cover letter builder here. Here's what it may look like: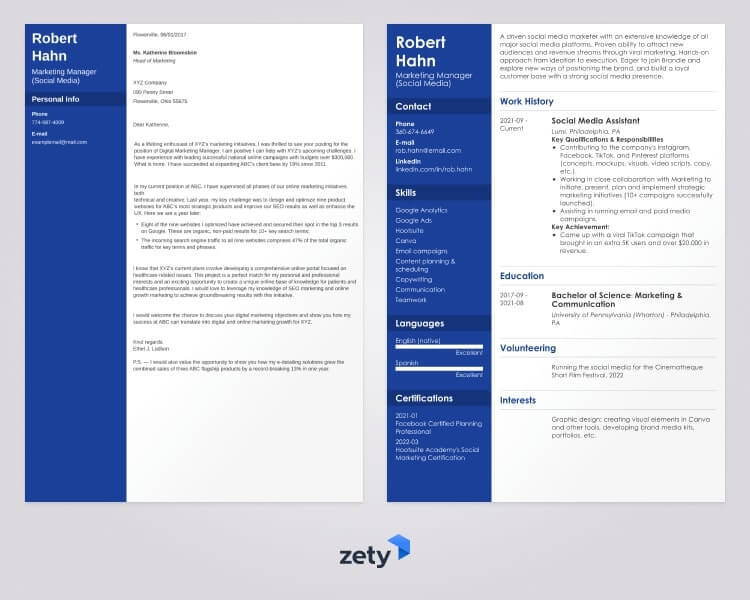 See more cover letter templates and start writing.
Want a sample cover letter for your housekeeping resume? See our guide: "How To Write A Cover Letter [Complete Guide With Examples]"
8
How to Add Contact Info to Your Resume
Everybody adds contact info to a housekeeping resume.
Not everybody does it right.
Start by adding:
Your Full Name
Updated Phone Number
Professional Email Address
Like this:
Karen Sarmiento, karenhsarmiento@gmail.com – 212-671-2976
Then add links to your online presence. Include your Twitter handle or LinkedIn portfolio.
Think you don't need a LinkedIn portfolio? Many hiring managers use them as the only way to find new recruits.
Learn to build a great LinkedIn portfolio for a housekeeper or other job hunter here.
Pro Tip: Those Facebook photos from that pool party seven years ago? They're waiting to sabotage your job search goals. Clean them up with our guide on cleaning up your online presence.
Want more help to build the best housekeeping resume you can? See our guide: "How to Make a Resume: A Step-by-Step Guide (+30 Examples)"
Key Takeaway
By now you've got a leg up on everyone else writing resumes for housekeepers. That's because you know the key strategies:
At the top of your housekeeping resume (or housekeeping supervisor resume), put a resume objective or a resume summary.
Tie your housekeeping skills, duties, and responsibilities into a resume. Match your achievements to the job description.
List your housekeeping experience in reverse-chronological order.
Don't forget to write a housekeeping cover letter and, once you submit your application—to follow up!
Got questions or tips about how to make a great resume for housekeeping jobs? Give us a shout in the comments section!
About Zety's Editorial Process
This article has been reviewed by our editorial team to make sure it follows Zety's editorial guidelines. We're committed to sharing our expertise and giving you trustworthy career advice tailored to your needs. High-quality content is what brings over 40 million readers to our site every year. But we don't stop there. Our team conducts original research to understand the job market better, and we pride ourselves on being quoted by top universities and prime media outlets from around the world.