Landscape Architecture Resume: Sample, Tips & Writing Guide
Your sense of design is impeccable, and you carve the bland and boring into true art that everyone enjoys. Do the same to your landscape architecture resume with our help!
There are only a few minutes left between you and discovering a great landscape architecture sample resume.
But first—
You're an expert in bending physical reality to your will. To you, it's like playing The Sims, but IRL.
So how come you're only seeing trough after trough instead of conquering entire mountain ranges?
It probably comes down to your resume. And we're going to fix that today.
This guide will show you:
A landscape architecture resume example better than 9 out of 10 other resumes.
How to write a landscape architecture resume that will land you more interviews.
Tips and examples of how to put skills and achievements on a landscape architecture resume.
How to describe your experience on a resume for a landscape architect to get any job you want.
Want to save time and have your resume ready in 5 minutes? Try our resume builder. It's fast and easy to use. Plus, you'll get ready-made content to add with one click. See 20+ resume templates and create your resume here.
Sample resume made with our builder—See more resume examples here.
Think you'd do well in other positions, too? See our related guides below.
Landscape Architecture Resume Sample
Marcelo Shank
Landscape Architect
843-621-7020
Marceloshank@zetymail.com
Linkedin.com/in/marceloshank
Summary
Motivated landscape architect with 6 years of experience. Proven leadership in project management. Supervised a team of 4 other architects in 20 development projects. Designed residential and office plots between 5,500 and 220,000 sq ft. Seeking to apply my skills and expertise towards driving growth and ROI at High Arch Studios.
Work Experience
Landscape Architect
Lang Enterprises, Tucson, AZ
June 2015–Sept 2019
Saved $125,000 through clever budgeting and selection of more adequate building material.
Consulted with product manufacturers to evaluate and select most appropriate construction materials, cutting costs by 5–10% through bulk orders and long-standing relations.
Enhanced design process to create marked improvements in pedestrian and vehicular traffic flows around construction sites.
Prepared detailed presentations for schematic design, design development and construction documents to 12 shareholders.
Architecture Consultant
ProCure, Tucson, AZ
June 2013–June 2015
Wrote proposal and assisted in preparing tender documents.
Ensured proper implementation of the company's safety practices.
Liaised with clients on matters related to state and federal building and architecture standards.
Education
Bachelor's Degree in Landscape Architecture
University of Tucson, AZ
2013
Key Skills
AutoCAD
Urban Design
Budget Preparation
Leadership
Visualization
Safety Measures & Federal Regulations
Customer Relations
Architecture Certifications
Landscape Architecture Certificate, UCLA, 2015
Licensed Professional, American Society of Landscape Architects (ASLA), 2013
Achievements
2017 Winner of ASLA's Award of Excellence in the Urban Design category
2018 Panelist during the International Conference on Urban Landscape Architecture (ICULA)
Foreign Languages
Italian: advanced
French: intermediate
This is how you write a landscape architecture resume:
1. Format Your Landscape Architecture Resume Correctly
As a landscape architect, you coordinate the implementation of design plans to realize your client's visions. Your projects are functional and aesthetically pleasing, and fit-for-purpose.
To land a job, you'll need to take care of your landscape architect resume with that same kind of precision.
Chaotic design choices make for flashy décor, but on a resume, you most definitely want to go with a reliable resume format. The reverse-chronological resume layout is your best bet: it organizes your information with the most recent achievements near the top of the page, where they're more likely to draw the eye.
Here's how to get your document ready:
Lastly, keep in mind that 99% of the time, saving the resume as a PDF will work out in your favor. It's simply the more reliable format. The other 1% is for when the recruiter explicitly asks for native Word files.
Read more: What Should a Successful Resume Look Like?
2. Write a Landscape Architecture Resume Profile Statement
Recruiters and hiring mangers see dozens, if not hundreds, of resumes every day. Think they read each page with care and attention? Think again.
If you want your resume to be read in full, you need to make a concentrated effort at grabbing the reader's attention—
And it starts with writing a resume profile that they simply won't be able to ignore. The profile is a small section that goes directly below the header of your resume, and its purpose is to give the reader a quick, easy-to-digest insight into your best professional achievements. Here's how to go about crafting yours:
If you've been designing landscapes for more than 2 years, go with a professional resume summary: start with a couple of stunning achievements (backed by numbers) to make a great impression and follow up with a promise to achieve a specific goal for the company to which you're applying.
And if you just changed careers, recently graduated, or have yet to get your big break, write a resume objective. Focus on highlighting the knowledge you have and on your transferable skills, and drive home the point that you know how to utilize both to guarantee company success.
…sometimes, things just get stuck. You start sketching a design, but then come up short. If this happens to you when writing your resume introduction, don't sweat it. Move on to other sections, and come back here after.
Read more: How to Start a Resume: Guide with Tips & Examples
3. Design Your Landscape Architecture Experience Section
Landscape architecture jobs are projected to stagnate over the next 10 years, according to the BLS's projections. By 2030, they predict there will actually be slightly fewer jobs in the field.
Ouch.
So, how do you claw back against that?
One way involves getting your resume experience section in perfect harmony with the rest of your resume. Here's how:
List your most recently held position, and go backward from there. For each one, include your job title, months + years worked, and the name and location of the company.
Write strong resume bullet points for each job, describing your biggest achievements (not just your duties). Up to 6 bullets is your target, with fewer for older positions.
Decorate the descriptions by liberally using numbers and action words. "Saved $250,000 by improving X" always sounds better than "Tasked with improving X."
Tailor your resume directly to the job you're applying for. Copy-pasting the same design is as much of a no-no in resume writing as it is in architecture.
If you have decades of experience to speak of, remember that most resumes should go back 10–15 years, tops.
Read more: Eye-Catching Resume Templates to Get You Hired
4. Mention Your Education on the Landscape Architecture Resume
You know how to avoid common landscape architecture mistakes—
But not necessarily the pitfalls of resume writing. And one of the major ones is failing to list your education on your resume.
Sure, your professional experience is more important—but you still need to show that you have the right educational background.
So—
Are you an experienced landscape architect with more than 5 years in the industry? Summarize your school years by listing your degree, university name and location, and graduation date. Congrats, you're ready to move on!
However, if you're a recent graduate or you're writing a career-change resume, it's worth expanding your education section with extra information to make up for your underperforming work history. Consider adding bullet points with relevant coursework at which you excelled, extracurricular activities that show your soft skills, or honors on your diploma.
Last but not least, add your GPA to your resume only if it was 3.5 or higher.
Read more: Listing Your Degree on a Resume
When making a resume in our builder, drag & drop bullet points, skills, and auto-fill the boring stuff. Spell check? Check. Start building a professional resume template here for free.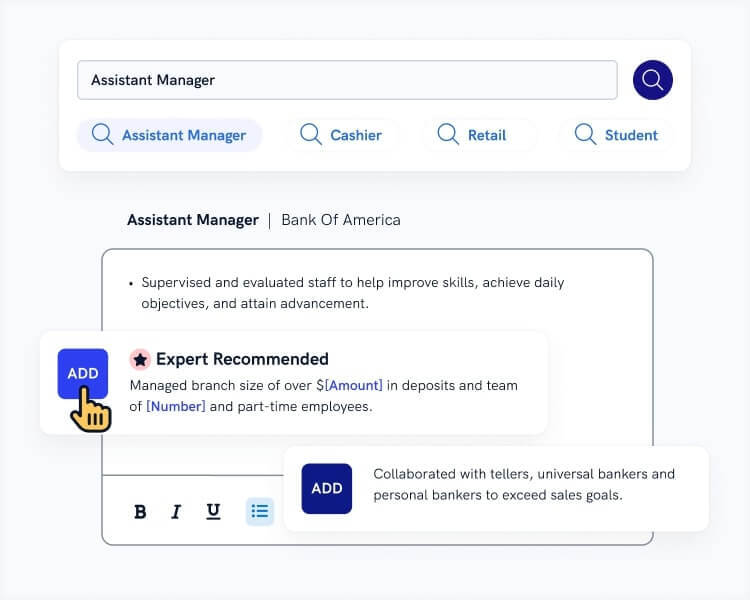 When you're done, our professional resume builder will score your resume and our resume checker will tell you exactly how to make it better.
5. Demonstrate the Right Skill on a Resume for Landscape Architecture
Here is an example list of landscape architecture skills:
Landscape Architecture Resume Skills
AutoCAD, Bentley Microstation
Adobe Creative Cloud
Artistic Flair
Customer Relations
PowerPoint
Design
Building and Construction
Planning
Drawing & Blueprints
Public Safety and Security
Knowledge of Government Regulations
Geography & Geology
Listening Skills
Visualization
Put all of those onto your resume, however, and you'll end up with an overloaded mess.
There are smarter and cleaner ways to go about this:
Write down all of your skills, divided into categories, like soft skills, hard skills, and technical skills.
Look to the job posting and scan it for the resume keywords that indicate the skills they're after. It should be easy to spot under the "Requirements" or "Skills" heading.
Cross-reference those skills they want with your list. Whatever appears on both goes on your resume. Limit yourself to 8–10 most important ones.
Clean, crisp, to the point. And it makes your resume more ATS-friendly. What more could you want?
…hopefully, you said "more advice", because we're not done quite yet!
Read more: What Skills to Put on a Resume
6. Score Bonus Points by Adding Other Sections to Your Landscape Architecture Resume
Best way to get hired?
Make them think you're the next Antoni Gaudí.
How?
By adorning your resume with extra sections.
Skip them, and your resume looks like a run-down brutalist commie block. Use them, and recruiters will praise its Zen-like composition.
Take a look at some of these ideas to make your resume look like Park Güell:
Read more: Best Tips for Writing a Resume
7. Attach a Cover Letter with the Landscape Architecture Resume
Your resume needs one final touch. Its pièce de résistance—a cover letter.
It's been proven time and time again that nearly half of all recruiters will not care if you're Frank Gehry's long-lost twin. No cover letter? No job.
Fortunately, actually writing one is way less hassle than people make it out to be. See these cover letter tips to get yourself there:
Select a clean cover letter template and think on the format of your cover letter before you even write down the first word. Matching resume and cover letter designs are your best bet for making your job application stand out.
Address your cover letter directly to the person who'll read it. If you can't find the name of the recruiter or hiring manager, use Google and LinkedIn, or call in directly.
In the opening of your cover letter, hook the reader by highlighting 1 or 2 of your proudest achievements.
Keep making a good impression in the body: add more achievements and emphasize what you can do for the company if they choose to hire you.
Finish the cover letter on a high note with an irresistible call to action.
And don't go over the recommended cover letter length while doing it—3 to 4 paragraphs on one page will suffice.
Read more: What Should a Cover Letter Say (But Yours Probably Doesn't)
Plus, a great cover letter that matches your resume will give you an advantage over other candidates. You can write it in our cover letter builder here. Here's what it may look like: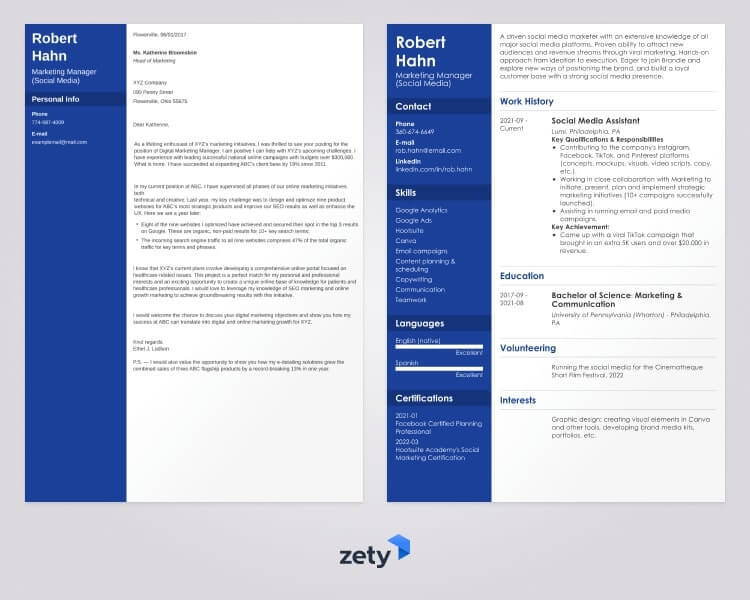 See more cover letter templates and start writing.
Splendid!
That's an eye-catching landscape architecture resume!
Do you think we missed anything crucial? Maybe you're still not fully in on how you should mention experience on a landscape architecture resume? Hit us up in the comments section below, and thanks for reading!
About Zety's Editorial Process
This article has been reviewed by our editorial team to make sure it follows Zety's editorial guidelines. We're committed to sharing our expertise and giving you trustworthy career advice tailored to your needs. High-quality content is what brings over 40 million readers to our site every year. But we don't stop there. Our team conducts original research to understand the job market better, and we pride ourselves on being quoted by top universities and prime media outlets from around the world.