Our customers have been hired by:
A building site is like a microcosm. Only the selected few have the skills to navigate it. And you're one of them. Working as a contractor, you have extensive knowledge of planning building projects, choosing equipment, overseeing legal compliance, and establishing budgets.
However, the competition is fierce. To get new jobs, you need to convince prospective clients and business partners that you know the drill. The name of your company on your truck is not enough.
That's why you need a professional contractor resume.
This guide will show you:
A contractor resume example better than 9 out of 10 other resumes.
How to write a contractor resume that will land you more interviews.
Tips and examples of how to put skills and achievements on a contractor resume.
How to describe your experience on a resume for a contractor to get any job you want.
Want to save time and have your resume ready in 5 minutes? Try our resume builder. It's fast and easy to use. Plus, you'll get ready-made content to add with one click. See 20+ resume templates and create your resume here.
Sample resume made with our builder—See more resume examples here.
Looking for a specific kind of resume for contractor jobs? See our guides:
Writing an IT contractor resume? Try these guides:
Wondering how to describe contract work on a resume? See this guide:
Contractor Resume Sample
Ben Yannovich, Licensed Contractor
ben.q.yannovich@gmail.com
linkedin.com/in/benqyannovich
502-931-8322
Professional Summary
Licensed contractor with 8+ years of experience. Skilled in project management and residential construction. Seeking to deliver construction excellence for Hall Brothers Construction. At Belcher Construction Co., resolved project construction issues 18% faster than company average. Coordinated plans for construction of 100+ homes per year in the $1M–$2M range.
Work Experience
Contractor
Belcher Construction Co.
June 2013–May 2019
Coordinated all planning and construction of 100+ homes per year valued at $1M to $2M each.
Created budgets and followed through by qualifying competing subcontractor bids. Exceeded cost control targets by 10% or more in every quarter.
Resolved issues with project construction 18% faster than the company average.
Trained subcontractors on company quality standards during construction phase. Hit quality targets with 99.9% accuracy.
Contractor
Tall Contracting of Kentucky
April 2011–June 2013
Managed construction of 2 homes per month in upscale suburban neighborhoods.
Led planning, budgeting, and construction, saving $1M in costs per year through negotiating better deals with subcontractors and suppliers.
Education
2012 Spalding University
BS in Business Administration
Pursued a passion for project management coursework.
President, Men's Intramural Baseball Organization.
License
Contractor License #2438239, Department of Housing, Building & Construction
Skills
Technical Skills: Project management, negotiation, cost control, residential construction
Soft Skills: Leadership, interpersonal skills, problem solving, communication
Volunteer Work
Volunteer 3x per year to manage construction and repair of town playgrounds.
Volunteer rescue driver, Woodford County Animal Shelter.
Here's how to write a contractor resume that gets jobs:
1. Pick the Best Contractor Resume Format
Contractors work on behalf of others. In the construction world, general contractors manage subcontractors (including independent contractors) in the completion of projects, like building homes or industrial buildings. A contractor resume has to show leadership and interpersonal skills, as well as project management and budgeting.
You can prove you're a good contractor at a glance.
How?
By writing a well-formatted resume for contractor jobs.
There are three main types of resumes, but the most respected is the reverse chronological resume format.
To write yours:
Pro Tip: Save your contractors resume format in PDF as long as the job ad doesn't say different. PDFs don't degrade in transit.
2. Write a Contractor Resume Objective or Resume Summary
Don't expect HR to read your contractor resume carefully.
Summarize it in an elevator speech.
Contractors with two or more years of experience should write a resume professional summary. Build it with:
One adjective ("Efficient," "Effective")
"Licensed Contractor"
Years of experience
Goal ("deliver construction excellence")
1 or 2 skills from the job ad
1 or 2 accomplishments that best prove those skills
If you're writing a resume with no experience, tout transferable skills.
Those go in a resume objective. (Objectives for a resume are like professional summaries, but for new entrants to the workforce.)
Pro Tip: How long should your resume be for contract work? One page (unless you've built so many different kinds of structures you can't possibly fit them all).
3. Cement Your Resume to the Contractor Job Description
You're lost in the applicant pool.
Get found.
Do it by showing you're the perfect contractor for this role.
Here's how to tailor your resume to specific job:
Include only relevant work experience. That means showing you've done contracting tasks they mention in the online posting.
For each of your past jobs, list business job titles and dates, plus organization names.
Here's the trick: add accomplishments that prove your worth.
Put numbers in those accomplishments to solidify your claims. Example: "exceeded cost-control targets by 10% in every quarter."
Pro Tip: Want the hiring team to read more of your general contractor resume? Use strong resume verbs like resolved, created, and exceeded to make it happen.
4. Form Up Your Contractor Resume Education Section
You don't need to show much educational qualification in a resume for contractor jobs.
That said, there's a trick to use it so it gets you hired.
Everyone lists school name, degree, and dates.
But you'll add accomplishments to prove contractor skills.
Did you lead a student organization? That shows leadership.
Or were you passionate about project management classes? That's a nice independent contractor resume education win.
Pro Tip: If you're new to the working world, consider lengthening your resume education section. In a pinch, you can list an area of study as its own section, with its own bullets.
5. List Contractor Skills in Your Resume
Show off your contractor resume skill set.
You'll need both soft and hard skills.
Contractor Resume Skills
Technical skills to put on resume for contractors:
Construction
Management
Negotiation
Estimation
Project management
Cost control
Permit processing
Scheduling
Building code knowledge
Billing
Residential or industrial construction
Sourcing vendors
Budgeting
Power tool and hand tool operation
Soft Skills for Contractors:
Detail oriented
Physical strength
Stamina
Customer service
Pro Tip: Don't overdo it. Putting 25 skills in a resume for contractors makes you look dishonest. Seek the few technical skills and soft skills they target in the online ad. Then prove them in your bullets.
When making a resume in our builder, drag & drop bullet points, skills, and auto-fill the boring stuff. Spell check? Check. Start building a professional resume template here for free.
When you're done, Zety's resume builder will score your resume and our resume checker will tell you exactly how to make it better.
6. Add Other Sections to Your Contractor Resume
Get more interviews.
Include bonus resume sections to boost your chances of landing this contractor job.
Choose from:
Activities
Professional associations like your state contractor's association
Union membership
Media appearances
Publications
Commendations from higher-ups or clients
Sports activities
List language proficiency on a resume in your skills list—unless the online posting says it's central to the role. If so, add it as a unique section with a bullet list.
Pro Tip: Don't know how to describe volunteer work on a resume for contractor jobs? If you were doing contractor work for free, put it in "Volunteering" section. If not, put it in "Activities."
7. Send a Cover Letter With Your Contractor Resume
Are cover letters important with contractor resumes?
Absolutely.
A well-crafted contractor cover letter can help you stand out from the pile.
Here's how to write one:
Start with a good example cover letter.
Use the respected 3-paragraph covering letter format.
Put a huge hook in your cover letter start. Example: "When I maintained a 99.9% quality rating for four years..."
Build passion in your cover letter middle. Talk up accomplishments that prove skills needed in this contractor job.
Here's how to finish a cover letter Example: "I'd love to tell you how I resolved issues 18% faster than the business average."
How long does a cover letter have to be for contractor applications? Half a page.
Pro Tip: Here's how to follow up on job application: Once a week, send a one-sentence note that says, "Dear [HIRING MANAGER NAME], I'm following up on my application for your open contractor position. Sincerely..."
Plus, a great cover letter that matches your resume will give you an advantage over other candidates. You can write it in our cover letter builder here. Here's what it may look like: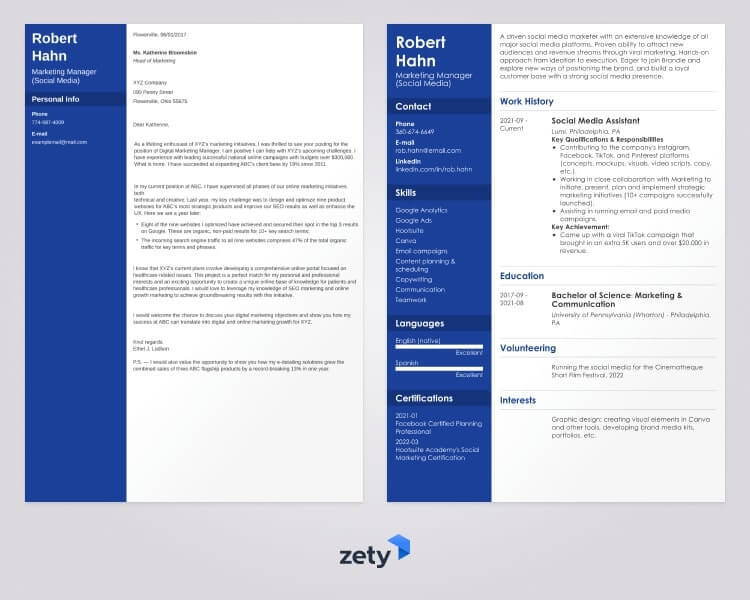 See more cover letter templates and start writing.
That's it!
That's how to write a contractor resume.
Is your subcontractor resume too busy? Are you afraid they'll skip your resume for contractor jobs? Give us a shout in the comments. We'd love to talk!
About Zety's Editorial Process
This article has been reviewed by our editorial team to make sure it follows Zety's editorial guidelines. We're committed to sharing our expertise and giving you trustworthy career advice tailored to your needs. High-quality content is what brings over 40 million readers to our site every year. But we don't stop there. Our team conducts original research to understand the job market better, and we pride ourselves on being quoted by top universities and prime media outlets from around the world.