Our customers have been hired by:
Your colleague got a promotion, or maybe your boss received an award. You feel that saying "Congrats, girlboss!" isn't going to cut it. And you're right—this is the time for a written message.
Learn to write a congratulations letter that will melt their hearts. Or, if you prefer, craft a congratulatory email so good, they'll print it out, frame, and proudly show to their grandchildren.
In this guide:
Congratulatory letter sample better than 9 out of 10 other letters out there.
Step-by-step instructions on how to write a congratulations letter.
Tips on how to respond to congratulations politely.
Want to make your congratulations letter look great? Pick one of our cover letter templates and just fill it out with the congratulations message. We'll take care of the formatting.
Our cover letter builder can create all types of business correspondence—including a job acceptance letter. Just choose one of the cover letter templates and adapt it to your needs.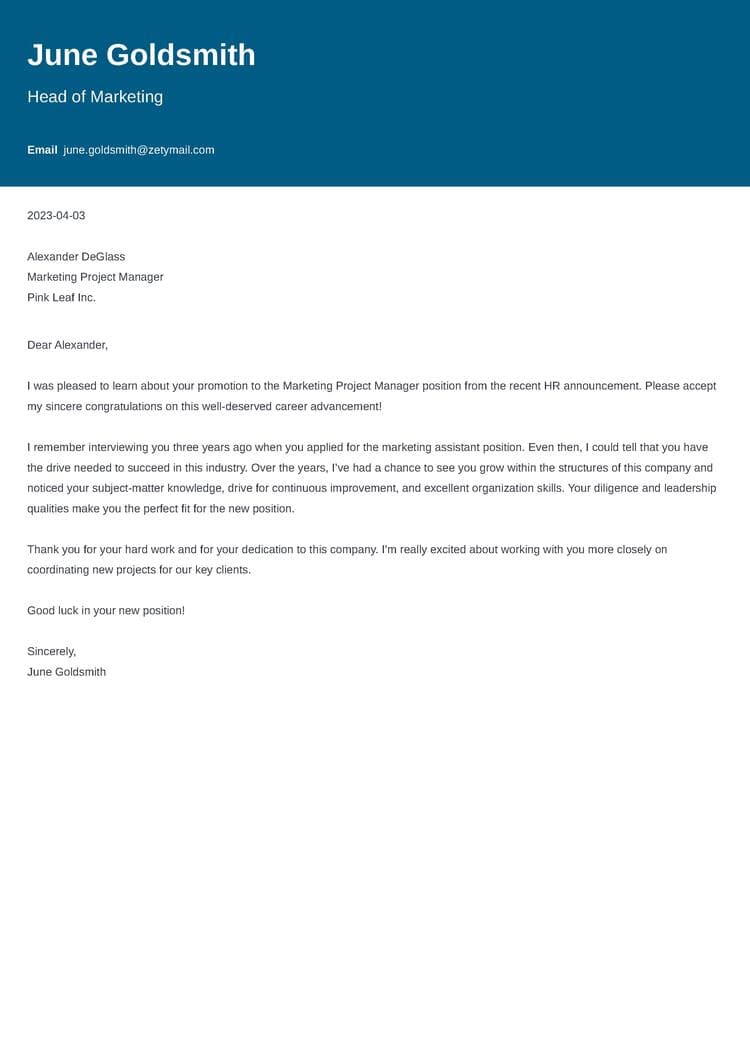 Sample congratulations letter made with our builder—See more resume examples here..
Congratulations Letter Sample
June Goldsmith
Head of Marketing
Pink Leaf Inc.
june.goldsmith@zetymail.com
April 3, 2023
Alexander DeGlass
Marketing Project Manager
Pink Leaf Inc.
Dear Alexander,
I was pleased to learn about your promotion to the Marketing Project Manager position from the recent HR announcement. Please accept my sincere congratulations on this well-deserved career advancement!
I remember interviewing you three years ago when you applied for the marketing assistant position. Even then, I could tell that you have the drive needed to succeed in this industry. Over the years, I've had a chance to see you grow within the structures of this company and noticed your subject-matter knowledge, drive for continuous improvement, and excellent organization skills. Your diligence and leadership qualities make you the perfect fit for the new position.
Thank you for your hard work and for your dedication to this company. I'm really excited about working with you more closely on coordinating new projects for our key clients.
Good luck in your new position!
Sincerely,
June Goldsmith
Sounds good? Now, let's learn how to write a similar congratulatory letter that matches your needs.
What Do You Say in a Congratulations Letter or Email?
First, let's clarify what's a congratulations letter.
A congratulatory letter (or congratulations email) expresses your admiration for someone's achievements, such as getting a promotion, receiving an award, finishing an ambitious project, etc. In a business setting, it's a good idea to send a congratulatory email or letter to colleagues or bosses.
Congratulating your business contacts on their achievements can help to strengthen your working relationship. That's an important factor in job networking. And if your workplace is fully remote, sending out messages of this kind can help establish connections with colleagues—something that's a significant challenge for many companies.
You may send heartfelt congratulatory letters on numerous occasions. The most popular are:
Getting a promotion at work
Starting a new job
Retiring
And that's not all—there are many work achievements that could and should be recognized by managers and colleagues. In the next chapter, you'll learn how to craft a congratulations letter for any occasion.
Lack of workplace recognition is one of the reasons for leaving jobs. Learn more: What Drives the Great Resignation?
How Do You Write a Congratulatory Letter?
No matter if you decide to write an email or a physical congratulations letter, you should follow certain principles. This chapter will cover them all.
Here's how to write a congratulatory letter or email:
Use the right format for business letters.
Add your contact information at the top, along with the recipient's contact info.
Write an introductory paragraph and express your congratulations.
Praise their accomplishments and characteristics that helped them reach their goals.
End the letter and sign off.
Now, let's elaborate on each step.
Pro Tip: If you want to send a congratulations email, just type it directly into the body of the message. An attachment might go unnoticed easily. Plus, always add a subject line that clearly indicates your intention, such as Congratulations! or Congratulations on your promotion!
1. Use the Right Format for Your Congratulations Letter
Nowadays, most business communication takes place over digital channels such as email or instant messaging. Even if you decide to write a physical letter, you'll probably type it rather than write it by hand.
But still, you want to make your letter look good. That's when these formatting principles come in handy:
Use a standard cover letter font such as Arial or Calibri to make your message legible.
Apply 1-inch margins on all sides of the page.
Align the contents of your congratulatory letter to the left.
Set the font size to 10–12 points.
Go for 1–1.15 line spacing.
Make the length reasonable: a 1-page letter is best.
You should consider how you want to deliver your congratulatory letter. If you work in the same place as the recipient, you might print the message out and place it inside a greeting card for an extra touch. If you work remotely, you might email the congratulations letter or print it out and use traditional delivery methods. Since not many people send physical letters in the 21st century, it will surely make a great impression on the recipient!
Want to save time? Adapt a cover letter template and use it for a congratulatory letter. Check here: 10+ Simple Cover Letter Templates
2. Add Contact Information at the Top of the Congratulatory Letter
You want the recipient of the congratulations letter to immediately know who's the author. That's why you must put your personal information at the top—in the same way as if you were adding your contact information to a cover letter header. Use your name, job title, and company name if you want a formal tone. If you're congratulating a colleague from the same team, you can skip formalities and just add your name and email address.
Then, add the current date to the congratulations letter, and follow by sharing the recipient's contact information—just as if you were addressing a cover letter.
What's next? Oh, yes. A professional greeting. But please, skip the ancient Dear Sir or Madam formula. Instead:
Write Dear Mr./Ms. And the recipient's name if you want a more formal salutation.
Put Hi or Hello if you're writing to a colleague and want an informal greeting.
Pro Tip: Colleagues often use nicknames for each other at work. If you decide to use one for the letter's greeting, make sure that the letter's recipient enjoys using this particular nickname, and that it's not something that could be interpreted as derogatory.
3. Write an Introduction for Your Congratulations Letter/Email
The first paragraph of your congratulatory email or letter works as an introduction. Here, you should mention how you've learned about the news concerning the message's recipient. For example, say that you read about their promotion in a company newsletter or you learned about the award they received from an industry publication.
After that, it's time to say congratulations. And yes—use the word 'congratulate'! Be specific and mention what you're congratulating exactly.
The whole introduction to your congratulatory letter shouldn't exceed 2–3 sentences. No need to write an essay!
If you're not great at starting professional letters, this article might help: Writing Opening Lines & Introductions for Cover Letters
4. Praise the Recipient's Achievement
The middle part of the congratulatory letter should bring a personal touch to the message.
Here, you can add a bit of praise by mentioning how you always believed in this person and name what you consider their greatest strengths. You can recall a personal anecdote that connects you two, and even share a funny story from the times you worked together.
No matter what you share, remember to always put the letter's recipient in a favorable light. Praise their professional achievements and their character traits, but rather keep the stories about workplace romances to yourself.
Having a hard time describing your colleague? Check here: Good Words to Describe Yourself on a Resume
5. Finish Your Congratulatory Letter/Email
To finish your congratulations email or letter, it's best to wish the recipient all the best for the foreseeable future. You can also express how excited you are for their new role, upcoming adventure, or the prospect of working together.
Then, add a professional letter sign-off, such as "Best regards" or "Yours sincerely", and put your name. You might add an optional P.S. for an extra touch, such as: "Can't wait to celebrate your promotion this Friday afternoon!" or "See you at the project kick-off meeting—let's smash the competition!"
Need inspiration for the closing part of your letter? See here: Ending a Cover Letter with a Bang
When making a resume in our builder, drag & drop bullet points, skills, and auto-fill the boring stuff. Spell check? Check. Start building a professional resume template here for free.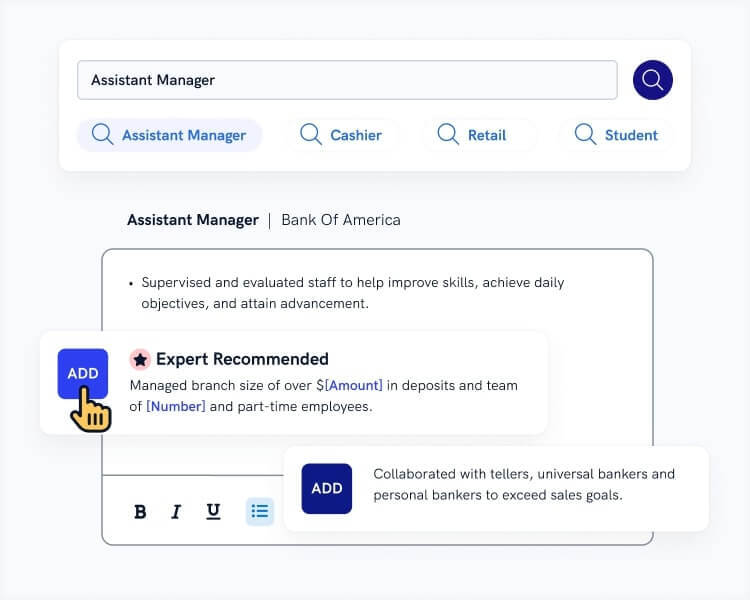 When you're done, Zety's resume builder will score your resume and our resume checker will tell you exactly how to make it better.
How to Respond to Congratulations?
Now, let's say you received a congratulatory message from a business partner. You want to say 'thank you for the congratulations' in a way that will make an impression.
Here are some general rules on how to respond to congratulations:
Choose the same means of communication as they used.
Use the same tone for your message: if their message is formal, then your reply must be formal, too.
Express your sincere appreciation for their message.
Thank them personally for their support or work.
Here are sample phrases you can use to say "thank you for the congratulations" politely:
"I was very pleased to receive your message. Working with you was a fantastic experience."
"I appreciate your kind words. It was a pleasure to work with you."
"I'm honored that I could share the news about this achievement with you. I appreciate your support and hope we get to work together again in the future."
"I couldn't have done this without you. Thank you for being an amazing boss/colleague/teammate and contributing to this achievement."
If you feel that a short message isn't enough, you might consider a longer one. Maybe a letter of appreciation for their support is a better idea?
Plus, a great cover letter that matches your resume will give you an advantage over other candidates. You can write it in our cover letter builder here. Here's what it may look like: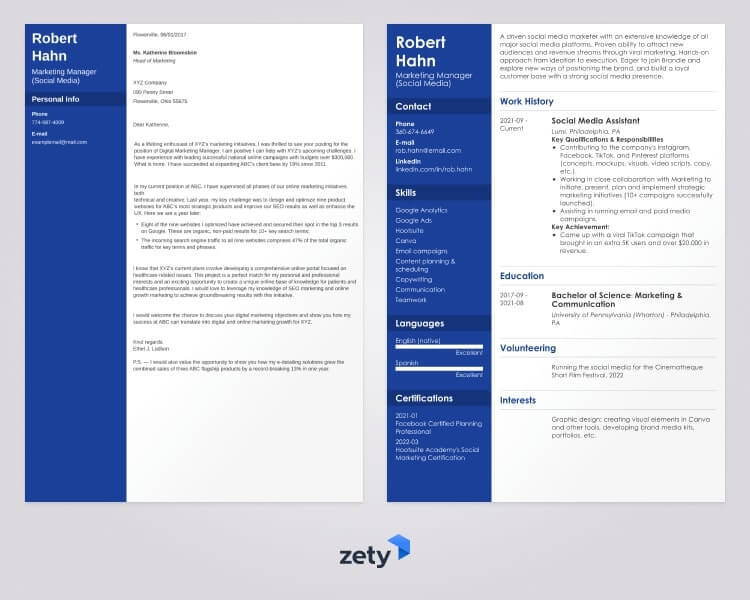 See more cover letter templates and start writing.
Key Takeaways
Let's quickly take a look at the steps you need to complete to write a congratulations letter:
Use the right format for your letter of congratulatory message.
Add the contact information at the top of the message.
Explain why you're writing in the first paragraph and congratulate the recipient.
Write a personal middle paragraph praising the letter's recipient.
Finish the congratulations letter with a professional closing.
That's it!
Thank you for reading this article. Would you like to share any tips on sending a congratulatory letter to a colleague or a boss? Have you ever received a similar congratulations letter? Let us know in the comments below.
About Zety's Editorial Process
This article has been reviewed by our editorial team to make sure it follows Zety's editorial guidelines. We're committed to sharing our expertise and giving you trustworthy career advice tailored to your needs. High-quality content is what brings over 40 million readers to our site every year. But we don't stop there. Our team conducts original research to understand the job market better, and we pride ourselves on being quoted by top universities and prime media outlets from around the world.