Dating Coworkers in Numbers: 2021 Study
Mixing work and romance is a tricky business. In this study, we investigate whether or not Americans have dated their co-workers and how their relationships influenced their work lives.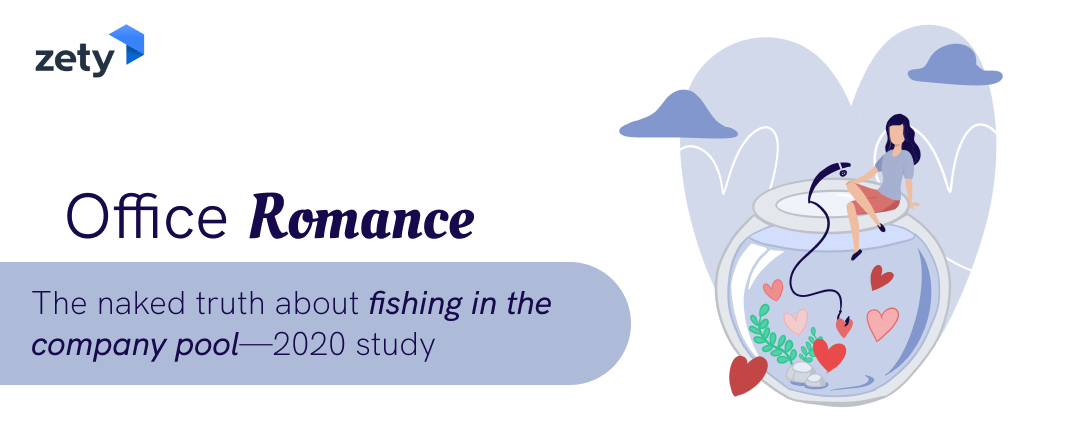 According to a 2015 Google Customer Surveys' data, 18% of couples met at work. That's more than via Tinder and social media combined (and positions Indeed as the greatest matchmaker of all time). But how does that happen exactly? And, perhaps more importantly, how does it end?

Here's what we found out by surveying 1,000 Americans:

Before we dig deeper into the analysis of ins and outs of office romance, let's hear some personal stories from our respondents (just to make you realize how vast a subject we're dealing with here).
There's the good...
We had a short series of hook-ups. We were both young and working a seasonal job. It actually made work a little more fun to see her there.
"My "office crush" and I worked in two separate offices across the country. We'd only had a few email conversations before we met by chance on a business trip the company sent us on. We hit it off immediately and started a (poorly-kept) secret long-distance romance. With our bosses' blessing, he applied for a transfer to my office location and moved 2,000 miles to be with me. We are now married and both ended up leaving the company to start our own business together!"
—Nicole Fallon, CEO, Lightning Media Partners, LLC
The one time I hooked up with a co-worker, and the only time I ever just hooked up with anyone I wasn't in a relationship with, I was newly single and just looking to have some fun and be careless for once, and I ended up marrying the guy… and he's still the love of my life.
Then there's the bad…
Had an affair with a co-worker many years ago. We were both married to different people and used to hook up on several business trips over the years. Eventually, people found out. I ended up getting fired (they mentioned a different reason but I didn't happen to believe that) and both our marriages were ruined.
The only time in my life that I dated a co-worker was a crippling disaster I don't want to relive.
I hooked up with one of my mates at a little job party. I thought it was a typical ONS but he started talking about the possibility of "us." Felt awkward but said, what the heck, and we ended up dating for 8 months—turned out the vilest and most toxic relationship I ever had. Would have ended it way sooner but I was afraid he might do weird things to get me fired.
And the ugly.
From my experience, hooking up with your co-worker can end in one of two ways: the hottest sex of your life, or with your boss walking in while you're bent over the sink with a guy, trying to explain that yes, those expense reports will be on his desk first thing tomorrow. Or it can be the former turning into the latter.


Okay, let's crunch some hard data—
A whopping 89% of Americans have, at some point, felt attracted to a co-worker.
Nothing strange about that, right? First of all, proximity is the single most important factor behind falling in love. Besides, imagine being surrounded by people approximately your age, sharing your professional interests, living in the same area, most likely from a similar background… That's the reality of an average workplace. Hardly possible not to come across someone you fancy.

Yet—

It's your colleague. Yes, you have a lot of things to chat about, yes, you like their fashion sense and, yes, that joke at a Q3-ending party was hilarious. But you work with them. You'd never seriously think about asking them out.
Or would you?
Turns out, 78% of Americans have at least considered dating someone they worked with.
And 58% eventually did.
People from older generations are more likely to have dated a co-worker at some point in their lives—64% of Gen X and Baby Boomers combined have dated a colleague, compared to 53% of Gen Z and Millennials.

While that sounds counterintuitive, it makes all the sense in the world: the longer you lived, the more chances you've had to get involved in an office love affair.
What's interesting, people working in smaller companies (with micro-companies of 1 to 10 employees being a very clear outlier) were more fond of the idea of dating a co-worker, in general:
26% of people working in companies with 1–10 employees said it was a good idea to date a co-worker
40% in companies with 11–50 employees think so
38% in companies with 51-200-employees
23% in companies with 201-500 employees
21% in companies with 501-1000 employees
11% in companies with 1000+ employees.
It seems like an organization employing between 11 and 200 people is about the sweet spot for love. How so?
Simply put—such organizations are small enough for an informal vibe and frequent cross-departmental cooperation calling for meeting many people across different teams and, at the same time, large enough to provide romantic partners with a sense of privacy.
My hypothesis is, in larger companies, corporate rules and policies tend to be more stringent, potentially scaring away prospective lovers for going after each other. Plus, structures and hierarchies are more firmly established—you're less likely to work on projects with other teams and meet people from all over the organization.

As for micro-companies of 1 to 10 employees? Come on. It would be as awkward as dating a sibling.
(Plus, everyone would instantly find out.)
Speaking of which…
75% of Americans who dated a co-worker tried to keep their relationship a secret from other colleagues.
More often than not—to no avail.
In 82% of the cases, others eventually found out.
Paradoxically, in larger organizations, it's harder to hide your office romance from others—

Other co-workers found out about our respondents' work flings 84% of the time in companies of 51+ people vs. 76% of the time in companies of 1–50 people)
Why's that the case? Either because at larger companies, there are just more people to potentially catch you red-handed or because work-based lovers from smaller companies try way harder to conceal their relationship.
Superiors, subordinates, peers—who dates whom?
Amongst people who have dated a co-worker:
57% dated their peer
24% dated a subordinate
11% dated their boss
8% dated a higher-up but not a direct manager.
Older generations (Gen X and Baby Boomers combined) would date their peers more often than Gen Z and Millennials (62% vs 52% respectively).
Men are more likely than women to date a subordinate: 27% of our male respondents vs. 18% of females said their fling was with someone their junior.
That said, men (11%) and women (12%) were almost identically reluctant to date their direct managers.
Female respondents would date higher-ups from outside their team much more eagerly than males: 14% of women vs. 5% of men chose people senior to them, but not their actual bosses, as their office sweethearts.
Still, a vast majority of romantic interactions in offices happens between peers. No wonder—proverbial sleeping with the boss, especially in the wake of the #metoo movement, is much more complicated in terms of compliance with company policies, as well as potential repercussions.
Plus, in another survey of ours, we found that people who did have sexual relationships with their bosses were motivated by very universal passions, not at all specific to the manager-report relationship:
They were sexually attracted to their boss (66%)
They wanted to have fun (52%)
Only 12% chose to go to bed with a supervisor in hope of a pay rise or a larger bonus.
How serious do office flings get?
"Dating" is a pretty broad term nowadays. So we wanted to find out what was the true nature of the sexual and romantic interactions between American workers. Turns out:
33% of the time it becomes a long-term relationship
31% of the time it's *just* dating
21% of the time—having sex on a semi-regular basis
14% of the time it ends after a hook-up or two.
We found no significant differences between generations, company sizes, or industries here.
The only disparity was between men and women:
72% of women said they dated their office crush for a while or formed an official relationship with them
59% of men did so.
When it comes to the impact the romantic relationship has on the two people's work relationship:
Nothing changed for 54% of respondents
The work relationship improved for 28%
The work relationship suffered for 18%.
More women (25%) than men (13%) claim their office romance had a negative effect on their work relationship with their crush, which might have to do with the general perception of office romance: according to a 2009 study, people's negative perceptions of work-based romantic involvement are usually focused on women.

To spice things up...
We focused our final batch of questions just on hook-ups only.
Out of respondents who simply hooked up with their co-workers:
35% did so outside of work
26% in the office itself
21% during a work party
13% on a business trip
5% during a company off-site event.
Men reported fooling around more eagerly than women on business trips (15% vs. 9% respectively), while women were more likely to hook up outside of any working space (42% of women vs. 31% of men).
More men (46%) than women (37%) cheated on their then partners with co-workers. Interestingly, there was no difference whatsoever in the ratio of "cheaters" across generations. Apparently, some things aren't a sign of the times.
Have heard about you-know-who?
Next, we wanted to see how Americans would react if they learned a couple of people from their work were doing it:
35% of respondents would spread gossip among other co-workers
21% would report the issue to HR or higher management.
Younger generations, Gen Z and Millenials, are more likely to tell other co-workers about an office affair going on than Gen X and Baby Boomers: 36% vs. 31%.

Furthermore, 24% of younger people would share such information with their higher-ups or HR, compared to just 14% of older generations.

Similarly, more men (23%) than women (16%) would tell management or human resources about a newly formed office couple.

Finally, we asked our respondents to imagine this scenario:

Your co-worker has a crush on another co-worker. They ask for your advice on whether or not they should ask them out. What do you do?
42% of respondents would refrain from giving advice
36% would encourage them
22% would discourage them.
The only difference we found between demographics was that people 39 or older would keep their opinions to themselves much more often than people 38 or younger (47% vs. 37% respectively).

Apparently, you develop certain stoicism as you get older and more experienced...
And what would you do?
Let's say you just learned about a couple of your co-workers dating each other. Would you confront them? Tell them off? Congratulate? Would you share the information with your best workmate or keep your mouth shut?
Finally, if it was you to have a major crush on someone you work with, would you go for it or let it go?
Let us know in the comments!
Methodology and Limitations
For this study, we collected answers from 966 American respondents via Amazon's Mechanical Turk. Respondents consisted of 59% males and 41% females. 9% of respondents were 24 or younger, 52% aged 25–38, 27% aged 39–58, and 12% 59 or older.
This self-report study investigated whether Americans have dated their co-workers, what the nature of their relationships was, and what their overall perception of dating co-workers is. Respondents were asked 18 close-ended questions, 1 scale-based question, and 1 open-ended question about their personal histories of office love affairs and sexual encounters.
To help ensure that respondents took our survey seriously, all respondents were required to identify and correctly answer two attention-check questions.
Some questions and responses have been rephrased or condensed for clarity and ease of understanding for readers. In some cases, the percentages presented may not add up to 100 percent; depending on the case, this is either due to rounding or due to responses of "neither/uncertain/unknown" not being presented.
As experience is subjective, we understand that some participants and their answers might be affected by recency, attribution, exaggeration, self-selection, non-response, or voluntary response bias.
Given the gender and age makeup of our large sample, the study can be generalized to the entire population.
Fair Use Statement
Feel free to share our study! The graphics and content found here are available for noncommercial reuse. Just make sure to link back to this page to give the author proper credit.
Sources